By Graham K. Rogers
---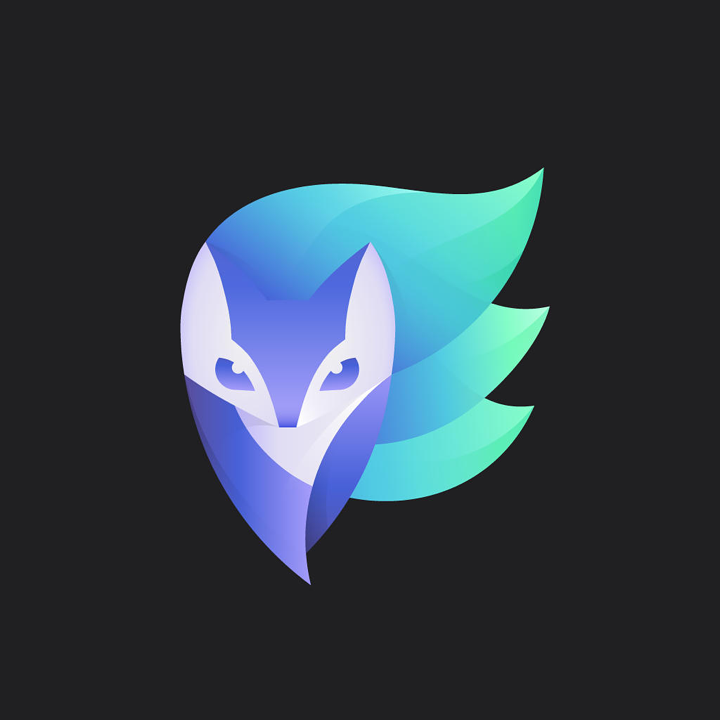 It has been clear over the last couple of years that for many users, the desktop computer with large applications for tasks, is no longer the normal way of working. Many have switched operations to smaller, handheld devices such as the iPad. Cameras too are moving the same way. A new photo-editing app, Enlight, is perfectly suited to this environment.
Introduction
As well as a move from large computers to smaller devices, there has also been a massive switch from large cameras to increased reliance on smartphones. Sales of DSLR cameras have fallen by some 30% in the last year, but compact cameras are not really taking up the slack with a recorded fall of 35% in 2014 (Om Malik). As camera technology improves in smartphones so users switch to the smaller devices.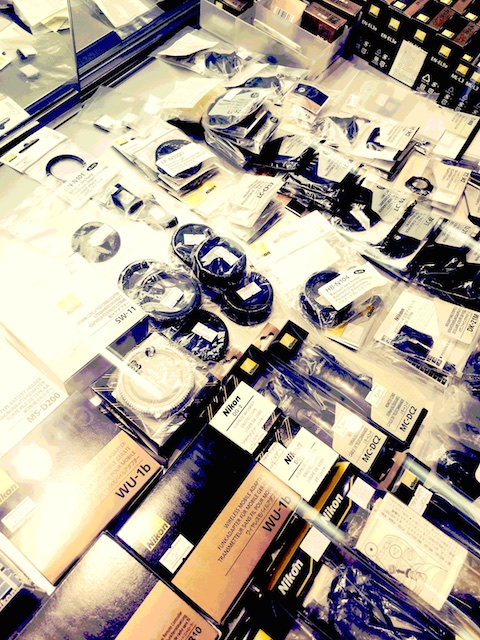 Although I have days when I need to take cameras with me - both digital and film - I am more likely to take the iPhone out of my pocket; and on some days, I now leave the cameras at home. That would have been unthinkable for me only a couple of years ago.
As users move to these devices, so the apps that are available have improved. Since I first tried the iPhone 3G with some basic apps only a few years ago, the cameras have improved considerably and some of the photography apps are also capable of producing some excellent output. One of my favourites is Michael Hardaker's 645 Pro MkIII which allows output in TIFF format. That produces a hefty-sized file from the iPhone camera.
So too with editing apps. While Apple's own Photos on the iPhone and iPad (and soon to be on the Mac too) provides some reasonable editing tools, a number of apps are fast eating into the area that used to be the preserve of high level software, like Adobe Photoshop. The power of modern smartphones, and the output needs of many users, make this type of heavyweight less necessary.
That of course does not mean these applications are dead. More users, however, are interested in apps that provide good editing tools, but at lower prices. For example, I recently tried Darkroom. This is a free app with a $2.99 in-app purchase for the higher-level feature of curves. An unusual extra with this app, is the ability to save sets of adjustments as filters. I also recently installed the highly-rated Filterstorm Neue that has a wide range of editing tools for its $3.99 price.
Also at $3.99 is the just-released Enlight, another excellent editing app. This is nicely put together: the design is especially effective. As well as the types of tools one would expect with such an app, there were a couple of nice surprises.
Enlight
After the Enlight startup screen and a few pages of introduction, the main editing page opens with thumbnails of images in the Photo Library, shown at the bottom of the screen. It is easy to enlarge the photo display section by sliding the panel up (and then down). It is also possible to take photographs from within the app and import those directly for editing. When a new effect or feature is accessed for the first time a clear explanation of the item is displayed to help the user.

Reopening the app shows the last image that was being edited: the app retains the last 10 unsaved sessions. This is a vast improvement on some apps, which lose the work as soon as the app is closed. That number of 10 can be changed: from 5 up to 50, or Unlimited.

An image that is selected is displayed in the main panel with editing options to the right in portrait mode. The list of editing tools can be moved out of the way by tapping the icon at top right of the screen. When landscape is used the tool options panel is to the left and slightly larger.



Tools
The wide range of tools available for editing are in 8 sections. Tapping on one of the icons displays other tools within that section:
Canvas, includes Crop, Skew and Refit (which allows the removal of sections of an image to bring the main subjects closer);

Image, has 4 tools -

Adjust which brings up several preset filter-like panes at the bottom, Tools (Basic sliders, Details, Color, Split Tones and Curves) and Mask (Wipe, Apply, Fill, Clear and Strength)
Clarity with Presets, Tools and Mask
Target - a really useful option that allows a user to select a specific area of an image and apply changes only to that area;
Filters are in three sections (Analog, BW and Duo) also with a selection of applicable tools and mask;

Tools includes Mixer, for the combining of images, Reshape, which seems to rubberise the image so that it can be pulled and stretched, and Tilt-Shift to adjust focus and blur with a range of options;

Artistic allows the photographs to be changed into output that resembles painting or drawing, the three options being Painting, Urban and Sketch, each of which gave different artistic style output and all of which could be further adjusted using the Tools and Mask;

Brushes provides two ways to draw on an image, Doodle (a pencil) or Effects, like emoticons painted on top of the image;

Type had three options for adding text to an image -

Type - a simple option that allows a user to type characters from the several available fonts (I was able to type Thai characters on an image) and move this to anywhere on the screen,
Decals, provides a number of preset messages (e.g. Happy Birthday)
Meme allows a message to be typed at top or bottom of the image;

Finalize shows four items that some users might want for additional enhancement to an image before exporting - Border, Frame, Instant and Collage.
Most of the effects available can be increased or decreased by running the finger over the screen. This allows the user to adjust any image changes to a rather fine level.
Export
When an image is done, an Export icon at the top of the screen allows for saving the image to the Library or sending via Mail, Message, What'sApp, Facebook, Twitter and "More" (depending on apps the user has installed). It is also possible to send multiple photos at one time and to save the editing session.

The default for saving images was set at High: JPEG 95 4096 x 4096. A Pro setting was also available (PNG 4096 x 4096). There were also Normal (2048 x 2048) and Compact (1024 x 1024). GPS locations can be turned OFF but are ON by default. The Settings panel usefully displayed space available on the device.





I found that although I used the settings for High output, the images as they appeared on my Mac were somewhat smaller at 2048 x 2048. I presume that this was due to the smaller size of the input images, already in the Photo Library.

I took a photograph from the camera within Enlight and after editing saved that. I also sent it via Mail. There were the usual size options (small, medium, large and actual), with Large at 2.6 MB and the largest shown to be just over 11 MB. I tried that. When the email arrived, it reported that the attachment was 12.3 MB. One does need a certain amount of patience while waiting for images like this to be delivered.

Transferred via iCloud that was a JPEG of 2.26 MB (3264 x 2448). The PNG export was shown in Aperture as 3264 x 2448 but with the file at 11.76 MB.



Commment
There is no doubt that Enlight has been well thought-out and the extra effects, particularly the Target tool, make this a valuable addition to the photo-editing apps that I have on the iPhone. The price of $3.99 (131 baht) makes this an inexpensive toolset to vie with some of the best (and far more expensive).

Highly recommended.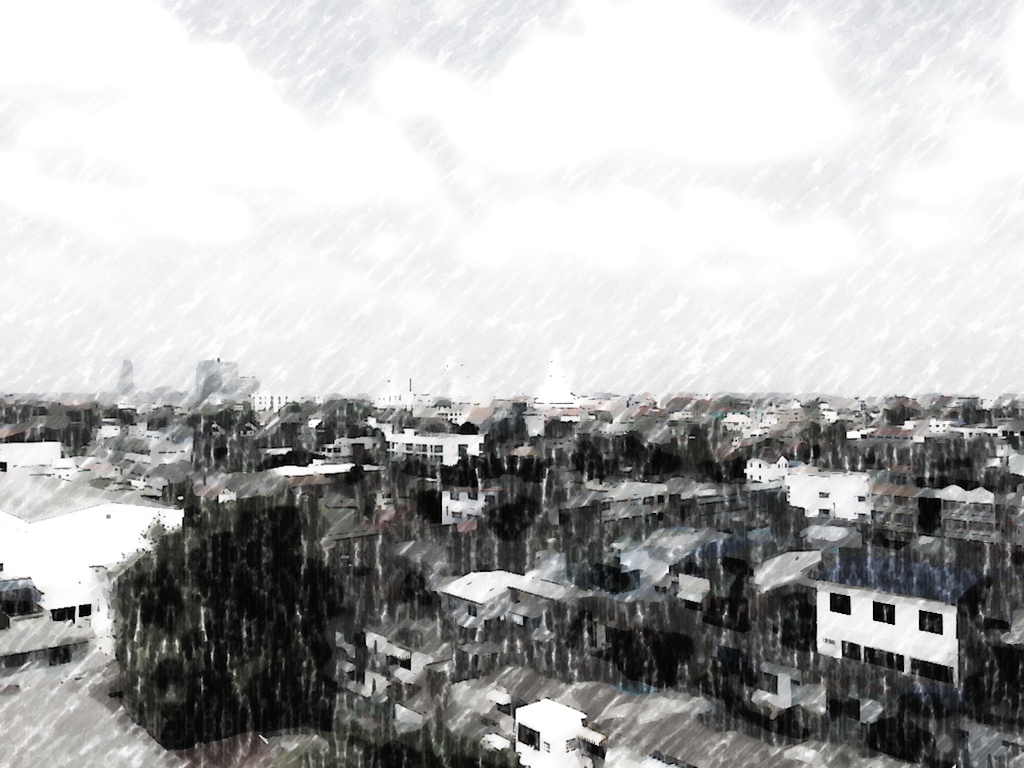 Camera-created Image from Enlight - PNG Export
Graham K. Rogers teaches at the Faculty of Engineering, Mahidol University in Thailand where he is also Assistant Dean. He wrote in the Bangkok Post, Database supplement on IT subjects. For the last seven years of Database he wrote a column on Apple and Macs. He is now continuing that in the Bangkok Post supplement, Life.