By Graham K. Rogers
---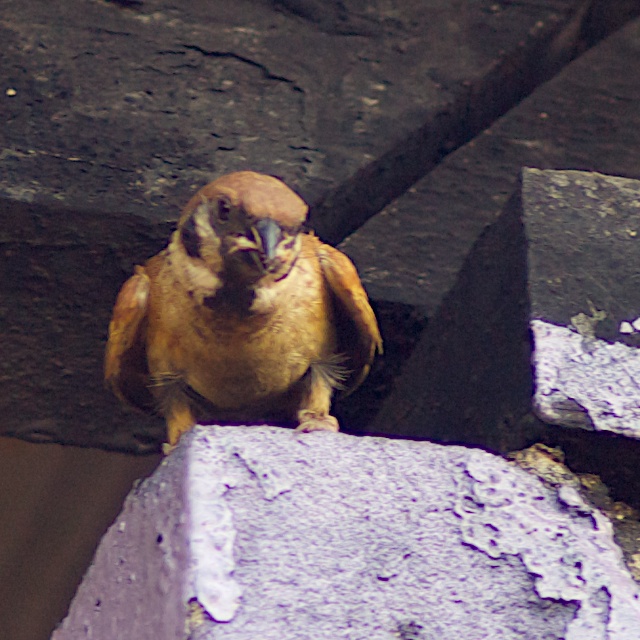 A couple of interesting items appeared today in the online sources I monitor, both of which may be linked to Apple TV, which was recently reduced in price in the USA from $99 to $69. My own view here is that it may well encourage a number of users to come on board but there is could be a new device around the corner.

The current Apple TV is an odd-man-out in a number of ways. Originally billed as a hobby device, which kept the critics from hounding its creator too much, it has established itself fairly well among serious Apple users, not the least for its ability to display content from one device, such as an iPhone or Mac, on the screen of a big TV.
One slight difficulty with Apple TV is that it is one of the few current devices in the Apple lineup that does not have the latest 802.11ac WiFi capabilities. I keep harking on about this, but I see it as an essential part of Apple's in-home strategy and why each generation of devices sees fewer options for connection, especially cable ones.
The MacBook, for example, that was just released only has a single USB-C port for charging and linking to external devices. If one of the sources you read has implied that this is wrong in some way and that Apple had better add lots of ports before people start buying it, they just do not get it.

The ideal, which we have been heading towards for a couple of years now, is for all devices in a home to be able to interlink and pass data swiftly as and when needed: remember that with Apple's Time Capsule backing up does not even need a cable connection. You can of course connect the Apple TV using an Ethernet cable, but that sort of defeats the point.
I must admit, I find this Wifi connectivity attractive as not so long ago my home office would have cables all over the shop; and each cable has the potential to trip someone up, or drag a device down to the floor. I know I am defeating that argument slightly because the MacBook no longer has the MagSafe connector (which has saved me a few times), but the point of a notebook computer is that it is not connected: these work fine if the battery is used; and connecting all the time to a power source will not do that battery any good.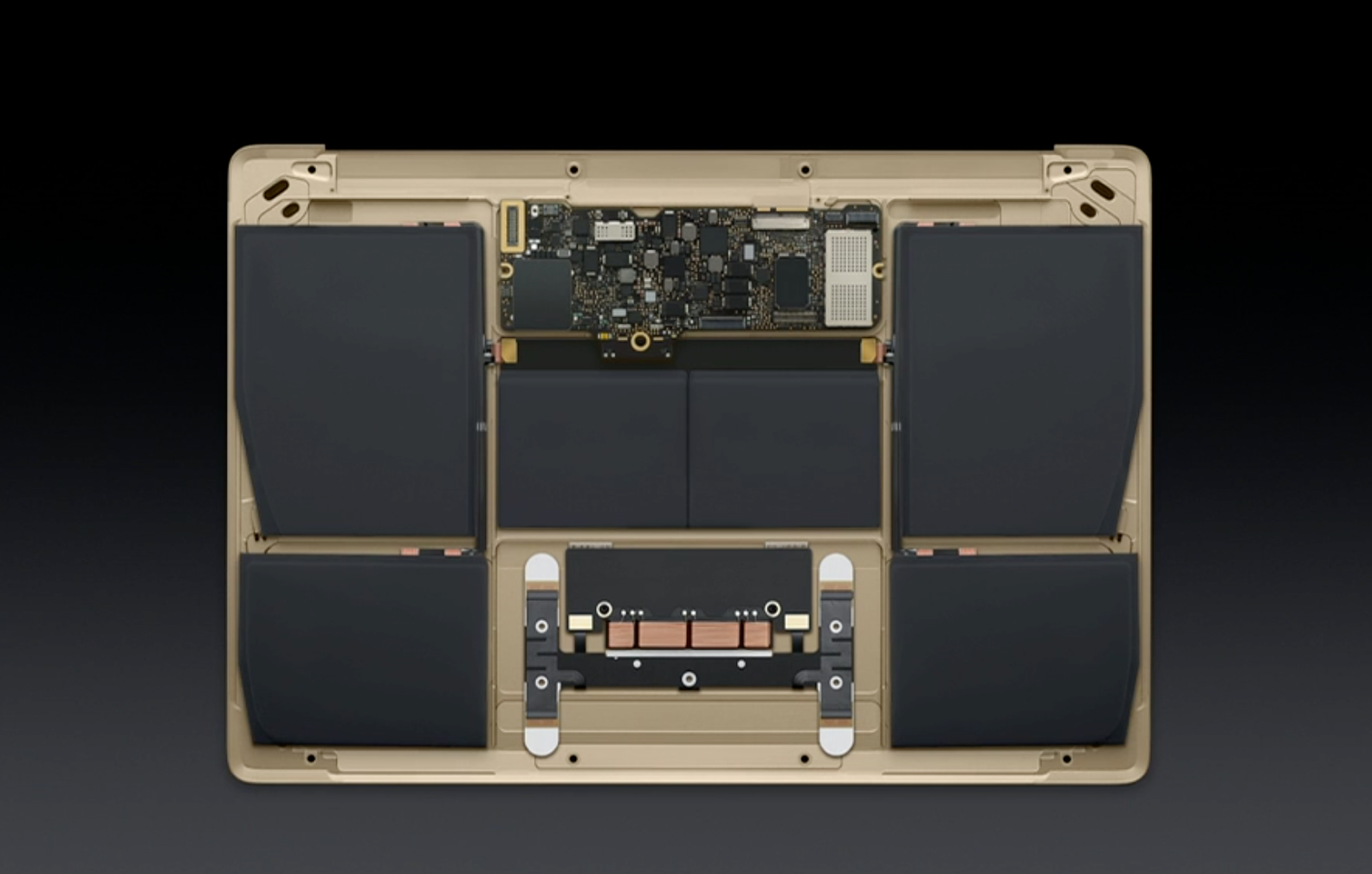 And what about that battery in the new MacBook. Apple has made strides since the introduction of the last 17" MacBook Pro. When that was released there was an excellent video produced that showed how batteries were made.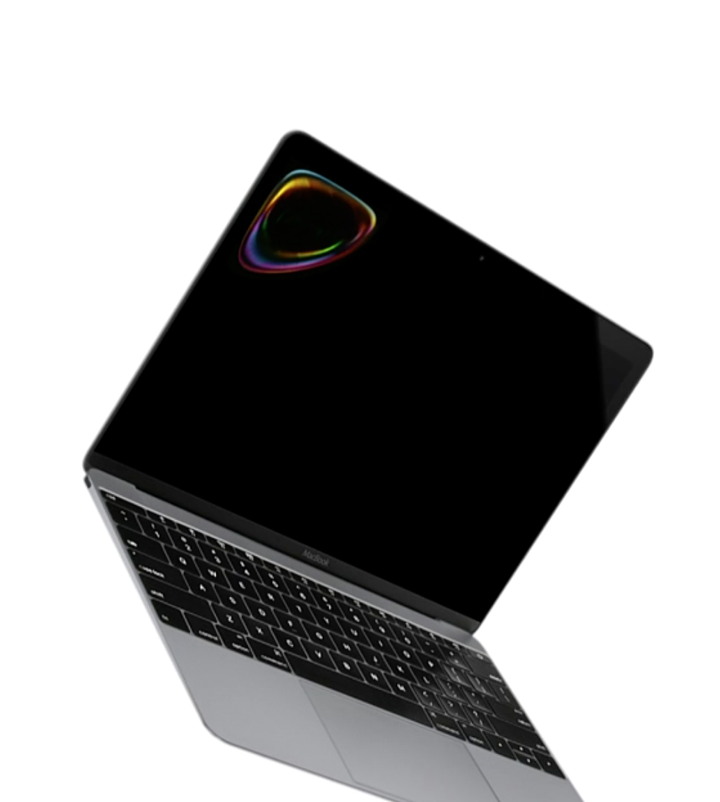 While before, batteries in a notebook computer had been like AA cells shoved inside a box, by flattening the cells, Apple was able to use the wasted space for more battery. The terraced cells on the latest MacBook is an extension of that: why have one lump when slices will do the job as well?
I commented when Tim Cook walked on with the MacBook that I had thought he was carrying an iPad. It does have a full OS X version installed and not iOS, but the similarities are clear. "Why not have a touchscreen", some ask, well the trackpad is better suited to input and the new one, which does not click when power is off, has some new gestures that depend on the force of input.
And I want that screensaver. . . .
In the United States these will be available on 10 April, the same day as Apple takes orders for the Apple Watch, but here there is no date shown as yet. Just Coming soon and "Pending Regulatory Approval": it has wifi and Bluetooth so the local organisations have to sign off on this. It is usually pretty swift, but Thailand is rarely among the first to have a new product from Apple.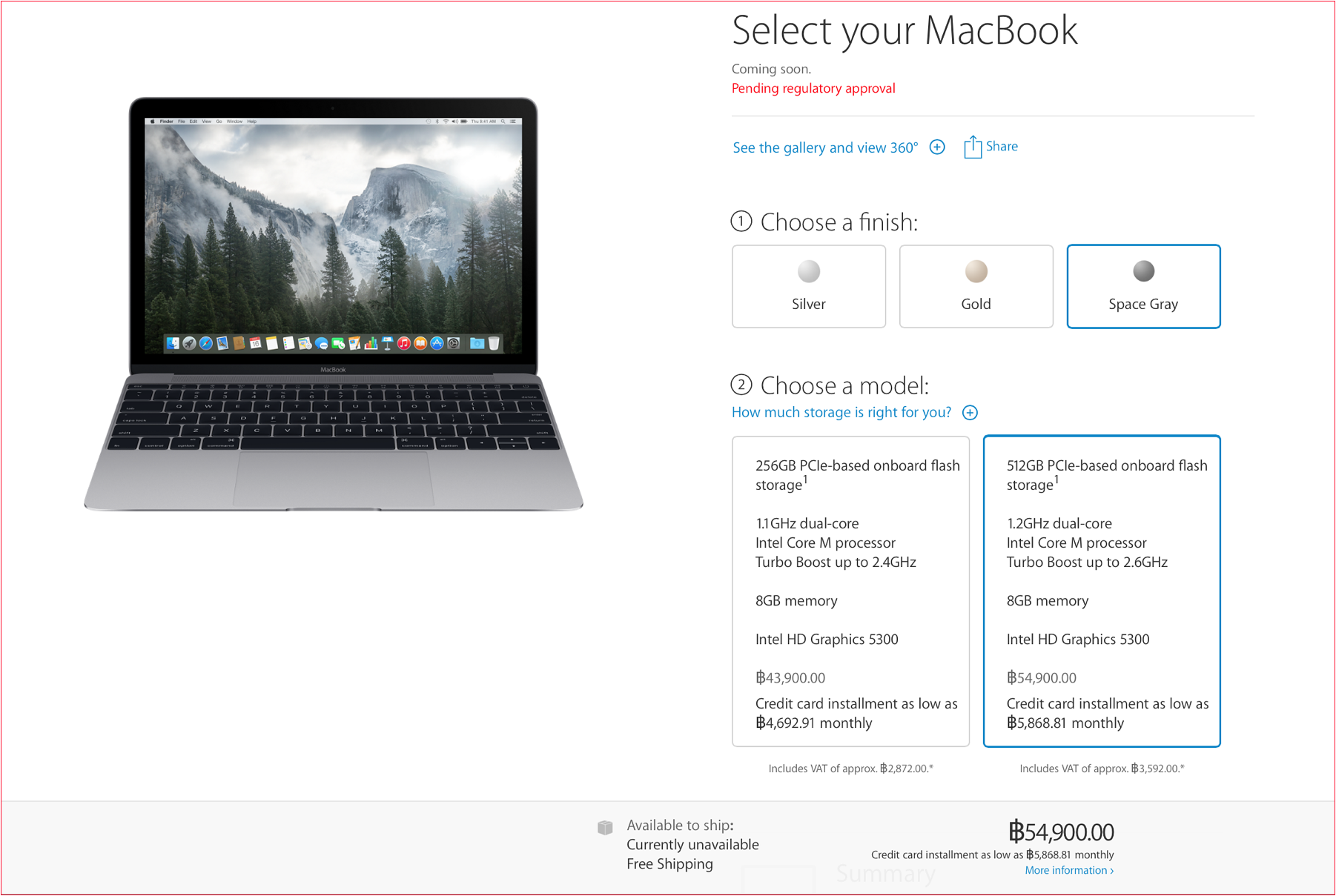 Ordering page for MacBook - Online Store for Thailand (English pages)

Not even Singapore was in line for the Apple Watch this time, signifying a fall from grace for that country which had been so significant in Apple's availability in the region. Some of the functions of that office have shifted to Beijing and some to Australia, most notably Marketing which may explain why Thailand does not even have products on test these days: something which was confirmed to me by a TV presenter on IT for a Thai channel.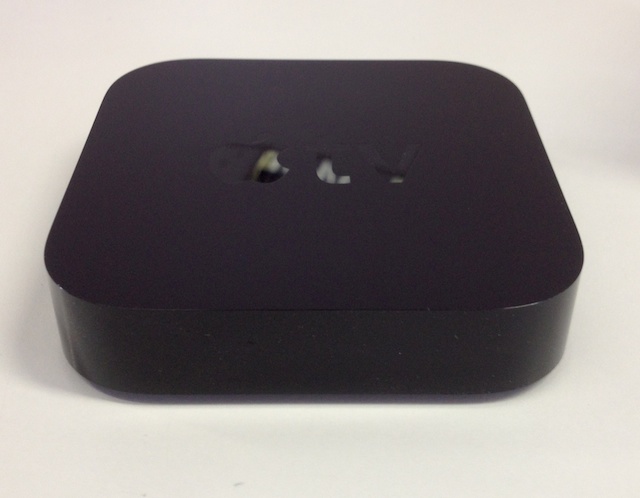 Among several other sites, CNET reports on a Wall Street Journal story (subscription only) that Apple will "launch a subscription online TV service that will be piped to Apple TV and supported iOS devices".
My heart sank when I read that. It does every time a new service for AppleTV is announced. What appears in the USA is somewhat different to the thin lineup I have available on my AppleTV here: heavens, we don't even have TV shows on the iTunes Store; and the movies available have all been on sale for several months in Klong Thom before I am allowed to buy them.
Dan Thorp-Lancaster on iMore had another take on the idea and suggests a subscription "price range of $30 to $40 per month" (about 1,000 to 1300 baht); while AppleInsider tells us that there will be "official details at its Worldwide Developers Conference in June".
Then there is the price of the device itself: I wrote about this last week and there has been no change. Although the price when the device first arrived in its original metal enclosure was a hefty 15,301 baht it has come down, but the reduction in the USA was not mirrored here where the 3,300 baht is over 800 baht more than the US price when VAT is taken into account. Less for more.

There is obviously much room for improvement here, both in terms of price and (certainly) in the services or links provided. Lucky customers in the USA. Again.

The second item of news concerns rumoured Apple interest in a satellite system that Boeing is pushing for use of "high-throughput communications satellites". A number of sites, including AppleInsider comment on this. Among the types of data that could be transmitted could be TV. The theory in the article is that Apple and other tech companies (who have the need and the cash after all) would be able to "enlarge the Internet's global footprint through the use of high-bandwidth satellites."
I do not see this as an Apple-to-customer link, partly because of the cost, but also because governments are highly likely to want to step in and insist on either taxing it or having access to the data transmitted. However, sending the vast amounts of information to country bases - such as from one of Apple's data centers in the USA to a similar construct in China - might be an attractive way for tech companies to reduce their reliance on the submarine cable networks that the Internet currently depends on. Boeing of course is not the only company who recognise the value of owning the satellites that send the essential data.
My wish of course would be that both the new services, and the satellite links to bring those new channels, were made available to users here. Neither the current cable service, nor Apple TV channels provide anything like the quality of choice they should.

A local user whom I know, who spends a fair amount of time in the UK, will use any device under the sun, unless it comes from Apple. At the beginning of the week, he started his computer and instead of the smooth service he claims he usually has, there were error messages everywhere. It was exactly 2 years since he had bought a Samsung Exynos Chromebook and the subscription for free Google storage had just run out: no warning messages, no reminder email, just Phhhht! . . .
While Google mail did still arrive, the rest seems to have come to a halt. As he wrote, "This case underlines how you are not a customer of Google; that there is no free lunch."
For information, there is an Apple Store for Thailand should it be needed. . . .
Graham K. Rogers teaches at the Faculty of Engineering, Mahidol University in Thailand where he is also Assistant Dean. He wrote in the Bangkok Post, Database supplement on IT subjects. For the last seven years of Database he wrote a column on Apple and Macs. He is now continuing that in the Bangkok Post supplement, Life.