By Graham K. Rogers
---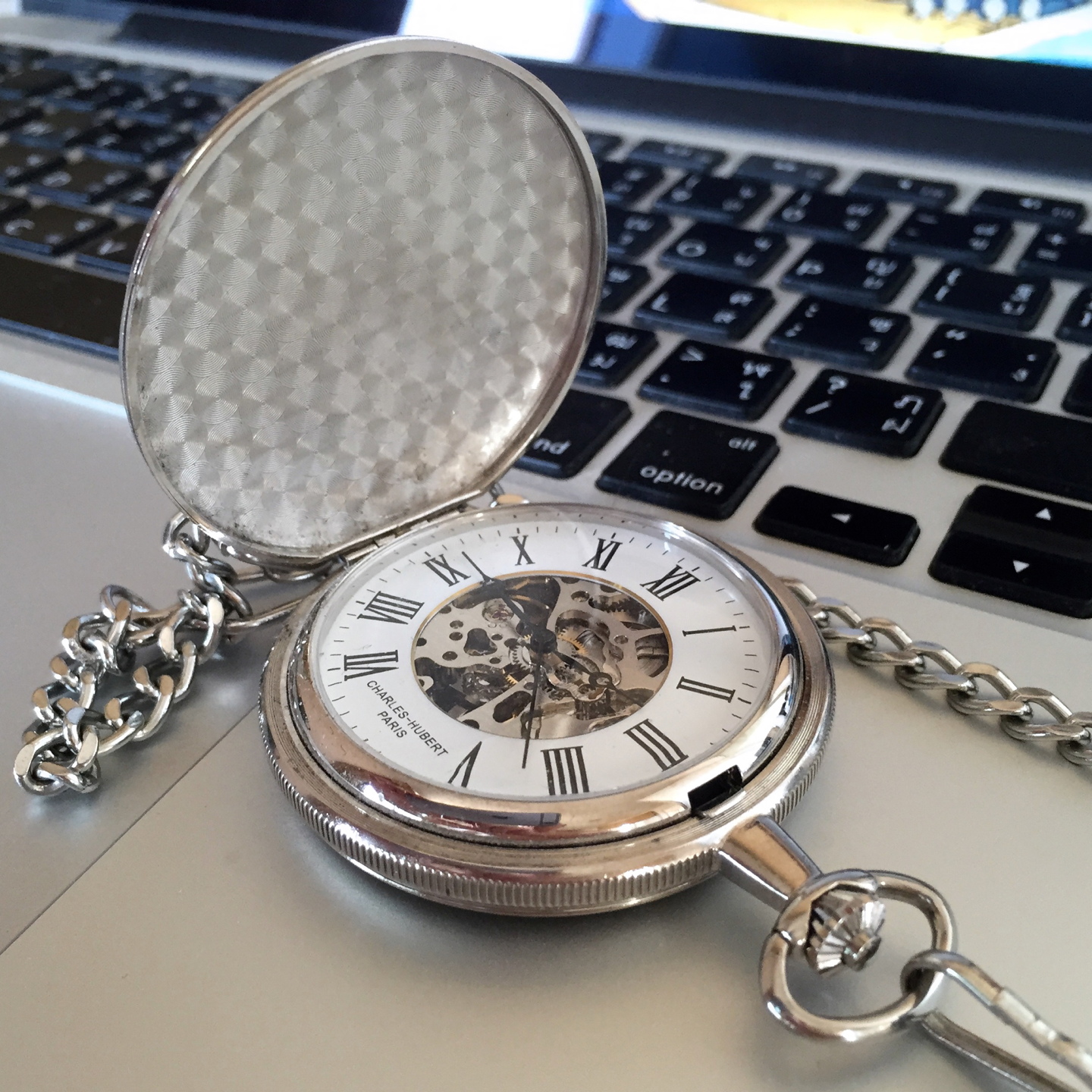 Despite a planned early start on Tuesday, I did end up watching most of the Apple Event from the Yerba Buena Center. It is interesting to see how much more confident Tim Cook is when making presentations nowadays and rather than his former role as ringmaster, he was taking a far more active role in the event last night.

There were still one or two minor examples of mis-speaking, but he was enjoying himself, cracking a couple of jokes and communicating with some members of the audience. He was right to be confident. There were three major product announcements that I will comment on here, beginning with the last: the Apple Watch. Two other stunning announcements were on the new MacBook and ResearchKit.
Apple Watch
Apart from a few words of outline, there is no real point in me writing about the Apple Watch. Plenty of commentators were able to handle the devices after the Apple event and already many words have been typed in explanation. There are a couple of special links and I will insert them in the text.

In many ways the Apple Watch brought no real surprises. Many of the basics had been outlined six months ago at the Flint Center event; and there had been a few points released into the wild by Tim Cook. There was also intense speculation with some making accurate suggestions.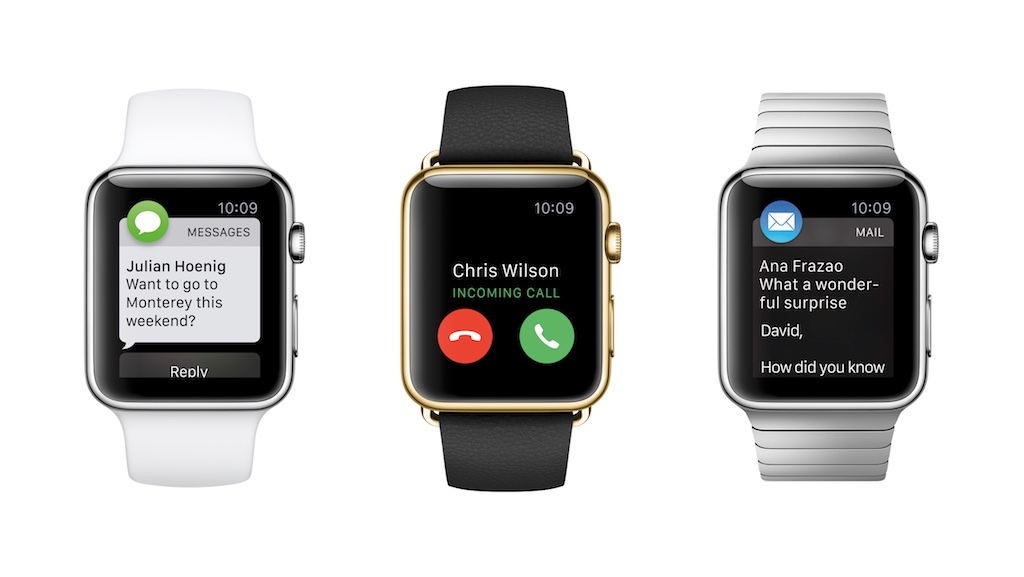 Apple Watch - Image courtesy of Apple

As ever with such an Apple product, the cloners will miss the mark: copying the exterior, but omitting just what it is that makes a product from Apple like this really work. A key to most of the devices is the integration: iOS devices with the Mac and each other; and now Aple Watch with the cloud and the iPhone: not the iPad note. The iOS 8.2 update did not include the Watch app which points towards a far more iPhone-centric approach.
Instead of simply putting the watch on the market and saying, here it is, Watch, fetch. . . . Apple learned from the intro of the iPad which took off so well, partly because of the number of apps already available. With iOS 8, a number of developers produced software that was allied with the Health app (among others), which is destined to have a big effect on the way users monitor their own activities.
Like many I wanted to know how much; and how much for the straps. With three models, each of which has two finishes and two sizes (38mm and 42mm), there is a wide range of options, especially when the straps are included. Cook announced that the Apple Watch Sport (aluminium) is to be $349 (38mm) and $399 (42mm); the Apple Watch (stainless steel) will range from $549 - $1049 (38mm) and $599 - $1099 (42mm). The 18-karat gold Apple Watch Edition will start at $10,000.
While a number of sites have pricing displayed in various ways, Rene Ritchie on iMore wrote, "Here's how much every Apple Watch model is going to cost" which has an easy-glance table with exactly what I wanted. It shows that the Milanese Loop is not as expensive as I had feared, so if I did choose this and the stainless steel watch, the combined price could be $649 (38mm) or $699 (42mm), which in real money is 21,227 or 22,862 baht. Adding VAT, I would expect these to be priced around 22,750 baht and 25,000 baht respectively.

The Edition is not the most expensive Apple product, but the uniqueness was emphasised by the comment from Tim Cook that it is to be sold in limited editions at exclusive booths. He mentioned partners, so the speculation here is that the upmarket malls, like Paragon or (more probably) Central Embassy, would have a boutique inside a major store where these will be sold, when (and if) they come here.
As with a lot of Apple rollouts, the product will not be available worldwide immediately. The websites will be open for orders on 10 April and the deliveries will begin 24 April in certain countries: USA, UK, Australia, China, Japan, Hong Kong, Germany and France.
There was some chagrin in the previous Apple darling, Singapore. Some operations there have been closed down or moved to China and Australia, so this once major Apple manufacturing hub is less important these days: the center of gravity is more to the East.
With Singapore no longer being flavour of the month, the rest of us in South-east Asia could look forward to a lengthy wait for the device. Like the iPhone, it will matter less and less to those like me who write about Apple tech, as almost all the words will have been written by the time I get my hands on one.

We pause now: a short intermission while smart developers began to create apps that were never envisioned, with the ethos, Well why not? This is what happened with the iOS devices making them now far more than the sum of their parts as originally conceived.
MacBook
When Tim Cook came on to the stage with a new lightweight computer on the palm of his hand, I thought he was carrying an iPad with a keyboard, it looked so thin. Apple had revived the MacBook name for a device that fits between the MacBook Air and the MacBook Pro.




Apple MacBook - Image courtesy of Apple

He had just outlined the growth of the Mac, and particularly the notebook ranges, at a time when PC sales are contracting. Commenting that portability was a main theme of Apple products, he said that they had taken what they learned from the iPhone and the iPad and challenged themselve to "reinvent the notebook." That was a risky phrase to use, but it may well be justified. He began the new product introduction with a classy video - I have to have that screensaver.
Phil Schiller conducted the major part of the introduction and with the photo slides the audience was shown how the inside has been reworked, a new trackpad with a pressure touch system added; and the keyboard redesigned with keys that move less, yet more surely.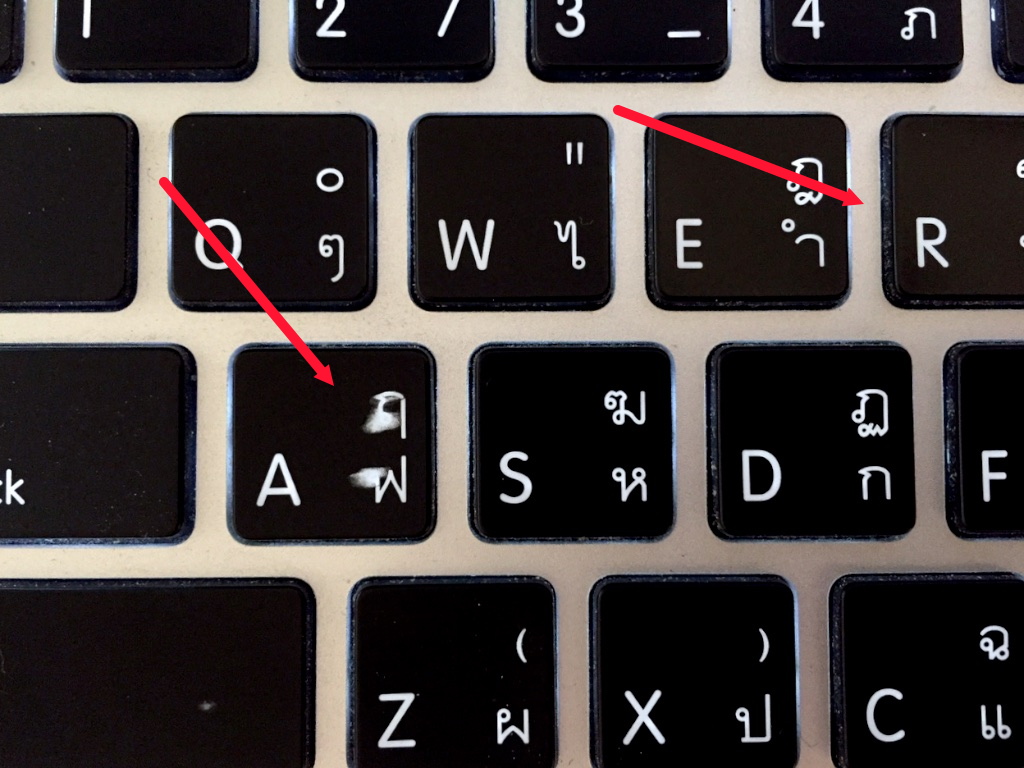 I had noticed recently how some of the keys on my MacBook Pro are showing wear at the sides and wondered about this. The designers at Apple analysed this: there is a clear video of fingers typing, before and after.
The electronic parts were dwarfed by the battery; and this was constructed in a tiered fashion so that it was possible to fit the layered tiers into the narrowing space that the body design of the new MacBook allowed. The solid state components and the design now allow for a device that has no fan. This saves weight, space and avoids unnecessary components.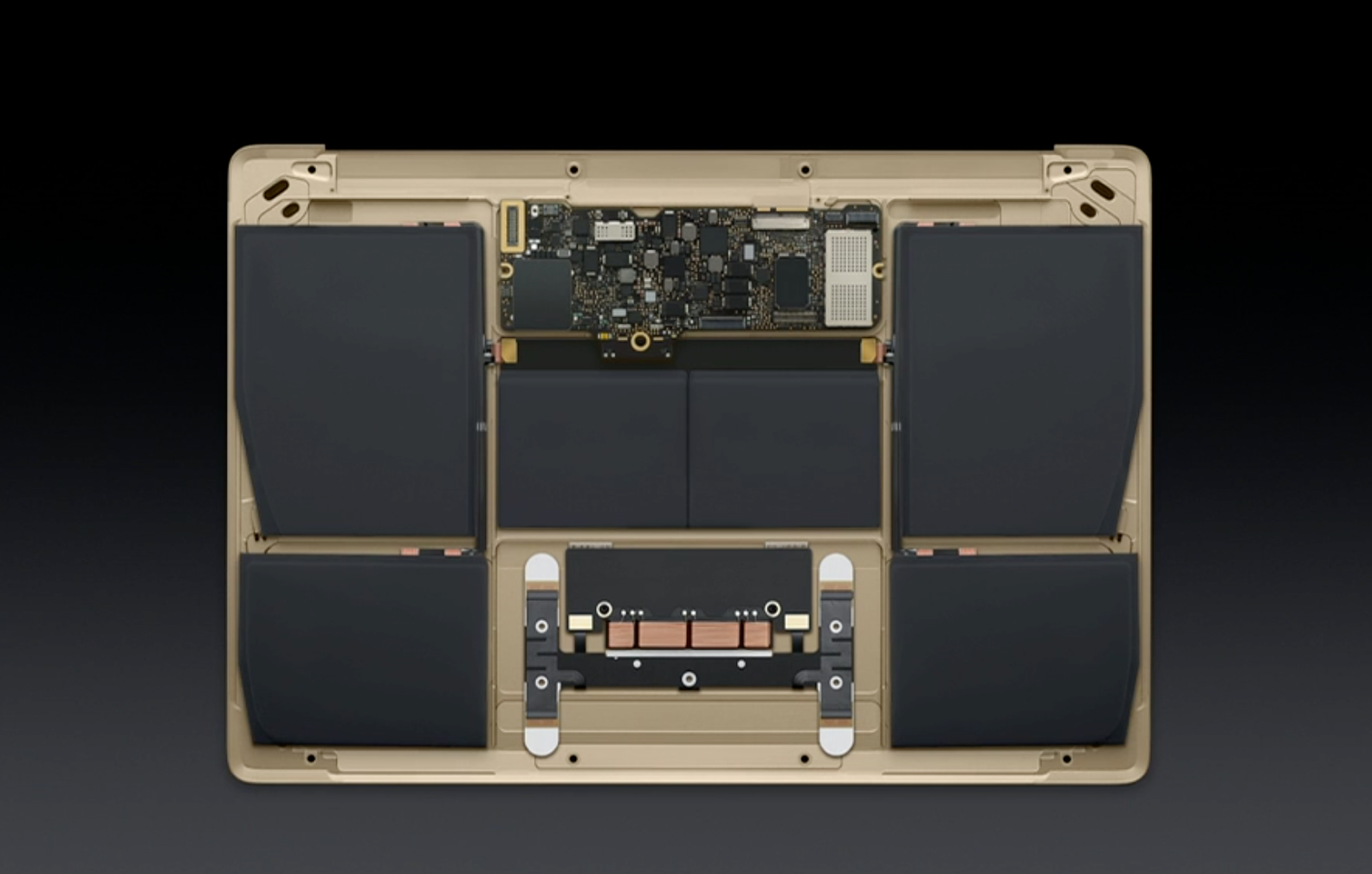 There were more surprises as the exterior is almost devoid of ports. There is just one for a single USB-C cable to be connected: data in, data out and power. There will be many adapters and ways to connect devices that some will need, but Schiller was careful to point out that Apple intends this to be used by way of wireless connectivity.
When looking for information related to this, I found a useful article on Ars Technica by Andrew Cunningham written last August (there are others on the site).
As a number of compliant accessories are already available, and several major manufacturers are on board with this new standard, it should be fairly easy to use. Apple has done well to embrace this new system in the face of its own Lightning and the Thunderbolt standards.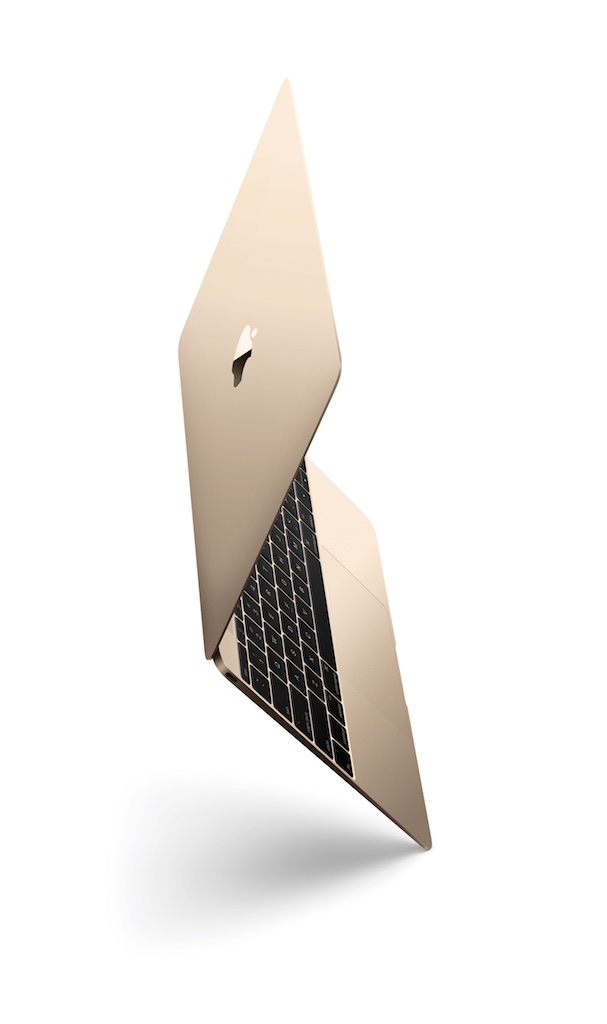 There are two models:
12" Retina display with 1.1 GHz Dual Core Intel Core M processor and Intel graphics 5300; 8 GB RAM; and 256 GB SSD, which Schiller said was faster (the faster SSDs went into updated MacBook Pro and MacBook Air computers too) for $1299.

12" Retina display with 1.2 GHz Dual Core Intel Core M processor and Intel graphics 5300; 8 GB RAM; and 512 GB SSD; for $1599.
The computers also take another step away from Apple normality as they come in three colours like the iPhone and iPad: silver, gold and space grey. These are shown as coming soon in the Thai online store for 43,900 and 54,900 baht respectively.
There have been criticisms about the way Apple creates its computers nowadays with no possibility for users to have them repaired: replace all, now.
You cannot have it both ways: battery technology dictates that a certain volume of cells is needed, so space given over to the units, cannot be used by circuitry. The smaller and smaller boards used to contain the increasingly miniaturized components are less conducive to being repaired. To ensure continued integrity, replacement is needed.
Research Kit
When iOS 8 was announced I was pretty impressed with the ideas behind HealthKit, HomeKit and latterly, the WatchKit SDKs. Apple learned a great lesson with the iPhone and then the iPad by having plenty of suitable apps already in place.

A few weeks before the Apple Watch was to be revealed - we all knew this was coming - some developers, including a number of companies, were invited to visit Cupertino and (under some security) begin to create apps that were suitable for the Apple Watch. As the Watch rolled out, Apple was able to demonstrate a number of these; but then there was something else: Research Kit. As the iOS devices have evolved, so developers have come up with many apps that take the devices much further than was ever anticipated.

As something over 700 million iPhones have been sold, there is a huge population that could be tapped for research. By developing the Research Kit, researchers can access data from potentially millions of users willing, qualified and able to connect to the apps developed for specific research purposes.


There are three modules to enable the apps to be designed and constructed. These are customizable and the developer can design more. The main modules are:
Surveys

Informed Consent

Active tasks, which can also be broken down into (so far):

Motor Activities
Fitness
Cognition
Voice
Five apps have been developed so far by what Apple calls its partners. The apps are: I downloaded the first three of these for a quick look. They follow the same general format with information, the consent screen and data or tasks. I did not fit the criteria for the Asthma app; the app for diabetes research was only for patients in the USA; and the cardiovascular app only had three questions concerning eligibility - clearly the fact that I lived outside the USA did not exclude me with this one. I was particularly interested as both grandfathers and my father suffered from heart problems.





I was asked to provide consent and then activities were explained. There were also a couple of screens that had links to more information. As part of the process, I had to agree to the app collecting data from the phone which would be sent to researchers. You don't take part if you cannot accept this idea of sharing; but the data can also help the user to understand about their own condition.

I was warned that I would need to set aside 10-15 minutes a week and that any data would be sent to Stanford and that it might be shared with other researchers. Data is in the form of surveys and physical tasks. A "Cancel" button at the top would allow me to opt out, had I wanted; and I was free to discontinue participation at any time. At the end there is a rather long consent form.





I answered all the questions and feel rather (smugly) proud that I have done so. Now I need to be aware of activities that the app will monitor. Part of that awareness is bound to have a spin-off effect. By participating, researchers can have access to more data, which will bring more accurate analysis of the health conditions of the population.


Perhaps a local researcher could develop an app to examine the effects of liver fluke, which is caused by a parasite. There are a number of sufferers in Thailand, some of whom contracted this from contact in water sources; while others may have eaten improperly-prepared fermented fish products.



Graham K. Rogers teaches at the Faculty of Engineering, Mahidol University in Thailand where he is also Assistant Dean. He wrote in the Bangkok Post, Database supplement on IT subjects. For the last seven years of Database he wrote a column on Apple and Macs. He is now continuing that in the Bangkok Post supplement, Life.