By Graham K. Rogers
---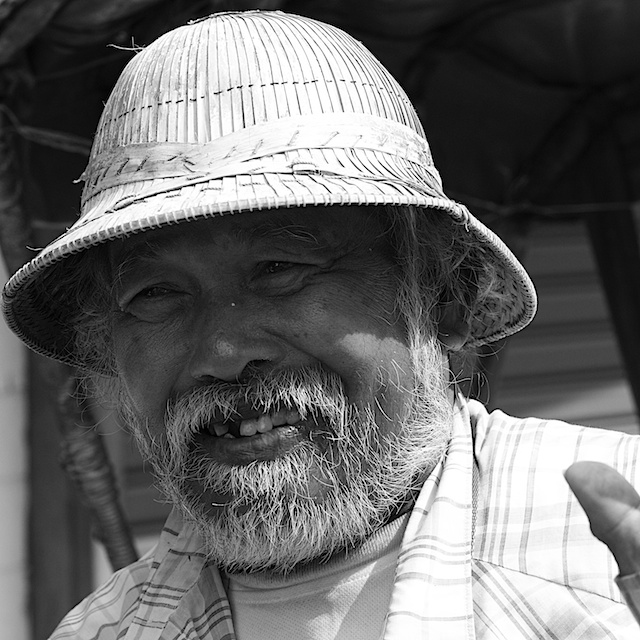 Apple's record financial quarter announced last week caught many on the hop. With over 74 million phones sold, it is not all fanboys these days. Of course, with record income of $74.6 billion and profits of $18 billion some critics are already running the "Apple is doomed" mantra. The idea this time is sustainability: the only way now, is down.
There were updates last week to iOS (8.1.3) and OS X (10.10.2) with a number of improvements and fixes. A Wi-Fi problem is still plaguing some users. There is a new problem for me: inability to view HTML pages using QuickLook.

All Mac applications, including the Finder, have key commands: used as a quick way to operate actions found in menus. Learning these key commands for specific applications is far more efficient than the slow (if easy to follow) menus.
There are also key commands that can be used when starting a Mac (pressed right after the startup tone) that are useful for repair and diagnostics. The newest was introduced with OS X 10.7, Lion when a recovery partition was included. Some earlier Macs may require an EFI BootROM update.
Startup using Command + R Key - Repair Partition Options

The Repair partition has a number of useful tools: Utilities; the ability to install a new version of OS X from the Mac App Store; and restoring from a Time Machine backup. These are accessed by starting the Mac while holding down the Command + R keys.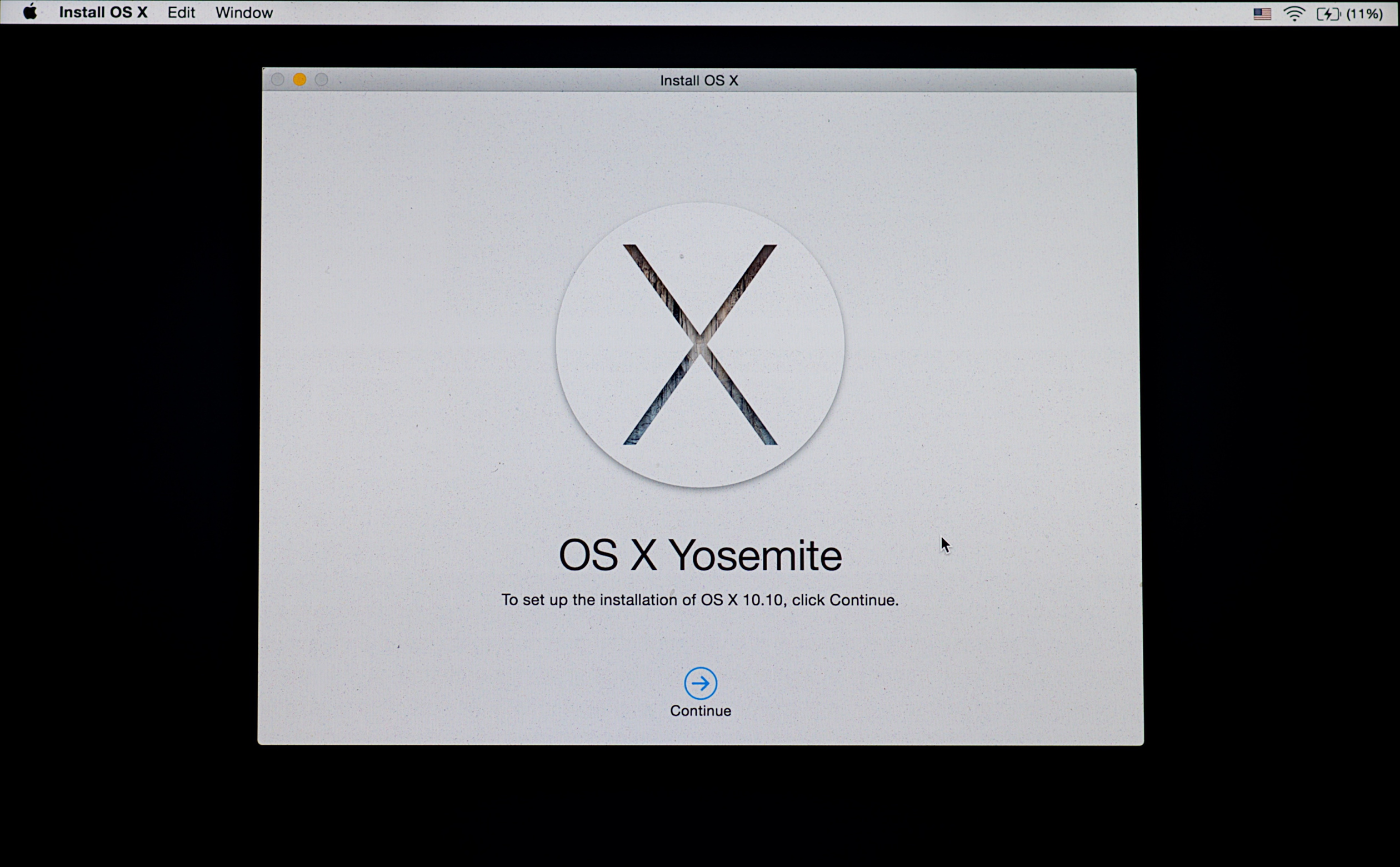 Startup using Command + R Key - New Install Option

Another form of diagnosis is a check of the hardware. There is an inbuilt check. This used to be on the install disks that came with earlier versions of OS X. Then and now, this testing is accessed by starting a computer while pressing the D key.
Another holdover from the days of disks is the C-key startup. This was used to startup from a bootable disk, but I also use it to start from a thumb drive I have with OS X installed: useful for rescue. I expect this will be used when the new Disk Warrior on a USB drive arrives: developed because new Macs no longer have disk drives. For those Macs with disks, starting up with the mouse (or trackpad) key pressed will eject a disk. That also works with an Eject key or F12.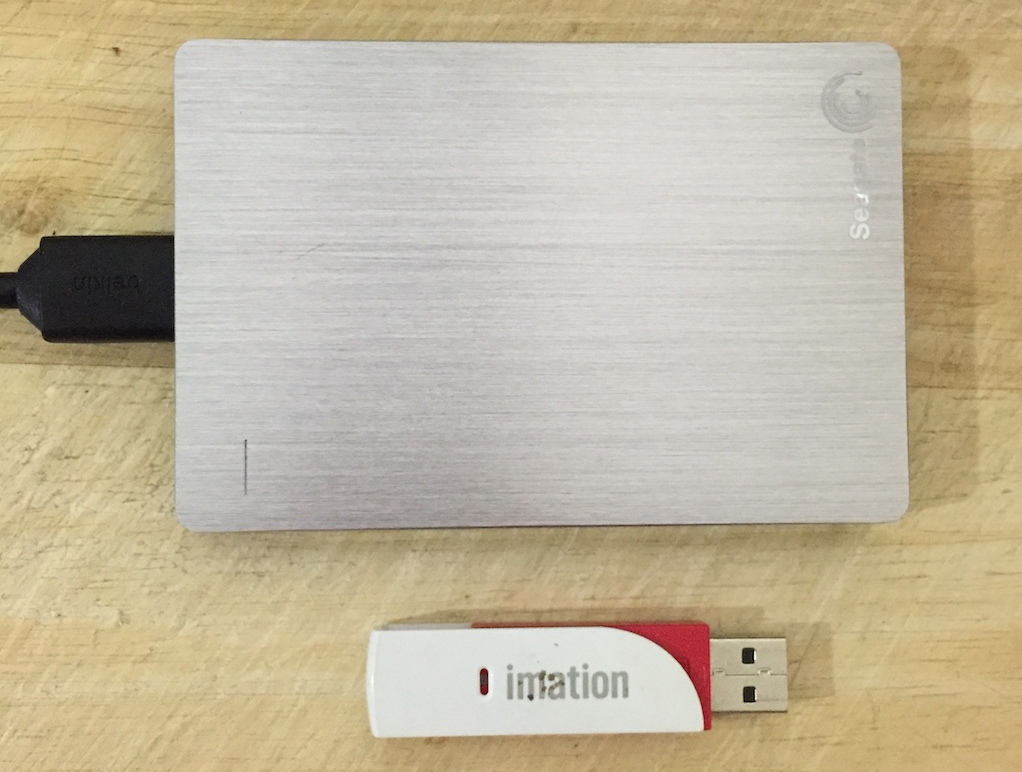 Disks with OS X Installed

As well as that thumb drive, I also have OS X installed on a couple of hard disks that connect to the Mac via USB. When I want to use one of these, I start the computer while holding down the Option key. That displays a screen with any bootable drive shown. I can select the one I want and the Mac starts up from that.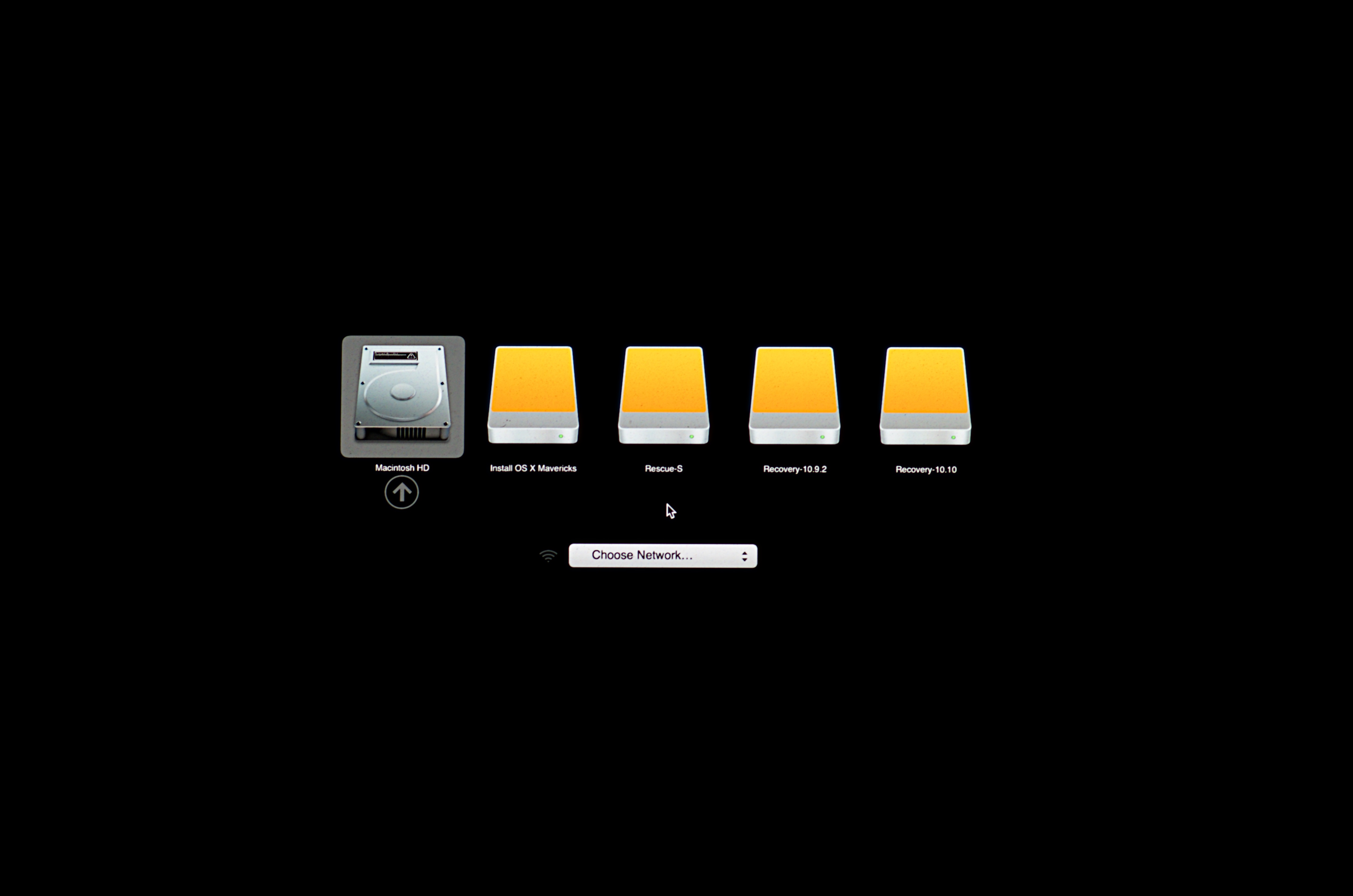 Startup using Option Key - Available Disks

If I want to run a Mac from a second computer, I will start up in Target mode. This uses the T-key. The master computer is connected using a Thunderbolt (or Firewire) cable and the slave (the Target) can be controlled from there. This is useful not only for diagnostics and repair, but for transferring large amounts of data quickly.
Some problems may be fixed by resetting the NVRAM: Non-Volatile Random Access memory. This keeps certain settings for the computer (including date and time), but may need the occasional nudge. This takes 4 fingers and some dexterity: the computer is restarted (at least twice) with the Option-Command-P-R keys pressed.
Much easier is a reboot in Safe mode: press Shift at startup. None of the startup programs or extensions are run. This may help if one of those processes is causing problems. There are ways to boot up from a network server, using the N key or Option-N; but I have never seen this.
Although we now have the Recovery partition, I still use a quick way to repair problems by starting up in Single-user mode, using the Command and S keys. This means I am working in UNIX, but I have similar tools available at the command line as are available in the Recovery Utilities.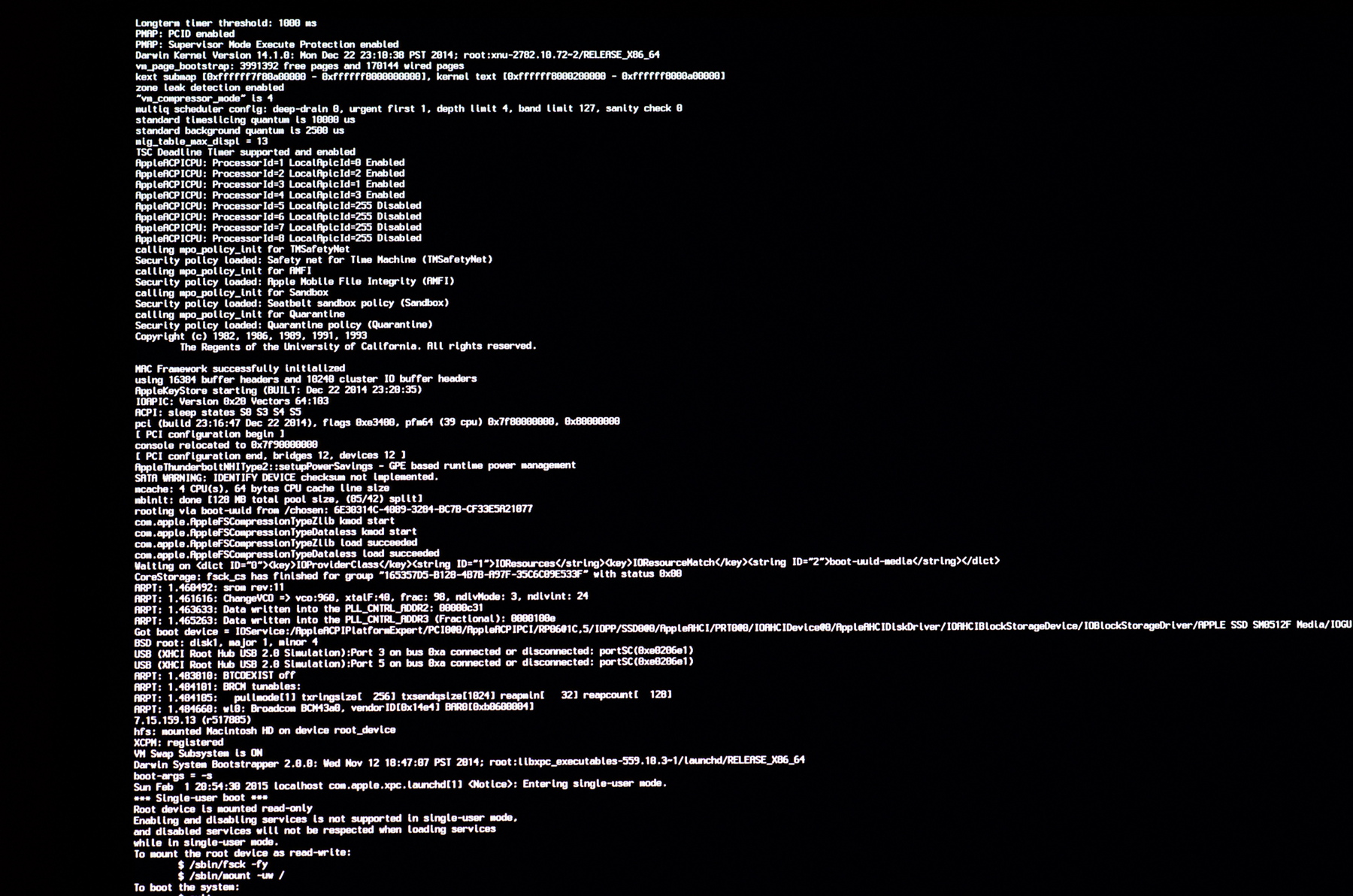 Startup using Command + S Key - Single User Mode

To see what a single-user mode startup looks like, there is a Verbose mode: start with the Command plus V keys. Text that is usually hidden is shown and may show a problem if we read the display correctly. Verbose mode goes straight into a normal startup after the text is shown.

New photo apps with something extra are hard to find these days. I reviewed a good one called Effects Studio last week and the developer was so pleased he added my name to the list of review comments.

It was sad to see the announcement that AOL is to shutter the useful online blog, TUAW (The Unofficial Apple Weblog): there has been much good information on there over the years. As from 3 February, articles from some contributors will be available ion Engadget. However, at the weekend I was told that on Monday of next week (9 Feb) we should look out for AppleWorldToday.
See also: