By Graham K. Rogers
---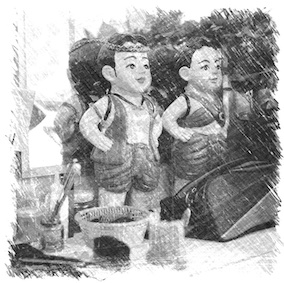 As well as technology, I am interested in photography. With the use of digital images - from DSLR or from iOS devices - I am able to combine the two from time to time. Digital photographs are easy to create, edit, trash and use. This has lead to a surfeit of images, particularly online, some of them not all that good. If the focus is wrong, the image is too.
At any event these days, we may see a score or more of people taking photographs using tablet computers and smartphones. Some of those pictures may be quite acceptable, especially with the output from some devices currently available. Once in a while, in the mix of photo-takers may be someone with a DSLR, or one of the new mirror-less cameras. But you will not often see someone taking photographs with film.
Despite my immersion in digital technology, I moved back (part-time) to film a short while ago. I used film from my childhood up to my 40s (and a little beyond), but I am having to relearn how to use a camera.
A local photographer commented to me a couple of years back that he loved working with digital and was easily able to work in graphical software to manipulate his output, precisely because he was taught to use (and experiment with) film.
I am still on a learning curve, but once in a while will load up the camera with film and walk out into the streets on the unfashionable side of the Chao Phraya River to take some photographs. Slowly. . . .
I took a couple of reels not so long ago and they were finally developed this week. I scanned the negatives and have a couple that I want to share. With Facebook insisting that it owns any of my photographs I upload there, I am once again watermarking my images: iWatermark Pro, for the Mac; and iWatermark for iOS (there are Android and Windows versions).
Bangkhunnon
I have my haircut here. Not in some swishy salon with equally swishy prices, but in an ordinary barber's shop that has served locals for years. Again, the essence here is time: it may take an hour before the barber I use is free and then his slow pace allows me time to relax. I have often dozed off.






Wuttakat
This is an interesting area not far from where I stay. I like the little back streets. Being away from areas tourists visit, I chat while taking photographs and enjoy the time I spend here. These photographs were taken at the same time I made a photo-essay of the area late one Saturday afternoon with the digital cameras; but the film was slow in coming back from being developed.
| | |
| --- | --- |
| | |
| | |
| | |
Graham K. Rogers teaches at the Faculty of Engineering, Mahidol University in Thailand where he is also Assistant Dean. He wrote in the Bangkok Post, Database supplement on IT subjects. For the last seven years of Database he wrote a column on Apple and Macs. He is now continuing that in the Bangkok Post supplement, Life.