By Graham K. Rogers
---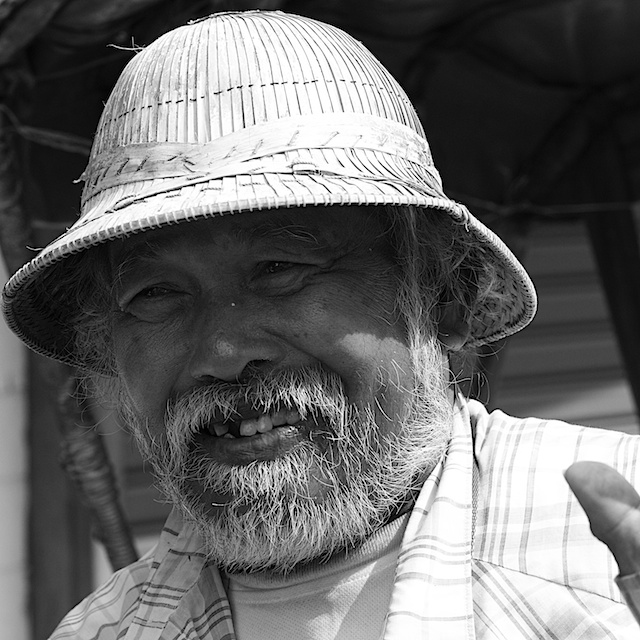 Last week in Cupertino, Tim Cook along with Craig Federighi and Phil Schiller introduced some more new products which were more along the lines of a logical evolution rather than major surprises. Nonetheless, eyebrows were raised a little, especially by a new iMac.

Analysts estimate that iPhone sales for the quarter were between 35 and 40 million. The figure that Apple gave in its financial report will be accurate because of the SEC filing it makes. That will be in the public domain by now as the Q4 2014 financial report was released on Monday (4 am Tuesday here). We may also find out how many iPads were sold, with opinions ranging from 11.5 million to 15.4 million for the quarter.
Apple has now sold over 225 million iPads, selling some 70 million of them in the last year: more PCs than Acer, Dell, HP and Lenovo sold. But this is unfair: I am comparing Apples to oranges. Or lemons. The computer is still used for many tasks - my students would be lost without them. A large proportion of users, however, now find that tablet computers are enough.
As hinted above, the sales figures for iPhones were released at the Quarterly financial report and with another 36 countries, including Thailand, set to start selling the devices by the end of the month, numbers are going to rise even further.
The Q4 2014 report showed that Apple was even more profitable than most analysts had predicted (so much for analysts). I reported on this Tuesday morning with some additional comments and analysis. In short,
Revenue $42.1 billion ($37.5 billion previous year)
Quarterly net profit $8.5 billion ($7.5 billion)
39.3 million iPhones sold (35.2 million +11.6%)
5.5 million Macs (+25%)
App Store revenue +36%
Cumulative app downloads now over 85 billion
Retail store revenue $5.1 billion (+15%)
John Martellaro on The MacObserver looks at Tim Cook's explanation for the lower sales of iPads, reporting his words, that "Instead of looking at this thing each 90 days, if you back up and look at it, we've sold 237 million in just over four years. That's about twice the number of iPhones we sold over the first four years of iPhone"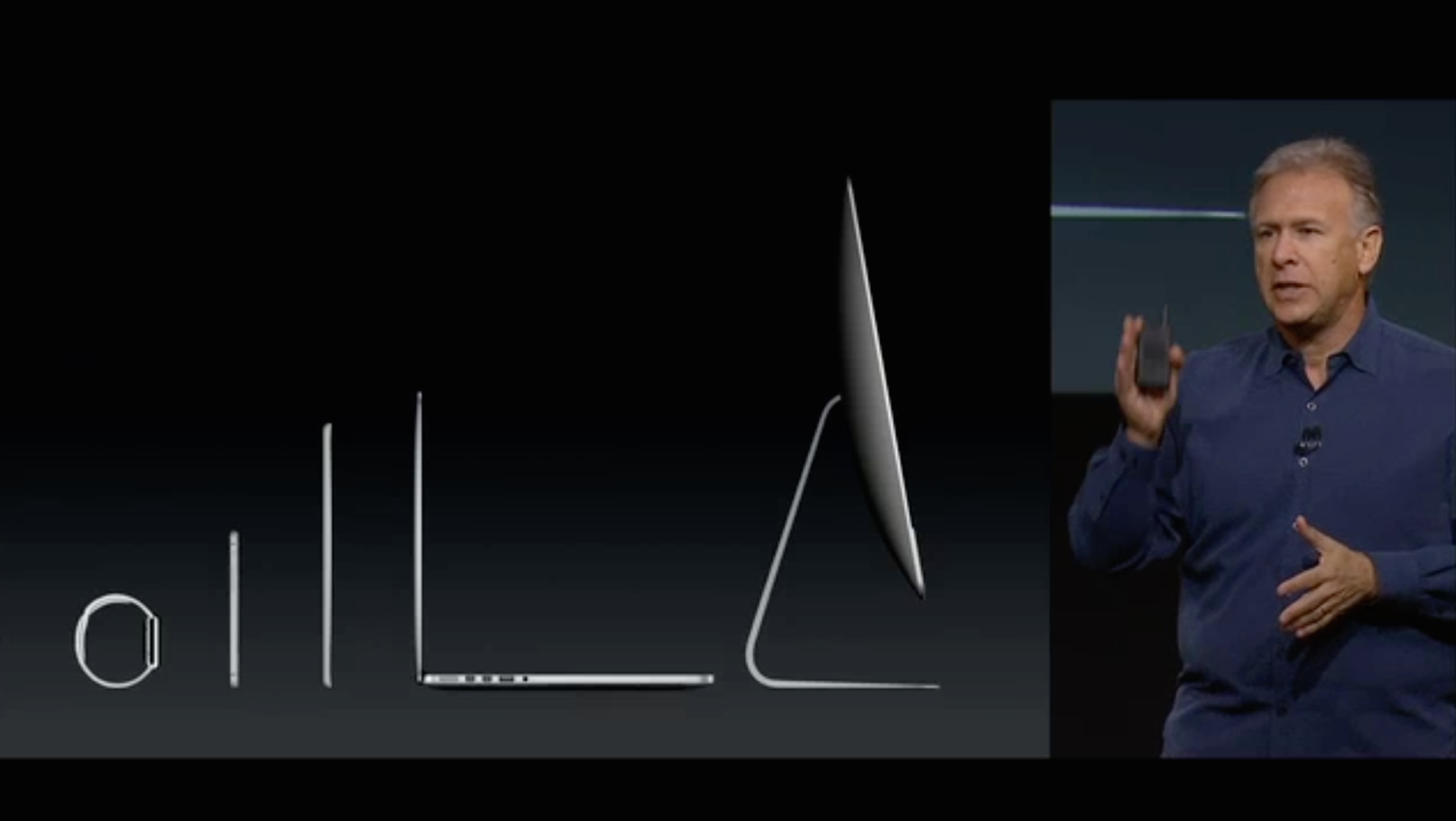 Spelling it out - Event Screenshot

It was also revealed at the event last week that iOS 8.1 was to be released on Monday (21 Oct). It will include Apple Pay for those in the US where the service is available first. Over 500 banks have now signed up. I am delighted that Apple listened to some criticism and, as part of this update, the camera roll reappeared.
I downloaded this early Tuesday morning with no problems. It increases the integration with OS X 10.10, Yosemite, especially with taking and making phone calls on the Mac. A number of users reported that they were delighted with the way that their Macs now handle SMS messages.
As Daniel Eran Dilger points out in his recent look at the new Apple, that change took a few weeks to implement in iOS 8.1, compared with the couple of years it took Microsoft to bring back the Start button in Windows 8.1.

The immediate (and free) release of OS X 10.10 Yosemite was announced. Depending on where you are this may take a few hours, or more. The interface is flatter than before and has taken some of the design features of iOS. The two systems work together closely although there is little chance of Apple merging the two. Updates for iWork (Keynote, Numbers, Pages) which now have features like Handoff and access to iCloud Drive were released to go with Yosemite. Aperture, iMovie and iBooks Author were also updated.
I have begun to put online my examination of System Preferences in OS X, 10.10, Yosemite, with the most recent being Desktop & Screensaver.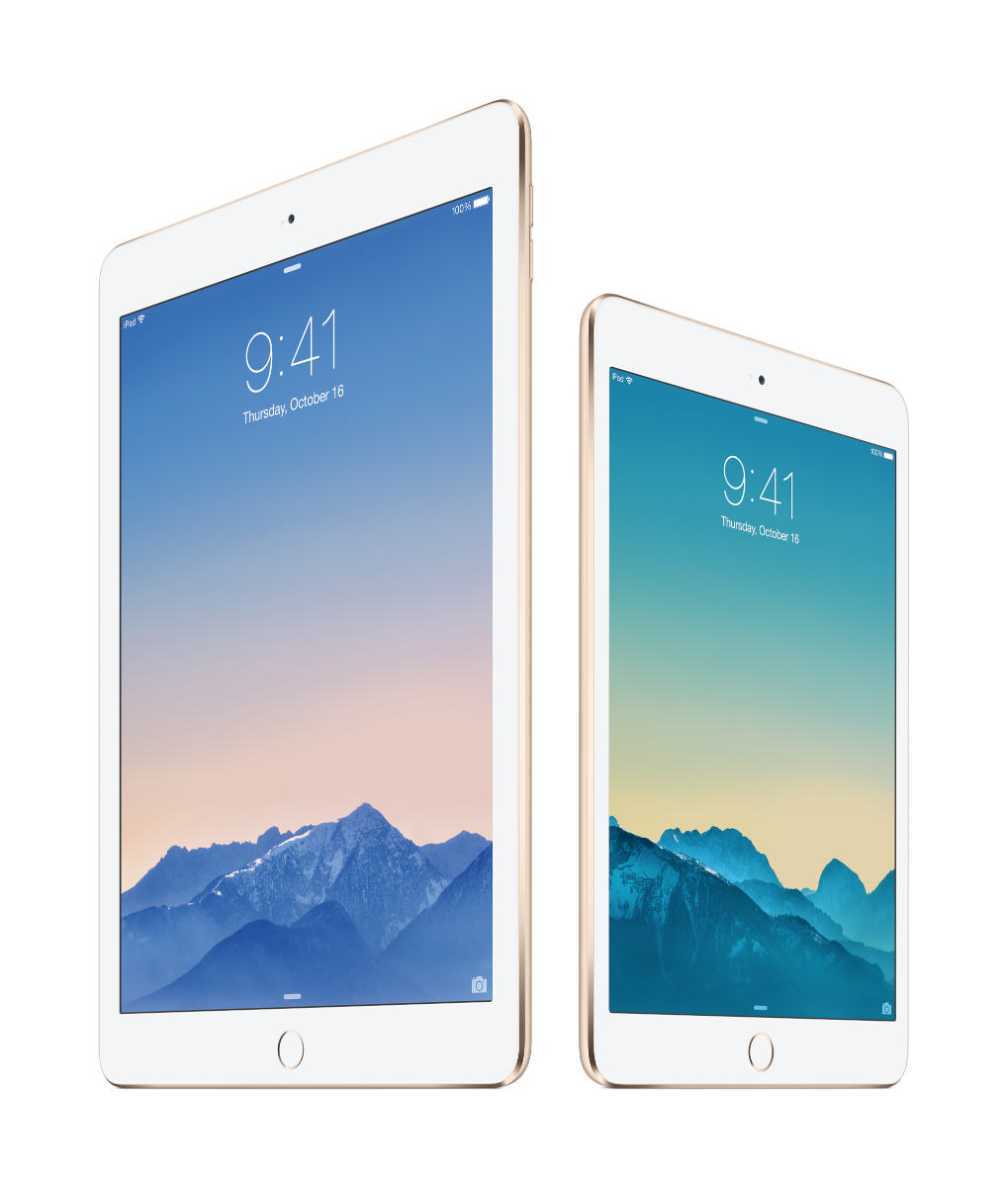 The iPad Air 2 was announced (Apple image). The 64 GB version with wifi is priced at $599. I converted to baht and added 7% for VAT giving me 20,773 baht. I would hope the price here when it is announced will be around 21,000 baht.
With its 64-bit, A8X chip providing even greater performance, how long before a processor from this series appears in a Mac? I have said this is a logical evolution ever since the A-series appeared in iPads. An inbuilt SIM card for the Wi-Fi + Cellular version allows users to select the carrier and will switch networks when needed.
There was also an iPad mini 3 with 7.9-inch display. This uses the A7 processor. Both iPads have Touch ID like the iPhone, in time for Apple pay. These iPads have 16GB, 64 GB and 128 GB options.

During the presentation, two developers were invited on stage to show how their products work with the new iPads and iOS 8: Pixelmator and Replay. Both were impressive, especially the one on Pixelmator, which is currently available for the Mac.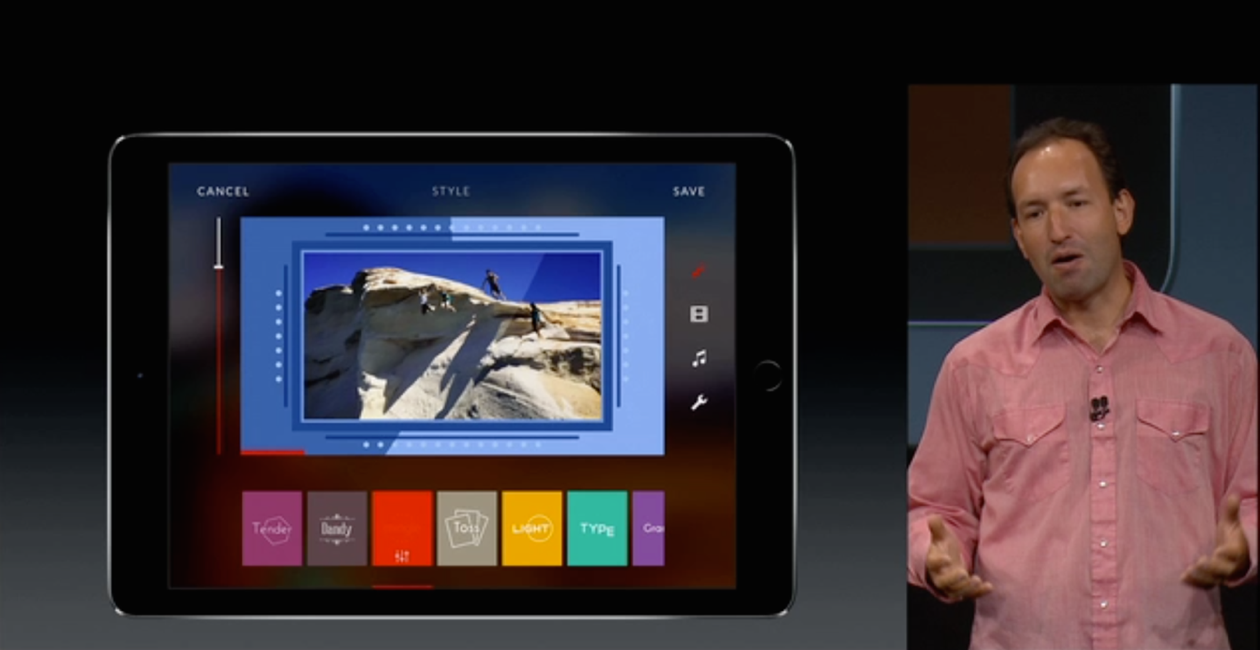 Demo of Replay - Event Screenshot

I downloaded Replay and have been playing with that. It is free with a bunch of in-app purchases, including one for removing a watermark. The logo is not obtrusive. There are only one or two video styles available with most being part of the in-app purchases: separate or the whole package for $9.99. Using the app this way allows the user to try it out before making decisions.
I also had a look at the demo of Pixelmator for the iPad which will be $4.99. That demo is worth watching for the effect one part had on the audience there. They will sell millions just on that 5 second segment alone. As it supports Handoff, it may also be worth buying the Mac application ($29.99).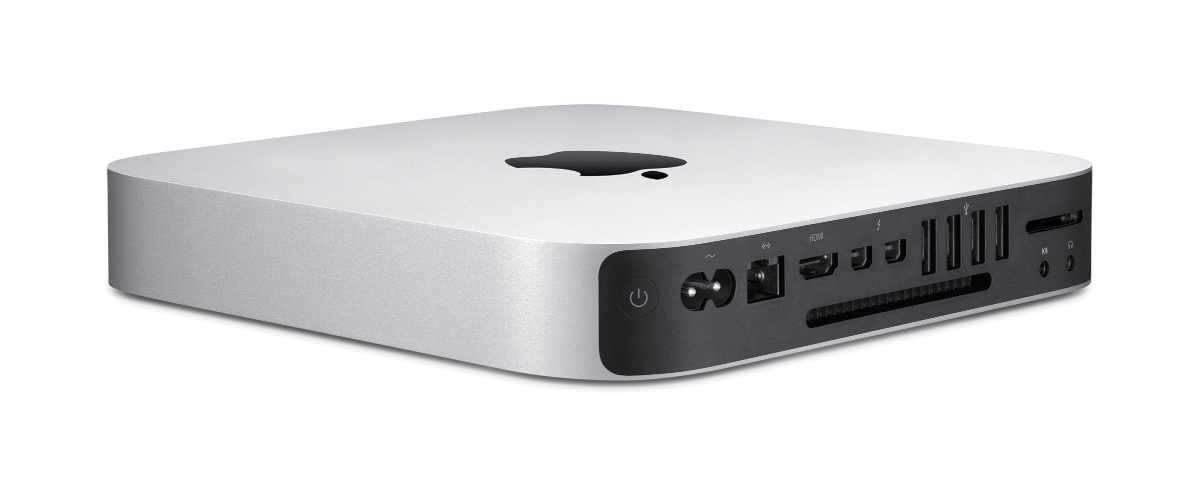 Mac mini - Image used by Permission of Apple

The Mac is not dead: indeed, when compared to the rest of the PC industry with its negative growth, it is doing quite well. Apple had two new versions of existing lines: a complete update for the Mac mini; and an iMac with Retina 5K display (5120 x 2880).
The Mac mini is down $100 to its new price of $499 (16,900 baht). This is 16,900 baht here including VAT. The basic version, like the starter iMac has a 1.4 GHz chip. It is no screamer, but will be fine for home tasks. It has the faster 802.11 ac Wi-Fi, for better integration with Apple's plans for the home. All models have the Thunderbolt ports for external storage as well as HDMI output.
Like my current MacBook Pro, RAM in the Mac mini cannot be upgraded by the user. A teardown by iFixit later confirmed this point. I ordered my MacBook Pro with 16 GB just to be sure. The new 5K iMac however does have a panel that opens to allow memory upgrades by the user.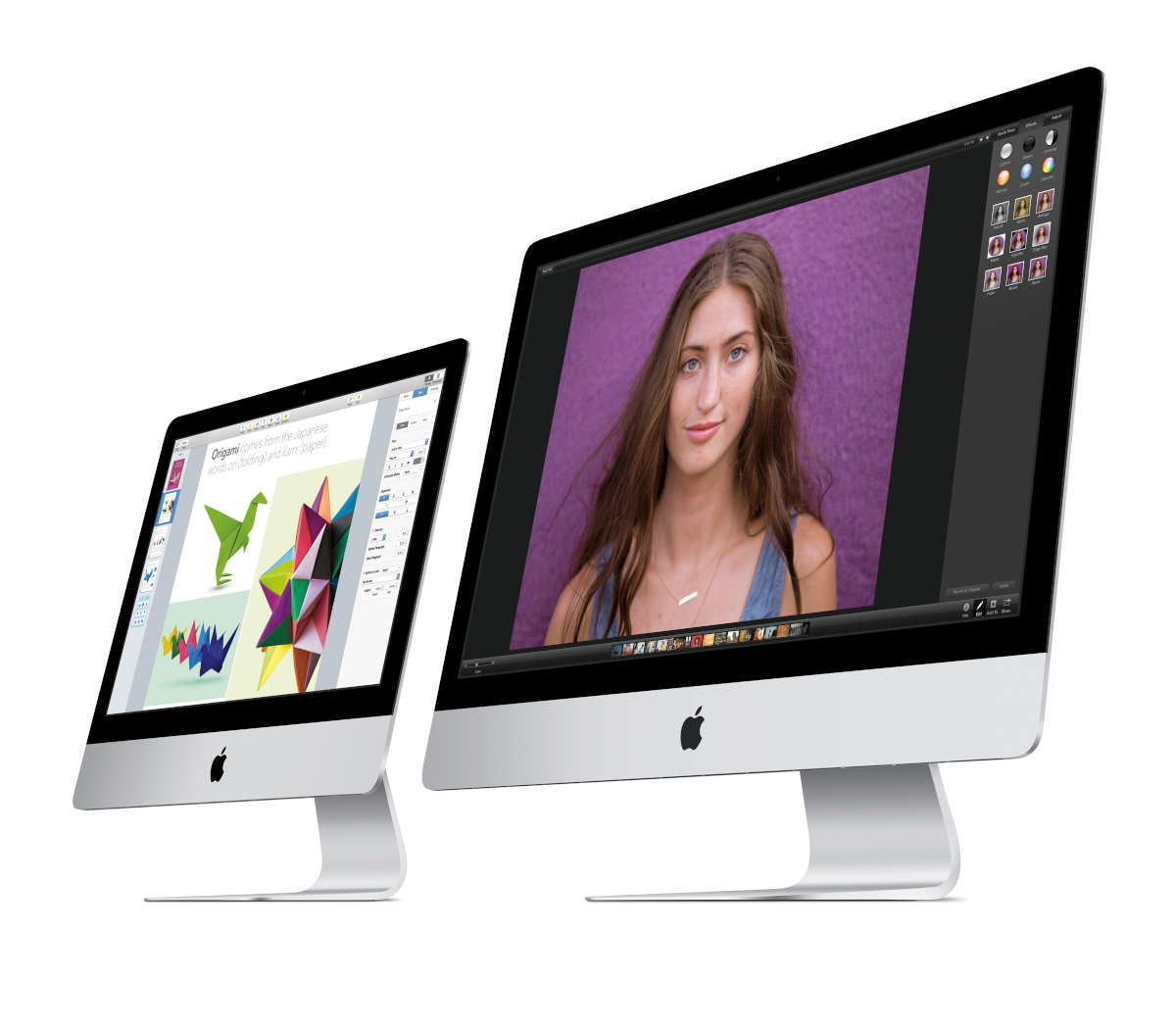 iMac with 5K Retina Display - Image used by Permission of Apple

Many were impressed by the new iMac with its 27" 5K display. It is aimed at the professional who may find the Mac Pro less suitable. It is not surprising that there are several ways that this new iMac can be configured with larger hard disks, more memory (up to 32 GB) and a faster 4 GHz processor. Starting at 85,900 baht, this is not really for the home user.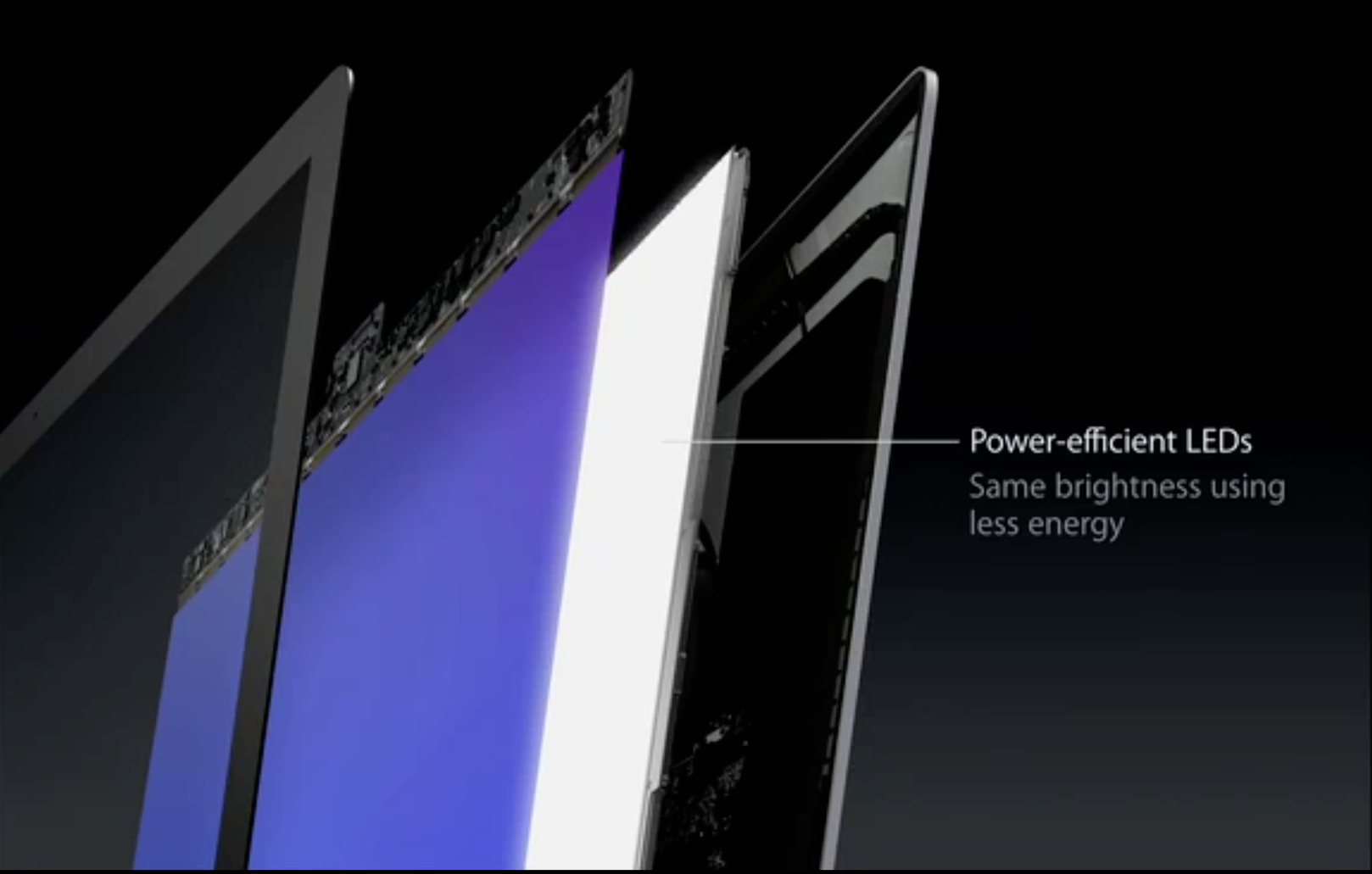 iMac 5k Display Breakdown - Event Screenshot

Tim Bajarin makes an interesting point when he writes, "Apple did something very interesting with the design of the 5K Retina Mac. They created a special processor of their own known as the timing controller or T-CON designed just to manage and manipulate each pixel with levels of precision we have not seen so far in TV or PC displays." He further speculates on how this might be used in other devices. Ah yes . . . Innovation.
Adding on all those extras can soon send the price over 100,000 baht. Like the Mac mini, the 85,900 baht price is slightly cheaper than the US $2499 when VAT is added on (86,662 baht). iFixit carried out a tear-down of the iMac and gave it 5 out of 10 for repairability.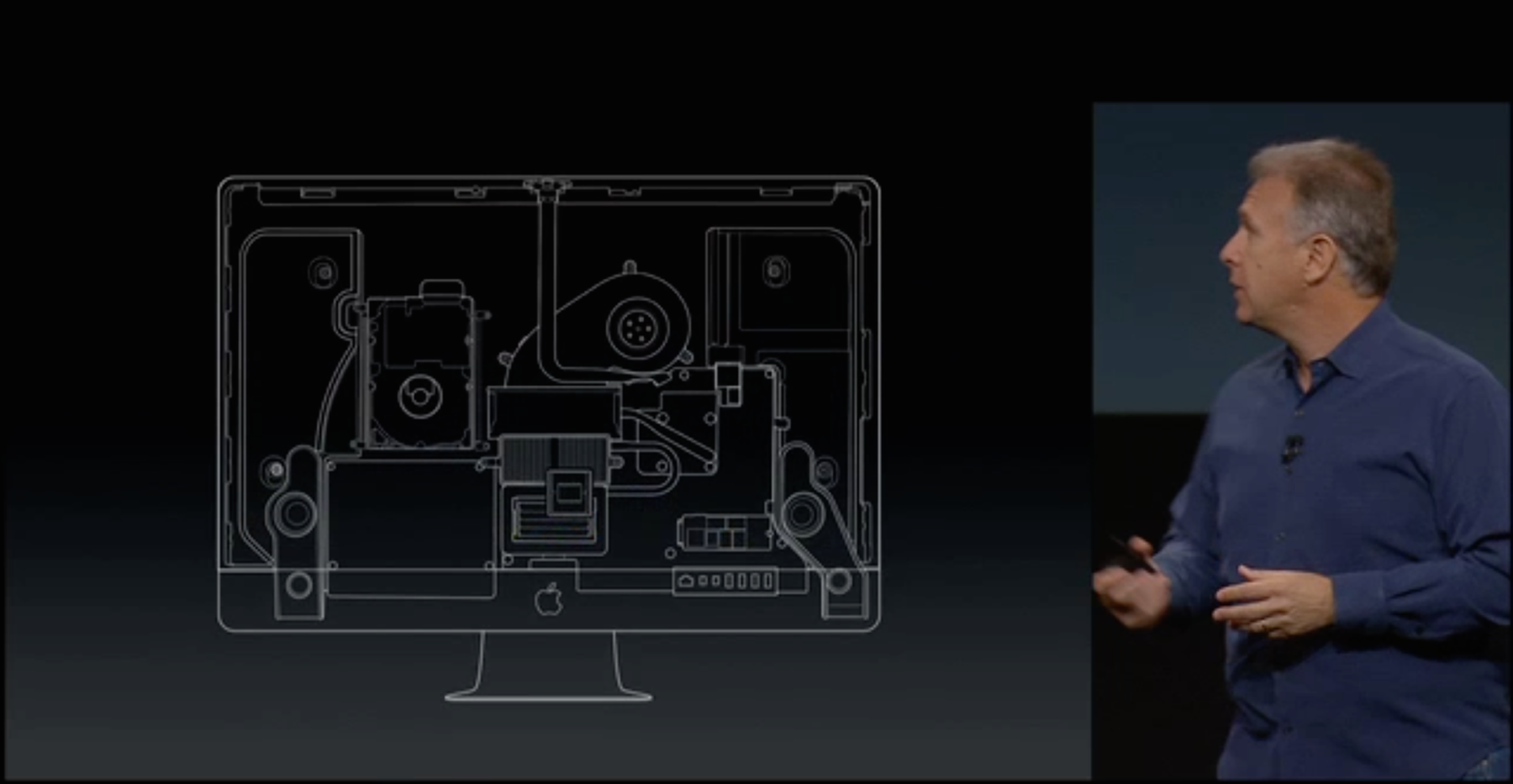 iMac with 5K Retina Display - Event Screenshot
See Also:
Graham K. Rogers teaches at the Faculty of Engineering, Mahidol University in Thailand where he is also Assistant Dean. He wrote in the Bangkok Post, Database supplement on IT subjects. For the last seven years of Database he wrote a column on Apple and Macs. He is now continuing that in the Bangkok Post supplement, Life.