By Graham K. Rogers
---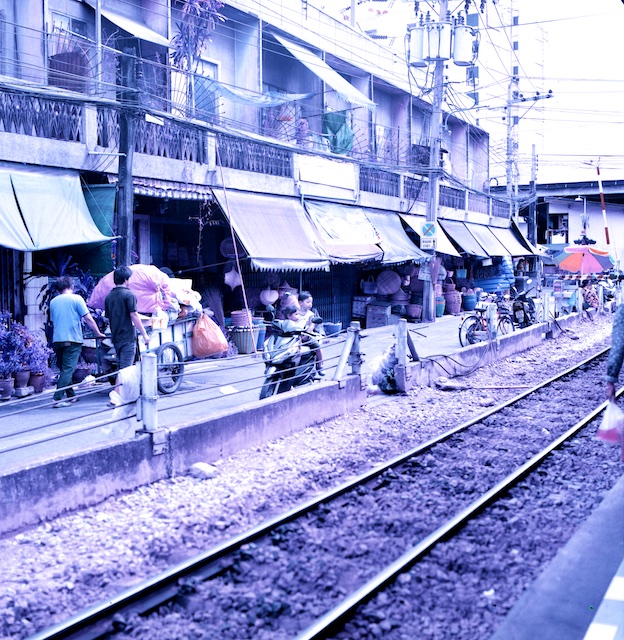 This week I have been out and about with the cameras a bit more than I am usually able. I took advantage of visit from a friend to rediscover some nearby places. One of these was in the back streets not far from where I live. Looking for one thing, we found another: Chinese dragon dancers celebrating a religious holiday.

Earlier in the week, we had taken a trip along the railway that runs from this part of Bangkok down to Mahachai; and while there crossed the river to Banlaem. I put some of the photographs from that trip online earlier. Those images were taken with Nikon digital cameras; but I was also carrying a Hasselblad that I acquired recently.

This is an experiment. Having enjoyed the experience of digital photography with those cameras and the iPhone, I am interested in rediscovering some of the things that interested me in photography, even when I was a child in London with a Box Brownie.

With the Hasselblad, I tend to favour black and white film, but as a continuation of the experimentation, I bought some film in the Lomography shop in Siam Discovery Center, Bangkok.

The film is called LomoChrome PurpleXR and costs 400 baht a roll. It gives a purple hue, especially to items in the green part of the spectrum. It indicated an ISO rating of 100-400, so I set things up for ISO 200 and tried that. After scanning the negatives, I did have to adjust exposure on some of the pictures.

While the sharpness was certainly up to par (the images here are only 640x640), I am not convinced about the colour output itself. But that is what experiments are for. . .
See also:
A Run Down to Mahachai and Across the River to Banlaem (1) - A Digital Exercise



Graham K. Rogers teaches at the Faculty of Engineering, Mahidol University in Thailand where he is also Assistant Dean. He wrote in the Bangkok Post, Database supplement on IT subjects. For the last seven years of Database he wrote a column on Apple and Macs. He is now continuing that in the Bangkok Post supplement, Life.