By Graham K. Rogers
---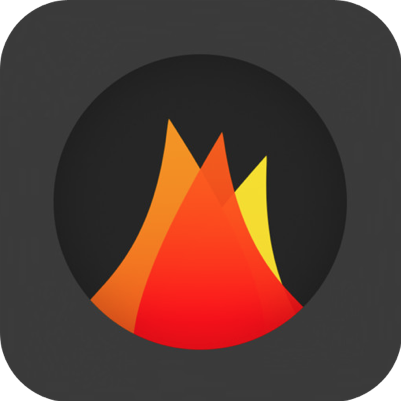 Particularly in the area of photography, it is becoming increasingly harder to produce an app which is original or innovative. From the list of lab sessions at Apple's WWDC, which ended on Friday, there will be a few new features that camera app developers will be able to add. In the meantime, once in a while an app appears that is different: Darklight is one that merits attention.

Not so long ago, I found the locally-developed Camera 500 which was well-made and had a good feature set. I still use this regularly. Now, another app appears in the listings: Darklight, developed by Daniel Sathyanesan: a young man currently in South Dakota (according to his Facebook page).
The full name of this app is Darklight Advanced Image Editor, which is a bit of a mouth-full, although it describes the functions of this unusually rich - and free - app quite well.

The app opens with two choices: Select An Image and Edit A Sample. The sample edit option allows a user to learn how to use the controls of the app. All editing and filter functions are available in this section, which has a single image to play with. I do wonder, however, if this is redundant.
The main option, Select An Image, is quite simple as it does not have any access to the iPhone camera. Apart from certain apps - where this access is part of the operation (for example, Michael Hardaker's 645 Pro) - it may be better not to use the camera from within an app: retaining the original image; and being able to work via the Lock Screen.
Darklight skirts that with its direct access to the photo library. Selecting an image loads it in the editing screen and the user has a selection of tools ranging from quite basic to the sophisticated.

There are initially eleven groups of tools available: Enhance, Scenes, Basic and Advance (sic). Tapping each of these provides another set of options.
Enhance has three tools: Low, Medium and High, as well as Original, which removes any effect. At the top of each screen are Cancel, which removes any effect applied and returns the user to the main editing screen, and Apply. The effect is added and the main editing screen is shown again. At the top of the Edit screen are back and forward arrows: undo and redo.

Scenes has 13 options (such as Backlit, Sunset, Night, Food) each of which changes the image in a way similar to White Balance. It is not exactly that, but the light changes within an image can make instant improvements.

Basic allows the user a little more control over the image with the four options of Brightness, Contrast, Saturation and Sharpness - all that is needed for many images - each of which is controlled by a slider. By default the slider control is positioned in the middle so the user adds or removes the effect. As the slider is moved, a tiny panel appears showing how much (from -100 to +100) is being applied: a nice feature. Other developers could learn from this young man.

Advance shows seven controls, with a higher level of sophistication: Vignette, Shadows, Highlights, Temp, Tint, RGB, Curve. While most of these options have the slider, RGB has three (one for each colour) and Curve displays a graph form of course. The tool also has a couple of useful buttons: Hide and Reset.
Effects provides five sets of filters: Analog, Lomo, Old Picture, Retro and Vintage. Analog and Lomo each have 8 filters; the others 5 each. The filters alone would be enough for some apps.

Rotate allows four ways in which an image may be adjusted: rotate left, rotate right, flip horizontally and flip vertically.

Crop not only has a number of cropping options but there is also a slider to straighten an image. Copping options are Custom, Original aspect ratio, 1:1, 4:3, 6:4, 7:5, 10:8 and 16:9. A grid displayed over the image helps guide the user when cropping whichever option is chosen.

Frames provides three options of Simple, Style or Gallery. Each of these has a number of frame designs from which to choose

Stickers has 6 sections from which to select stickers: Love, Decoration, Party, Happy Time, Boom and Travel. I am not a lover of stickers, but these were displayed discreetly at the bottom of the screen and when selected appeared on the image in a box that could be dragged and resized.

Text placed a box with "Double Tap to Edit" on the screen. There are 19 fonts available, as well as colours and a selection of tools for altering the way the text is displayed.

Tilt Shift is a way to blur parts of an image, either to concentrate on a specific section of the photograph or to make the image appear a different scale (like a model). There are three options: circle, linear and ellipse. A slider increases or decreases the effect.
When editing is complete, the user presses the Done button at top right of the screen and the image is saved to the camera roll. There are no options for Mail, Facebook, Twitter or any other service: the user can do that from the photo library. At this point a full screen advertisement appears (powered by Google). These ads are easily dismissed. There is no option to remove ads, but this is a small overhead for such a good photo app.


While I was looking at the app, I found myself comparing the way it worked with the way I use Aperture. For most editing purposes, the tools found here are all I use: indeed, I usually tend to steer clear of tools like Curve. While not alone in providing such a useful tool-set, Darklight is so easy to use that it scores highly here. The app is trimmed to what is needed, without any unnecessary dumbing down: import, editing tools, export.

The developer, Daniel Sathyanesan has a number of other apps available. Just under half of these are free, including Darklight Advanced Image Editor which is a nicely designed and uncomplicated app for photography that is highly recommended.



Graham K. Rogers teaches at the Faculty of Engineering, Mahidol University in Thailand where he is also Assistant Dean. He wrote in the Bangkok Post, Database supplement on IT subjects. For the last seven years of Database he wrote a column on Apple and Macs. He is now continuing that in the Bangkok Post supplement, Life.