By Graham K. Rogers
---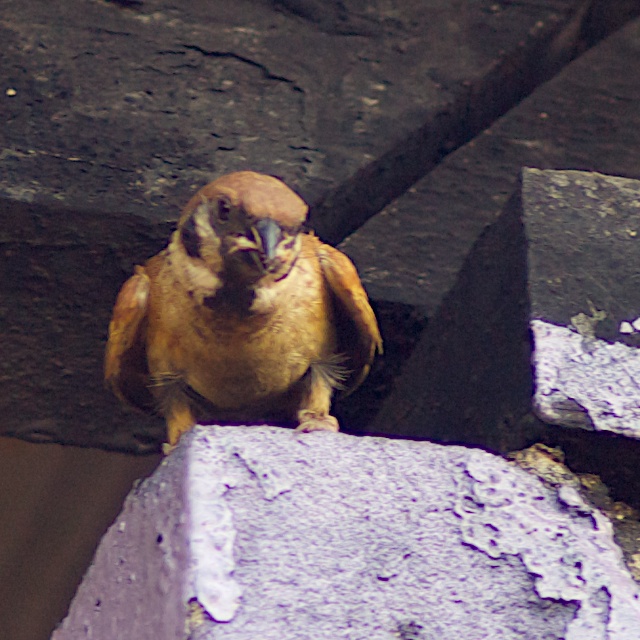 Earlier in the week, following some rumbles last week, two major investor sources came out against the Carl Icahn plan. We wrote about this on Monday, in a Cassandra note, but just as I was about to load it up, had to rewrite part of the text as it was also reported that Icahn had withdrawn the plan that was to have been submitted at the Annual Shareholders Meeting at the end of the month.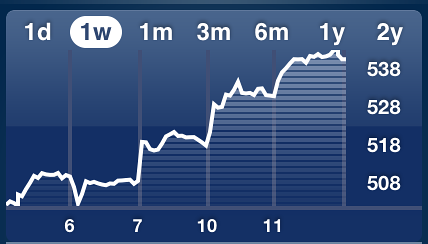 Bear in mind that when it was announced earlier that Icahn had a large parcel of Apple shares, the price went up; so why would it rise again when he decided to withdraw his buy back plan? In the interim, with Wall Street's usual panic when the record quarterly figures were announced, the drop was artificial. Now that the white knights have arrived, it is time to buy again and in the middle of the week, the shares were back up to around $536 meaning that (with a rough calculation) Icahn made around $60 million on the 3.88 million shares he holds for now. Sooner or later, the shares will rise enough and Icahn will sell, if he does not think that he can take control.
One of the major reasons that the share prices rose was the announcement that Apple had increased the number of purchases it made with its own buyback program. Instead of spreading the planned purchases over a couple of years, the price was right, so shrewdly, Apple brought the purchase forward and has also made some money (on paper). There was a consensus that if Apple was investing in itself, then maybe what Tim Cook has been saying over the last few months really is true and new classes of products are on the way. Honestly, some people who get paid for following Apple really do not understand the company at all.

As part of the never-ending quest to find out what Apple will do next, some sources have begun to track job-postings and movements within Apple. We mentioned last week the number of those now on board who could be easily linked to health-related applications or products and things are not slowing down this week.
Two new appointments are reported by MacNN: a new head of Human Resources in Denise Smith; and the move of Joel Podolny to Apple University. he had previously been HR head. As the article notes, Apple took the unusual step of releasing an offical statement, but this is not that much of a surprise considering recent criticism on the lack of ladies at the top of Apple.
There is also a mysterious (sort of) job listing that Neil Hughes on Apple Insider reports on: Instrumentation Design/NPI Engineer. The unusual point about this (he suggests) is that the listing includes the comment, that this is for current platforms and "new platforms as of now unannounced". This of course may mean nothing much; or it could be that new development that Tim Cook has been hinting at for a while [my source for this was MacDaily News].
One of the staff to go, through the simple reason of retirement, is Rita Lane, vice president of operations for the iPad, Mac desktops, and Mac accessories, Mark Gurman writes for 9to5 Mac.
Another to leave Apple a while back was Jordan Price who worked as a mobile designer at Apple but did not have a good time of it, Alex Price writes on Cult of Mac. In the end, it appears he could not deal with the pressures - including meetings all the time - and walked like many before (and since I expect).

One of the products that is somewhat successful is the iPad and every year we read of more and more uses to which it is put; news (or course), medical, airline, architecture, engineering and many others, including education. A report by Christian Zibreg on iDownload blog this week tells us that New Scotland Yard - head office of the Metropolitan Police in London, not the whole British Police - has decided to spend $360m on tablet computers and have made a trial purchase of 600 iPad mini devices. These are to be used as "be used as a replacement for police notebooks" which I see as quite dangerous.
The notebook is the source of the information that police use to write statements and make reports. It can be used in giving evidence, if it is accepted that the notes were made "at the time or very soon after". As some notes may be made up a bit longer after, this can be stretched, but at least there are entries afterwards (giving a chronological control). With a computer, it is not so hard to enter text or other data long after the event, so there would need to be greater controls, to prevent abuses.
There are of course other uses and apps developed by the police, including one for ordering a police uniform. Zibreg has some useful information and comments here.

One of Apple's not so secret weapons with the iPhone and the iPad is the A-series of processors. When these were first produced, with much less processing power than they have now, it seemed logical to me that they would increase in capacity and that sooner or later would make it into a desktop device, although we still have to wait for that. Another major plus with the A-chips is that no one else would have the technology, unlike when sharing Intel chips with PC makers, and Apple could be months or years ahead of the field. That came true with the A7 with its 64-bit processing that caused the industry much fear, and as part of that the secure "enclave" for fingerprint data (not the fingerprint).
I am not alone and others are beginning to wake up to the innovative strengths Apple has here. Writing on Seeking Alpha, Mark Hibben discusses the way these processors are destined to disrupt the industry (especially Intel) and outlines why others felt that this approach was likely to meet failure. They were wrong. I must see if I can find at least one article I wrote this in.
That did not take long, using Spotlight, and it is actually an article I wrote for the Bangkok Post, Database, back in 2010, when I looked at the first iPad:
Under the hood it is even more significant as the processor inside is Apple's own - the A4 -- and the first created basically in-house by PA Semi. Not only can that free Apple from Intel, but future development could occur without having to share the output with PC assemblers. That might lead to even bigger surprises.
I had also made similar comments on some of the articles that went with the podcasts I used to make. See, no one takes any notice and it is staring them in the face. You will only be able to read the first part of the Seeking Alpha article due to the paywall there (my link for this was MacDaily News where links on the page go back to 2013]. Why pay for Seeking Alpha when you can link here for free?

Not long ago we reported on the litigation that a university in Wisconsin was starting against Apple for technology used in the A7 processor. Now we read on MacDaily News that Queen's University and PARTEQ are to sue Samsung for infringing on several patents. My first thought here was, "join the queue."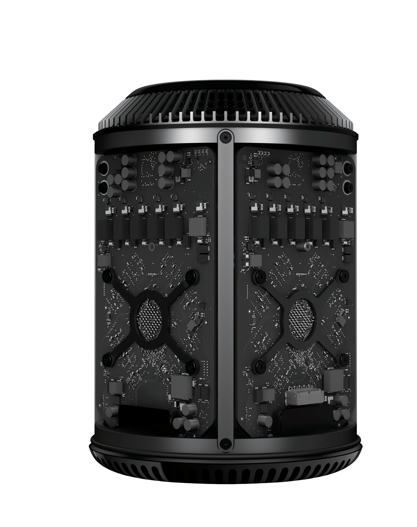 Also joining a long queue are those waiting for the new Mac Pro, which is turning into something of a surprising success story: not the first successful Apple product of course. The old Mac Pro (you can still see these in Bangkok stores) was not expected to be replaced, until someone started a campaign on FaceBook.
Tim Cook did respond and promised that there would be something new. When the first video was shown - at WWDC last June - it was clear that a total rethink had occurred. At the later product announcement of new Macs, iPads and the iPhone 5s, we saw more including the triangular central core.
What has also become obvious in looking at specifications as the release came round in the last days of 2013 (keeping to Tim Cook's promise - but only just) was that this was not for the ordinary user. The G5 Mac Pro could find a use in some homes or small businesses, but this was clearly aimed at professional photographers or movie makers and would be overkill for many users: the iMac is a better bet. Nonetheless, as orders poured in so the shipping dates moved back; January, then February, March and now April, Benjamin Mayo writes on 9to5 Mac (among others). That is the same in the Thai online store as well as the US store.
Also commenting on the way shipping dates were changing was Peter Cohen on iMore, who despite the news asks for calm and writes, "The backlog of Mac Pros really hasn't changed that much." He puts forward several reasons why this is situation normal and it is not that the manufacturers are slipping, but that orders are growing. Not sure I entirely agree, but there is a healthy aspect to this: all those people want a new Mac Pro.

Despite the bad news from Sony last week that it was to sell its PC division to try and cut costs, there is good news for the company this week in an article from Zac Hall on 9to5 Mac (and others) that the company's camera operations had expanded, mainly because of orders for CMOS sensors expected to come from Apple.

There has also been some news lately about sapphire glass that will be used in something by Apple. While some speculation suggested this would be for the next iPhone, with Apple's "hurry up" order contradicting that somewhat, Shane Cole on AppleInsider now tells us that this is to be "on the so-called "iWatch" rather than on the company's next-generation handset this year." Note that the sources for the information are Chinese sites which may only tell part of the story, but also that no one knows officially if the iWatch really exists, particularly in the light of all those health and sleep experts Apple has been recruiting; although there are fashion experts too.

Last week Apple picked up 40 new patents, this week, Jack Purcher reports on Patently Apple, there are 34 more, including a Patent for Selecting Text using Gestures on an iDevice. Others include a "patent for the iPad's Peek Mode" (as used in the iPad cover) and a "Lightning to USB Camera Adapter". I already have the camera adapter for the 30-pin iPad connector, so would like that if it worked with the iPhone (the current adapter does not). The other patents are also listed.
As a sort of side note, Ben Lovejoy on 9to5 Mac writes about Apple comments on patent trolls and some of the 92 lawsuits it has faced in the last 3 years.

With the iPhone, analysts have been writing for months how Apple must produce a cheap iPhone in order to survive, but as has been pointed out, these guys are not looking at the full picture, which includes the point that Apple does not do "cheap", and the more salient point that Apple does make a lot of money: more profits than others.
As reinforcement (of what has been reported before), we are told by Patrick Seitz on Investors.com that the mobile phone industry is likely to see little or no revenue growth this year, but that Apple claimed 87.4% of phone earnings (with Samsung at 32.2.%). Looking at the figure there is something wrong as that gives a 119.6% market. Others are making big losses. Apple rose in a year from 77.8% of mobile phone industry profits, followed by Samsung with 26.1%. I do hope that some of the analysts read this report: despite their advice, Apple is doing rather well, thank you [my source for this was MacDaily News].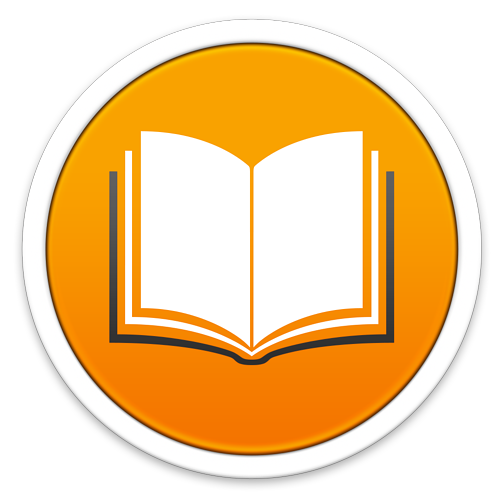 Not going so well is Apple's continuing iBooks fight with the DoJ, the Court and the Court-appointed monitor, Michael Bromwich, who appears in some reports to be a friend and political ally of the judge who appointed him. Apple decided to appeal against the decision and also to try and have the Bromwich removed as he was going way beyond what appeared to be his brief and charging Apple something like $1,000 an hour for the privilege.
The decision by the U.S. Court of Appeals as reported by Jeff John Roberts on GigaOm, indicates that Apple did not get its way and the appointment of Bromwich still stands, but in the decision did remind Bromwich of the original point of his investigation, which may be a partial victory. Adding to this was a report from John Paczkowski on re/code who included part of the court decision, including the comment that "the monitor will conduct his activities within the bounds of that order."
There will be an appeal later this year, and I am sure Bromwich will be mentioned more than once in what seems to be a somewhat slippery original decision by Judge Cote. Adding

A report earlier in the week, from Larry Seltzer on ZDNet, tells us about a new Mac Trojan that was created to steal Bitcoins. As a Trojan horse by definition is invited in by the user, I had a look at the SecureMac site which reported on this initially. The download came from the CNET downloads site (not for the first time) and is "disguised as price tickers for Bitcoin and Litecoin." It may be that the malware is distributed via other sites as well.

It was 50 years ago this week that The Beatles appeared on the Ed Sullivan Show and to celebrate the Beatles channel was made available on AppleTV this week with clips from the show and links to records we can buy. Sullivan who was a power-house of entertainment back then, looked like a thin Richard Nixon (that is the only comparison between the two). I also saw that Apple has internet radio links on Apple TV now like in the Music section of iTunes, so I tracked down an opera link and have been listening to that late nights.

When your best friends tell you something is up, it really is time to act. Paul Thurrott on whom I have commented many times for what he has written on Apple and Mac has been known for a long time as a Microsoft apologist, but on his Supersite for Windows (sic) he asks a lot of questions that those of us out here have already been asking for a while. In the course of the article he makes the point that he was wrong. It takes a shock or a brave man to do that.
He thinks Win 8 was wrong and blames Steve Sinofsky for that (Microsoft did too apparently): "Windows 8 is not well-designed. It's a mess. But Windows 8 is a bigger problem than that. Windows 8 is a disaster in every sense of the word."
He also suggests that this was the reason for Ballmer's (well overdue) departure and thinks that the 8.1 update is making things worse and that the company needs to focus on the real users. Is that like Apple? I have always suggested that Microsoft needs to start again with Windows, using a stronger under-base than DOS (parts are still in there), but they worry too much about legacy customers and don't let go. Unfortunately for them, the customers do.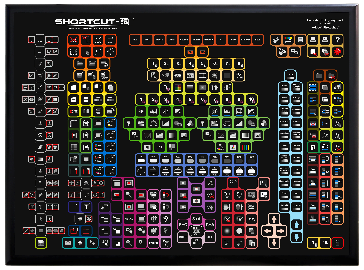 A while back I wrote on keyboards for Apple computers that were being used for specialised tasks, such as in making movies, when keystrokes make for more efficient working.
This week, DL Cade writes on PetaPixel about a new style keyboard with a radical design that is intended for users of Adobe Photoshop. This has not yet been produced and the Shortcut-S is a Kickstarter project (they hope for enough backing). Much interesting information on the Shortcut-S site

There has also been a suggestion that Apple may be looking for alternatives to standard charging methods, such as solar energy, induction, or wifi. Susie Ochs reports on TechHive about a new unity to examine the technology as The Alliance for Wireless Power (which has several important members) and the Power Matters Alliance (also with significant names) are trying to work together. She does mention however, a third group (Wireless Power) with over 200 members who are not joining hands, so there is a ways to go. I checked each of the groups and Apple is not shown.
Graham K. Rogers teaches at the Faculty of Engineering, Mahidol University in Thailand where he is also Assistant Dean. He wrote in the Bangkok Post, Database supplement on IT subjects. For the last seven years of Database he wrote a column on Apple and Macs.