By Graham K. Rogers
---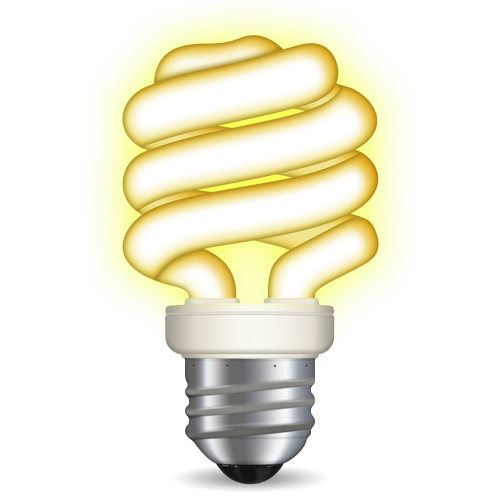 In the recently released OS X 10.9, Mavericks, some System Preferences have seen changes. Some preferences remain unchanged. Despite a number of reported changes to the way OS X now handles the battery and other energy tasks, the Energy Saver preferences panel appears identical to before.

Different Energy Saver preferences panels are displayed depending on the type of computer being used. A desktop computer like the iMac or Mac mini will have a single pane, while a notebook computer which has a battery, will have a preference pane for each source: battery or power adapter.
The original work on this Energy Saver preferences item was prepared using a 15" MacBook Pro with Intel i7 processor. Since first writing this, Apple has released new MacBook Pro computers that use a different processor. A feature called Power Nap is available to users of these new computers and the preference pane has been significantly changed. I have added more information and a screen shot at the bottom of the page.

On a MacBook Pro which has two graphics cards, at the top of the pane for adjusting settings when a battery is being used there is a checkbox for "Automatic Graphics Switching". The same checkbox is available in the Power Adapter pane. This is to allow the computer to switch automatically between graphics modes for better battery life.
[As there is no indication of which card is being used, I have the gfxCardStatus by Cody Krieger installed. A display is available in the menubar.]

The display information and features differ with the selected power source or with the computer. All, however have the common feature of two sliders for "Computer sleep" and "Display sleep": from 1 min to 3 hrs and Never.
Checkboxes are available for controlling how the computer works with the sleep feature, although not all are available on every device.
On the iMac I use the following are shown:
Put hard disks to sleep when possible
Wake for network access
Start up automatically after a power failure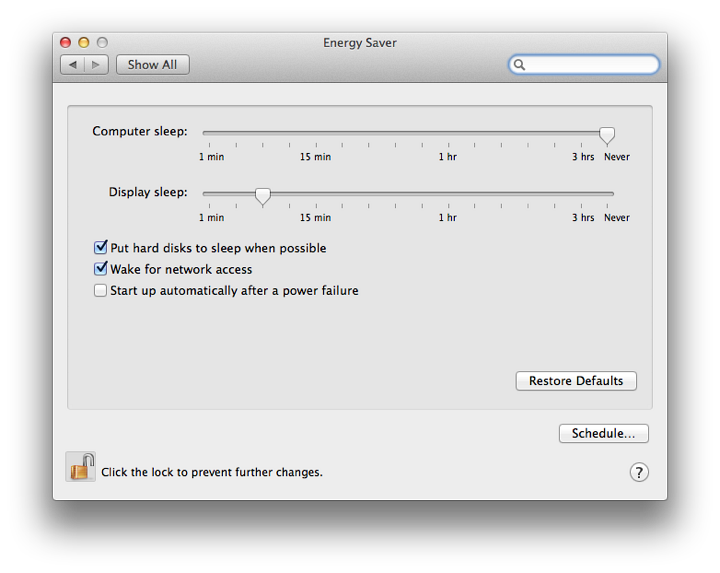 Energy Saver Preferences on iMac

The last one is not available on the MacBook Pro I use. In earlier versions of OS X, there was a further button marked, "Allow power button to put the computer to sleep." This is no longer available

In the Battery preferences pane, the MacBook Pro shows two checkbox options as in OS X 10.8, Mountain Lion:
Put hard disks to sleep when possible
Slightly dim the display while on battery power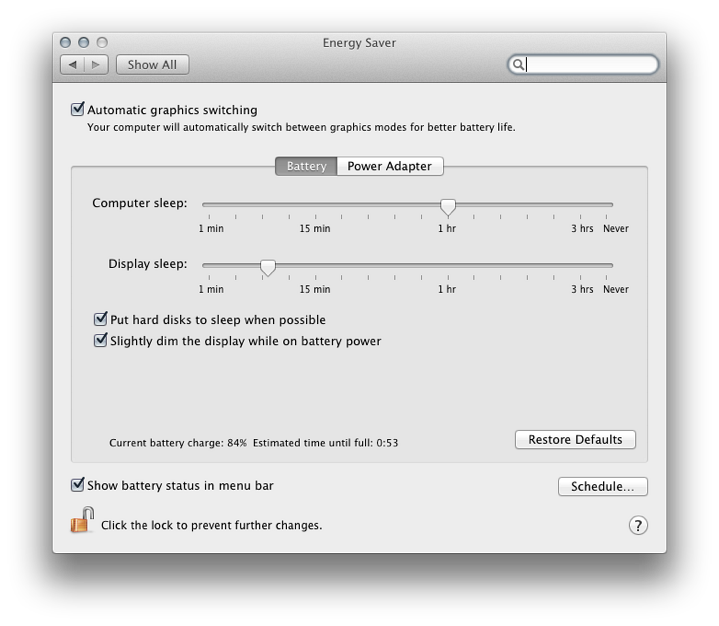 When using the Power Adapter the MacBook Pro shows two checkbox options:
Put hard disks to sleep when possible
Wake for network access
Underneath these checkboxes on both panels is information about the current state of the battery charge and the estimated time until full.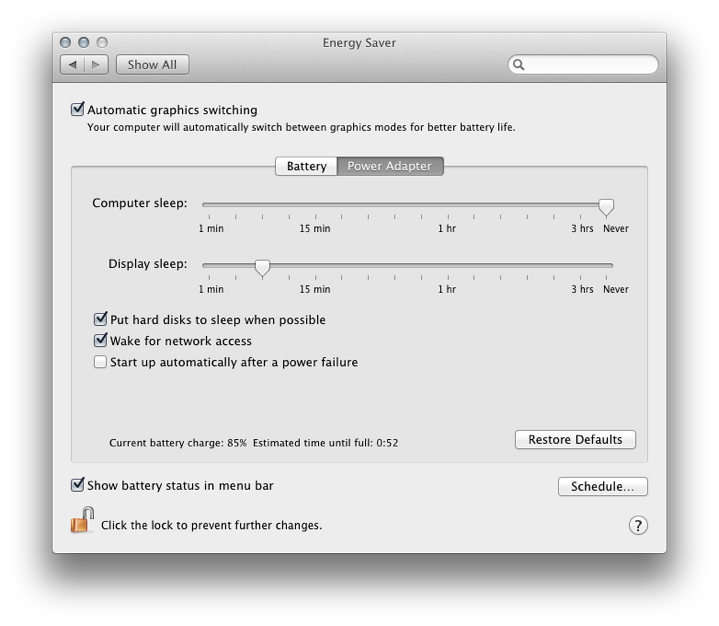 Both the Battery and Power Adapter panels have a checkbox at the bottom left: "Show battery status in menu bar". When this is used a small battery icon appears on the menu bar with a display in black that indicates the amount of charge remaining. When low, this changes to red. When dangerously low a panel appears with a warning (a system voice may also make an announcement if activated in the Text to Speech panel of Dictation & Speech).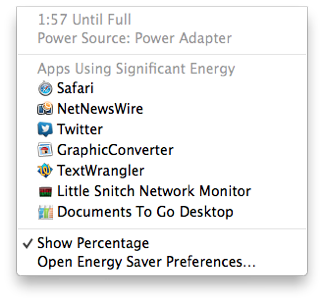 A menu appears when the user clicks on the menubar icon. Items at the top of the menu are: either Time "Until Full" (adapter), or Calculating Time Remaining (battery) or a time figure; followed by "Power source" (battery or power adapter).
Below this is a new section. When first opened, it will display "Collecting Power Usage Information". When the menu is held open, this changes to "Apps Using Significant Energy" and those applications are listed.
At the bottom of the menu are "Show percentage" and "Open Energy Saver Preferences". When a power adapter is connected to the computer, menu items change and Time until full replaces time remaining (initially "Calculating time. . ." is shown). If there is a problem with the power source, for example the Mag Safe connector is not fully inserted, the icon may show, Not Charging.
Schedule
At the bottom right of the panels are two buttons. The topmost - to the right of the charging information - is marked, Restore Defaults. This resets the panels. The one underneath has the word Schedule on it.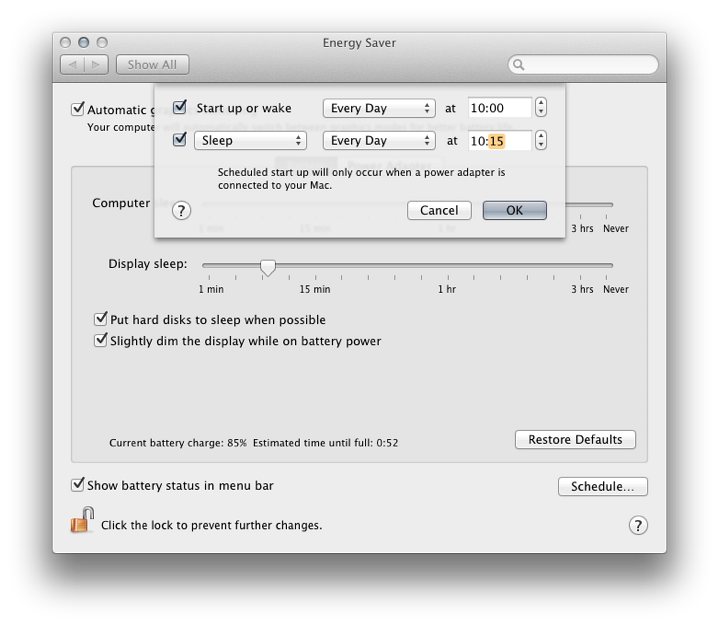 This reveals a panel in which it is possible to set times for start and shutdown or sleep. A checkbox turns on the action. These settings may need Admin permission to change or activate. The buttons allow for the computer to start or wake up: Every Day, Weekdays, or Weekends. Specific days of the week are also available. The specific time may also be set.
A button below is for selection of the action: sleep, restart or shutdown. As for Wake or Start up, days and times can also be specified. If the Startup checkbox is selected, a text appears below: "Scheduled startup will only occur when a power adapter is connected to your Mac." There is no text if the sleep box is checked.
Additional Information - Updated Preferences
With the arrival of the MacBook Pro with Retina display in November (these were announced in October) the preference pane for Energy Saver was significantly changed. Instead of two sliders: "Computer sleep" and "Display sleep" there is now only a single slider marked "Turn display off after . . ." for both the Battery and the Power Adapter panels.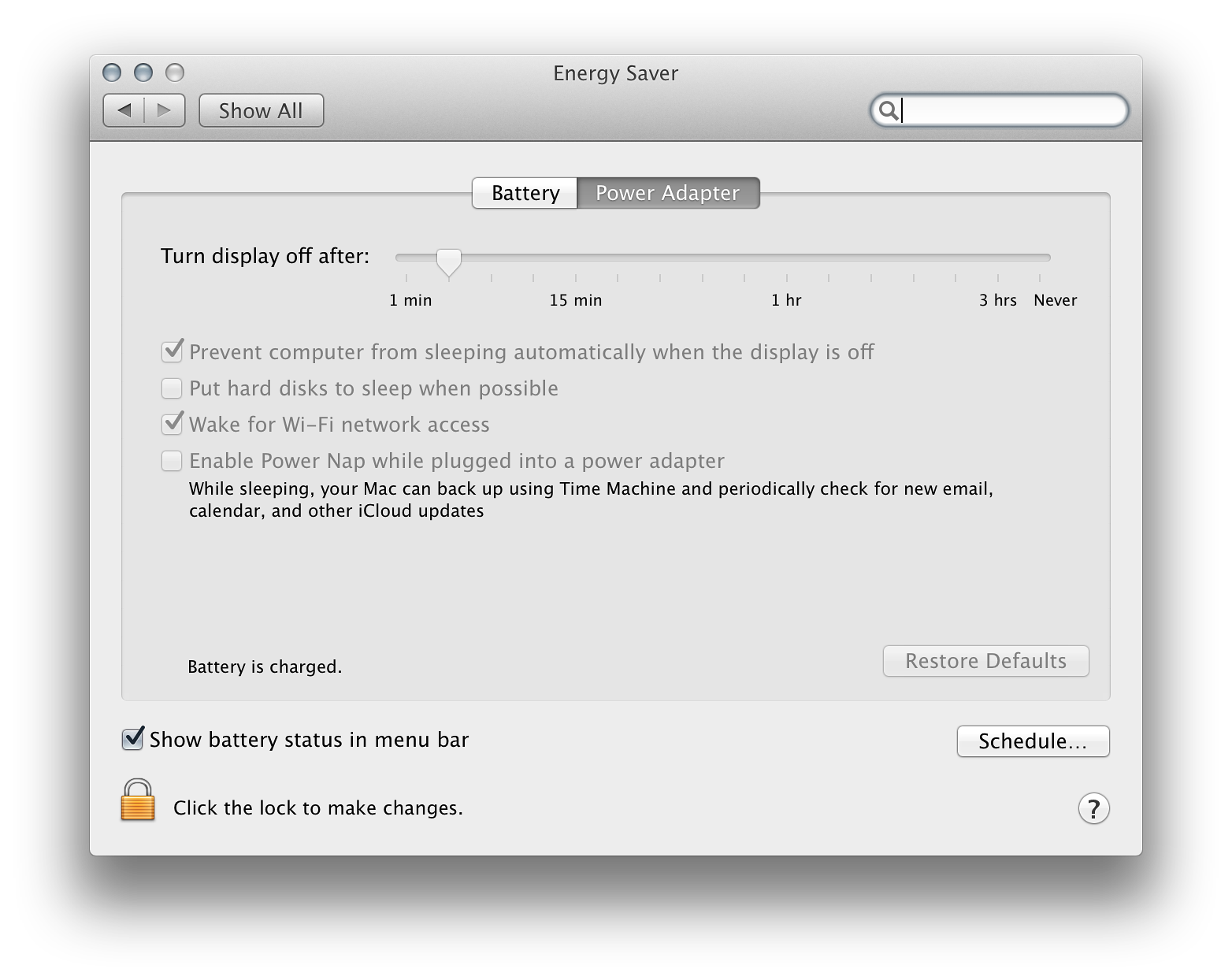 There are also changes to the checkboxes. For the Power Adapter panel, as well as Put hard disks to sleep when possible and Wake for network access, there are two new options. At the top of the list is "Prevent computer from sleeping automatically when the display is off." At the bottom is a check box for, "Enable Power Nap while plugged into a power adapter." The purpose of this is to allow the computer to sleep but still carry out certain specific functions, such as backing up with Time Machine and checking for email (see below).
Likewise with the Energy Saver panel for Battery there are also changes and three options are now available:
Put hard disks to sleep when possible
Slightly dim the display while on battery power
Enable Power Nap while on battery power (new)
Additional Notes (amended)
A reader, Jon Austin, makes the valid point that - when playing online games - the checkbox for "Put hard disks to sleep when possible" should not be checked. He uses World of Warcraft as an example. To play this optimally, that box should remain unchecked, plus App Nap should be deselected for that application. The relevant folder should also be excluded from Spotlight searches.

I also found that using a disk with Thunderbolt cable, Finder would periodically report a spontaneous ejection. There is a risk of data loss if this happens. I am fairly certain that this is for the same reason and Put hard disks to sleep when possible should not be checked, but I am also suspicious of Power Nap. Other disks (USB 2, USB 3 and Firewire 800) were not affected.



See Also:
An A - Z list of System Preferences for OS X 10.9, Mavericks



Graham K. Rogers teaches at the Faculty of Engineering, Mahidol University in Thailand where he is also Assistant Dean. He wrote in the Bangkok Post, Database supplement on IT subjects. For the last seven years of Database he wrote a column on Apple and Macs.