By Graham K. Rogers
---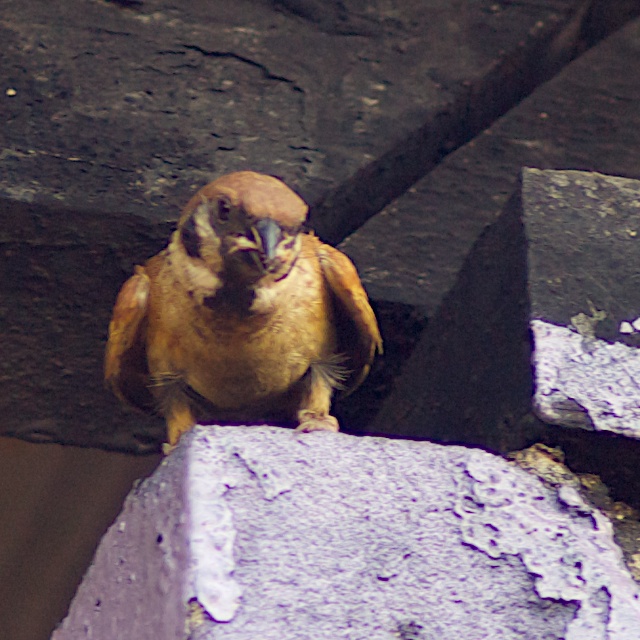 With the Apple event this week starting around my bedtime, I sleep as normal, then when I wake up, read the news, then make notes when Apple releases the video. I work through that slowly, taking notes and making sure I have it all.

Phil Schiller walked out onto the stage at the Apple Town Hall on Wednesday with 46 minutes remaining on the video I downloaded of the event. It was his task to outline the two new iPhones that Tim Cook had just told us about, and he had some help with videos and a demonstration.
He wasted no time and announced that the first new phone was the iPhone 5c. The "C" is in a small square, but Apple now shows this - and the iPhone 5s which came a bit later - with lower case characters. It is much easier to type.
iPhone 5c
In his usual style, rich with superlatives, Schiller announced that the device has incredible quality, like the iPhone 5, and with its new design is more fun, more colorful than any other iPhone made yet. To some laughter he said, "A few of you may have seen some shots of this on the web," adding, "But that's cool", but you haven't really seen it before. A video was played with some high quality effects.

There are new colorful designs (5 colors - blue, white, pink, yellow and green) and, using features of iOS 7, it delivers on color throughout the product: switches, buttons; the entire back and sides are made from a single part. The front is a single, glass, multi-touch surface. He explained how iOS 7 on these devices, with its special effects, brings "an entire new experience of color" to the device.

To go with the phones, is a line of silicon rubber cases with a soft feel, giving a combination of colors between the iPhone and its case. The initial feel, he claimed, "is amazing."





He went through some of the features: a hard-coated polycarbonate shell, over a steel reinforced frame providing rigidity, that acts as a multiband antenna. The iPhone 5c has a 4" Retina display with integrated touch, to full sRGB standard, and will play widescreen video.
Inside, there is an Apple-designed A6 chip with "blazing fast performance". It has console level graphics, is power efficient and has a higher capacity battery. The iPhone also has an 8 MP iSight camera, with a 5-element lens. There is back side illumination and a new hybrid IR filter. It uses the iOS 7 Camera app with live filters and a claimed X3 video zoom. The front has a new FaceTime HD camera, with larger (1.9 micron) pixels) and there is improved FaceTime audio.
This iPhone supports more LTE bands that any other smartphone and provides up to 100 Mbps download speeds. The Wifi is to the IEEE 802.11 a/b/g/n standards (see iPhone 5s below), 2.4GHz and 5 GHz bands. Bluetooth 4.0 is used.
There are two versions of the iPhone 5c: 16GB and 32 GB with prices shown as $99 and $199 respectively (US 2 year contract). The 6 cases are priced at $29 each. Schiller went through the obligatory Green checklist: it is free of harmful toxins and is highly recyclable (adding it is also Android-free).
A second video, with commentaries by Jony Ive and Craig Federighi, explained the features and showed manufacturing processes: an area where Apple always has innovations that analysts often miss.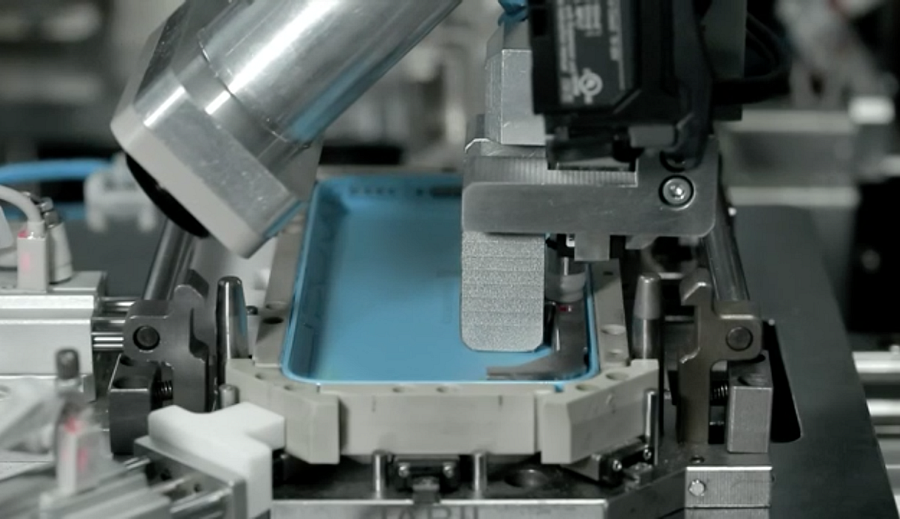 iPhone 5s
Right after the video, Schiller introduced the second new product as the expected iPhone 5s: "The most forward-thinking phone we've ever created." After a brief, superlative-rich introduction, another video showed a few tantalising snippets of the new iPhone,: this did make a good impression, ending with three phones on the screen.




Made of high-grade aluminum, with diamond cut chamferred edges, there are three finishes: silver, gold, and "space gray" (some were critical of this name, even citing this as a "Steve Jobs would never have" moment, preferring "Graphite"). Schiller announced he would focus on three major areas.
Performance
This starts with the new A7 system on a chip: a 64-bit processor - the first in a smartphone. While the PC environment took years to move from 32-bit to 64-bit, Schiller said Apple would accomplish this in one day. A slide of the A7, iOS 7 and the App Store appeared on the screen.

Schiller explained how it was all going to work. With the A7 64-bit desktop class architecture, a modern instruction set can be used. There are 2 general purpose registers, 2 floating point registers and over 1 billion transistors on the processor which has a 132 sq. mm die size: the same as the A6.

Coupled with this, iOS 7 has a native 64-bit kernel, libraries and drivers. All built-in apps have been re-engineered and there has been a seamless developer transition with the Xcode support. All 32-bit apps are supported as iOS 7 is backward compatible, so the transition will be smooth.





The A7 processor is up to twice as fast as the A6 for performance and graphics. This is a 40X increase over the first iPhone performance, with the graphics performance showing a 56X increase. The new device runs Open GL|ES version 3.0 which gives far better performance for games developers. To underline this point (and several more), Schiller brought on stage, the co-founder of EPIC Games, Donald Mustard, and his brother Jeremy to demonstrate the next version of a major game, Infinity Blade III.

Environments are loaded and run in real-time. Normally converting 32-bit to 64-bit is a lengthy process, but Jeremy did this in 2 hours, by himself. There are advanced rendering effects now, like depth of field and blur. A developer can also add lens flares and these were shown on the demo screen. Mustard said that this has completely redefined the boundaries of mobile gaming and that this - effects, real time - is only possible because of the power of the new iPhone.

Phil Schiller returned and introduced a new processor on the iPhone: M7. This is a motion co-processer that works alongside the A7. It continuously measures motion data; monitors accelerometer, gyroscope and compass; and so enables a new generation of health and fitness apps. The Core motion API in iOS 7 is being updated to use this data. It can analyze input to identify a user's movements, then use the optimized data. Nike has produced an app called Nike + Move for athletes, to help optimize their activities and performance.

Battery life on the iPhone 5s now allows 10 hours of 3G talking time, 8 hours of 3G browsing, 10 hours LTE browsing, 10 hours wifi browsing, 10 hours video, 40 hours of music and 250 hours standby time.




Camera System
The camera has a number of improvements, starting with the new 5-element lens and a f/2.2 aperture. There is also a 15% larger processor area and this records with larger pixels: now 1.5 microns. The new iOS 7 software takes advantage of the new features and the A7 processor speed. The device now automatically sets white balance and has auto exposure.

The software creates a dynamic local tone map giving better highlights and shadows. There is "analogous matrix metering" with 15 focus zones and the camera actually takes multiple photos, auto-selecting the sharpest. A new flash ("Truetone Flash") adjusts for ambient light using two LED flash lamps: soft, and bright. This can give over 1,000 color variables. The photo examples he showed gave a fair indication of the improvements possible.

The iPhone now has (at last) auto-stabilization, which will avoid so many of those fuzzy images that come through slight camera shake. A further enhancement is burst mode. I use this often on a DSLR camera, then select the best image from a series of essentially the same scene. The iPhone 5s takes a series at 10 fps (frames per second) when a user keeps the finger on the shutter button. The software then checks and selects the best shot (or shots) but the others are available if needed. The new camera will also record slow motion (slo-mo) video at 120 fps.

There was then a brief display of some of the excellent output that Apple's photographers have taken, showing the potential of the camera on this device.




Security
With so much of our personal information on these devices nowadays, users are rightly concerned (especially with recent revelations) about their security. It has always been possible to set up a 4-digit passcode on the iPhone, or one that is more complex.

However, Apple research has found that around 50% of their customers do not do this. As he began to introduce the idea of the fingerprint security, that had long been anticipated, an icon appeared on the screen. This feature is called Touch ID.

The Touch ID capacitive sensor reads the fingerprint detail. The sensor is only 170 microns (very thin) and has 550 ppi resolution. It scans to the sub-epidermal layers (under the top layer of skin) for a better image. The device can use more than one finger for identification purposes. It does not need the finger to be at an exact angle as there is 360 degree readability.

The sensor is in the home button which is in four parts: the tactile switch (like before), a Touch ID sensor, a stainless steel detector ring, and a laser-cut sapphire crystal.





As this feature is incorporated into iOS 7, it can be used for iTunes purchases. To show this off Schiller ran a video narrated by Jony Ive and Dan Riccio (Senior VP Hardware Engineering). The way the software identifies and confirms a fingerprint is similar to the way police identification by fingerprint was first set up and developed.

Riccio said in the video that the fingerprint data is stored securely in the A7 processor, accessible only by the Touch ID sensor; never available to other software (except iTunes apparently); never stored on Apple's servers or backed up to iCloud.

Schiller reprised the iPhone 5s technology then pointed out the features of iOS 7 that had not been mentioned before (like the 64-bit capability). The iPhone 5s is to be available in 16 GB, 32 GB and 64 GB configurations. US prices (with a 2-year plan) are $199, $299, and $399. There are also colored leather cases (yellow, pink, blue, orange, black) at $39 with a Product (Red) case also at $39.
He summarised the two phones that had been introduced and went over the prices again, then mentioned that the iPhone 4S 8 GB would continue (free in the US with a 2-year plan). As from 13 September (Friday) the iPhone 5c will be available for pre-order online. A week later (20 Sep) users will be able to purchase both phones. These will be available in USA, Australia, Canada, China, France, Germany, Japan, Singapore and the UK on that date. By the end of the year, the iPhones will be rolled out in another 100 countries.
Finale
Tim Cook returned for the final 3 minutes with a quick marketing talk about the products that had been announced. He ran one of the advertising videos - colour is the flavour of the month at Apple - and closed by thanking the teams at Apple responsible for iOS 7 and the iPhones, finally announcing to the Press that there were iPhones ready to try outside.


I can't wait, of course; but what else is coming, and how soon?






See also
Cassandra: Apple Event - New Products, New Directions, Mild Disappointment

Cassandra: Apple Announcements (1) - iOS 7 and iWork



Graham K. Rogers teaches at the Faculty of Engineering, Mahidol University in Thailand where he is also Assistant Dean. He wrote in the Bangkok Post, Database supplement on IT subjects. For the last seven years of Database he wrote a column on Apple and Macs.