By Graham K. Rogers
---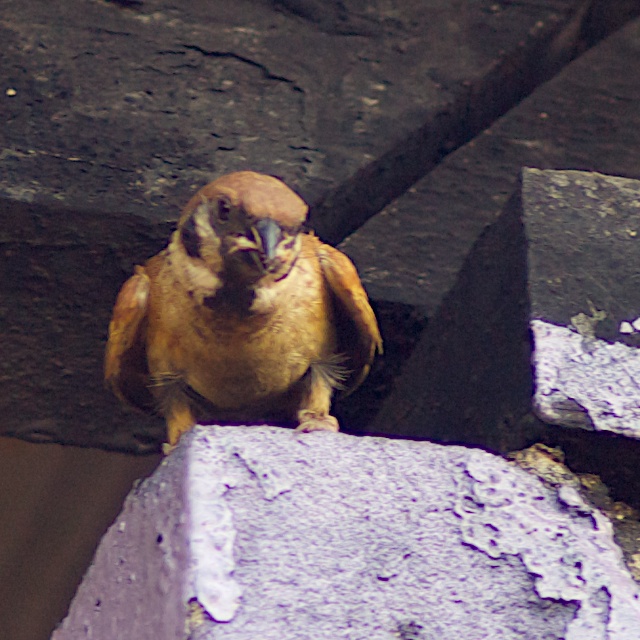 Apple events on the other side of the world usually start around my bedtime. As I have to work each day, I sleep as normal, read the overnight news, make some initial comments, then wait for Apple to release the video. I then work through that slowly, making good use of the slider to go back and watch certain sections again.

The reporters who attend the Apple events do a great job taking notes and sending out information as it happens: been there, done that. After each event I attended, I rushed back to my San Francisco hotel to collate the notes and type two reports: one for the Bangkok Post (back when it was a real newspaper) and one for my website (these reports are still available). Once that was all done and the creaky internet - always overloaded when Apple was in town - let me upload the stories, I would head back to the show or (for WWDC) meet up with others from the region.
When I am running the video, after a few hours have passed, the pressure has gone. I have time to digest all the comments; and if not sure, can reverse the clip and listen again. All the while, just as I did when at the Moscone Center, I take copious notes.
Introductions and Background
When Tim Cook appeared on stage at the Apple Town Hall on Tuesday (10am Cupertino time) there was polite applause as he commented that there were to be announcements of a few things they are really proud of. As with any such presentation, he began with some background:
The 7th iTunes Festival is currently running in London at the old Round House. It started this year with Lady Gaga and also has others including Justin Timberlake, Elton John and Katy Perry. 20 million applied for tickets. The concerts were streamed to over 100 countries via iOS apps, as well as a number of other means. A short video of some of the action was shown.

In retail, the Stamford shop has served so well for so many years and has always had such good turnover. Cook reported on the new shop there which is 8 times larger than the original store.

iOS 7 is the latest version of the software and next month Apple will sell the 700 millionth iOS device. the new iOS has many features and to outline the new version, Craig Federighi came onto the stage.
iOS 7
When Federighi appeared he had all of the same bounce and enthusiasm he had displayed at the WWDC, as well as the humor.

Starting with the Lock-screen, he showed how this is part of the redesign of the whole iOS with its edge-to-edge design and precise typography. Swiping into the home screen gives gorgeous animations as the apps come into view.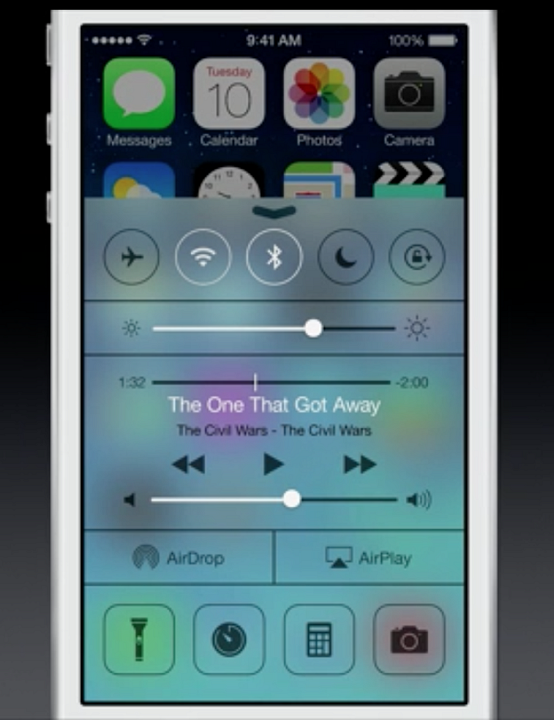 He explained how iOS 7 has depth particularly in the way the device responds. Swipe up the Control Center and there is a semi-transparent layer with the controls. Search is easier to activate and use. Federighi continued his lighthearted approach that worked so well at WWDC by entering a search for "mousse" - his hair looks the same as in June.
When apps are activated, they are displayed full screen, with the focus on content. Siri now has better linking to external services as well as new voices. Sounds in iOS are also updated with several new ring-tones. There are also a number of new system alerts with the older ones having been remastered to sound better.
The camera software has been enhanced, with easier access to the different cameras, as well as a better availability of filters and effects (pre- or post-shooting). The organisation of photos is improved as we saw at WWDC, with the option of "Moments", based on the time and place they were taken. These moments may be related by other criteria, with searching and sharing made much easier. A new sharing method is "AirDrop" that uses peer-to-peer wifi sharing.
Also improved - a new iTunes (version 11) is available for OS X and Windows - is the Music app and there is also an iTunes radio option that provides new ways of sharing and mixing music selections.
Federighi suggested that downloading iOS 7 will be like getting a new device: "useful, elegant"; but one that you already know how to use. This works on iPhone and iPad and is to be available for free on 20 September. Devices this works on are:
iPhone 4 & later
iPad 2 & later
iPad mini
iPod touch (5th generation).
iWork
At 16 minutes Tim Cook returned to the small stage. With over 52 minutes of the video left, there was still much to see and hear. After praising iOS 7 again, Cook started to laud iWork, and an iOS icon for the suite appeared on the screen. The three parts of iWork are Keynote, Pages and Numbers (Presentation, Text and Spreadsheets): separate apps in iOS. He commented on a point that some critics had brought up, saying that iPads are not just great for consuming content, but also for creating content, emphasising this with photographs of students at work with the devices.

Apple thinks iWork is great for productivity, he said. Adding that iPhoto and iMovie are great for creativity: "No other platform has apps like these." He said that iOS devices are made even better if they have these apps and most customers want them. To great applause he announced that all 5 were to be free immediately, with any new iOS device.

Giving these aways underlines the point that Apple is a hardware and services company, with the way this will make the iOS devices more attractive and that these apps will benefit from synchronisation with iCloud.


He then began to talk about iPhone: "a couple of you may have expected this". The iPhone 5 was announced a year ago and this was instantly "the most loved iPhone ever." After outlining the main features, a chart was displayed showing Cumulative Sales.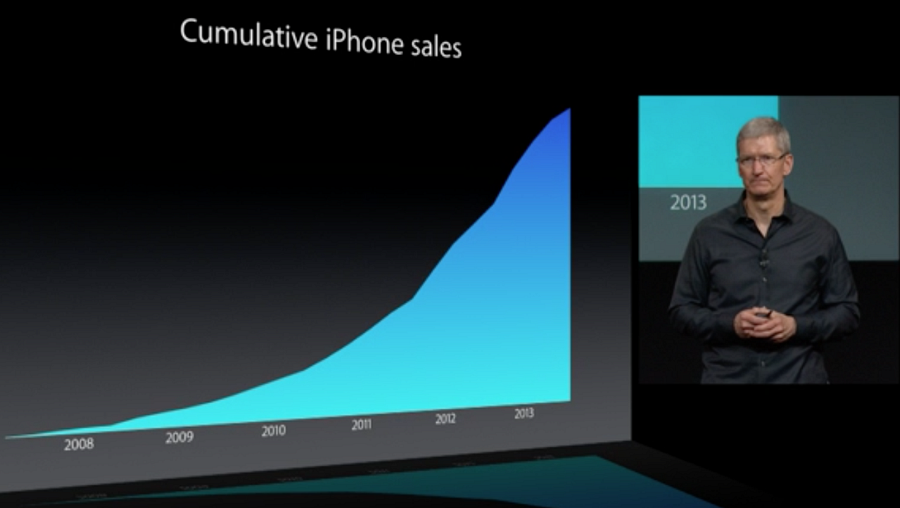 Bloomberg TV later reworked this to show what they said were real sales figures, which unsurprisingly showed high sales in the quarter after the iPhone 5 announcement, followed by two lower quarters. They deduced that sales were falling; then the two presenters said that both would have a new iPhone: one for the camera; the other for the colour.
Cook mentioned that in the past, with a new iPhone, the price of the current iPhone is lowered. This time there is a change. The business is so large that that this year it is to be replaced with not one, but two new designs, allowing Apple to serve new groups of customers.
He brought Phil Schiller onto the stage to talk about the new iPhone.
To be continued. . . .
See also
Cassandra: Apple Event - New Products, New Directions, Mild Disappointment

Cassandra: Apple Announcements (2) - Schiller and the iPhones



Graham K. Rogers teaches at the Faculty of Engineering, Mahidol University in Thailand where he is also Assistant Dean. He wrote in the Bangkok Post, Database supplement on IT subjects. For the last seven years of Database he wrote a column on Apple and Macs.