By Graham K. Rogers
---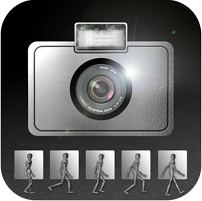 The iPhone has given me access to a number of applications that allow a user to output files in the sorts of formats that only a few years ago were available only to those with expensive desktop computers. The iPhone camera in particular has allowed a host of services based on still images and on movies. There is also a subset of apps that combine the two, converting photographs into movies: stop-motion, and time-lapse.
Background
On time-lapse photography, the lens is pointed towards a specific object or scene and a picture is taken at regular intervals, from a few seconds, up to a whole day, for example. The resultant movies may take ages to create but some of the most vivid examples can be of flowers opening, clouds forming, or even the ebb and flow of a crowd of people.

Stop motion has been used to great effect in the making of movies in which inanimate objects move. Before digital cameras some movies, for example those with monsters or statues that came to life, would use this painstakingly slow method. Some interesting examples of small films also used stop motion to produce effects from substances like clay.

I have examined some apps that produce such output in the past, most notably iTimeLapse which I reviewed on my AMITIAE site in June 2011: the original text is below. I have an interesting app for stop motion videos, called (coincidentally) Stop Motion Studio, which I reviewed in July of this year

At the other end of the spectrum, I also recently looked at a useful app for making slow motion videos: SloPro.

These types of output from a phone-based device were unheard of only a few years ago



iMotion HD
This week I found another app that produces both types of output fairly easily with the additional advantage that it is free, albeit limited, with an in-app purchase to unlock some additional features: iMotion HD.

Annoyingly on the iTunes app page, there is no link to the developer website that I was able to find, but Fingerlab has a fairly full website with information on other apps, as well as some useful video displays for iMotion HD.





The opening screen gives an idea of the type of output one might expect, but this quickly changes to a straightforward working screen in a dark grey finish, with 4 main controls: a large button top center with the words, New Movie; just below two smaller buttons marked Help, and iMotion Gallery; and at the bottom a button marked My Movies. As movies are created, thumbnail images of the most recent appear in the space between the top three buttons and the bottom.

Pressing new Movie reveals a screen with a number of settings and controls. Prominent at the top is the Start button. Below is a display showing that the output is 720 x 720 px in portrait mode. In landscape, this changes to 1280 x 720.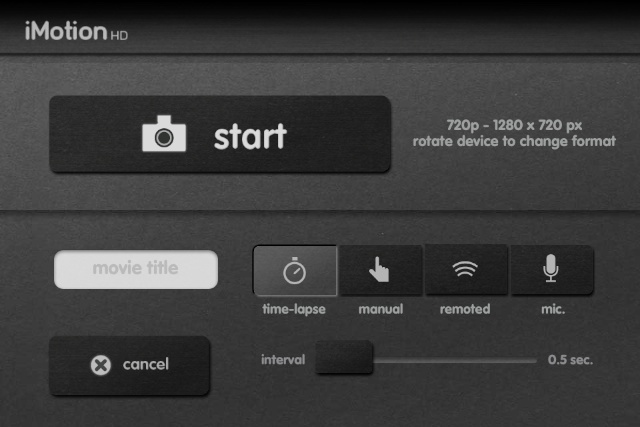 A blank panel allows a user to type in a name, but if this is not done, a default file is created with a sequential name. The main controls are marked time-lapse, manual, remoted, and mic. The manual setting allows a user to specify when the photographs are taken, which is preferable for stop motion as items may need to be moved. Remoted requires the user to download a free app onto another iOS device and the app is controlled via wifi. Mic records an image when there is a sound and the threshold may be adjusted using a slider.
The time lapse option also uses a slider to adjust the time between images. This runs from 0.5 secs to 1 day, so there is a considerable flexibility here. I made two or three movies quite easily using the time lapse options, but found (as with other such apps) that the best results were using a tripod and the Glif tripod support attachments.

Having selected the time interval, the user presses Start and the image appears on the screen. However recording does not begin immediately, allowing for some fine adjustments to be made. A second Start button is then used to really begin the recording. As each image is taken, a time display is shown along with the number of images recorded and the charge left in the battery. Four buttons at the bottom of the screen are marked Cancel, pause (this changes to resume if pressed), options and stop. When Stop is pressed a dialogue appears on the screen asking the user to tap for confirmation.
On the first recording I was disturbed by the sound the shutter was making: loud enough to spoil any secret recording, such as I did in a class of students while testing. I looked in vain for a way to turn this off, but in the end, it was simpler than I realised: just turning the iPhone volume control down was quite enough to reduce or even stop the sound completely.

Once the recording is complete, the display at the bottom changes to Home (to return to the start screen), Tools, and Export. There is also a slider for frame rate adjustment (1 - 30 fps). Tools allow backwards and forwards movement through a clip along with a frame delete option.
Export is limited to Photo Library and Facebook. Options like Mail and YouTube are locked until the user makes a $1.99 in-app purchase. Other features with the in-app purchase include 720p export and some useful extra capture tools.

A 3-second movie clip used almost 60 individual shots. I could have made it longer (or shorter) by playing with the frame speed slider and I tried 10 - 15, settling on a speed of 12 fps (frames per second)

I later tried the manual option for a Stop-motion video. It was not as easy as the automatic time lapse photography and had to be combined with movement of objects and then returning to press the screen button to take each picture. Like the time lapse clip (and slow motion) this sort of movie making demands a tripod or some other type of support to ensure that the iPhone/camera does not move between shots.
Comments
When a movie is complete is can be saved to the photo library, but is also available in the app's own library where it may be viewed or deleted. When viewed further adjustments of frame rate may be made and it may be exported again with the new settings.

I also made the in-app purchase. One of the features this unlocked was the ability to access Mail directly and in the larger 720p format. While the earlier exports (used here for economy) were files of 235 KB and 554 KB KB, the 720p export of the cup and spoons was 3.2 MB with far sharper image content as one would expect.

The app is designed for the iPhone and the iPad. According to other information on the iTunes App Store page it should also work on the iPod touch. I only tried this on the iPhone.

As a free app, this is easy enough to use for most people to be able to produce simple time lapse videos within a couple of minutes. Stop motion requires a little more care, but nonetheless, a simple enough test file can be created within a short time. The extra features are worthwhile to anyone who may want to use these for more than just simple social sharing.



---
Creating Time Lapse Video on the iPhone: iTime Lapse (Text only) - from June 2011
In the last week or so, I saw a number of online references to Time Lapse videos which display a long sequence of events compressed into several seconds. Some of the better ones show flowers opening, and I remember one from my childhood in the UK of a London to Brighton rail trip in 1 minute. An app that I had downloaded a while back but had not had total success with, iTimeLapse was updated last week.
Outline
I had a look at this $0.99 app when I had an iPhone 3. It was one of a number of apps that I downloaded that recorded video on that device (the 3G was not officially video capable). iVideoCamera by Laan Labs was one of the apps I tried and as a result I downloaded iTimeLapse. Although I was able to record video, exporting it had problems. Before the weekend it was finally updated and a fix to the Photo Library export was among a number of improvements.

I was down at the seaside this weekend so hoped to take some time to run this as well as a number of other tasks I had set myself, but the program was rather full. I did have a look at the settings on the way down, but it was not until checkout at hotel that I managed to record. And what a difference the update has made.



App Information
When the app is opened we need to Start a New Project. Pressing the button for this opens a panel indicating Add Images and this is where much of the important setting up for the video output is done before the big blue button, top center, is pressed to start the capture.

There are five sections to the panel starting with Snap Interval which selects the interval that photos used are taken. Settings range from 1 second up to 23 hours, 58 minutes, 58 seconds (why not 59?). Other options here include a Manual function and Sound: a picture is taken when a sound is made. Sound levels at which recording takes place may be adjusted up and down.

Start Capture has three choices for when the actual capture process will start: Manual, Timer (0 to 23:58:58), and Date which starts the process at a specific date and time. Stop Capturing has three choices: number of pictures taken (0 - 9999), with a default setting of 200; Timer (0 - 23:58:58); and Date, including a specific time.

The final two options in this Add Images panel are Overlay Previous Frame (On/Off) which Help tells us, displays a partially transparent overlay of the last image taken so you can match up camera position; and Capture Resolution. Five settings are available, plus Custom. The Best quality gives 2592 x 1936 in landscape mode (1936 x 2592 Portrait). Low is 480 x 360 (360 x 480). Users would want to consider export method and final use of a movie while making a selection here. Pressing Custom brings up a number panel allowing users to enter settings.

At the bottom of the screens are five icons: Details, Add Images, Render, Watch and Share (see below). Details displays some metadata, including name, number of frames and resolution. Render changes the photographs captured and creates the .MOV file. With this setting we may change frame-rate, file name, resolution, among other settings and add a soundtrack: eight are included in the app, or we may choose from the iPod library. Watch will display any rendered videos, while the Add Images icon takes us to that panel (above).



Video
I tried a couple of basic capture with only 4 or 5 photos to remind myself of how to use the app then, when I had a few minutes near the end of the weekend, I sat down and made a brief capture, using the basic 200 capture photos and the Best resolution. One of the problems I had found with the iPhone 3G and 3Gs was trying to find some way to make a clean capture. The idea of holding a phone still for 5 or 6 minutes is not practical. I have tried a dog clip (with tissue paper padding) in the past with some small success. There will be some camera shake although the Overlay Previous Frame option may help here. Fortunately, the location I was in had some comfortable chairs with flat wooden arms, and the flat edges of the iPhone 4 allowed me to balance the device perfectly for the duration of the test.

Although capture was set for 1-second intervals, with the capture, save and then focus, it seemed that a little more time was being taken. At 200, the process stopped. I was lucky that no one sent a message or phoned as that would stop the capture. It is suggested that Airplane Mode is used to avoid this. When the capture is finished we are asked to render the video. A panel appeared shortly after this started to tell me the amount of time that would be taken. In the end about 5-6 minutes passed for the 200. As this was maximum resolution, reducing this or changing the number of images will produce longer or shorter times for rendering. This test video was 14 seconds long and had a size of 28MB.



Exports
Share allows us to export the rendered video to a number of sources. There are buttons for direct uploads to YouTube, FaceBook and Vimeo. We may also send the video to the Photo library's Camera Roll This was the one I really wanted to check on. We may also email a video. There are two other buttons: USB and Wifi Sharing (off by default). Pressing the USB button brings up a number of sources on the computer that a file could be sent to. The wifi failed for me initially. Each time I tried it reported that there was a problem. After a restart, I was asked to visit TapShare.org "on your computer" and enter a code. I tried the browser but entering that .org address brought up an unrelated page. When I checked the Help file, the URL was right, but Safari may have corrected the URL I entered. There is only one DOT: TapShare.org and no WWW or / -- that worked and I downloaded the video directly to my computer after entering the passkey.

I uploaded the video to FaceBook with no problem directly from the iPhone, saved it to the Photo Library and when I checked later in Aperture, the video was good. I also exported this to the desktop and test saved a number of different versions using QuickTime. I was unable to export the video using email as there is a size limit. I was warned that it would need the file to be rendered in a smaller resolution before this was possible. In the render panel I changed to a smaller resolution but was warned when I pressed Render Now that this would over-write the already existing file. I was able to go back and enter another file name so I was able to keep both. I sent a video 640 x 480 (9.4MB) once the rendering was done (again a process of a few minutes). That was acceptable and arrived in my mailbox soon after it was sent. We see that all exports end with an announcement abut iTimeLapse which some may prefer to edit out.



Conclusions
The output is of a fair quality (considering the size of the iPhone) and the number of ways this can now be exported successfully means that this is usable. My only question is why it took the Laan Brothers so long to get round to this updating this to fix the export problem to the Photo library. This inexpensive app allows users to make some useful videos using the time-lapse technique on the iPhone. This is something that may have taken some fairly sophisticated equipment and a lot of computer time in the not so recent past. The output depends on the creativity of the user.



Graham K. Rogers teaches at the Faculty of Engineering, Mahidol University in Thailand. He wrote in the Bangkok Post, Database supplement on IT subjects. For the last seven years of Database he wrote a column on Apple and Macs.