Up and Running Again
Inevitably, when you are running a BMW in a 3rd world country on a shoestring, things will go wrong. I picked up the current K100RS from the previous owner about 7 months ago and I have had mainly good rides, with one or two problems. The steering bearing needed replacement almost immediately, despite Shawn's praise of the handling (I guess 60 mph on a duel-carriageway down to the seaside, or a trip to the nearest Starbucks, is not much of a stretch) but I USE my bikes. I also had the fan go west (I remember first meeting Shawn and it was at the Old man's shop -- at my suggestion -- and there a major over-heating problem was fixed when the OM provided a used fan.
Despite Shawn's lauding of the mechanic he had been using, I have been finding bits and pieces on the bike that (A) have no place there, and (B) suggest a pretty poor level of mechanical aptitude, while (C) the philosophy applied seems to have been cheapest is best. I am not suggesting Shawn had this attitude as I have had plenty of experience of Thai mechanics -- good and bad.
Ever since I have had the bike there has been a lingering odour of gasoline. It was not particularly bad, but it niggled me, so I began to look for the source. And not a moment too soon. The return line from the common rail to the tank was easy to find and fix. A local shop did this nicely late one evening and charged me under $5. The scent remained and I began to see fuel, rather than smell it. A small amount was visible at idle speeds, and it dripped onto the exhaust pipes. Not a problem. This is Thailand, right? And anyway, it disappears when I go fast.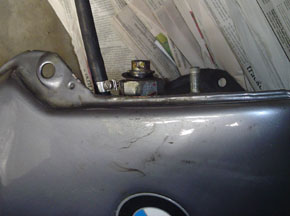 Even I realised this needed to be fixed and I started the bike up one morning to take it in, only to have it die on me. Not only was the fuel leaking but the fuel pump died. Taking the tank off the bike (after I pushed it 100 metres home -- lucky me, it could have been 100 kms.), I checked the input for the fuel sender unit (towards the front on the earliest Ks) and got a fistful of gasoline; which rapidly turned into a flood under the bike.

The rubber seal that was supposed to secure the sender unit, had dissolved. In ten minutes I went from one problem to three. Four actually: I had no transport. Five: when I opened the tank, I saw that things were not in the positions that they ought to have been. Six: I had to get the tank in to the shop.

I put the tank in a large plastic bag and got a taxi into Bangkok. Within a few days, the OM had stripped it all down with a few grumbles and told me that I needed both a new sender unit and a pump. I would have to get the sender, he would track down a pump.

View of (i) the sender unit connector, and (ii) the fuel pipe now detached

I contacted Motobins in the UK and made an order for a starter relay but could not find the sender; so I attached a comment. When I checked a few days later, I was told that they had enclosed a used (good) sender unit as they were no longer made. When the package arrived, I took the afternoon off and headed for the shop. Within a few days, the bike was back in my hands. As I left the shop, it was coughing and spluttering but that soon cleared up but we had a slight misfire at high speeds. It took me a couple of days to remember this was a recurring problem with the injector lead to number 4 cylinder. I pushed it on securely and the misfire went away.

This morning (14 Sep 2003), there was nothing that was going to keep me from riding for the first time in over a month. I was not sure where I should go, so fell back on the favourite method of making it up as I go along. At 0710 I left the humble abode and made my way to the highway via a road constructed (after being in planning for 50 years) for VIPs visiting the Phutthamonthon Buddha statue. It is really convenient for me too and from work, and for trips out onto the highway. I got onto the highway quickly and opened the taps. How does one describe this -- some of my students were asking this week why I like bikes -- feeling of euphoria, excitement and relaxation all in one? Best not to analyse: just do it.

On the road round Nakhon Pathom there were some roadworks to repair the inevitable damage caused by over-loaded trucks. Once past that, I saw that there were bunches of policemen congregating on the other carriageway: a sure sign that a member of the Royal family is coming through. Instead of heading south, I took the bridge for the Kanchanaburi road right into heavy rain. We have not done too badly this year, although the last few days have seen a fair amount of precipitation and I guess it was inevitable. I made the rare decision to turn round. I was going to head back into Nakhon Pathom, and turn off for U Thong on the edge of Kanchanaburi and Suphanburi provinces.

As I arrived back at the highway, all traffic was at a stop: the Royal cars were due. This is Thailand and the traffic was stopped: lane splitting is not a concession but a need. As I neared the front, a policeman signalled me to stop on the left. I kept coming but gave him a one-handed "wai" (when two hands are impossible, one hand is just as polite as a full wai) to let him know as politely as possible that I would do what he wanted. It was a bit tight at the front, so I asked him to move a little and I came to a stop, then put the bike on the main-stand.

There were four officers there and we had a chat while they waited for the cars: BMW; how long in Thailand, "where you go?" (at least they try to speak English). When I reply in Thai, they get more interested and we have a deeper conversation. Then it stops. A highway patrol car goes past, then three more, then a cream-coloured limousine (empty -- it is the backup), then the Royal transport. These days, several of the female members prefer the large SUV type; and the Chevrolet seems to be the most popular of these. After this, a few more police cars full of assorted nobs and nabobs and the four policemen pile into their pickup truck, leaving two local lads -- in full length orange waterproofs -- to hold the traffic up. After a couple of minutes, they get an "all clear" on the radio and scamper for the kerb as the waiting traffic accelerates away.

In Nakhon Pathom I turned left and headed up another highway. The condition of this road, for over 100 kms is realy good, and the first 50 kms or so is of mainly two-lane dual carriageway, with some 4-lane sections. When this was re-laid a few years ago, there was no surface at all for a stretch of about 40 kms. It took hours. Now I was cruising at about 5,000 rpm (I have no speedo) and it was all very unstressed. Until the rain, that is. I stopped to get gasoline and just after filling up, down it came so I stopped again to put on the wet weather gear. Within a few kilometres, I stopped again.

Instead of going to U Thong, I took a turning for Kanchanaburi . This is a road I have used countles times over the last few years and it has a lovely surface, albeit with only two lanes, it gets a bit hairy at times. As I approached the outskirts of Kanchanaburi, down came the rain again; so the plans were revised once again. Another left turn brought me onto the Bangkok highway which I would use for a few kilometres, before turning to the south and cutting across country. Kanchanaburi dropped two small storms on me, then the sun came out. I needed the bathroom, so stopped and had a drink too and decided to take off the wet weather gear. I left the service station, just in time to see the railway officials come out of the hut at the side of the road. Bless them, they let me go past before wheeling the barriers across the road.

At the next traffic lights, I turned right and headed back towards the former main city of Kanchanaburi at Tha Muang. I had really doubled back on myself, so should not have been surprised by the rain. It only lasted for a few minutes, but the roads remained wet. The road I was on now, is a relaly fast and twisty main road that heads down towards Rachaburi province. I had used part for years, then a few months ago, decided to try the rest. A new experience every time. When the road ends, it is left in the direction of Bangkok for 5 kms, then another right turn across toward Rachaburi again.

Instead of following it all the way, I took a right in a village and headed off into the rice and maize fields to the surprise of many locals. This lane came out more or less where I thought it might -- on a parallel road towards the Rachaburi area, and enabled me to cut right again down another lane, which I knew would bring me out near to a small town called Chombung. Just before the end of this lane, I stopped for about an hour doing the crossword and sitting in the woods.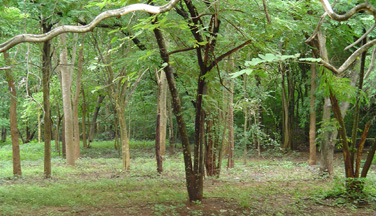 And then I was very hungry. I went into Chombung and stopped at a small park I often visit, where the stall-holders do constant battle with the monkeys who were here first. As I rode in, a small girl who had been teasing a couple of monkeys had to turn tail (so to speak) herself as they went for her. Not that they would actually harm her but she was warned ( I have seen one person attacked in the south, but everyone agreed that (A) he deserved it, and (B) the monkeys gave him a clear warning first; but he insisted on trying to steal a baby from its mother).
After lunch, it was inevitable that it would rain again (far more likely in the afternoons here), so I decided to head for home. Back into Rachaburi first. I wanted to use a country route but knew I was getting low on fuel and a gas station I like is on the highway at Rachaburi itself. This was a bit of a mistake as there were major roadworks on the highway: fairly short, but there was no surface for a couple of stretches.
As I gassed up, the guys selling the fuel suddenly said, "here it comes," and the rain started again. All the way home it was on and off: some dry stretches where I could open the bike's taps and test those Michelins; and some wet sections where discretion is called for. Fortunately, the laundry arrived just after I got home, so the wet clothes were shipped off at the earliest opportunity. Right now, it is raining again; but I don't care. I am inside, I am dry and I had a good day's riding.
---
© Graham K. Rogers
Bangkok: September 2003
---
To OSX information and articles
To teaching information
For further information, e-mail to Graham K. Rogers.
---