<! ----------------------------------------------------------------------->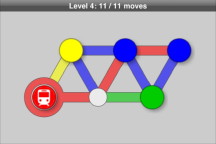 It is the weekend and I already have so much information that I am carrying out my threat to run an extra podcast. Yesterday I put online a new app review, number 6 thus far and looked at some updates and some useful new apps.
We are still thinking about the recent financial report from Apple, although I was a bit surprised to see nothing on Apple's excellent results in the Post's Business News last week.
In a special analysis for AppleInsider, Andy M. Zacky explained how, with the accounting methods, Apple's real earnings had grown by over 125% and was annoyed that these so-called financial experts failed to take account of this, nor of the growth in cash reserves.

One thing that has struck me, and others, in the last few days is the number of analysts who consistently mark Apple down when the results are consistently good and the money in the bank is enough to buy Dell. For cash.
Fortune compared several high profile and highly paid analysts with bloggers and the bloggers got it right far more than the experts did. Maybe this is why the world is in a recession: too many experts who haven't a clue what to do.
The reports on iPhone sales were not good enough for Microsoft of course who suggest we should ignore the figures, good as they are, because the real key is long-term growth. He should tell that to the shrinking handset makers like Blackberry, Nokia and Sony-Ericsson; the last of which is reducing the range of mobiles sold: fewer models.

This iPhone envy may also have featured in the announcements by Intel execs who claimed that problems on the iPhone with surfing were due to the use by Apple of ARM chips and not Intel. As CNET puts it, the next day on a blog posting, "Anand Chandrasekher, the head of Intel's low-power efforts, threw his fellow executives under the bus". . . . Tom Krazit who wrote the report, suggests that these comments reveal the strained nature of the Apple-Intel relationship right now.

Also last week was the news that the Mac mini may be due for retirement. Not so, say other sources, according to AppleInsider. One of the things in the AppleInsider report gave me a clue as to how some are using this. For example, one company has a server farm of 400 of these and there is an image of this. While it is also claimed there are some 10,000 used by hotels and casinos in Las Vegas. It is expected that an update may be coming and that the mini will use the new DisplayPort as in the MacBookPro as well as other changes.
A search engine company has revealed that an Apple device, somewhere between the iPhone and the MacBook has come a-visiting recently. That, if true, might give some idea of the sorts of information that gets passed over when we are surfing.
But what of the iMac? Lots of rumours that this should be due for a sharpening up for the Xmas-New Year season, but nothing as yet, until last weekend when an email arrived from Apple in SE Asia with a push on the iMac. Now is this because they have lots and need to sell them before the new ones come online?

Thursday was a public holiday in Thailand and it looks as if my site took the day off too. I was surprised to see no email from those accounts in the morning, and then saw that Mail had not got through. Not a cause for alarm as that sometimes happens and it puts itself right later. The website was a different matter and I quickly realised that it was offline for some reason.
I came back home about 4pm but it was still off, there was a bounced email from the service provider in my Mobile Me account, so the ISP was offline too, which I confirmed with a 404 page when trying their website. Not much I could do and I was sure that they were aware: experience told me that they were probably working on it.
A bit after 4.30 I had two single emails from the account, telling me that phase one was done, the website was up (which I confirmed immediately); but that phase two might be a bit longer as there were emails from about 20 hours that had yet to arrive. My podcast had also not come down then with that usual Wednesday overnight delay when CAT shuts the gates (it has now).
The statistics showed that there were something like only 50% of the normal number of hits that day.

While I was out, I made a call at the iStudio shop in Siam Paragon and saw that, although the new Macs were not yet in, the price sheets had been printed. What I was told also was that the new MacBooks would be in this week while the new Mac Book Pro computers were not due to arrive until next month: just in time for the New Year period.
Walt Mossberg has already reviewed his basic MacBook in the Wall Street Journal and comes up smiling. I wonder if I will get a chance before the new year. One thing he does write is that it runs XP beautifully and (almost grumpily), "It can also run Windows Vista."

Mossberg notes, even in his title, that the price is higher at $1299, so let's do the sums. Apple Computers are always higher priced here because of the distribution system: another layer that makes a profit, right?
Those US prices quoted do not have any taxes included, so direct comparisons are not right. On basics, we need to add 5% for import taxes, so that gives us $1363.95. Then there is VAT at 7% giving about $1459.43. Converting that to Baht gives me 50598.32 while the price here is 48,900 baht: which means that we are ahead and it may be that the prices were calculated with a different currency rate.

I heard that there were spill detectors in the iPod touch -- apparently in the headphone port -- but now we hear that these are included in the new notebooks underneath the keyboard and trackpad. It is not a surprise really as so many people, even in Apple forums, admit they have spilled something then ask if Apple will cover it under the warranty: and probably a lot do try. Well, now Apple may be able to confirm if this has happened.
We wrote last time about a petition for Firewire on the new MacBooks, but now there is a petition for matte screens, and this one has a lot more traction we feel. I know that the screens, along with the graphics processors allow a lot more tricks and some impressive image displays, but people who want the computer for photography, and who cannot afford a second monitor, would prefer that matte screen and here is the link to the petition itself.

There were a couple of messages this week on the forums concerned having the touch read to people: these users have problems with sight and articulation: difficulty in holding things. While one person enjoyed reading with that app I also use, Stanza, after a while fatigue sets in. I was able to suggest that iSpeak It application we reviewed a couple of weeks ago: if that is used to record into iTunes, the file can be played on the iPod touch at the same time that the person reads the text. There are other uses here too, of course. With Apple's recent focus on accessibility, there is perhaps an urgent need for this reading facilty to be available on the touch. The developer of iSpeakIt tells me that he would love to do this, but the touch or iPhone have no voices.

And another use of the touch surfaced this week on GeekSugar a website I glance at occasionally. The writer, who may be Matthew Allard, spent some time at th Malibu Beach Inn where each guest is issued with an iPod touch that has a program called Hotel Evolution on it. This acts as a way to communicate with the hotel's services and order direct from the device: food, drinks, transportation, information; and there is also a message section as can be seen from the image that goes with the article.
There are unsurprising rumours that the next update to OS X (10.5.6) is in testing. Already at something like 350MB for the basic update, this is now in final test form, so may be with us in the next week or so. Among others, there are fixes for Safari, ColorSync, AddressBook, Printing, Syncing, iChat, and the Finder. There is also a suggestion that QuickTime 7.6 is just around the corner.
Let's think about this: here we are in November. We have just had updated hardware in the notebooks, and there are expected to be more. In about 2 months, Apple is bound to have another new product at the MacWorld Conference. I wonder of any of these new components in OS X will goe us a clue.
There have also been sightings of a 2.2 upgrade beta for the iPhone. This was seen then pulled, apparently. Some suggest this may have been an error as part of the updating of the NDA (non-disclosure agreement). As the iPhone and the touch are fairly closely linked, this may mean an update here too so let us hope that this covers some of the wifi problems some people have been having, particularly with certain wifi routers.

Apple has added a couple of 101 pages to its KB articles. For those not familiar with US terminology, 101 designates a basic course in a university subject: I taught English 101 when I studied in the US. The first is on the desktop, and the second on changing the screensaver. Nice and clear. Well thought out. These were followed at the weekend by a 101 on the menu bar. I do hope this is the start of a trend.

Following on from the Pixar university, which is a sort of higher level course provider for those in animation, we now hear of Apple University, which is bringing on board as head, the current Dean of Yale's Business School, Joel Podolny. He gets to be a VP of Apple too.
There is no clear information as to what this new venture might be although with such a slant as Polodny might provide, we wonder if this might not be connected with the new influx of designers Apple has seen with the Phone apps. Remember, they came up with some venture capital scheme to assist the developers, so perhaps this is another way to help these guys maximise their skills.
That unsubstantiated report of the Steve Jobs's heart attack that wiped $4.8 billion off market cpaitalization in an hour was pinned on an unnamed teenager who used the signature, Johntw.
While the teenager might not have intended to profit by the expected fall, there is some criticism of "SiliconAlleyInsider" blogger Henry Blodget, who was once a Merrill Lynch analyst who was charged with civil securities fraud by the SEC in 2003. He excused this posting of an unsubstantiated rumour, by writing, "You, our readers, are smart enough to know the difference between rumors and facts, and you are smart enough to evaluate what we tell you."
Not so. There is bound to be a knee-jerk reaction by the market -- sell first, check later -- in the interests of self-preseervation.

Talking of reactions, we are following the US elections fairly closely and receive daily emails from the Obama campaign. At the same time there are other issues on the slate. Apple, which usually remains neutral (but seems to have a Democrat slant) as an equal opportunity employer has taken a stance with opposition to what is called Proposition 8 in California on the delegalisation of gay marriage: Apple says this is a violation of civil rights and has donated $100,000 to that campaign: less than was spent on Sarah Palin's clothes aparently.
One of the significant factors in the US election has been the Internet: I have emails from Barack Obama, an iPod app, and YouTube has allowed us to see so many of the important events; and to repeat them: the good ones and the errors and the devastating gaffes.
This weekend, there is a reprise, if you like, of a popular Busch commercial(as in beer, spelled B U S C H), known as "Wassup." It uss the same actors apparently, and is apparently getting through to voters with its simple and familar, but devastating message.
At the end, there is a text that tells us the opinions are those of the individual posting the clip, and do not reflect those of Anheuser-Busch. Odd that: Cindy McCain's father built his fortune on distributing this beer in Arizona.

Also have a look at the totally fictional BreakCom video which has a purported dance off between the candidates.

A couple of times in the last few weeks, I have seen advertisements for an online game called Travian, which looks something like that superb game, Civilisation. There are a number of online sources for this including a Thai version; and because I am in Thailand, the headings are Thai.

And the Airport Extreme Update that was pulled during the week has now made an appearance. It is recommended for all Intel-based Macintosh computers running Mac OS 10.5.5 and resolves some issues with AirPort connections when roaming in large Wi-Fi networks Apple tells us. It is available via Software Update and does need a restart.

That update last week to the Migration and DVD/CD Sharing software worked wonders and while I had been able to do it with a test MacBookAir a whle back, I was finally able to share disks from computer to computer via my wifi at home.

<! ----------------------------------------------------------------------->