<! ----------------------------------------------------------------------->
---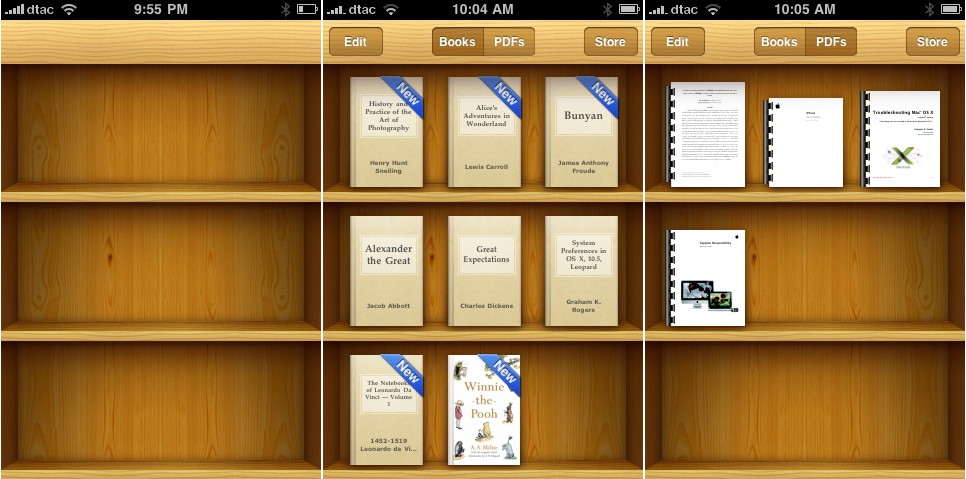 iBooks on the iPhone: Startup, Books and PDFs

I had really been looking forward to the iPhone update, known as iOS4, since it was outlined by Apple. A number of features looked as if they would be useful. Some of these brought iPad tricks to the smaller devices. It was developed for the new iPhone 4 of course and is optimised for that device. Fewer features are available for earlier iPhones. Those before the 3G (and early iPod touch devices) could not install the update at all.
I had updated OS X to 10.6.4, and installed iTunes 9.2: needed for iOS4, released on Tuesday 21 June. With time-zone differences, Thai users had this at about midnight. I downloaded it Wednesday morning and planned to install on the iPhone 3G later in the day. By Thursday lunchtime I was pulling my hair out.
I tried several ways to update, including a data delete, but every time the process became stuck on backing up. I was almost ready to delete and reinstall as a new phone, but succeeded when I unchecked synchronisation for music, movies and apps. That gave the room needed for the backup to complete. The rest of the update was completed quickly. After checking, I re-synchronised the data and, (except for passwords for some apps) the iPhone was back to its working state. A later update to a 3Gs iPhone in my house was much quicker: with none of the difficulties I had experienced.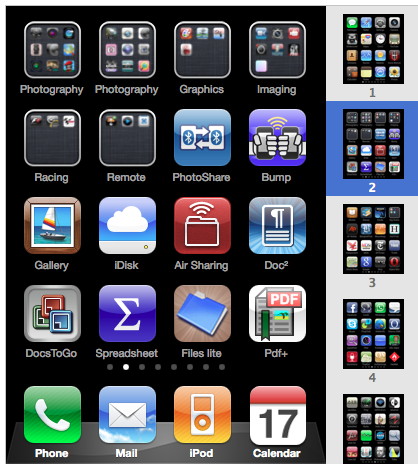 I knew that multi-tasking would not be available on my iPhone 3G, but the provision of folders more than made up for this. I had more apps than the iPhone displayed before. Now, moving one app icon onto another, creates a folder which will hold a maximum of 12 apps. Tapping the icon reveals all apps in the folder. I moved all my photography-related apps into two folders and this gave me considerably more working space. With the Apple-installed apps on page 1, folders allow up to 2160 apps, so I can start downloading again.
When creating a folder on the iPhone the software automatically gives it a name. These folders may also be created in iTunes - again by dropping one app onto another - and in iTunes the name may be edited by a user. Also in the iTunes apps panel, there is a new display of those apps that documents can be transferred to (or from) using iTunes rather than the app's own method, which may need a working wifi link. This 2-way process increases user efficiency in file handling.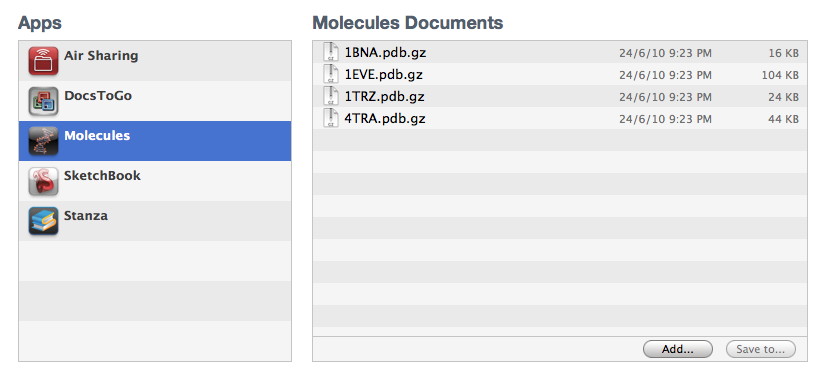 Another bonus was the iBooks app for the iPhone 3G. The bookshelf display has two parts: books and PDFs. Books in ePub format are added by the user or downloaded from the online store. My App Store login details were recognised and I downloaded some free books to try.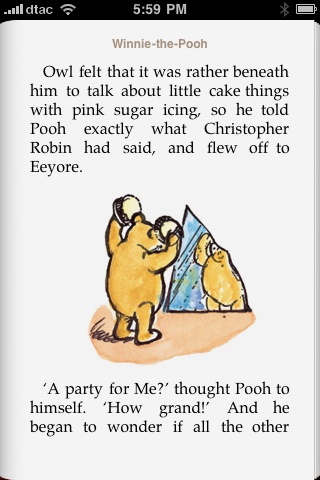 Users may add their own eBooks (or those from other sources) by dropping them into iTunes. A "Books" folder is created. Its contents are synchronised to the iPhone. Using this, organisations can distribute documents.
The PDF section works in a similar way. A PDF dropped into iTunes also appears in the Books section. I tried a selection, including two with several hundred pages that I had been testing with other readers on the iPhone. With iBooks, the display was much snappier. As with eBooks, the iBooks app displays a series of tiny page icons at the bottom of the screen. Tapping these allows speedy navigation deeper into the document. While eBooks flip the pages, PDF pages slide across. The PDF pages are not displayed as efficiently compared to eBooks particularly if zooming text, but are readable.
I also tried with a PDF which mainly had Thai characters. This was displayed correctly in iBooks. I had earlier found problems converting Thai to the eBook format, but the ability to use PDFs may be an alternative way for distribution of texts to users of these devices here.
The 3Gs I updated also had the feature that Apple calls Multitasking. With a double click of the Home button, a display of all recent apps is shown and we may switch between them instantly. This was warmly received in my house, as was the arrival of the Farmville app released the same week.

The iPhone 4 was released in the US and other countries days after iOS4 and estimates suggest perhaps 1.5 million were sold. Two main problems were reported: a discolouration of a small section of the screen; and reduced reception on some phones when held in the left hand.
A chemical bonding agent caused the yellowing which apparently fades quickly. As the reception problem affected some 3G and 3Gs phones too some thought it could be software related. Some apps were also displayed wrongly, with phone information at the bottom of the screen which was to be fixed in the iOS 4.01 update: a release to cover all of the early problems. [Despite rumours about this, thus far it has not been released: see also the Apple letter to consumers on iPhone antenna problems.]

<! ----------------------------------------------------------------------->