<! ----------------------------------------------------------------------->
---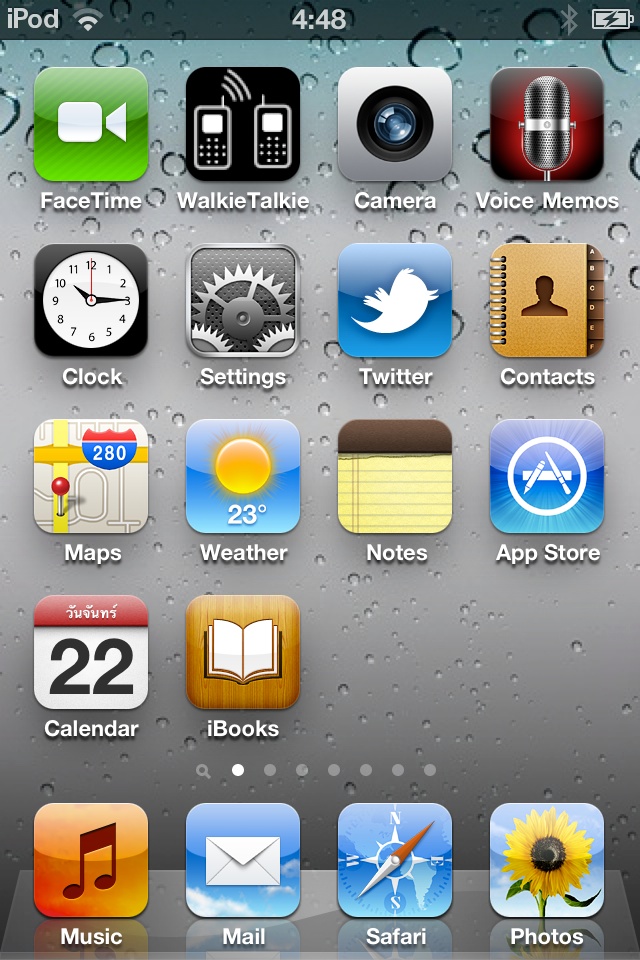 I have had two iPods on test recently: the iPod touch and the nano. Both have had considerable design changes inside and out. The ladies in the Siam Towers office who gave me these devices, initially wanted me to have two iPod touch units: Apple was keen to have me try out FaceTime and, although this was unsuccessful in Singapore due to problems with wifi access, we tested successfully in Thailand before and after.
I have now made several calls with FaceTime to that iPod touch, using my iPhone and using my Macs on which I installed the FaceTime beta. I was also able to phone a Mac-using friend in Bangkok from Singapore. I have made calls to other countries as well.
With FaceTime, the iPod touch comes a little closer to the iPhone, without disadvantages like SIM cards, data plans or contracts. In a later test with the iPod touch, the student used both cameras: face to face call and the street outside. Like the iPhone, the thumbprint image my end was crystal clear with the "retina display" like on the iPhone 4. The image from the remote caller may be less clear due to light, wifi speed and device movement. Used in daylight or a well-lit room a lot of families and friends are going to be delighted by this.
The iPod touch will work with most apps that are available for the iPhone. When I installed a selection from my library some I had hoped would be included, such as those used for communication (like, WhatsApp), were not there. Likewise, some apps for the iPad will not install on the iPhone and may not be optimised for the alternative devices. With some 300,000 now available, most people will be satisfied.
One app that is available for the iPod touch is iMovie, allowing users to take advantage of the now-included HD video. I weakened and bought this $4.99 app (150 baht). The quality of output is quite acceptable for a mobile device and will display full-screen on a computer. Using a projector, a video was displayed fairly clearly on a large screen in a classroom. This is not cinema quality of course.

The iPod nano that came with the iPod touch has changed radically from the previous version. It has had several shape-changes since it first began its life. I am never sure if Apple has a master plan for it, or if the plan is for the nano to be this season's fashion accessory. That is a role that suits it, although with this latest iteration the ability to make movies has been removed: the iPod touch now inherits that mantle and it is better suited to the task. The iPod nano now has an FM radio.
The iPod nano

The iPod nano resembles an iPod shuffle with a screen, but there is no click wheel as the nano uses touch screen technology. It is slightly larger than the shuffle, but has almost the same depth and also carries the clip so that this iPod can be attached to a lapel. The shuffle is slightly lighter at 12.5 gms. against the iPod nano's 21.1 gms.. The 8G version I had costs 5,400 baht while the 16G is available for 6,600 baht. It comes in a neat little box (imagine how this would hang nicely from a Xmas tree) with the headphones and connector. There are seven colours to choose from, although the (Product) Red one is only sold in the online store where free engraving is also an option.
When I connected the nano to my computer the screen in iTunes showed 6 sections: Summary, Music, Podcasts, iTunesU, Books (audio) and Photos. When I selected all music, the contents bar at the bottom indicated "Over Capacity" so I went through playlists and chose enough to be under the limit. This gave me just under 1100 tunes, enough for a couple of bus rides into Bangkok, plus a few token photographs to try the display: thumbnails and full screen. Photos can be enlarged with a double tap. The iPhone pinch is not available.
The small screen displays icons (the same size as on iPhone or iPod touch) in groups of four. Screens are accessed by sliding the finger across. Pressing the FM radio icon reveals a small station number display and a tuning slider below. We may also click on left and right arrows. A star is used for favourites. After ten seconds play the station identity is displayed full screen. There is no radio signal when headphones are detached.
Also shown are a Settings icon, a Fitness icon (Nike+ system, pedometer and history). The clock is also full screen display. When selected we may slide the screen for stopwatch and timer. In a hint of its fashion genes, straps are available so that the nano may be worn as a watch.

<! ----------------------------------------------------------------------->