<! ----------------------------------------------------------------------->
---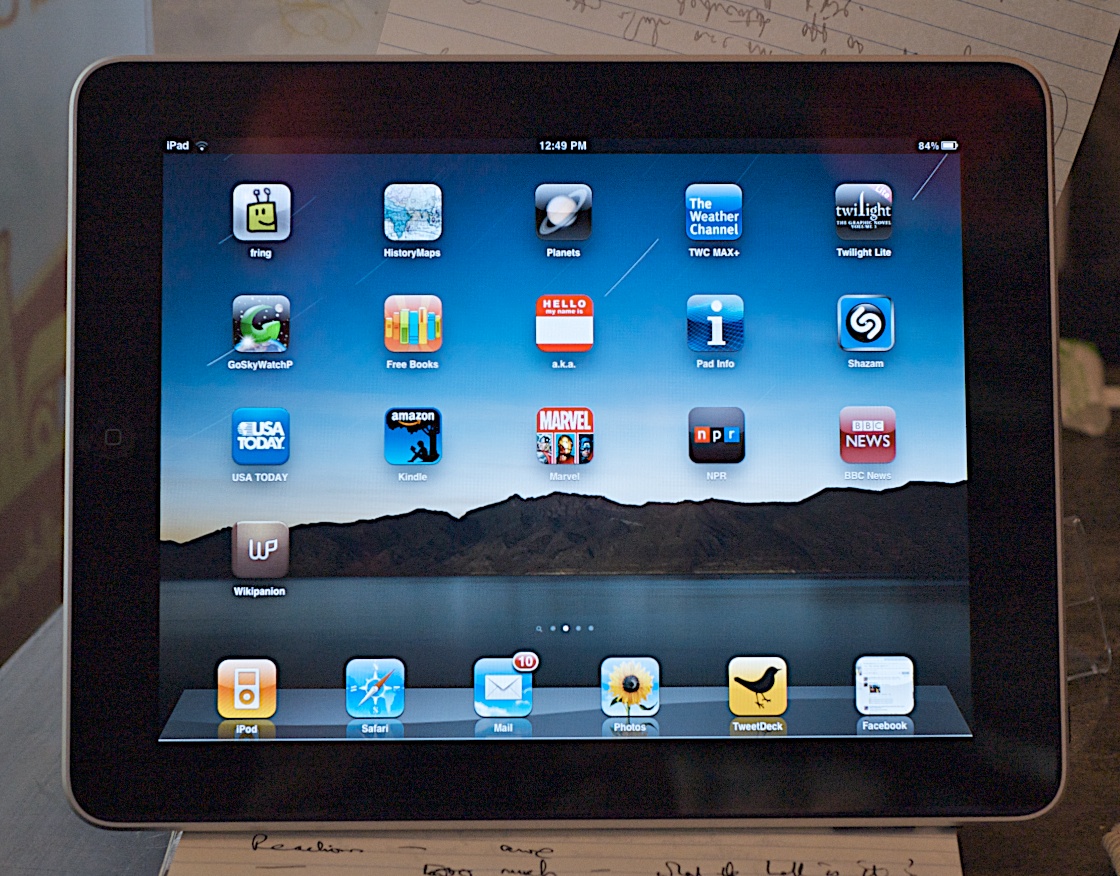 If you read that title and are thinking of heading down to your local Apple retailer in Bangkok, don't. I was lucky enough to get my hands on a 16G iPad through the generosity of a local reader who teaches here. A friend brought him one from the US and he was happy to share this.
We met on Saturday morning just by Asoke BTS station for coffee. The iPad was everything I had expected from descriptions I had read, but as others have reported, the only way to write about this is to use it.
Unlike any other device I have used, the hardware does not intrude on the user experience. Its physical nature simply disappears and we are connecting better with the graphic interface than with anything else I have known, including the iPhone on which it is based.
With that iPhone, and the iPod touch, there are times when this starts to happen, but perhaps the size, or the speed (downloading data and reacting to user input) make one aware that there is a device there. The iPad has none of that and the user begins to feel as if there is a merging with the machine.
The minimal controls are well thought out, and like the iPhone, but with the addition of a lock screen button to keep the display in a particular aspect, like landscape.
The owner had installed a few apps for me. At his suggestion, I started with the New York Times in Safari for an early, "Aha," moment. The ability to access the articles and images made it easy to see why so many reviewers think that Apple has got this right.

Not all apps give an optimised experience. Facebook for example, has only the iPhone version as yet. The obvious answer was Safari and web access. An app from Marvel gave a hint of what could be done once media break away from 2-dimensional print ideas.
An interactive Toy Story book from Disney also showed the potential. As well as text and images with some animation, the words could be read out, but also users -- children or learners of English -- could record their own voices for practice.

He had downloaded the iBook app and several books. There was an interesting display experience with this as turning the pages had all the experience (except tactile) of turning a page in a book. This was repeated with Google Maps (much faster than on my iPhone) with the way to access settings. With iBook, which is only for the iPad currently, unlike Kindle, we can add our own e-books by dropping them into iTunes.

So many criticised the iPhone keyboard, but this turned out to be a non-story: users have found that in use this is a viable input method. The keyboard on the iPad is much larger and behaves like the iPhone one (e.g. holding down the E gives several character alternatives). I did not find this easy through a lack of familiarity: I type fairly fast on my MacBook Pro, but am slower on the iMac keyboard. While I pecked away at the keys, the owner (with only a few days practice) was able to demonstrate fast typing speeds with three-finger input.
This adaptation brought some interesting comments from him. Some of his students tried the iPad and he noticed they ignored the hardware and dealt with the task, whether it was reading, drawing or web-work. This is not unusual. An older person may fret about what is not of real importance while a child ignores the technology and gets on with the job. The iPad takes this further. After letting me run with the iPad for several minutes, he noted that my behaviour was similar to the students and to other, more mature people whom he had let use the iPad: the device appears to disappear and the user relates directly to the interface.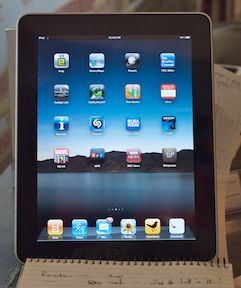 The screen was unsurprisingly covered with fingerprints after brief use. However once the screen is on, the display output is so good that these marks cannot be seen. In the box there is a charger, but no ear buds; a cloth might also be useful. The speaker has a fair output, but headphones do a better job.
In the two hours I had my hands on it, I saw that the power had dropped to 81%: about 10% an hour, which would give a 10-hour working period. The owner uses the wall-charger and this works quite fast he said. Some have reported poor charging from USB ports, although there are reports that, even when the iPad shows, "Not charging" there is some charging taking place.

As this was only a brief sampling, through the generosity of a Post reader, I look forward to a longer experience that would allow me to run some of my own apps. Would I have one? In a nano-second, although a new MacBook Pro might be on my horizon sooner, particularly as there is no suggestion from normal sources of the iPad arriving in Thailand officially soon. Unofficially? I am going to take a walk over to Mahboonkrong in the next few days.

<! ----------------------------------------------------------------------->