<! ----------------------------------------------------------------------->
---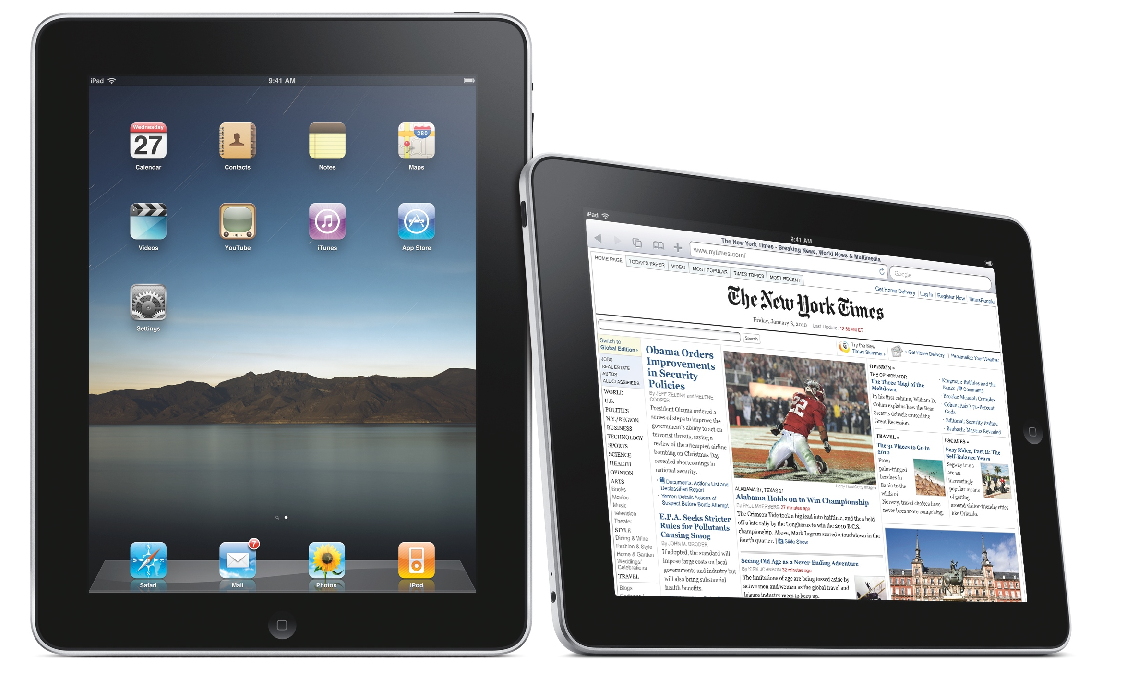 The iPad - Image by Courtesy of Apple

In some ways I was disappointed by Apple's "latest creation," the iPad, which at first glance looked to me like an iPod touch on steroids, but perhaps because it was just what I was expecting - at least on the outside. But Apple have ambitious technical goals and more features will become available. The pricing looks good, starting just below a psychological $500 in the US. I estimate after VAT this will be under 20,000 baht here. There are three wifi units and three with wifi plus 3G: 16G, 32G and 64G. The 3G units will be unlocked.

Much excitement had been built by the media. Apple, as usual said nothing until the announcement itself. I took a few days to view the presentation video a couple of times, and to read the many comments online and in print. By the weekend, there was much speculative rubbish out there. A key to this device was the way Steve Jobs, Scott Forstall and Phil Schiller demonstrated it sitting on a sofa. That is how I work on the smaller screen of the iPhone: email, browsing, reading books and writing.
Some long-time Mac users were not impressed (we are such a fickle bunch), but Apple started the PDA business with its Newton: sorely missed when it was dropped. Having improved the computers, got the iPods and iPhones running, maybe the time is right to return to this form.
It was interesting to listen to Jobs who, in one part of his presentation, praised the Kindle and said "We are going to stand on their shoulders and go a bit further." His demo of the iBook store showed that rather than competing with publishers as the BBC suggested, Apple has support from five of them at this time. Their books will be sold via an online store, the iBook Store -- iTunes for text. It was expected that Barnes and Noble would be included, but may have been dropped at the last minute. In addition, one of the five, MacMillan, was removed from Amazon's Kindle list on Friday (29 Jan).
[Note: Amazon acceded to the MacMillan suggestions and their books returned to the site, but not until Friday 5 Feb..]

The integration of iPad, the apps and the online store showed how much thought had gone into the concept. Unlike the Kindle or Sony reader displays, which have flat pages, the iPad shows what looks like a book with page edges: if the page is dragged, it looks identical to a turning page. Unlike current readers, displays are in colour. There is a selection of five fonts.
Content is a key to this device, but the Book Store cannot be used outside the US. This points to market by market copyright arrangements, like iTunes. This does not mean eBooks are unavailable to us lost souls as there are already several apps, like Stanza and Amazon's Kindle. One critic pointed out the irony of this.
Scott Forstall outlined some of the work that has been done around the apps, such as the Photos, Contacts, Calendars and YouTube apps. Several of the developers were on hand to show their products, each of which had been produced for the iPad in under two weeks.

A rumour several days before the event suggested a new version of iWork and many (myself included) presumed this was for the Mac. However, what Phil Schiller showed us was a totally remade version of the suite, purpose-built for the iPad. Each of the components will be $9.99 and output is compatible with the Mac version.
Keynote runs in landscape mode (that is how slides are) and it was surprising how easy Apple has made it to create and develop a slide show using some familiar tools with gestures instead of a mouse, but there are also some new tools and effects as well.
Pages has similar writing tools to the Mac version and the screen will display a keyboard when required. Here we may see some of Apple's attention to detail as was pointed out to me in email from a reader. Look closely at the F and J keys: these have those little raised marks that help touch typists locate the keys. A page navigator uses a display within the display to show a mini version of other pages for quicker tracking through a document; and when an image is used on a page this version of Pages has automatic text wrap.
Numbers too has several ways to move and enter data via the touch screen and gestures. Built in to the app are more than 250 formulas and functions. As we find on the iPhone, the correct keyboard appears when needed, so in Numbers, when a data section is being used, a numerical keyboard appears or a time and date keyboard when needed. Looking on the App Store, I found a few apps for printing available for the iPhone and iPod touch: these should work on the iPad.

Under the hood it is even more significant as the processor inside is Apple's own - the A4 -- and the first created basically in-house by PA Semi. Not only can that free Apple from Intel, but future development could occur without having to share the output with PC assemblers. That might lead to even bigger surprises. Apple claim 10 hours battery life with standby time of a month. The market for this device has little interest in specifications: this is aimed at users who want to get the technical details out of the way.
What made the iPod touch and then the iPhone fly for me was the availability and variety of apps, now reported to be 140,000. Software is also the key on Macs. I used to have an iPod; now I have a mobile phone that acts as a PDA synchronising with my other Macs, plays music and video that I can use as an interesting image taking device (particularly with photography apps I have). I can also work on spreadsheets and documents.
Multiply that a few times and the larger screen makes this far more usable. I am not sure I would want to use it as a camera, as the size would make it unwieldy, but there are graphics apps that should size up nicely. An interesting angle is the way Apple has developed some of its own software to work on the iPad (note that is an anagram of iPDA). As well as iWork, Address Book and Calendar have a neat look about them.
From many comments I read online, those who actually handled the device were immediately impressed, especially with the display quality and the speed of downloading. One criticism concerned Flash, which is not available as neither Apple nor Adobe are giving ground. Many Mac users are finding the plugin is a resource hog, while it is also clear that there are now alternatives: YouTube and Vimeo are both experimenting with HTML5 for example.
Accessories are a dock, a keyboard dock and a case that doubles as a stand. There are also a camera connection kit (USB and card reader) and a power adapter.
Like the iPhone and the Mac with universal preferences, the iPad has Voice Over and this has already been commended by the US National Federation of the Blind.
Although it will start being sold in the US in March, internationally it will not be available until after July of this year. Sources here are expecting it late in the year.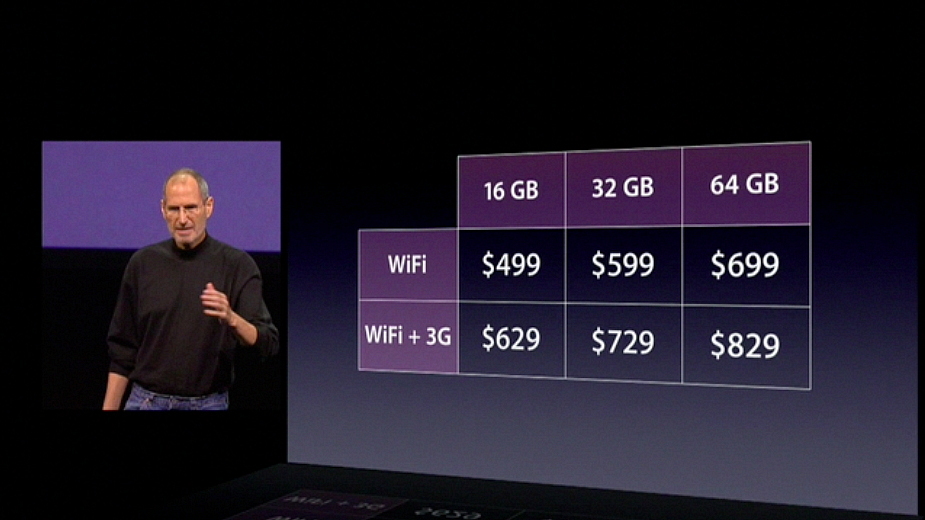 <! ----------------------------------------------------------------------->