It is a full 64-bit application and runs on the latest versions of OS X, 10.6 and above. While the name suggests posters, which it does very well, it is also useful for creating smaller output formats, such as cards.
Like Graphic Converter, which I looked at last time, the interface has been much improved. The selection of templates has also been redesigned. These are split into four sections as well as All: Blank, E-Cards, Photo Frames and Posterinos.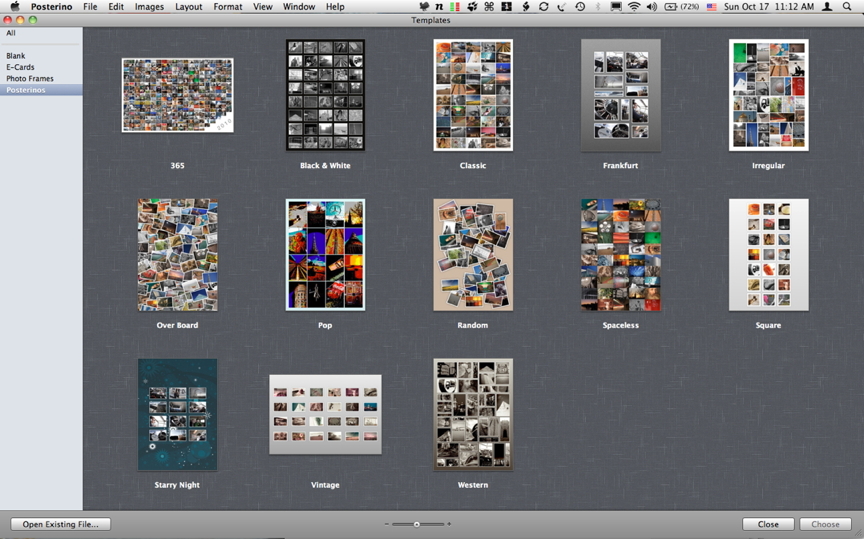 There are 13 Posterinos, or posters with a good selection of backgrounds and photo formats. For a single image, I use the blank poster then add image and text boxes following that with adjustment of border colour.
With the multi-image posters, images can be dragged into a box either manually or (much easier) using the random selection tool at the top of the panel. Images can come from a number of sources such as image libraries or from folders. The folders include those like Desktop Pictures and Pictures, but we can add others by clicking on the word, "Folders", while pressing the Control key. Folders can be removed or refreshed in the same way.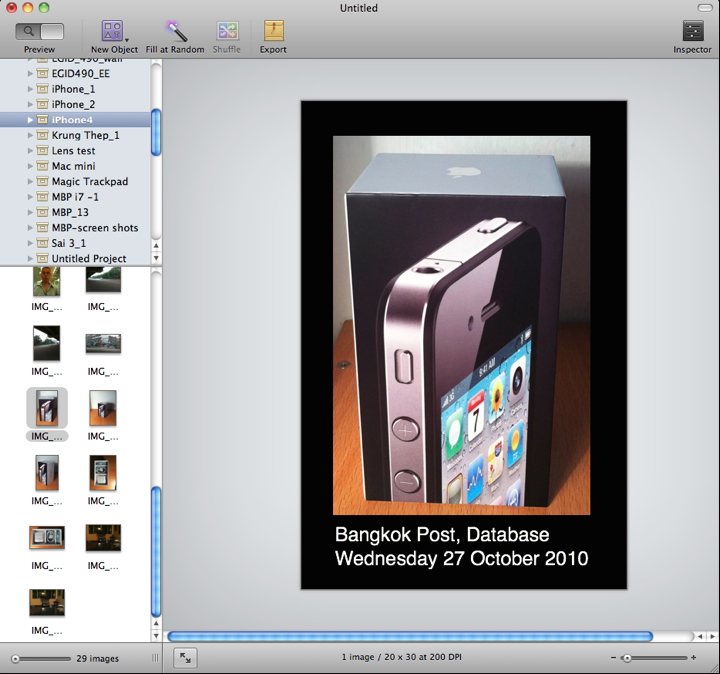 I was pleased to see that, unlike Graphic Converter, as well as the iPhoto library, Aperture libraries were included (I have two: current and an older one) and images could be selected from these. When a poster is filled, there is a random shuffle icon on the toolbar that allows image positions to be revised in a neat use of motion. I also noted that Posterino requires the use of the NVidia graphics card on my MacBook Pro.
Although images imported are equally sized and spaced, by clicking on the frame or the image, each can be resized or moved, in a similar way to how this works in Comic Life. It might be useful, however, if there were a way to indicate (like slides in Keynote) when an image is centered: horizontally and vertically. We can easily add other images or a text box to those already included to personalise the poster. An inspector, like in Pages, Keynote or Aperture, allows some fine-tuning of all aspects of the page, background, or image. Changes may be reversed with the usual Command + Z keys.
As well as the normal Preview panel, there is a new Layout view that details the various items and objects included and their dimensions. This may be accessed via an icon on the top left of the toolbar or by using the View menu. As with many applications for OS X, the View menu also allows access to a Customize Toolbar item, so these icons may be added (or removed).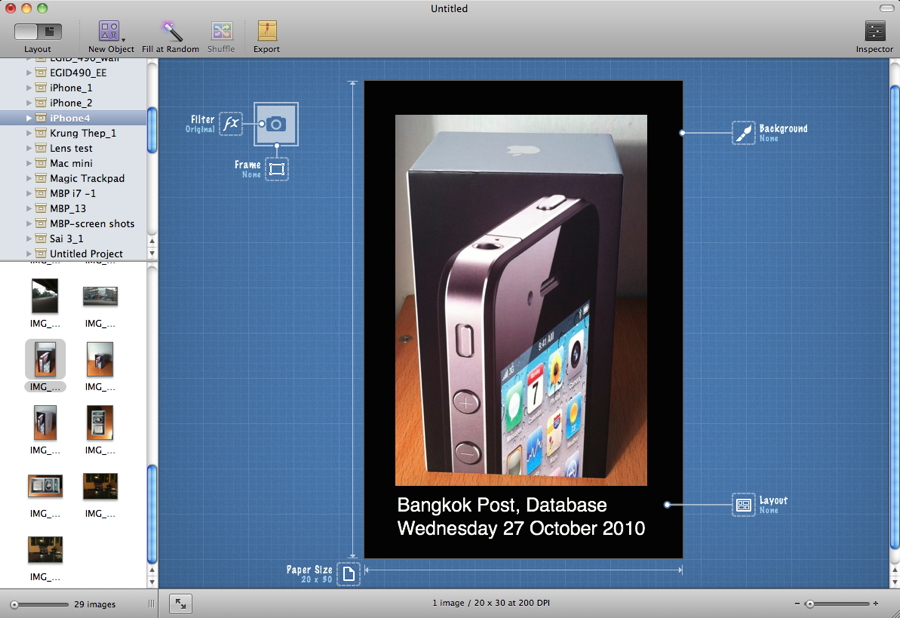 When we select a new template we are offered default settings. These may be changed easily and there are a number of page sizes offered, from 4" x 6" up to A1 (594mm x 841mm). In the preferences panel we may add our own own size. The default poster resolution is 200dpi and we may use most templates in either portrait or landscape modes.
Also in the preferences are settings for sounds, printing and dialogs. A postmark panel lets us add a franking mark to postcards which can be sent via Mail, Entourage or Eudora (others may be added). This is a reminder that in the first version of Posterino, we could send a real postcard using the Swiss post office, until they stopped the service. The franking mark can be edited to the users choice.
Although I use this appication for posters, E-Cards (default 4 x 6) and Photo Frames (8 x 10), which can all be produced in the full range of sizes available, are as simple to work with as posters and, if printed professionally, will give really pleasing results.
When complete, there are several ways to use the output via the Export icon: export to desktop (such as for printing); send as email; send to iPhoto; upload to Flickr; or set as a desktop image. We may also print directly from Posterino which with OS X, of course, also includes direct printing to a PDF. Using the File menu we may also save any creation as a template.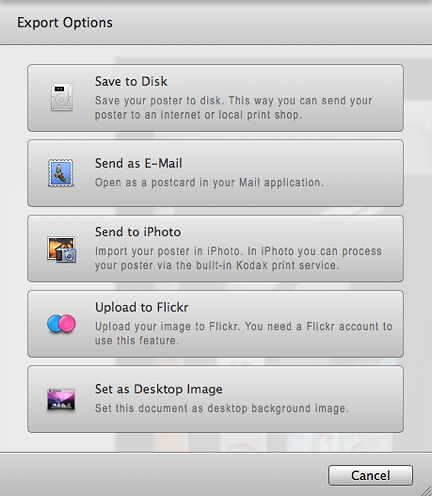 Posterino is currently priced at $24.95 (800 baht), reduced from $29.95, for a single user licence with the family pack at $34.95. For those of us already running this, the upgrade is $14.95 (640 baht) and $19.95 for the family pack upgrade).

<! ----------------------------------------------------------------------->