<! ----------------------------------------------------------------------->
---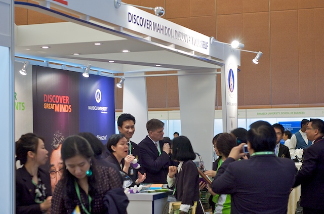 In November I attended a conference in Kuala Lumpur as part of a team from Mahidol University. Next year, the university is hosting the same conference in Bangkok, so as well as making a presentation I took notes.

When I have been to MacWorld, identification carried by attendees includes barcodes which can be scanned by a device carried by exhibitors and the information can be used later. This saves a massive amount of time.

At Kuala Lumpur, I exchanged business cards with others, but back home I had to sift through the amassed pile and enter contact data. This took an excessive amount of time.

It would be efficient if business cards carried codes so for this year's conference, I looked at ways to scan data using mobile phones: in my case the iPhone. I focussed on 2D codes: specifically QR code (Quick Response); and Microsoft's "Tag" system which is still in beta. Both work on a variety of phones, including Blackberry and Nokia.

I presented this information to the university in mid-December. A few days later (23 Dec), Database had a really useful article by Suchit Leeas-Nguansuk that reported on how True will be increasing its use of QR Codes.


I found several ways to create QR codes online. For example, Nokia have an online service that allows us to create barcodes of three types: URL, text or business card (vCard). The image created is downloaded to the desktop. We can also create a permalink for web pages.

There are also other online solutions, like Kaywa; plus software for Windows, OS X, Linux and Unix systems. I found some readers for the iPhone and also downloaded a 99c app (about 32 baht) called Optishare [App Store link] to create codes in the QR format. I tried several decoders on my iPhone 3G, and also borrowed a 3Gs to try its autofocus camera.


Mobiletag [App Store Link] (free app) was better on the 3Gs iPhone, but failed to identify some tags. UpCode [App Store Link] (free) was able to decode some of the simpler images, but needed a photograph to be taken each time. QR app [App Store Link] (free) was able to deal with some of the simpler codes just when moving the camera towards the screen, but failed with more complex address cards.


2D Sense [App Store Link] (free) can identify several types of 2D code. It opens the capture facility with a screen to identify the code type. Pressing the identifier starts the camera. This had the additional feature that allowed the image taken to be resized. The captures were better on the 3Gs with autofocus, but still I could only make this work with the simplest barcodes. An app called Barcodes [App Store Link] (free), also had the resize feature. This worked with both iPhones most times, but was not 100% successful.

There were two code types shown with iDecode [App Store Link] (free). Decoding an image was slow, but again the simple code only worked and it needed a couple of tries on the 3Gs. I could not make either phone decode more complex images.

In almost all cases, Optiscan [App Store link] ($1.99 - 65 baht), the best of the apps I tried (see below), managed to identify the code quickly and convert the data on both iPhone 3G and 3Gs without taking a photo: identification occurred as the phone moved towards the image onscreen.


Microsoft unsurprisingly takes a different approach. While we are not known for support of Redmond in this column, when Microsoft does something well, it can be valuable. There are questions, however, over any future move from beta status.

The Tag system offers four types of data: URL, text, vCard and dialler. The multicolour codes are created online, and registration is needed. Once data is entered, clicking on the icon shows several ways to handle the code image, including image types, such as JPG or TIFF. Pressing "Render" downloads the image. This also works with a greyscale image.


The iPhone reader app is a free download from the App Store. It hardly needs the crosshairs to fix on the image: just with the iPhone over the image -- Zap -- the code was identified and the app links to Microsoft's site to collect the full data. Like Optiscan, the vCard display is ready for adding to the Contacts list. This was just as effective with EDGE as WiFi. The "dialler" phones the specified number direct from the mobile phone.

A positive note to the Tag is that there are solutions that can be downloaded from Microsoft for other mobile phone platforms. The Android Tag reader is shown as coming soon.




While QR barcodes allow a certain independence, some code readers are not wholly effective with complex images. The Microsoft solution needs a data connection, although we can save images for later processing. For effective operations, it may be worthwhile using both types. As well as business cards, codes could be placed on promotional materials like posters, brochures, bags and tee-shirts, and web pages.

Additional information: As ever, since this was written, there have been new discoveries and I must include the free app that True are using: i-nigma [App Store link]. It is actually the best of those I have tried and identifies even some of the more complex QR codes that I created on the Nokia site. Indeed, it was the only one to get all that I created, so the free app wins here. Lynkee [App Store link] (again free) got most of the codes, but not the most difficult.

Update
TechLynkware contacted me a few hours after this went online with some questions and suggestions concerning my comments over the inability to read that complex Nokia-created barcode and I uploaded them a copy. What I was told later was that it did work (developers always say thet, eh?) but I needed to be not too far from the image. It was also suggested that I could use the "pinch" to zoom in and enlarge the image in the screen (a feature I was not aware of with the camera facility) and that was what did it for me. As well as the QR code this multi-language app (English, Italian, French and German) can read Datamatrix and EAN13 -- the barcodes we see in the supermarket.

<! ----------------------------------------------------------------------->