<! ----------------------------------------------------------------------->
---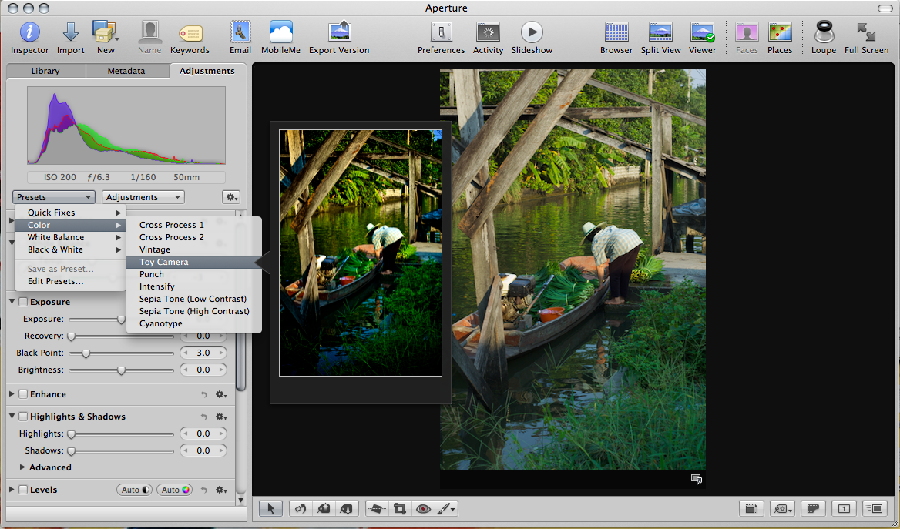 A few days after I wrote about the depressing process for upgrading to Aperture 3, Apple released an update (3.0.1) that fixed most of the problems for users. Many people had reported difficulties and these centred on library conversion, especially if images earlier used in Aperture 2 had had multiple adjustments. Installations that were new (for example in my Admin account, which I do not use on a day to day basis) were generally problem-free.
After the 24 hours of processing, Aperture settled down, although there were still some difficulties: my version crashed on occasion while trying out some new tricks; and I was not alone. The 3.0.1 update improved things greatly and I have been able to use this software to do what it was designed for.
Late in the week, I also started Faces which, like the iPhoto feature, detects faces then identifies people, grouping images of an individual. While there was a small drag on the system during the processing, it was brief. It needs some more tuning in my case as images of flowers and vehicle wheels were also detected initially.
Aperture is a workflow application, enabling users to import, examine, sort and make some adjustments to images fairly quickly. It is used by photographers, for example in the fields of sport, fashion and weddings. Although it is not editing software, there are a number of image adjustment functions built in. Apple cites over 200 new features and I am still working my way through these.

Importing images has changed. Previously, there was a bar indicating the path from source to images. Now, after a fair delay, a panel appears with source images shown. We select images (the default is All) and confirm the target source before clicking the Import button at bottom right.
Display of metadata includes several ways to append data so that the photographer may embed much useful information into an image. The different types of metadata are selected just below a panel showing camera data which gives a display that includes ISO rating, lens, and speed.
We are familiar with the 1 - 5 star-rating in Aperture, but there is now an additional feature of marking images with colour labels. This may be applied via the Metadata panel, from the Metadata menu, or using keystrokes (command + 1 - 7). We may also flag an image. Flags can be seen in the browser or split view at the top right of a thumbnail. Clicking on the semi-transparent flag when the mouses runs over it, turns it red.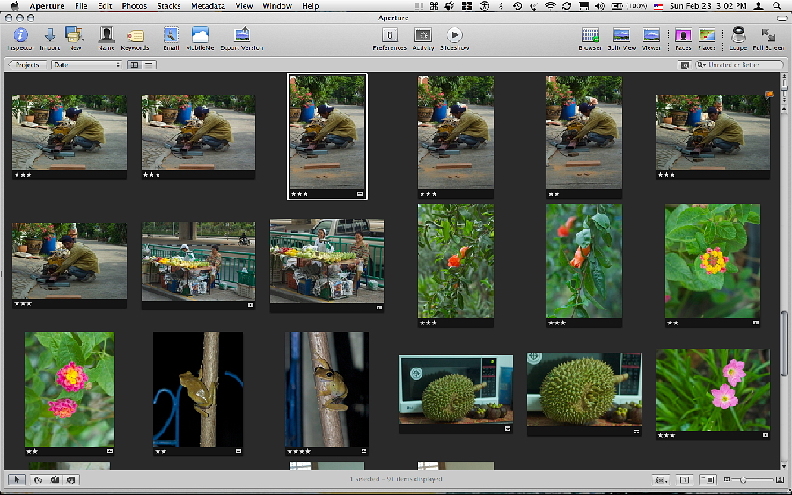 An album may be displayed in three ways: as a set of thumbnails in a browser; with the full image in a "viewer"; and in a hybrid panel. This shows a large image with an image strip beneath. Some adjustments are possible in any of these and can be effected quite quickly.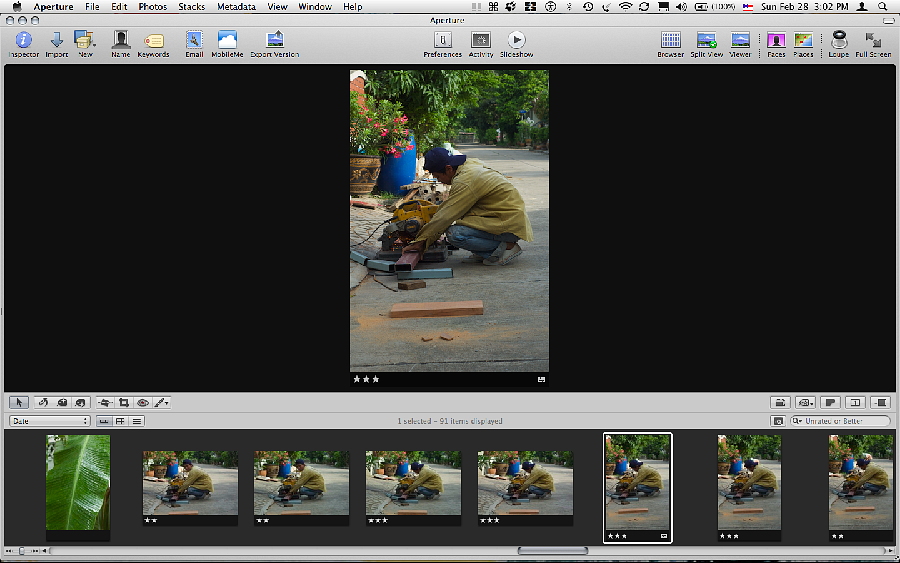 "Presets" (a new feature) adds to the speed with which changes may be made. There are four groups, including Quick Fixes and Color. In the first, for example, we may adjust exposure up or down, by one or two stops.
When a preset is selected a preview appears alongside the image showing how it would look with the preset applied. This gives a user more flexibility in deciding on image viability and can be done really quickly.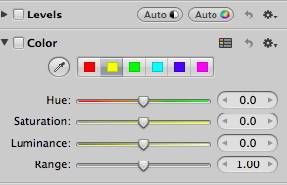 The other presets, like Color, Black and White, and White Balance each allow several possible versions of an image to be viewed without actually needing to apply the adjustment. The panel allows a user to save a setting as a preset and to edit presets. As an example, the Color preset, "Cross Process 1" has 6 separate adjustments incorporated.
The main Adjustments panel remains mainly as before although the Color panel has been revised and can be used in compressed or expanded view. There is also a new Edge Sharpen tool. Each section has its own settings gearwheel icon. Some, for example Sharpen, include brushes for fine adjustments to an image.

A number of plugins need Aperture to restart in 32-bit mode. This is automatic, although there should be a menu item for this. Some users, like me, report this missing. After the 32-bit process is complete, Aperture restarts in 64-bit mode.
Sometimes I found while making adjustments that there is posterization of the image displayed. The image itself is fine, it just looks awful onscreen. This is a known issue with the Radeon graphics card in my older MacBook Pro: the current range all use NVidia graphics cards.
Aperture is slow to apply adjustments on my MacBook Pro and this delays the editing process making me unsure at times whether any adjustments, particularly with brushes, were being made. A faster computer with more memory will certainly help. The updated version means I am again able effectively to work on images as before.

See Also: Aperture 3 (1): A Dubious First Day

<! ----------------------------------------------------------------------->