<! ----------------------------------------------------------------------->
---
One of the earliest apps that Apple released was a remote control for iTunes. There are now several remote apps which add to the usefulness of these devices and assist in increasing productivity. I have infrared remote devices for both my MacBookPro and iMac, but to work these need line-of sight access (although it is possible to bounce the signal off the wall). The remote apps that work on the iPhone and iPod touch connect using WiFi.

Remote enables a user to control iTunes on either a Mac or a PC. The device has to be connected to the wifi network and then paired with iTunes in the Preferences panel for Devices, using a standard 4-digit PIN created by the device.
When this free app is active, the user can control the selection of music being played: playlists, forward, reverse and volume. It is possible also to create new playlists and to add tunes to these. With "iTunes DJ" a user can create a random selection of tunes to be played, although care has to be exercised if you have eclectic tastes: perhaps not good to mix punk and Puccini.

Additional settings in iTunes DJ allow guests to connect and request songs from the libraries. A host could also allow a message to be displayed on the guest's iPhone or touch and require a password. Remote may also be used to control output on the Apple TV.

Also from Apple is Keynote Remote: an app that costs 99 cents (about 34 baht) and allows users to control presentations in Keynote: a Mac-only app.
Like Remote, this requires wifi access, with both devices on the same network. At the university I work at there may be several accessible at the same time so the right one must be selected for computer and iPhone (or touch).
There are times, however, when one might want to make a presentation and either there is no network or access is difficult. On the Mac it is possible to create what is called an ad hoc network: the Mac itself is the router. This feature is sometimes used to distribute an Internet connection, but may also be used to connect the iPhone or touch directly.

It is best to have Keynote running on the computer before starting the app, but it will find the presentation software if it is started afterwards. A user has control of a slideshow that has been selected. If two slideshows are open, it will only control the first.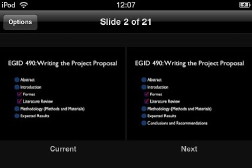 There are two displays on the iPhone: portrait and landscape. In portrait, only one slide is shown at a time and the next slide, or part of the slide (for example a sequence of headings) is accessed by sliding the finger across the screen. An advantage of this display is that presentation notes are also shown.
In Landscape mode, the notes are not shown, but two slides are displayed -- current and next -- much like Keynote when monitors are not "mirrored". With this a presenter can begin to discuss the information before it is displayed, adding to a sense of professionalism.

Keymote, with an "M", costs $3.99 (136 baht) dovetails fairly neatly with the articles I wrote in July and August on using key commands, because this is exactly what this does: only remotely. It can be installed on either the iPhone or the iPod touch. What it must have, like the other apps here, is a wifi connection. This app would not run when I tried to connect devices using the computer's ad hoc network. [The Keymote desktop application has now been updated and allows this.]
Keymote also needs a desktop application to be installed. This is free and instructions are given with the app and on the iTunes page. When downloaded the desktop application runs in the background and has a menu-bar icon with basic controls.

In the downloaded app there are already a couple of samples available. It is easy to create one's own keyset for a specific application and I did this for commands in Aperture. I found later there are many already available for free, including Aperture. These may be downloaded directly to the application. The downloaded Aperture keyset installed alongside my own with no conflict. I later deleted my keyset and added the commands to the downloaded one to simplify selection.
With GarageBand, I used System Preferences to add a command to an existing menu item as I had shown earlier (19 August), then added this command to the keyset on the iPhone. I had to do this separately for the iPod touch.

With these apps, I found that it was best to turn off the Auto-Lock otherwise frequent entering of the passcode would be required.
I will look at some apps that allow other access to the Mac within the next few weeks.

<! ----------------------------------------------------------------------->