<! ----------------------------------------------------------------------->
---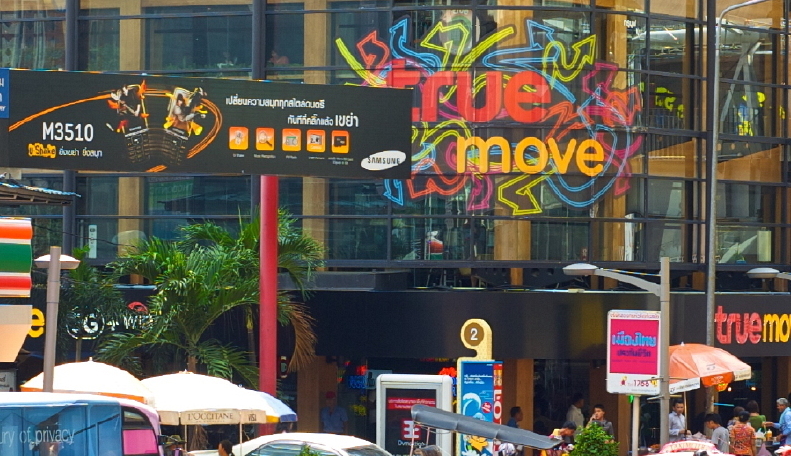 Siam Square
I spent some time recently using an iPhone 3Gs on loan from True Move. As I have already been using an iPhone 3G on extended assessment, it was useful to compare these back-to-back. When the iPhone 3G first arrived to wide-eyed lust at my house, I had to make a promise that this would be a Christmas gift. Last week I kept that promise.

While I had been looking at the iPhone 3Gs over the last couple of weeks, I tried to track down the price as best I could. If you are not able to read Thai, True's website does not make this all that easy, and depending on which branch one goes in to, there seem to be different levels of help and information. I finally had the answers when I went into the Siam Square branch of True Move where I checked which credit cards could be used and which plans were available. Some information has since been updated.
The young lady helping surprised me with information that is not totally clear on the True Move site. I confirmed that I was a customer of True with the cable TV (UBC) and an ADSL connection. She told me that with these accounts I could have the iPhone on the extended plan and just pay monthly (over 2 years). Rather than the 28,000 baht I had been trying to put off, the iPhone was within reach for about 1160 baht a month, plus the phone fees. As I pay 999 baht for unlimited data on a DTAC account, the 599 baht was not a disaster. Christmas came early in my house.

The iPhone is a highly useful tool for me rather than the mini games device some people use it for. As well as a way to view contacts and calendars, I use it for email and several methods of messaging, to transfer documents and spreadsheets, modify photographs, draw and view pictures, keep up to date with news, listen to music and control some actions on my Macs.

For the last couple of months, I have also been using an app to check on split times during Formula 1 races. This app accesses the wifi and uses data from transponders on the cars, sometimes giving me information before the announcers on television. The iPhone 3Gs has more features of course, including video.
Formula 1 App: Circuit and Split-Timing Screen

I am certain the iPhone has not reached its full potential, but with Sprint rolling out 4G in some U.S. locations while we wait for 3G, will Apple roll out an iPhone 4G next June?
And yet there are drawbacks. As I use the DTAC card, like others, I limit myself: some services are not available to those with the True SIM cards. While MMS is easy with the True card, it needs careful setting up with an AIS account. I have not yet mastered this with my DTAC card. Email is sometimes difficult with some wifi networks, and EDGE or GPRS do not always have the ability to deal with sending email: getting email is not a problem. That elusive 3G networking would do much for better connectivity. Users here are not being considered, while each of the parties involved tries to fabricate the even playing field that favours only them.

Last week saw Apple release its Q4 earnings (19 Oct). There were not expected to be any surprises with earnings. There should be a report on this elsewhere in this issue. As well as the earnings report, there are sometimes comments or announcements on Apple's plans. Apple is rumoured to be working on FM radio for the iPhone, for example.
As a precursor to this, Apple announced a change recently when they extended the program that allows in-app purchasing. This allows, for example, users to buy other levels in game play, or to extend subscriptions. This will now include free apps as well. News reports within 24 hours showed that a number of developers were moving to embrace this high tech variation of the Gillette principal: the tool is free, the refills make the money.
We may be looking forward soon to some more updates in Apple's lineup. There is that rumoured iPad or netbook or tablet -- this changes depending on which source one reads -- but Apple's secrecy will just leave the speculators to fume and generate free publicity. I have no idea, but feel that a device between the iPhone platform and the MacBook Pro would fit quite nicely. If it were to run iPhone apps and OS X applications, the game would change.
More likely are updates to the Mac mini or iMac ranges. Another rumour suggested that the latter might include a player for Blu-Ray, but, like the missing camera in the iPod touch update recently, this is now thought to have been vetoed, at least for now.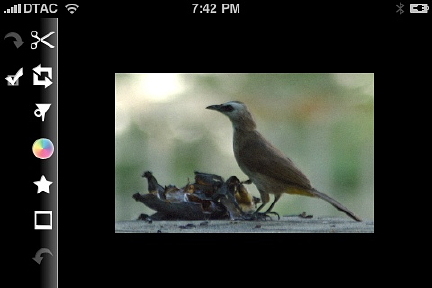 Photogene on the iPhone

See also - Apple's Fourth Quarter 2009 Earnings Report: Better Than Ever

<! ----------------------------------------------------------------------->