<! ----------------------------------------------------------------------->
---


Phil Schiller's announcement at the recent Developers' Conference that the number of OS X users had reached 75 million, showed that the huge increase in the last couple of years occurred despite the reason that is usually put forward for not buying Macs: their cost.
What many choose to forget (particularly the very IT personnel who should know) is that Macs are better made and need less maintenance. I have seen this at my house where a PC (Yes, there is a PC at my house) bought a few months ago has been back to the shop several times for repairs and replacement parts. My year-old iMac has not been turned off yet and my 2-year old MacBook Pro is completely reliable apart from the recently replaced Sony battery. Apple's latest battery designs have a far longer life.
Last month at work, some members of staff bought Macs in preference to PCs, despite their long familiarity with Windows; while a colleague who moved to Macs a couple of years ago, bought an aluminium MacBook a few months before their recent update. Apart from one program, he works in OS X all the time. That one program unavailable for OS X is for writing electrical circuits, so he uses Crossover to emulate the Windows operating system.
He told me that one of the reasons he is so pleased with his Macs is that he has lost that feeling of imminent danger that PCs gave him: his Macs soldier on, while he was always having to fix things on the PC, plus tinker with anti-virus software; and he had become an expert at reinstalling the operating system. Now, like me, he leaves his notebook on all the time and only puts it to sleep when travelling. This ability to spend more time working and less time on maintenance is part of the picture of TCO -- total cost of ownership.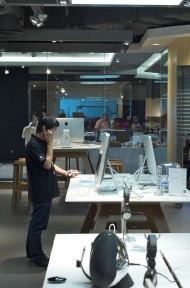 I had a look round the local shops at the end of June. Their lists all had the latest Macs shown and these are at much nicer prices. The cost is the same if we buy from the online Apple store -- useful for those upcountry -- but the personal touch does have advantages. The computers are also available on large tables for anyone to try at the shops. Anyone buying a Mac now is eligible for an upgrade to Snow Leopard when it arrives in September for about 390 baht. The upgrade for current users is expected to be about 1,000 baht.
Some people think of the 13" MacBookPro as the starter machine aimed at home users and students. Checking the specifications, the processors start at 2.26 GHz which is faster than my current 15" MacBookPro and they are considerably cheaper.
I also think that the Mac mini, which uses a number of notebook components, is good for home use, as a user will probably have the monitor, mouse and USB keyboard already. These have been put to a variety of uses such as web-servers, and there is even a server farm that uses 400 of the compact machines.
At the other end of the scale is what one retailer suggested was an unsung bargain: the Mac Pro. These are slightly more expensive than the 17" MacBook Pro, which is like a desktop machine for the road, but unlike the notebook computers with their Core 2 Duo processors, these have Quad Core chips. With their free bays, these can hold four 1.5 terabyte disks: overkill for a home user, but excellent for a business, particularly taking into account that TCO.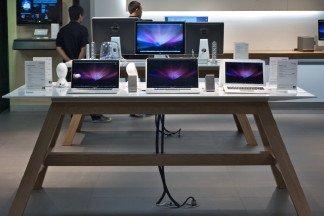 There are several ways in which new users can find help. Some of the retail outlets in Bangkok are running small workshops that they call, "Getting Started". I have seen these in Siam Discovery Centre and I am told they take place from 2pm - 4pm on Saturdays and Sundays. They are also held in the large iStudio in Central World where there is plenty of space for such activities.
Users with questions about Macs (and iPods) can also walk into the stores and ask, of course. Indeed, as you walk into one of these stores a member of staff will approach and offer to help.
Apple has several online resources and perhaps one of the most useful for new users is the Find Out How page. This has links to several text and video tutorials. For those who use PCs, there is a Switch 101 page with several illustrated text files with much advice.
There is also a Mac 101 page that links to similar advice files for those new to using OS X and a 101 file for Digital Music too.

This may be the time for users to think seriously about a move to Macs and OS X. No one I know has regretted it.


<! ----------------------------------------------------------------------->