<! ----------------------------------------------------------------------->
---

In January Apple announced an update to its consumer suite of media programs called iLife which comes with all new Macs: iPhoto, iMovie, GarageBand iWeb and iDVD. It shipped at the end of January and I ordered my update using the Thai online Apple store. I wanted to check the effectiveness of real product ordering and the delivery process.
I placed the order late Tuesday while at work and this was acknowledged within a short while. I was also sent an email with a URL for tracking progress. By late Wednesday, the order was being processed and the next morning it was marked as "Shipping."
Early Friday, while waiting for the bus, I was phoned by DHL who wanted to check where I wanted delivery. When I came back from lunch, the box was waiting for me at my office. A few days later a bill arrived from the Singapore operation which coordinates online orders for the region: the price of 3190 baht (as shown on the website) was to be charged to my credit card.
There were a number of major changes to components of iLife, which needs OS X 10.5.6, most notably to iPhoto, GarageBand and iMovie. The iLife pages have descriptions of all parts of the suite and links to a number of video tutorials on each of the components. A user is also offered a video introduction when each application is started.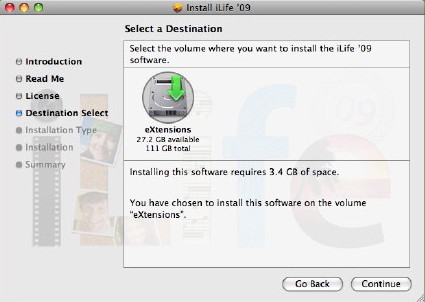 The installation on my MacBookPro was fairly quick and the process took just over 15 minutes. Another installation on an iMac took 30 minutes, while on the latest MacBook it only took 5 minutes. On my MacBookPro, I was keen to start with iPhoto as the new features are interesting, not only with the way the application integrates with other parts of iLife, but also with external services. When I started iPhoto, it needed first to update the library which took only a couple of minutes then we were ready to go.
The most significant improvements to internal features of iPhoto concern the way that new methods of identifying and grouping photographs have been added, plus the improved slideshow effects and changes to editing. I began by looking at the new organising features of Faces, which uses face detection and face-recognition technologies, and Places which uses Geotagging and other locating services to place images on maps.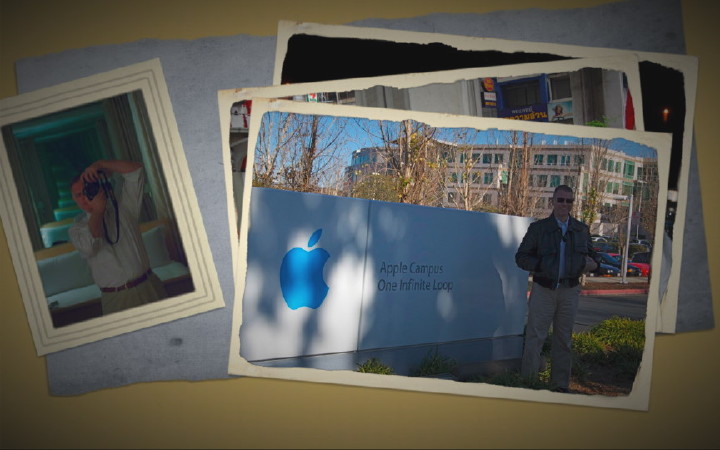 It takes a couple of seconds to make a slideshow in iPhoto, by selecting images and clicking the icon in the bottom bar, next to the Book, Calendar and Card icons. A three-section panel appears to allow selection of theme, music and settings.

There are now six themes. "Classic" and Ken Burns have been available before. Scrapbook produces slides in which the images appear as if in a book; Shatter has a dynamic transition that separates the colour components of a slide and rejoins them in the next slide; Sliding Panels shows three images together, but each is refreshed at a different time. This effect tends to focus on faces in an image. Snapshots displays the images in sequence with a white frame on a black background.

The second part of the panel, Music, has four sources for input: Theme music, Samples, GarageBand and iTunes. A single tune can be chosen or, using a check box, a playlist can be used. It is also possible to search for specifics: for example using artist name or a single word from a title. At the top of the panel is a check box to exclude use of music for a slideshow. The Settings panel allows some fine-tuning with slide display time, slide order, repeating and fitting the slideshow to the selected music.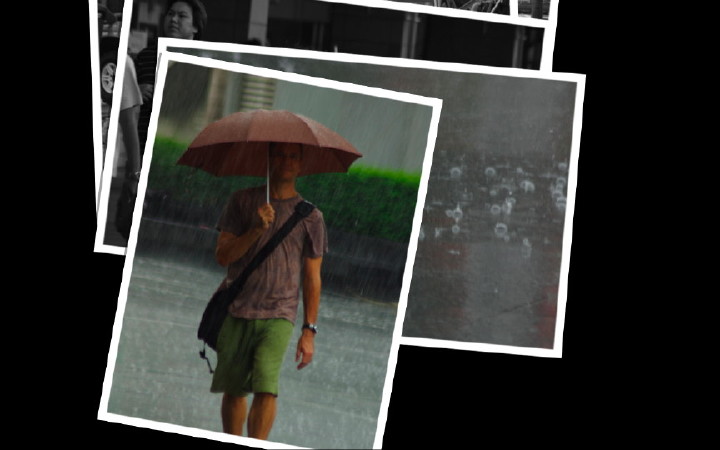 It is also possible to use the File menu and Export a selection of images as a slideshow using a number of preset formats depending on the final destination for use. Available are settings for iPod, iPhone, AppleTV, Computer and MobileMe.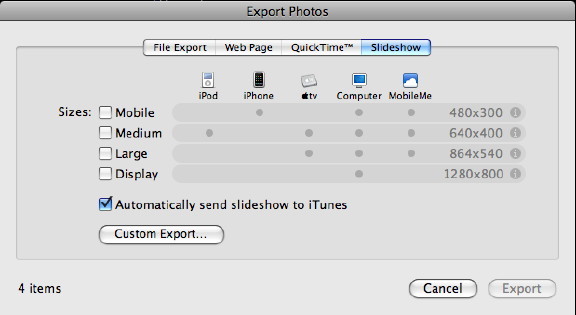 My favourite slide format is Shatter and I produced a number using this. While demonstrations have tended to linger on image display, the effect itself is as important. When I made a slideshow of a student poster project, with 74 slides and music of 3 minutes, the rapid delivery of each slide became its own special effect. There are 10 frames between slides with this effect. Using 74 slides there were over 800 frames. The export of the slideshow in a full display resolution (1280 x 800), took several minutes and was 478MB.
Using images from the iPod nano press briefing it was less than a minute for a short slideshow, which is online, optimised for the iPod at a size of 2.4MB. I have put this online [below] as a sample of what can be done in a few seconds.
---

With the update to iPhoto, (part of iLife) users have some new ways to organise and distribute photographs. The application initially used the idea of "rolls" as an organising method, which later changed to the "Event", while still using Date and Time displays. To these Apple has added Faces and Places: collection and organisation of photographs of people and of locations.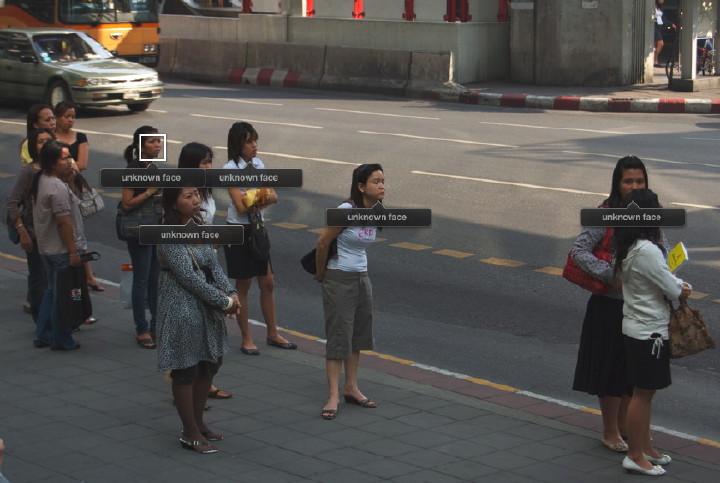 Many of us use our cameras to take pictures of people: family, friends, parties. When we take scores of images over a period of time, it becomes hard to track them all easily. Faces uses some sophisticated tools to help with this: including the technologies of face detection and face recognition.
To use the features, we first select a photograph or a group of images and click on the Faces icon: bottom left of the panel. The software identifies faces in the image with markers that show, "Unknown Face." We can type in a name at this time. If the face is clear enough, moving to the next image of the same person should bring up a panel with the words, "Is this? . ." and the name of the subject.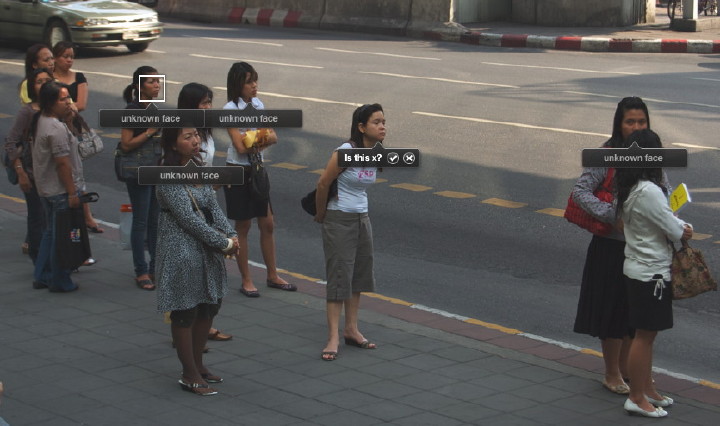 When a person's face is seen at an angle, or the subject is wearing glasses, there may not be an instant or correct identification. Obviously some photographs will have several people in them so these can be in several Faces collections.
A "Face" icon is in the sidebar and when clicked, images of those in the selections appear on a cork-board background. Passing the mouse over an image reveals all the pictures identified up to that time. The top image can be changed by pressing the spacebar. Also, selecting the "i" reveals an information panel and we can click on a photograph to make it the top image. That panel can also be used to add full name and email details.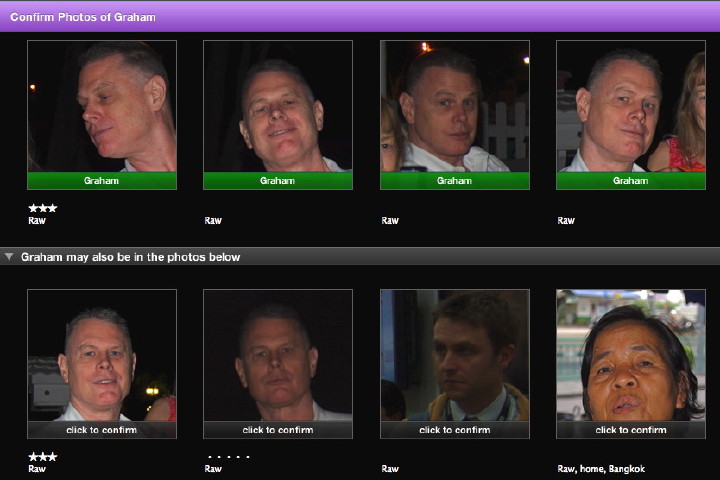 Double clicking on the main image reveals all the pictures of the individual and suggests others in which the person may appear. When we click on a "Confirm Name" icon in the bottom toolbar, the displays are resized to centre on the face and we can click to accept, or click twice to refuse. As this is done, more images may be offered for inclusion. To remove a Face from the cork-board, we drag the collection to the iPhoto Trash icon in the sidebar.


The selection of faces can be ordered by dragging the icons around the cork-board and by selecting several we can create a Smart Album so that, for example, all images of a family are selected.

A value of photographs is in the ability to share them with others and iPhoto has long allowed this with the slideshow, as well as being able to create books, calendars, cards and to send images by email. These features can be selected using icons on the bottom toolbar. Added to these are other sharing features: to Apple's own MobileMe and now to the social networking sites of Facebook and Flickr.

Once activated each of these allows an easy upload to an account on those services. The first time it is done requires authorisation to be granted, but following that it is an easy task, depending on network connections.
Facebook is a service for, among other things, sharing images. Once uploaded, the information and URL can be sent to other people we know. There may be problems publishing to FaceBook if the album uses non-alphanumeric characters like * or % in the title.
With Facebook, if there is a face in an image that was not initially identified, someone else accessing Facebook may identify the person and the next time the user is online the tag will be added to the image in iPhoto.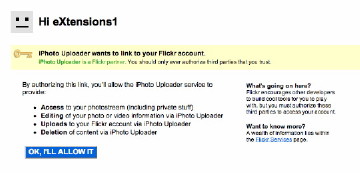 Flickr similarly requires users to sign into an account. When photos are selected we click the icon which links us to the site. On the Flickr account page the user is asked to allow the use of the uploading method direct from iPhoto. This was identical to authorising the Flickr plugin that I use in Aperture.
To test this out, I uploaded a selection of shots from my garden to go with the others already online. I later followed this with another group of photographs uploaded to Facebook. The images being transferred are displayed in a window in iPhoto and a blue progress bar is displayed at the top right of the panel.
I later added more images using Aperture and these synchronised back to iPhoto.


When completed, the URL is also displayed on the iPhoto page and there are now Flickr and Facebook icons in the panel on the left similar to the MobileMe ones I have in Aperture. The Flickr set took its name from the top album in iPhoto, but the title can be edited online.

The images uploaded from iPhoto can be found at the respective Flickr and Facebook pages. Also online are a selection of MobileMe images
---

In the latest version of iPhoto, the Slideshow (above), is one of fourteen icons in the bottom toolbar. Several are new. These now include an icon for Faces (see above), plus ways to share photographs using MobileMe, Facebook and Flickr direct from iPhoto. Familiar icons include Calendar, Book and Card -- one click access to creation of other media -- and Edit, which has been updated.


When a user selects a photograph and presses the Edit icon, the image appears in a larger panel. A group of photographs can also be selected. The toolbar contains a selection of icons for image adjustment, several of which are the same as in the previous version of iPhoto, like Rotate, Straighten and Enhance. The Adjust icon reveals an updated panel with several ways (mainly using slider bars) in which images may be altered.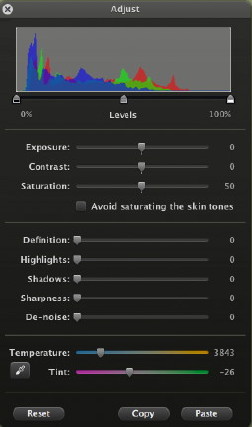 The Adjust panel seems to have borrowed a number of features from Aperture, especially Shadows, Saturation, Tint and White Balance: this last one is particularly effective.


Using settings in this Adjust panel, it is possible to make adjustments to one image, then copy the changes and paste them into others. For example, if an Event had a specific lighting problem the changes to one image could be applied to all taken at the same time.
---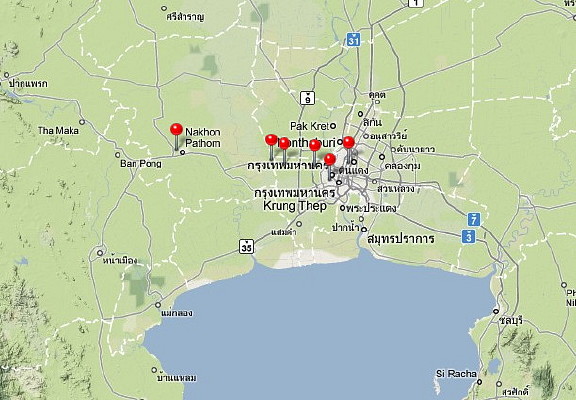 "Places", one of the new ways to organise photographs, works with Geotagged images. It locates these on a Google Map, viewed in the Places section. Geotagging usually depends on a GPS unit with a camera, but not many have these just yet. Some Nikon cameras can have a GPS attachment, while the Coolpix 6000 has GPS. Sony also has an attachment for certain of its cameras. The iPhone also geotags images. With Places in iPhoto we can add Geotags.
Like Faces, we start the process by selecting an image, or a selection. In both cases, we work with a single image and click on the Information icon at bottom right of any image which reveals a panel. We may also use an iPhoto Event.

By clicking on the "Enter Photo Location" section we can either enter a place we have already identified, or choose "New Place" which takes us to the map. In my case this is a large map of the Central region of Thailand and we can use the + sign at the bottom to enlarge the details which can be either in map form, a satellite image or hybrid. Double-clicking does not zoom in with this panel. The display can be dragged about with the mouse to center it.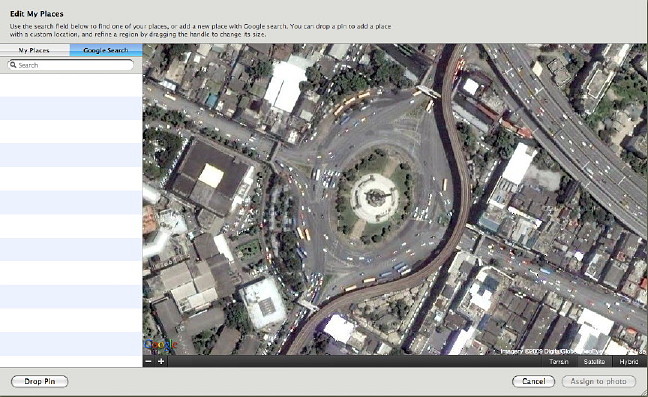 When the location is identified we can drop a pin. The satellite images are perhaps better for the final identication although some of those used here are years out of date. My own area for example had a bridge built over 3 years ago which is still not shown.

The pin drops in the centre of the image but can be moved to the exact location. I was frustrated when the display resized each time and had to be adjusted up to make accurate placement easier. In some cases (Grand Palace, Victory Monument), a location is identified. If this does not happen, we can type in our own description. We may also use Thai for the location. It is also possible to make the area covered by the pin larger or smaller by dragging the shaded area round the pin. I have several photographs taken on Mahidol University's Salaya campus. Instead of selecting a different location for each, I can enlarge the area and use a centralised pin.
When we are happy with the pin's location, we press a button to the right, marked "Assign to Photo" and return to the panel which now shows a map display. We may also add other information about the image to this panel, such as description or a title. The location is applied to all of the images if a group is selected.
When we select the Places icon we are taken to a large map. In my case this is a World map as I have images in California and Thailand. Double clicking zooms in. There may be only one pin visible initially, but as we home in, more pins appear. Putting the cursor above any pin shows the location. Clicking the arrow revealed displays all images related to that pin.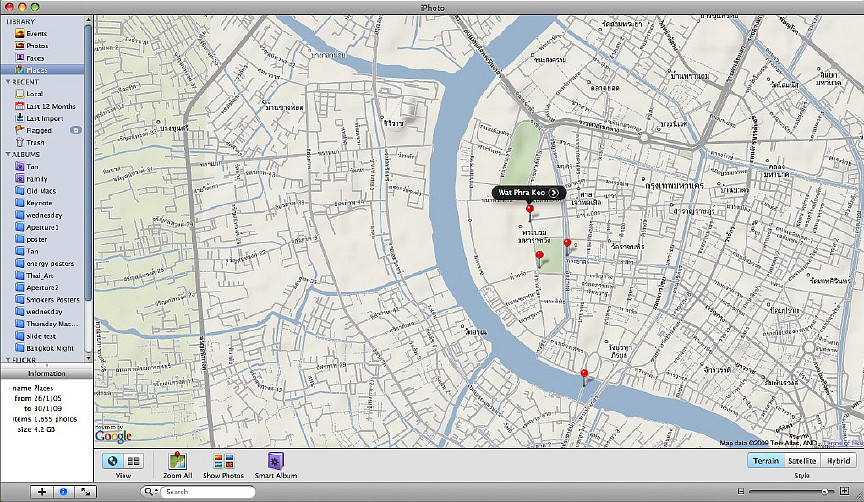 When a located image is highlighted, we can select "Show Extended Photo Information" in the Photos menu and in the panel displayed we can see the exact coordinates as defined by Google Maps.

The new features with iPhoto work quite well although because of the novelty may require some practice. Apple has a Help menu that connects to online sources which provide information concerning specific aspects of iPhoto. There is also a video available each time we start the application (this can be disabled) and online videos available on specifics in iPhoto.

There is also a Print Version (no images) of this item. <! ----------------------------------------------------------------------->