Joyce's Dublin: A Walk Round Dublin Following James Joyce and his Characters (edit - spelling)
By Graham K. Rogers
---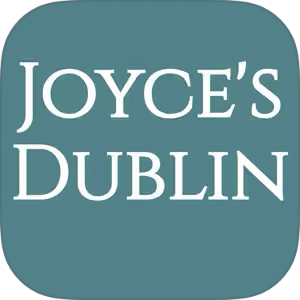 Some may find James Joyce's Ulysses difficult. It is set in Dublin, a beautiful European city. This week was the annual Bloomsday and I found an app that shows locations important to Joyce and his written works

16 June each year is Bloomsday: a celebration of the 24 hours of Leopold Bloom's life as depicted in James Joyce's, Ulysses. The fictional events taking place in 1904. The journey of Ulysses (the Roman name for Odysseus) that took many years was the core of the Odyssey. The day-long journey of Bloom in and around Dublin is the subject of Joyce's Ulysses. While the book is difficult for some readers and was heavily criticized on its publication, it is much loved and considerable academic research has taken place. Locally, there are tours of the locations, much like there are literary tours of London or Stratford.
This year with travel restricted, there is a virtual tour of Bloom's Dublin by way of Joyce's Dublin: a free app available on iOS and Android developed by Sean O'Connor. Although the original release date was several months ago, it was highlighted in The Irish Independent this week, to give people another way to connect with the event.
When first started, a black and white photograph appears for a second or so and then a screen with a map is loaded. That initial image is of an equestrian statue, which might be that of Field Marshal Hugh Viscount Gough. The image appears too briefly for a screen shot.
Almost immediately a Google Maps screen appears with locations relevant to Ulysses, Finnegan's Wake, The Dubliners, and to Joyce and his family. As it uses Google Maps, the screens can be expanded or made smaller using two fingers. Although most location flags are close to Dublin, Clongowe's Wood College is some way out (20 miles/32Kms) and might be missed in the default display.

Tapping on any one of the blue markers brings up a small information screen. That can be expanded to show an image and text that explains the specific location along with how it relates to Joyce and the writings.
Joyce's Dublin on iPad - Map display shifted right to show Clongowe's Wood College

At top right of the screen is Locations which accesses another panel. This has all the places that are connected to Joyce in and around Dublin, in numerical and alphabetical order. This would have benefitted from a search window as the only way I was able to view any entry was to scroll down the screen. Each of the entries opened to show basic information about the location, with a small photograph. The image provided when accessing the map content was slightly larger and easier to view. Tapping on the text expanded the content display, which allowed for a slightly longer examination of the information.

The amount of content can be fine-tuned by the use of filters, accessed through clicking a grey area at the top of the Locations panel. By default all are selected: ticks in boxes. These boxes include the separate works (Finnegan's Wake, The Dubliners, Ulysses et al) as well as locations specific to Joyce and his family. One could, for example, list only those locations directly related to one of the works, like Ulysses, excluding all others: useful for the purposes of specific research.
The app allows anyone interested to take an easy armchair trip of the places that are significant to the examination of Joyce and his work. As well as those traveling to Dublin, who could use this as a simple planner, students and anyone interested in the author and the works, could also glean knowledge using this app. Being a free download, advertisements appear at the bottom of the screen. I did not find this unwelcome or obtrusive. Searching for Joyce's Dublin on the App Store also revealed other related apps (free and paid) that have related information.
Graham K. Rogers teaches at the Faculty of Engineering, Mahidol University in Thailand. He wrote in the Bangkok Post, Database supplement on IT subjects. For the last seven years of Database he wrote a column on Apple and Macs. After 3 years writing a column in the Life supplement, he is now no longer associated with the Bangkok Post. He can be followed on Twitter (@extensions_th)