Cassandra - Midweek Review: iOS 13 much improved by 13.1 release, plus iPadOS; Handling Files on External Media; Arrival dates and prices for iPhone 11 in Thailand
By Graham K. Rogers
---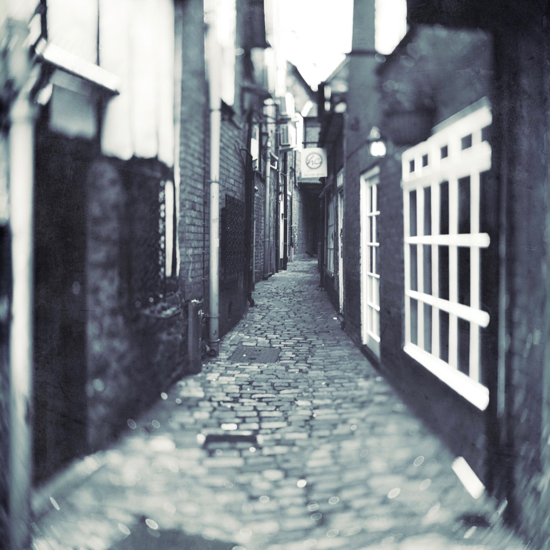 The release of iOS 13.1 and iPadPro have seen improved performance from the devices these updates are installed on. New features include the access to external drives on the iPad which I tried out briefly and the iPhone's Swipe keyboard. Apple will make the Cheese-grater Mac Pro in the same Texas facility as the current Trash Can Mac; and the iPhones will be available in Thailand from 18 October.

I wrote about the release of iOS 13 last weekend and I am pleased to see that I was not the only one having a poor experience from this update. Normally, I am able to deal with the changes that appear, but this time, I was not happy with some of the new app interfaces; and I also experienced technical issues. These included an inability to make the Personal Hotspot work; and poor synchronization of Notes between the iOS devices, and also to the Mac. For example, the preceding words in this paragraph ended at the first use of the word, "experience" when I looked at the screen on the iPhone, but several seconds later, the rest appeared. It is in Lurch Mode rather than the smooth updates I had experienced before. I did check with a student whom I know had updated and he too had experienced Personal Hotspot issues, which sort of gave me some relief.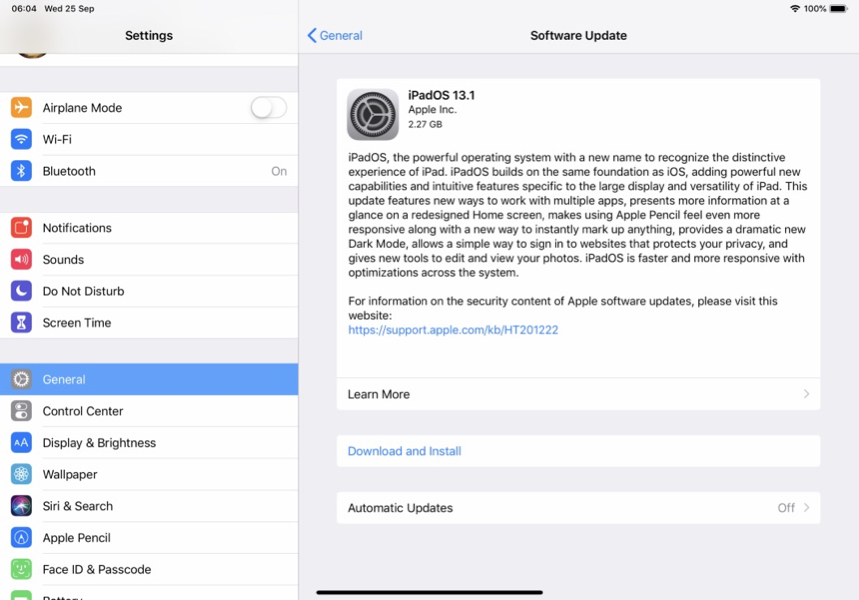 The iPadOS 13.1 update arrived on Wednesday morning here as well as the iOS 13.1 update for the iPhone. Although I still do not like the Photos interface, RAW photos I had taken the day before all loaded when I tried editing. When I went to the office later, I was surprised to see a small panel asking me if I wanted to join an available Personal Hotspot: the connection was immediate, so I guess that barrier to my productivity has been fixed.
Writing on Wired, Lauren Goode suggested that some users might be better off waiting for iOS 13.1. Some of the comments of developers were included. They had described this as "what feels like a scattershot release". She also notes, as I did, that some interface changes have made iOS 13 less usable than before: I am particularly aggrieved by the updated Photos and Health apps. Some 3rd party apps are misbehaving and I hope the developers will put out the necessary fixes sooner rather than later. I contacted the developers of Darkroom which has problems with the RAW images I use and they are currently investigating. Their responses have been good in the past and I look forward to their next update.

One of the features we were promised was the access to an external drive and I was keen to try this. I first connected a 512GB SSD I use to store all my RAW files and film scans. Initially nothing happened, unlike the Mac where a disk appears on the Desktop, there is no equivalent on the iPad. I checked in the Files folder and in a sidebar, along with iCloud, On my iPad and Recently Deleted, there was the SSD. I looked in the folders and clicked on a RAW file I had taken last year. It opened right away and I was offered several options for copying, storing, saving and opening (in apps).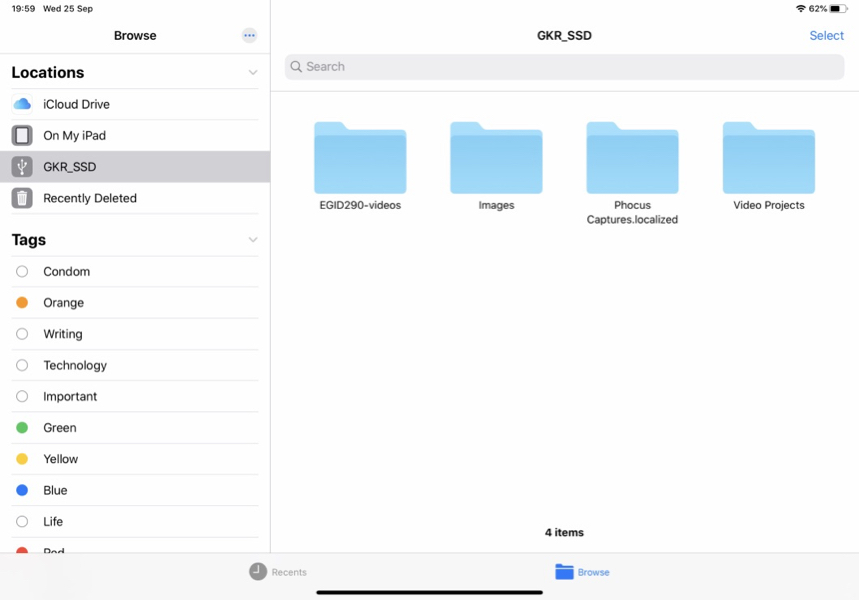 With what had been written before I was also interested in other file types. The SSD had some student videos and these too were available for viewing and other actions, including Saving. I was keen also to see a selection of other file types: not visual media. There is no equivalent of Eject on the iPad, so I just pulled the cable out of the USB-C port. There were no dire warnings and I attached a flash drive.
Hybrid flash drive

I use this for occasional file transfers and printing at work as it has hybrid, USB-C, USB2 connectors. It appeared in the Files sidebar like the SSD drive and I was able to examine the contents of a folder with a mix of PDF and document files that students had sent me over the weekend. The PDF files looked just as I had seen them on the Mac with full markup for some. As with the visual media files, I was offered a range of options that would allow me to work with them. It was the same for the Word files, although there was no option to open in Pages. Instead I saved a test file to a folder in iCloud Drive (on the iPad). Examining the specific file in that folder, I was offered several more options, including Pages.
Going the other way was not so straightforward as none of the options allowed me to save in Files or gave access to the folder system and the external drive. There was, however, Copy. Once done, I accessed the external drive with its files and folders. With the keyboard I typed the normal Command + V key combination and the file appeared. This works quite well with one or two oddities I can easily grow used to, although I did note that the flash drive was fairly hot after 10-20 minutes connected to the iPad Pro.

I also tried the new Swipe keyboard, which types bold text on the iPhone that did not sync at all when I was trying it in Notes. Even with the 13.1 update, this was not working and a test file failed to sync to the iPad and the Mac, so I guess this is an iPhone-only feature. Although I was not happy with the lack of the "bubble" that I have been using for a few years to accurately place the cursor in text, I was told by a local user about using the keyboard like a Touch Pad, by pressing and holding the space bar: the characters disappear and the finger can be used to move the cursor around. That works well. In return I let the user know that Apple Arcade is available in Thailand so he was keen to update once some of the bugs are fixed.
I also found the daily, weekly, and monthly readings in the health app. Scroll down to the bottom of the summary just above highlights and there is a link to Show All Health Data. Not particularly easy to find. I also see that in there is information on sound levels from my Air Pods. OK so far.

Apple's Mac Pro has been a drawn out story since the Trash Can Mac Pro made its debut. I rather liked the design (I liked the Cube too), but in the important area of upgrades, it was a failure for many professionals. It made me realise, however that internal disks are of less importance these days as the speed and pricing (in some markets) of external drives allows users to expand storage easily. There is also the cloud and several solutions now exist for such storage. Along with Time Machine, I use iCloud as a back-up mechanism, although also like the way my entire desktop from my main MacBook Pro is available on all my devices: Mac and iOS.
This week, Apple put out a press release confirming that the new Cheese-grater MacPro will be made in the USA which is important for political reasons. More than that, it is to be manufactured in Austin, TX, where the Trash Can version has been made since 2013. Playing to the political gallery, Apple emphasises the US-made content of "more than a dozen American companies". These include "[m]anufacturers and suppliers across Arizona, Maine, New Mexico, New York, Oregon, Pennsylvania, Texas and Vermont, including Intersil and ON Semiconductor"; adding that "The value of American-made components in the new Mac Pro is 2.5 times greater than in Apple's previous generation Mac Pro." There have also been rumors in the last few days that the 16" MacBook Pro is currently in production in Asia.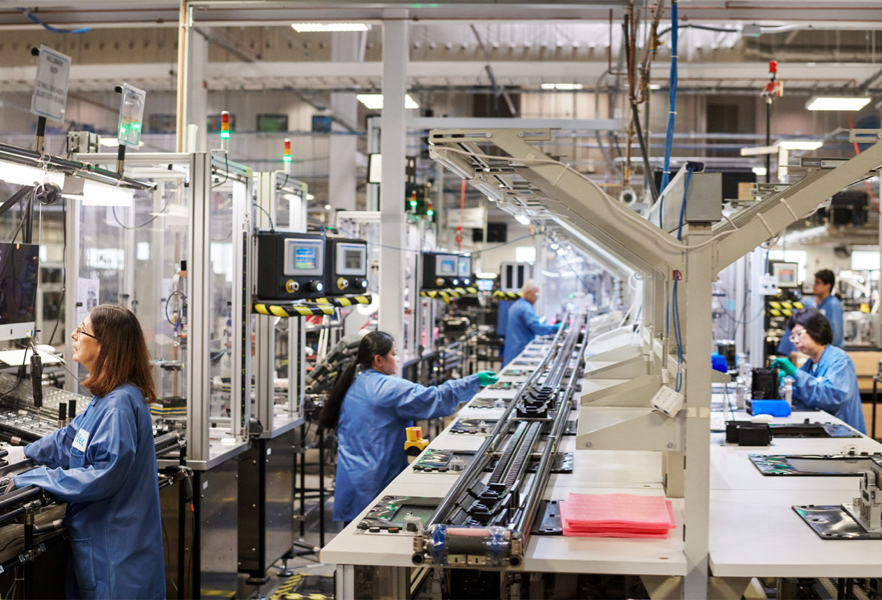 Mac Pro assembly - Image courtesy of Apple

It was sort of odd that when I downloaded the image from Apple I was asked to confirm that I wanted to download from the Apple website. I had seen this confirmation the using other sites for images and software, but Apple's new security even applies the rules to its own site.

The new iPhones are expected here on 18 October which is a little earlier than I had suggested. Well good. For pricing, see below. That delay had not stopped me (or some of my students) planning for the event. Indeed, it gives me greater flexibility in deciding exactly which model I would want. I had been thinking about the Midnight Green iPhone 11 Pro with 256GB (I have over 160GB on my current iPhone) and had decided not to buy a case this time. Then I saw a photo on Twitter of a new iPhone 11 model that had been dropped.
The glass back had shattered and there was an unwelcome spider-web pattern running down the whole case from the triple cameras to the bottom. I quickly revised the case idea, and then thought that with the huge demand for models in the new color, that would not matter inside a case. I will see when the time arrives.
I later found some drop tests online with a link from iMore (Danny Zepeda) to a YouTube video of this sad sight. It is probably down to luck in the end with one tester breaking an iPhone from a height of about 1 meter; and another taking 10 attempts from around 3m. But they broke. AppleInsider also commented on the tests, calling them, "Contradictory", but they aren't. As tough as the glass is, it is crystalline and sooner or later the unlucky user will hit just the wrong spot and it will break. I will invest in a case.
The prices of the iPhones (in baht) here will be:
iPhone 11
64GB - 24,900
128GB - 26,900
256GB - 30,900
iPhone 11 Pro
64GB - 35,900
256GB - 41,900
512GB - 48,900
iPhone 11 Pro Max
64GB - 39,900
256GB - 45,900
512GB - 52,900
My source was a Tweet from local video blogger, Spin9.
Graham K. Rogers teaches at the Faculty of Engineering, Mahidol University in Thailand. He wrote in the Bangkok Post, Database supplement on IT subjects. For the last seven years of Database he wrote a column on Apple and Macs. After 3 years writing a column in the Life supplement, he is now no longer associated with the Bangkok Post. He can be followed on Twitter (@extensions_th)