Cassandra - Thursday Review: The Return of Claris; More Apple Lawsuits; Samsung Hypocrisy over 3.5mm headphone Jack; World Trade Disputes
By Graham K. Rogers
---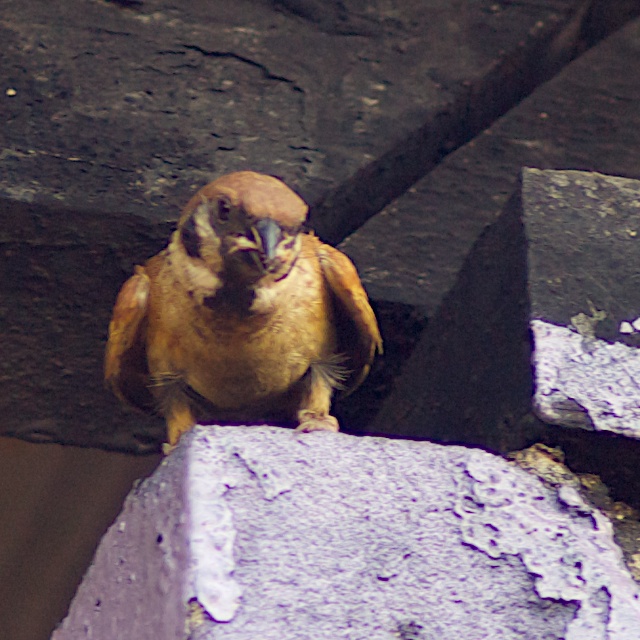 Claris has risen again. A number of lawsuits targeting Apple have been filed in the USA and Russia. R&D at Apple increases. Improved sales of iPads in a falling world market for tablets: what is the difference? samsung were quick to ridicule Apple when the 3.5mm headphone jack was dropped but now have followed suit, again. Although Apple gave users a 3.5mm to Lightning adapter, Samsung is charging for its USB-C one. Trade worldwide has been weaponized.

People who have been using Macs for a while will be familiar with the name Claris: a developer of much useful software on Macs, going back to the Apple II with MacWrite, MacPaint, and MacDraw; with later output competing with Microsoft Works Bob Hearn. Later Apple developed FileMaker, a database application and that was fairly independent.
Widely reported by online media, FileMaker has changed its name to Claris International with the announcement of "Claris Connect, a tool for integrating various cloud services and automating workflows between them" (Frederic Lardinois, TechCrunch). I found that FileMaker was relatively easy to use after my early examinations of database software, but I have no real use for it. Obviously, with over 1 million users, others do. The announcements included the acquisition of "Stamplay, a small Italian startup that makes tools for connecting the APIs of various enterprise tools." .

With several other companies who sell speaker systems and who all openly acknowledge that some of the input is sent to humans to check AI accuracy - you know, to improve things for the future - Apple is now facing a class action lawsuit for sending Siri input to be checked ( Amber Neely, AppleInsider).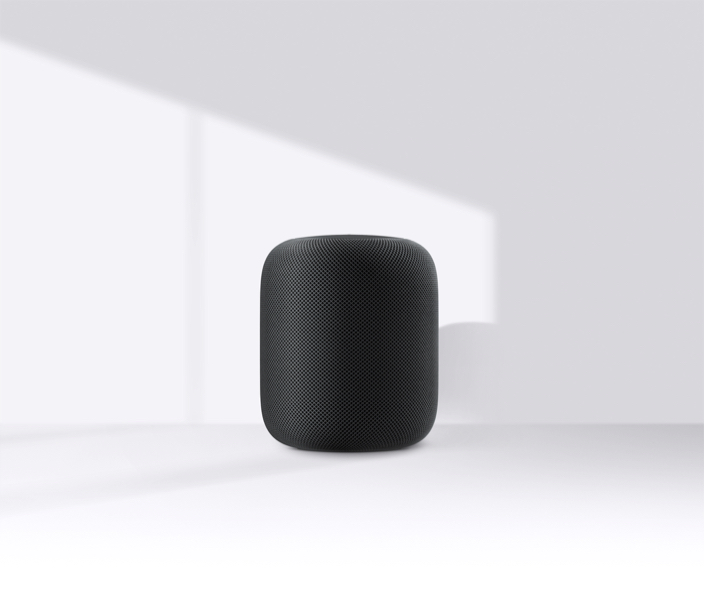 Google do this, Amazon do this and so do others; and users sign up for this when they start using these services - not that many actually read the Terms & Conditions - so this lawsuit? Because Apple. Easy target by heat-seeking lawyers. No such lawsuits have been filed against the other manufacturers whose devices listen in even when users think they are off.
The chink in the armour that the low-life lawyers are going for is that "users give consent only when "Hey Siri" has been explicitly said or a gesture has been performed, and claims that any other recording would be non-consensual" and hence in breach of California laws. More details of the lawyers and the defendants (a minor is involved) are available in the AppleInsider article.
And Kaspersky Labs have made a complaint in Russia which has put Apple under investigation for "abusing its dominant position in smartphone apps" (Tim Hardwick, MacRumors). That is significant as Kaspersky has long been suspected of unethical behavior on the part of the Russians. This comes from when Apple pulled a Kaspersky app called Safe Kids. Kaspersky claims this was because it was just like an Apple app. This stuff is easy to allege, but don't they have Android phones there and other systems that dominate, or is the problem that the authorities are having problems breaking in to the iPhones of their comrades?

Apple spending on R&D has increased considerably in recent times and it is reported that it has now reached $4.4 billion, which is more than the revenue of many companies, even quite large ones. That figure includes the development being done for software as well as hardware so, as Daniel Eran Dilger (Roughly Drafted) points out, additional features in Catalina as well as iOS are included as well as development on hardware like the MacPro and a new monitor.
There is also the mysterious car project that is still running somewhere in the background and will not see the light of day until Appl's Engineers, designers and management are totally satisfied. Or not. Remember, this is Apple where it is better not to run with a product than risk a lemon.
But then Apple has had a couple of those even if some users like them. I still like the Cube, for all is problems, while something like the Anglepoise iMac was praised, yet it did nothing for me. Remember too, how Apple is sometimes criticized when a new product or idea appears (iPhone anyone; removal of 3.5mm headphone jack) yet others quickly follow suit.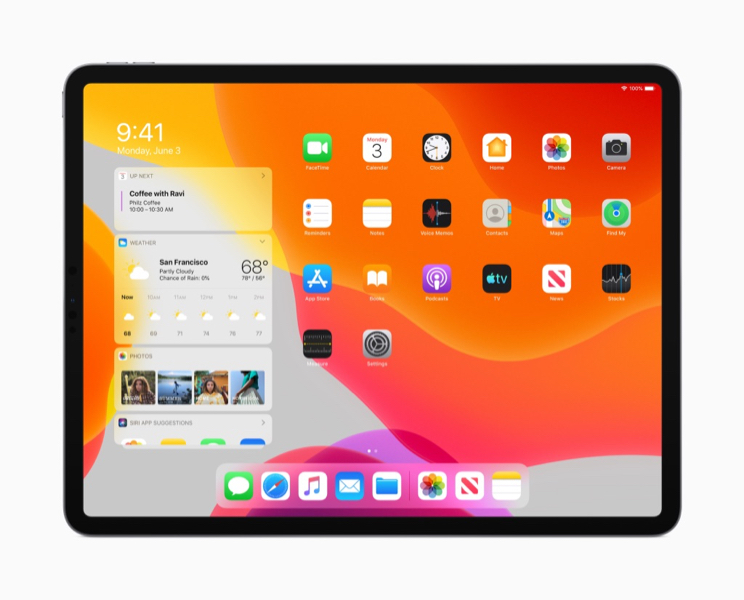 Apple iPad - Image courtesy of Apple

Sales of iPads are reported to have increased, against all odds, or contrary to the predictions of Wall Street analysts. Malcolm Owen (AppleInsider) reports on IDZC figures that show the iPad now has a 38% share of the World market: a growth of 6% in the quarter. In the same period, other makers of tablet devices have seen contracting sales with an overall contraction of 5.%. I wonder why. . .
In a couple of months, Apple will release iOS 13 and one of the changes that was reported widely by several sources this week was that changes will restrict background activity for apps that take advantage of the PushKit VoIP API. This will affect apps like Messenger and What'sApp (Evan Sellek, DownloadBlog) that make voice calls from the app. The developers will have to make some changes to accompany the new restrictions, but the report suggests that Facebook (for example) is not overly concerned about what this might entail.

Last time out I mentioned the silence that was the response to the news that Samsung is to ditch its 3.5mm headphone jack for the new Galaxy Note 10. That silence includes Samsung executives who announced the device this week without mentioning the change. They had famously ridiculed Apple for this when the iPhone 7 was released, but here they are copying Cupertino again, although instead of providing a free adapter like Apple, they will charge $10. Mind you, they have moved ahead of Apple in one respect: obviously Samsung cannot use Apple's Lightning connectors and cables, so they have jumped ahead, ditching that awful mini-USB system for USB-C, something I hope Apple will do for its iOS devices.
Just wait until Apple provides Pencil support for the iPhone. There will be much criticism then, despite the points that Steve Jobs is no longer ceo and the ways in which devices are now used has changed considerably. I do a lot of RAW photo editing on the iPhone and there are many other tasks that might now benefit from support for the Pencil.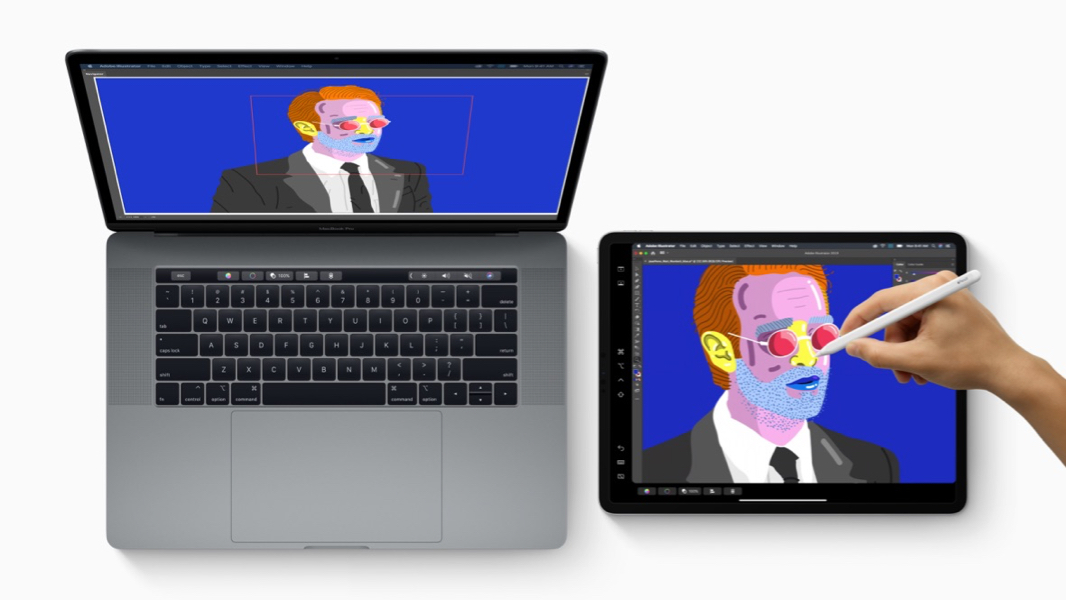 MacBook Pro and iPad Pro with USB-C and Apple Pencil 2 - Image courtesy of Apple

I have been using USB-C on two Macs for a while, and already have it on the iPad Pro where it saves me a lot of time with the DSLR. With iOS 13 there will be more features for iPhones and iPads, although the update is said to have many changes to the underlying technology (see above, re Facebook for example), and I am not convinced by what I have seen with changes to Photos: good to see Sharpen at last and other tools, but the interface may not work for everyone, particularly as it will no longer match Photos on the Mac: a move unlike Apple.

I am not really surprised considering the growing raft of restrictions and tariffs that the trump administration has imposed on China, including almost shutting down Huawei, but the Wall Street Journal is reporting on what looks like tit-for-tat measures that could have a bigger effect on us tech companies that wish to operate or sell equipment in China. (Yoko Kubata ).
New rules will flesh out existing cybersecurity regulations that could forbid certain data from leaving China or slow the process of dispatching data. Among other problems this would increase costs. In addition - and this mirrors controls on Huawei - new rules for procuring equipment could put foreign products (and the companies) at a disadvantage. Every time the USA tries to flex its muscles, the authorities in China are able to respond with a new strategy that puts the Americans on the defense again. The USA is not gaining many friends these days and there is much negativity building against it. Some of those who are in charge need to look at history.

When discussing tariffs a couple of days ago, I mentioned that Amazon is to pass on the 3% levy that the new French legislation that applies to several US companies (as well as many from China), but the US levies on China are causing a different raft of problems for those US companies that have their products made in the country. These include Microsoft, Dell, and of course Apple. There was already a 25% levy on Chinese goods, but another 10% tariff is intended to tax electronic and photographic equipment.
All bets are off, or at least were changed by the adjustments to the Yuan that were made on Monday, and which America is now claiming is currently manipulation. Well, what did they expect. The negotiating tactics only work if the other party rolls over and with more than 3,000 years of history, China is a little more patient than the US is at present.
This only ends one way as trade is weaponized. John Bolton is putting pressure in Venezuela with the intent to bring on regime change: a shipment of rice on its way to feed people in the country was stopped in the Panama Canal. Now Pakistan has suspended trade with India after their longtime dispute about Kashmir escalated recently.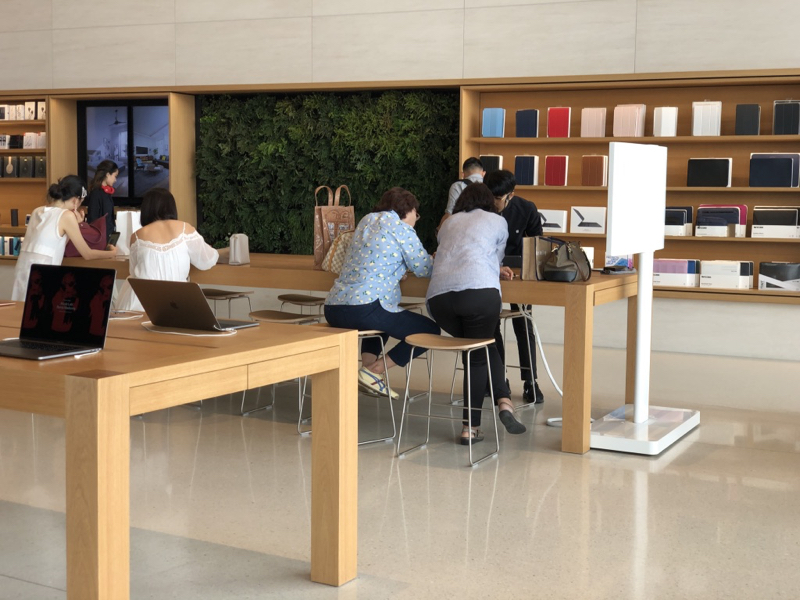 Apple Store, Bangkok

According to Mike Wuerthele (AppleInsider) a note from Ming-Chi Kuo suggests that Apple is to absorb this latest levy which would otherwise cause a rise in retail prices of some of its products. I am not a fan of Ming-Chi Kuo: some of his predictions send the market into a tailspin and are not always correct, despite his name often being used with the term, "noted analyst", and he seems to time his releases strategically.
One thing he does mention is that Apple has adjusted its manufacturing to reduce any affects that might be felt by changes in manufacturing in China, but with Tim Cook in charge, that should not be a surprise and I mentioned it months ago, when the levies were first being rolled out. You don't need a smart and expensive analyst for what is obvious with the histories of Tim Cook and Apple. He is also suggesting that a future iPhone will have fingerprint ID as well as FaceID. I feel that is unlikely: why clutter the software with what could be contradictory input; and why double up on hardware. Apple rarely does that.
Slightly related is the possibility that future Macs could add face-recognition: as a user sits in front of the screen, the Mac would open ( Danny Zepeda, iMore) reports, outlining a patent that has been granted. This almost happens now when I am wearing the Apple Watch and press any button on the keyboard. Once in a while, if it lets me down or I am not wearing the Watch, I simply press the fingerprint ID button on the Mac and I am in. FaceID would remove any direct input from a user.
Graham K. Rogers teaches at the Faculty of Engineering, Mahidol University in Thailand. He wrote in the Bangkok Post, Database supplement on IT subjects. For the last seven years of Database he wrote a column on Apple and Macs. After 3 years writing a column in the Life supplement, he is now no longer associated with the Bangkok Post. He can be followed on Twitter (@extensions_th)