Nope. None of that, so if you are still reading the stuff that Wall Street analysts put out, you might be better off buying some chickens and examining the entrails for all the accuracy that might give. To make sure we are being politically correct, please do not kill any chickens, read the output of writers who understand Apple and dump those analysts: they are costing investors money.
I looked at a couple of early reports from Seeking Alpha concerning the Q3 2019 figures as factually the information is reliable. Brandy Betts tells us that revenue is up 2.8% , with a breakdown showing the average of analysts' predictions:
Services, $11.5B (new record revenue; consensus: $11.68B).

The iPhone and iPad were fractionally lower, with Macs selling marginally better, while wearables, which includes the Apple Watch were higher as was the figure for Services which continues to grow and is now a major generator of income, as I predicted back in the days when iCloud was called .Mac (it was iTools first, then MobileMe), with the user base this could only grow. My use has grown from the free 5GB up to a 1TB subscription because of the synchronization of data (especially photographs) between my Macs and iOS devices and as a backup service. I am not alone; but to iCloud I can also add Apple Music, so monthly I pay Apple a fair amount. Multiply that by millions of users worldwide and this is always going to be an area that will grow.

We also note that "Greater China revenue was $9.2B, down from $9.5B in last year's quarter" which is nowhere near the disasters that had been predicted, following a general fall in sales for all smartphone makers and the current trade disputes between the USA and China.

Apple's own Q3 2019 press release is headed, "Company Revenue Sets June Quarter Record" which is clear enough. Guidance for Q4 2019 is $61-64B (consensus: $60.9B); and I note that is slightly up on last year's guidance: predicting revenue of between $60 billion and $62 billion so Apple is not doomed just yet, but let's see what damage the analysts can do between now and October.


In a Tweet I saw at lunchtime, Horace Dediu (an analyst to trust) wrote, "Apple Pay is now completing nearly 1 billion transactions per month, more than twice the year-ago volume. Monthly transaction volume is growing four times faster than PayPal." More to come. And confirming my own view of Services, "Apple paid subscriptions now over 420 million. Likely over 500 million by early 2020. Nothing can be compared to this as nothing is in same order of magnitude.

Ah. . . Apple Pay, one of the dreams for those of us in Thailand, along with the Home Pod, a fully-functioning Siri and perhaps the Apple Card. At least there is now a real Apple Store in Bangkok, where real Apple people are at work.


While I was trying to confirm some information about the early days of iCloud (iTools) I looked at some older articles on OS X and was surprised to see that when I had written about Panther (10.3) I had included the new feature of Exposé and in another article I had included the panel that opens when Command key plus the Tab key are pressed. I still use this on my Macs (and the iPad Pro) as a more efficient way to scroll through open apps than the Dock.





Mobile Me Preferences


People complain about the price of Apple accessories, but over the weekend, Lisa Braun wrote a thread on Twitter detailing a tear-down of an Apple video adapter. In the thread she shows how not only does the adapter have some sophisticated circuitry but that this includes what is basically a mini-computer with 256MB RAM that runs a Darwin kernel.


One of the creepiest films I know, in both the Gene Wilder and Johnny Depp versions is Willy Wonka and the Chocolate Factory. Based on a Roald Dahl book, the idea is that gold tickets hidden in chocolate bars will give entry to the factory. Those who have the tickets (by fair means or foul) meat their just desserts (excuse the pun) during a tour. Charlie is the pure hero and wins a fortune for his family, although in the Tim Burton version that means Johnny Depp moving in with them.

Ilford have taken the idea and refined it. As it is a manufacturer of black and white films, Harman Technology are to use silver tickets, but there will only be two, so the chances of finding these will be lower than winning the lottery (or a tour of the chocolate factory). The films that may contain the tickets (all marked with a red 140 sticker (after 140 years of production) are HP5+ 135 24, HP5+ 135 36, FP4+ 135 36, DELTA PROFESSIONAL 3200 135 36, DELTA PROFESSIONAL 400 135 36, DELTA PROFESSIONAL 100 135 36, XP2 SUPER 135 36, DELTA PROFESSIONAL 3200 120, DELTA PROFESSIONAL 400 120, DELTA PROFESSIONAL 100 120, HP5+ 120, FP4+ 120 . I note that my favourites: SFX and PanF Plus are not included, but I can make do with some FP4 Plus. There are also a couple on that list that I really ought to hunt down.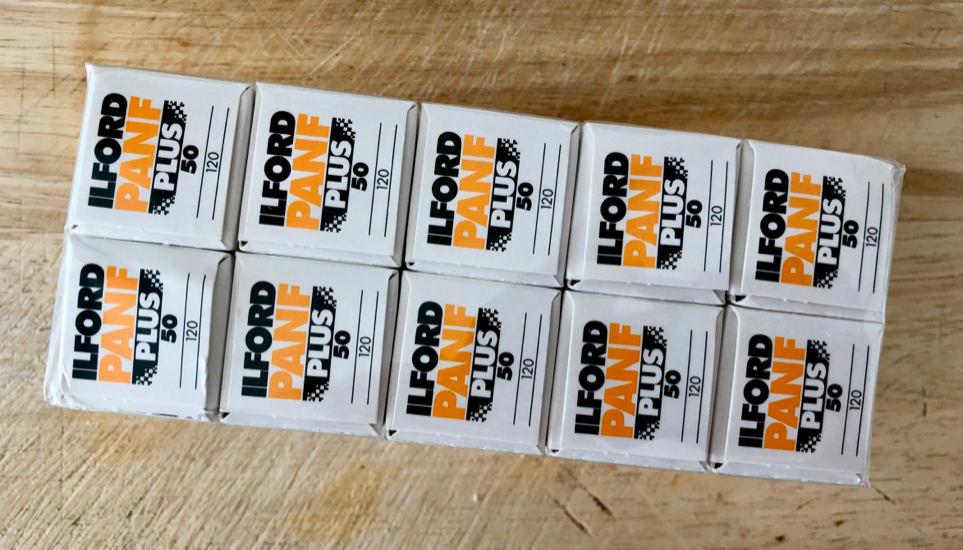 Ilford Medium Format Film

Recently we were reminded that with over 50 years since the first moon landing (I stayed up all night and watched this on TV) many of the images that have defined us - such as Earthrise from Apollo 8 - were taken on specially adapted Hasselblad cameras, using 70mm films in magazines of 200 shots each. My own Hasselblad uses 120 film (61mm wide) in magazines of 12 shots. I do have a larger (24-shot) magazine, but the 200 film needed for that is no longer to be found.
For some reason, Cole Rise (Petapixel) decided to make a replica of the Hasselblad Moon camera, because there are so few available: 16 were left on the moon and they are not really accessible. The task is detailed in his text, and includes several problems he encountered. One of these concerned lubricants as the vacuum of space creates special conditions that make normal lubricants unusable.
In the article there is a link to a PDF on the NASA site which outlines the problems investigated and solutions that were devised. The NASA article is a superb example of clarity in writing: the engineers who produced this put their ideas over in a simple and direct form that many academic engineers are incapable of. Obfuscation is the way for them; writing in the most complex way and with words which mask the meaning. You see what I did there?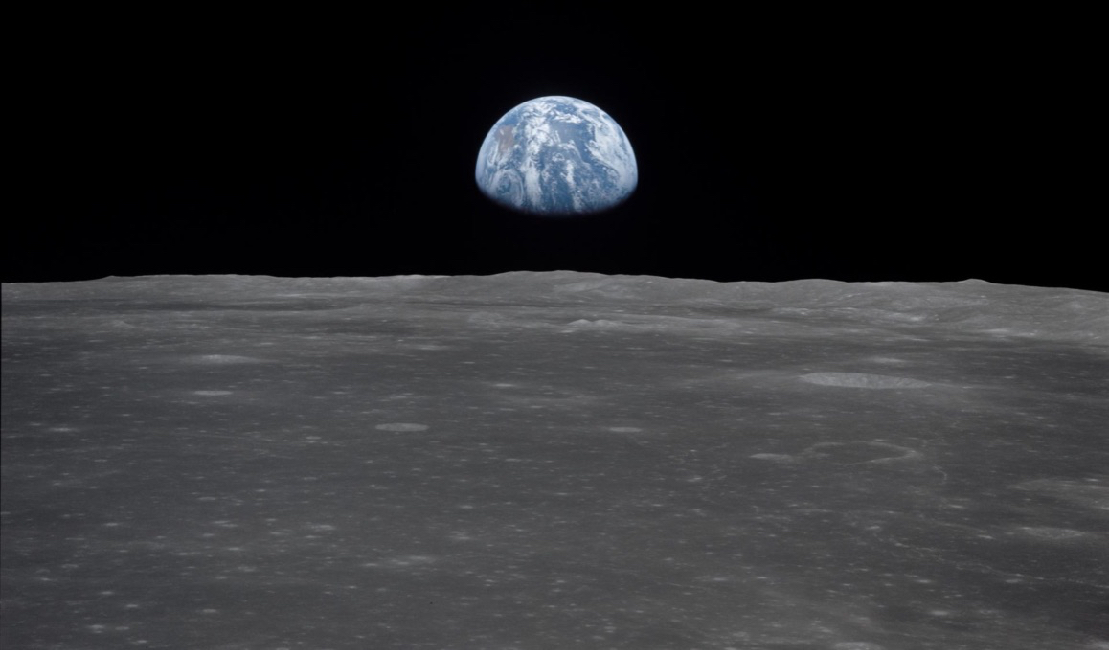 Earthrise - image courtesy of Hasselblad

Although I carry a film camera about most of the time, this weekend my priorities switched back to DSLR when I found that Tamron's new SP 35mm f/1.4 lens was available here. The price was not outrageous, but the performance is exceptional. Long live the DSLR. I wrote some comments on my use of the lens over a couple of days and put that online on Tuesday. Enjoy.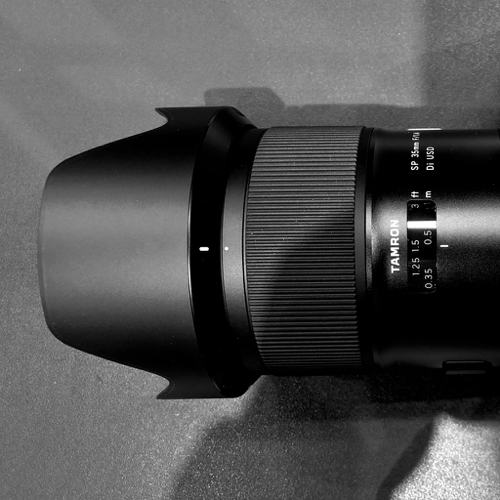 Tamron 35mm f/1.4 lens
Graham K. Rogers teaches at the Faculty of Engineering, Mahidol University in Thailand. He wrote in the Bangkok Post, Database supplement on IT subjects. For the last seven years of Database he wrote a column on Apple and Macs. After 3 years writing a column in the Life supplement, he is now no longer associated with the Bangkok Post. He can be followed on Twitter (@extensions_th)