Cassandra - Midweek Review: Taxing Offshore Profits; Easing up on Huawei; Camera and Film Developments
By Graham K. Rogers
---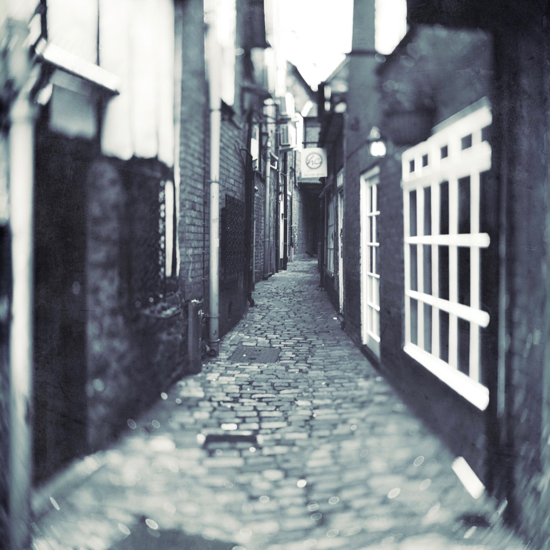 It is odd that what one person sees may be reported differently by another: the news cycle is like that nowadays. The Left and the Right, for different reasons, are warming to taxing companies that use offshore means to lower their liabilities and the French have pressed the switch. There is a softening towards Huawei in the USA, which is lucky as the Oak/Hong Meng OS is not what some thought it was. New and more powerful digital cameras are appearing. Despite the lack of analog cameras, the film industry thrives.

I have often commented on the different ways Apple is regarded in some areas, especially by Wall Street and the analysts. An interesting look at the way some reporting deals with Apple is the way statistics are offered to a generally uncritical market: some say up, some say down. That was the way the same numbers were reported recently with IDC showing some growth in the computer sales for Apple, while Gartner showed that Apple was doing less well, with the same figures.
Patently Apple explains that this is simply (simply?) because Gartner does not include iPads (or Chromebooks) in the category of PC, but it does include Surface devices, because they run Windows. As the article points out, "schools and the enterprise accept the iPad as a business computer" so this is pure bias on the part of Gartner." This also suggests that their figures are less reliable overall. At the end, of course, PC or tablet, Apple is still selling its devices and making a profit.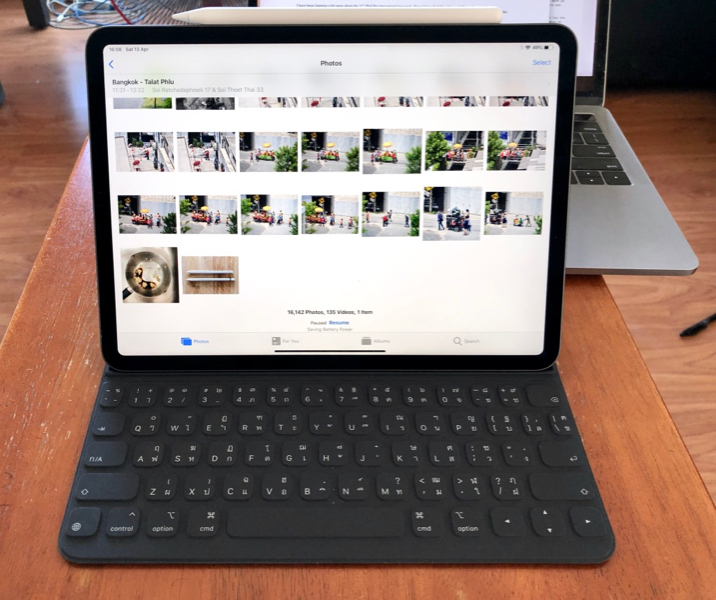 iPad Pro
Home Speaker Security
I am critical of Android because of what I see is its lax approach to users' data (as well as making a profit from that data), but there may have been a new low reported earlier in the week by Sean Hargrave (London Blog, MediaPost). It appears that not only (like Amazon's Electra) is it listening in electronically, but that real humans also listen to some of the messages as well. Actually, the users probably agreed to it anyway, but who reads those T&C when setting things up, eh?

This is not a wholly new phenomenon as I remember earlier cases of this: Alexa was found to be recording when people are in the proximity of the speaker. A local user told me that when working behind an old stove he had asked for help from a family member and Echo made an offer for a Black & Decker tool. He said he had not even realised it was turned on.

There was a certain humour in this, but it turns darker when a man in Germany received more than 1,700 Alexa voice recordings (in 2018) from a family he did not know (Rich Shibley, Digital Trends); and in May Bruce Brown (Digital Trends) reported on another serious breach (also in 2018) when an Alexa device mistakenly recorded a family's conversation and sent it to a Seattle resident who was on their contact list.

The reason for the recently reported human interaction appears fairly sound: the company wants to check that the Android AI is able to listen in accurately, so some messages are heard by human ears and comparisons are made. All well and good, except that some of the information was leaked to Belgian news organisation VRT. Ireland is investigating this apparent breach because Google has based its European operations in Ireland, probably (like Apple) because of the low corporation taxes there.





Money makes the world go round




Taxing Tech Companies
In Britain, Jeremy Corbyn mentioned the way Amazon avoids paying taxes, despite massive incomes in the countries in which it operates. Not long after, Boris Johnson, a PM hopeful, echoed this with his own tilt at digital industry windmills, although he conveniently forgets home grown millionaires like Richard Branson, Lord Sugar and others who likewise avoid paying the taxes that their incomes may otherwise demand.

Of course, as I have commented before, they are all doing this totally legally, using laws on taxation that legislators in various countries have passed, so I regarded it as straight up hypocrisy a few years back (2013) when the grandstanding Senators McCain and Carl Levin sycophantically praised Tim Cook, then savaged the company for its tax avoidance. Rebecca Greenfield (The Atlantic) wrote that the "Senators Turn Tim Cook's Hearing into a Genius Bar Visit". Others were equally as scathing for the way te pair cheapened the event. Many other American companies use the laws in the different international markets they work in to keep tax bills low and, despite the crying wolf of politicians, eager to grab a few votes, it is all done legally.

At least it is for the most part and once in a while there are cases filed. Like Customs & Excise in the UK who catch people cheating sometimes, most of the cases are settled out of court: the government has its money, and the guilty avoid prison; not if you are Al Capone of course; and one or two others have not been able to avoid jail over the years. If you do a Google search for "executives jailed for tax fraud" that will bring up a rich list, including an executive of Dr Pepper, a former CEO of Axium International, and several others. The reason Zuckerberg, Bezos, Cook and Sundar Pichai are not in jail is that their companies comply with the laws as they exist now. As a socialist I would be happy to see some fair restructuring, but within limits; and the authorities should also look at the banks.

With the UK politicians suggesting how things might be, France has taken steps to levy taxes on any digital company whose revenue is more than $750 million, of which at least $28 million is generated in France. A tax of 3% is then applied. This is aimed at Apple (it generates more publicity), although Facebook, Google and Amazon are also targeted, much to the annoyance of the US authorities, who are happy to apply levies to foreign companies, but object when it happens to their own. We expect Twitter is being fired up right now.

Chance Miller, 9to5 Mac, reports that "The new tax will be retroactively applied from the beginning of this year, with the French government expecting to raise over $400 million in 2019." That is $400m that cannot be taxed by the USA, so no wonder they are upset and are investigating if it unfairly targets US companies. Are there any non-US companies with such incomes?

It turns out there are quite a few according to a list on Wikipedia; and even more of a surprise (to me) was that Apple was only at Number 11 on the list, with Amazon at Number 18. Microsoft, Google and Facebook are not even in the Top 50. However, of those listed, many may not do any notable business in France, for example Walmart which is shown as Number 1 with revenue of $500,343 million. Several car and petroleum companies would be liable to the new tax, so there will be some howls of protest there I would expect.

I looked further and found these figures with a quick Google search:
Microsoft annual revenue for 2018 was $110.36B;
In the most recently reported fiscal year, Google's revenue amounted to $136.22 billion;
In the most recently reported year, Facebook's revenue amounted to $55.8 billion;
For the fiscal year 2018, Amazon reported earnings of US$10.07 billion, with an annual revenue of US$232.887 billion; and
In 2018, Apple announced its highest annual revenue to date with $265.6 billion generated.
They certainly exceed the modest $750m stated in the new French legislation, but would this really be unfair, despite the claims of the USA. In some ways America only has itself to blame with the bull-in-a-china-shop approach to hitting countries with levies. Other countries are now following this lead and in Europe particularly the lack of tax liability for some US companies has long been a thorn in the side.
Huawei Adjustments and Trade Wars
One casualty of the trade war with China is Huawei, although this is couched in terms of security concerns. These concerns with no real proof are only offered by the authorities of the 5 Eyes group, although Britain is apparently ignoring the "phone home" allegations and have bought into Huawei equipment in a big way, much to the annoyance of the USA.

As soon as the USA announced its ban on Huawei several companies and organisations cut their ties to Huawei, most notably Google with Android. Others, including Microsoft and the SD Card Consortium have begun to drift back. Huawei let everyone know that the OS they had been developing for a few months in anticipation of such actions, was under development and would be called Hong Meng, or Oak in western markets.

This threw everyone in a tizzy as the idea of another mobile OS could mean some insecurities would arrive making the picture worse than had been intended by the government's "So There" ban. Some companies, including Google (Android) began to make representations to the authorities. If Oak/Hong Meng were successful, Google could lose billions in revenue, once again having the reverse effect from what was intended by the ban.

This week, there was a little more clarity from Huawei and it appears that Hong Meng may not be the threat some had feared. Indeed, it appears it was never intended as a mobile OS, but was developed for the Internet of Things (IOT). Anton D. Nagy (Pocketnow) reports that not only is Hong Meng not the threat that some feared, but Huawei executives are openly saying that they prefer Android. Although some restrictions have now been eased from the early total blackout, it is not known if Android is included.

However, a report from Reuters, carried in The Straits Times a couple of days ago, suggests that more easing of restrictions is on the way and "licenses would be issued where there is no threat to national security." This report also cites the chip technology advances being made by China (Huawei) and US companies working in the field applied some pressure, otherwise (to repeat), this was once again having the reverse effect from what was intended by the ban.



New Cameras, Old Films
I have a theory that the major camera makers need to move up market and offer more exclusive devices if they are going to remain as viable companies rather than try and cater to a wider market, much of which is now being served by smartphones. It is no surprise to me that companies like Leitz (Leica), Hasselblad, PhaseOne, Red and others that manufacture high end (and rather expensive) cameras, are thriving. Nikon hit a sweet spot with the D850 I have, and the Z7 Mirrorless that uses the same 47MP sensor is doing nicely too.

Now Sony have upped the game slightly with its announcement of the A7R IV 61MP Full-Frame Mirrorless Camera (Ron Leach, Shutterbug). This camera supersedes the 42MP A7R III. The Shutterbug article also highlights a number of other improved features in the new camera which is scheduled to ship in September at a price of $3,500 which is somewhat competitive.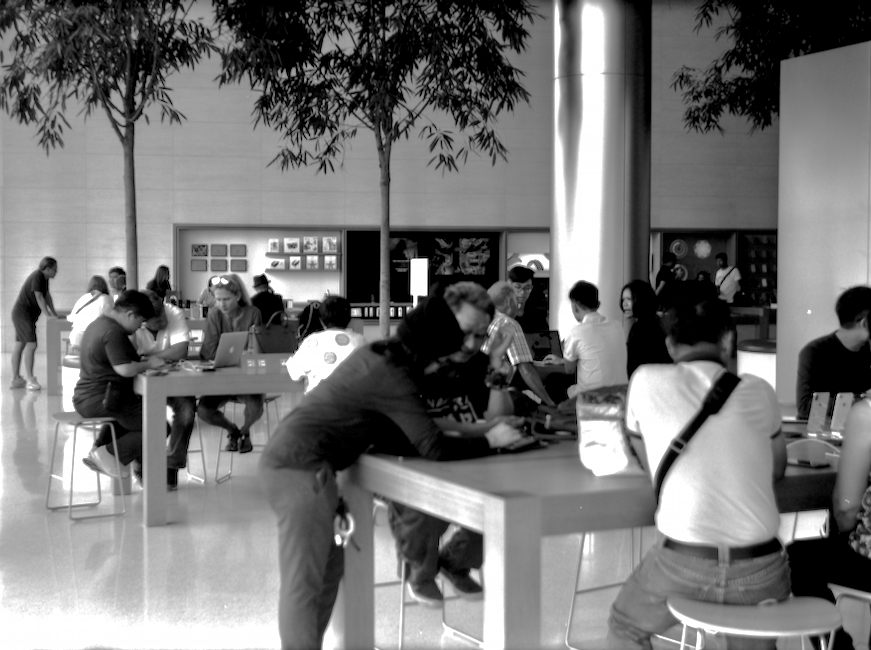 Apple Store Bangkok on film - Agfa Record III with Kosmo Foto Pan 100

Despite using the DSLR and iPhone camera every day, I am heavily immersed in film use. I am currently up to my elbows in rolls of film waiting to be scanned. I can only do this with a flatbed scanner and the Mac as the so-called "Pro" iPad Pro I use does not support such devices. I have faith and with tethering for Hasselblad cameras coming soon, as well as access to external disks and mouse/trackpad use, things are improving; fingers crossed on the scanner.
I notice that when scanning some films handle better. This is one of the reasons I prefer medium format to 35mm. I am currently having films developed in Siam area, but unlike AirLab the film type is not marked on the envelope. Films like Ilford and the Bergger Pancro 400 I use (thicker films that do not roll up when being scanned) print film details on the negatives. One or two of the developed negatives also have had unusual smears: not happy with this.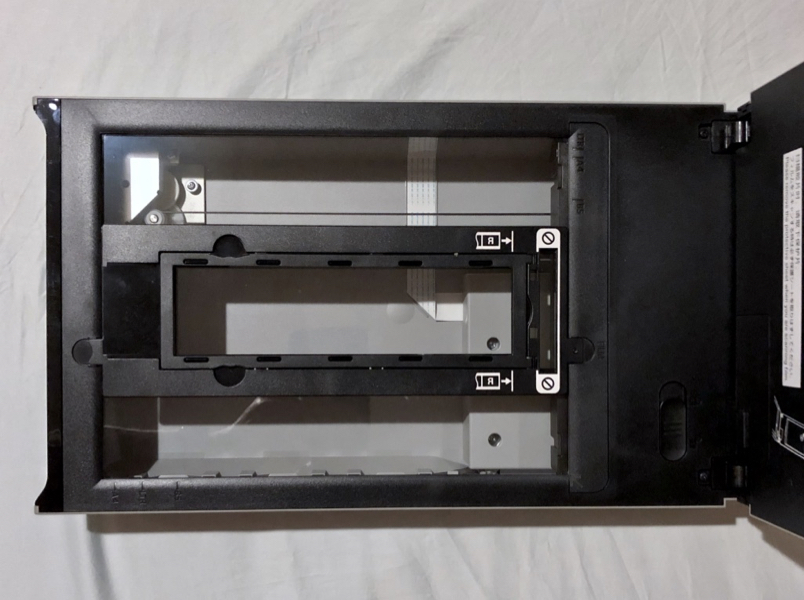 Canon 9000F flatbed scanner

Some of the films I have been using recently like the CatLABS 80 and others do not. The Kosmo Foto Pan 100 has enough information to show the film and type. I have a few favourite films. One is that Bergger Pancro 400. The Kosmo Foto has good potential; but I need to try some more CatLABS 80 to be sure. As AirLab is due to reopen on 4 August that will give me the chance to check the results. Ilford Pan F Plus (ISO 50) has given me some god output and I recently tried some Ilford SFX (ISO 200) which goes on my must-have list.
With more films arriving the business is seeing a small expansion with Lomo just announcing a new colour film (DL Cade PetaPixel). Remember the cameras being used are almost all second hand. The film however, must be produced to high standards and it is no accident that Ilford is successful. This week a lovely video appeared highlighting the company's manufacturing operations in Cheshire and this was a good breakfast-time diversion. Enjoy. . .
Behind The Film: A Look Inside The ILFORD Film Factory from Exploredinary on Vimeo.
Graham K. Rogers teaches at the Faculty of Engineering, Mahidol University in Thailand. He wrote in the Bangkok Post, Database supplement on IT subjects. For the last seven years of Database he wrote a column on Apple and Macs. After 3 years writing a column in the Life supplement, he is now no longer associated with the Bangkok Post. He can be followed on Twitter (@extensions_th)