Cassandra - Weekend Review: Analysts and Q4 2019; iPhone 11 Pro and Photos in iOS 13; Imaging, Cancer Detection, Airports and Film
By Graham K. Rogers
---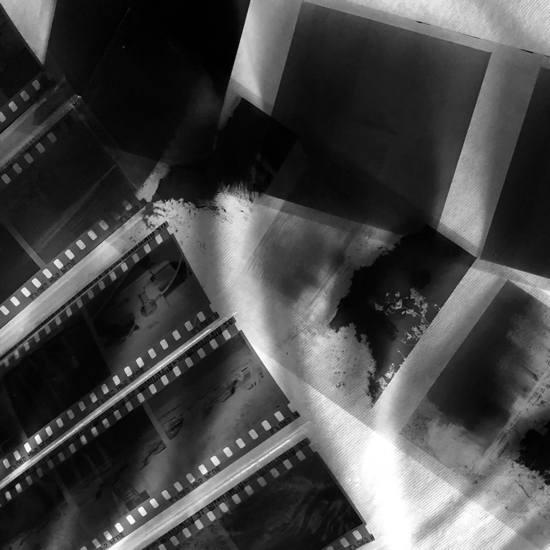 Apple announces its financial results this week, but some analysts see the glass as half full. My iPhone arrived and I have to learn new tricks, but am wondering why Apple makes some changes. Some politicians need to interfere, but may not have the full picture: their opinions may override facts. Imaging technology is used to detect health problems and risk items at airports, but there may be odd consequences.

In a couple of days Apple will be announcing its Q4 2019 results which can be followed using the link to the site. Despite earlier worries from the direction of Wall Street, things have picked up and the results are expected to be good. Next time (Q1 2020), which includes the holiday period, figures are expected to be even better with one analyst already predicting a $90 billion quarter (Stephen Warwick, iMore). We will know more this week when Apple issues its own guidance for the upcoming quarter and the company is more reliable than Wall Street's guesstimates.
An analyst that caught my eye as one to check is MangoTree who is bucking the trend, downgrading Apple from BUY to HOLD and reducing the target price from $235 to $230 (Current -$246.58) (Current - $246.58). Many other analysts have increased their targets, although Rosenblatt is still predicting $150 with a couple of others showing similar, low price targets. They are either asleep at the wheel or are looking at some mysterious life event some time next century, although they are not alone with the fire-sale targets (MarketBeat).
It is reported by several sources that Apple sold 130,000 iPhones in Korea on the first day of its release. This is 30% up on last year, but unsurprisingly did not beat the opening day sales of the latest Samsung Galaxy device. A rumor carried by several online sites suggest that a 3rd generation of AirPods could be released next week. These are said to be in 8 colors and could be color-matched for the new iPhones (Christine Chan, iMore).

On Thursday, as had been promised, the iPhone arrived at the office. Apart from opening the box, I had no time (or a suitable connection) so took it home and started the job there.
I began the process of setting up and transferring data with that odd speckled moving image that is similar to the one Apple developed to set up the Apple Watch. It took almost two hours while data was transferred so it was ready to go once I had put the SIM card in its tray. That was followed by an overnight download session of apps.
I use a Sleep app to monitor night-time movements (and any snoring) but that had not yet been downloaded as I was going to bed. Just after I tapped the app, Apple brought it to the head of the queue, it downloaded right away and I was able to use it as normal. One or two apps needed passwords or confirmations when first accessed, which is to be expected. I failed to set up LINE and missed a couple of messages during the day as I had left the iPhone X at home. Most other apps that required secure access were done easily using Keychain passwords. Apple accounts needed a couple of attempts to convince them that the passwords were real.
iPhone 11 Pro in aubergine Folio Case

As with the Photos app that has seen several changes in iOS 13, I am going to have to relearn the camera and its controls. My first difficulty was Burst Mode which I have used often since it was first demonstrated to me by Apple personnel in June 2015 with the iPhone. Because there is a new feature to take a quick video when in Photo mode by pressing the shutter button, the controls have been changed and a burst is done by sliding the shutter button to the left. Although this is available online from several sources, I read the explanation from Michael Potuck on 9to5Mac.
I miss the Square frame option as I used this regularly, although I can of course crop any photos I take. I also miss Black & White editing in Photos, but can compensate somewhat with the three filters available followed by some additional editing; or by using some of the other apps I have. However, some of those apps reduce the file size and that is undesirable in some cases. I took a number of photos using the different camera settings to learn what the outputs might be like.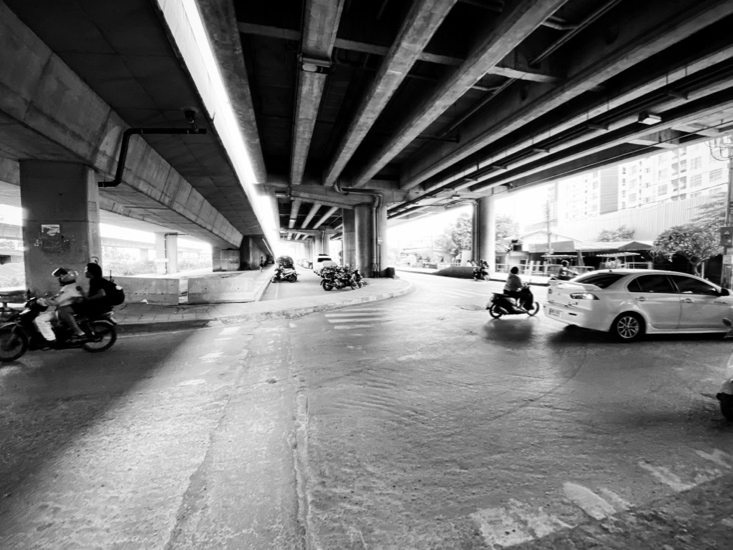 Under BTS Thaladphlu - iPhone 11 Pro photo edited in Noir

I edited one iPhone 11 Pro photo that was shown as a 2.576 MB file (4032 x 3024) in Photos using the app Noir. This is an old favorite and that still does the job well. I tried several of the options then saved a black & white image which had the same dimensions but had been resized to a file of 3.057 MB. The edit keeps some metadata including camera and lens information as well as GPS. Among the other apps I have that could edit to black & white output, there is Manga Camera, but that is a different game (480 x 640 245 KB). It does however produce output that could be exported direct to the Snaptee app for making tee shirts.
Noir and Manga Camera (rigth)

The camera on the iPhone 11 Pro is still a work in progress for me, as is the Photos app in iOS13. I sometimes wonder why Apple makes certain changes when everything has been working so well for so long. I can understand the point of evolution, but this is almost as if once in a while a revolution is foisted on users, although in one sense of the word, these latest changes, particularly to the Photos app are hardly "revolutionary". I am still in two minds about the camera.
While working through its capabilities I did check to make sure some of my favorite camera apps were still effective. Indeed they are. 645 Pro was still set on the yellow filter, 6x9 image and A2 B&W film emulation that I had been using on the iPhone X. However, although the RAW format was saved, the TIFF file with those settings was not. As the iPhone X has iOS 13, this is a problem with the latest iPhone. I sent a note to Michael Hardaker and within a couple of hours had a reply with a simple fix. With the change, iOS forgets some security links to some apps. I can also look forward to an update coming soon.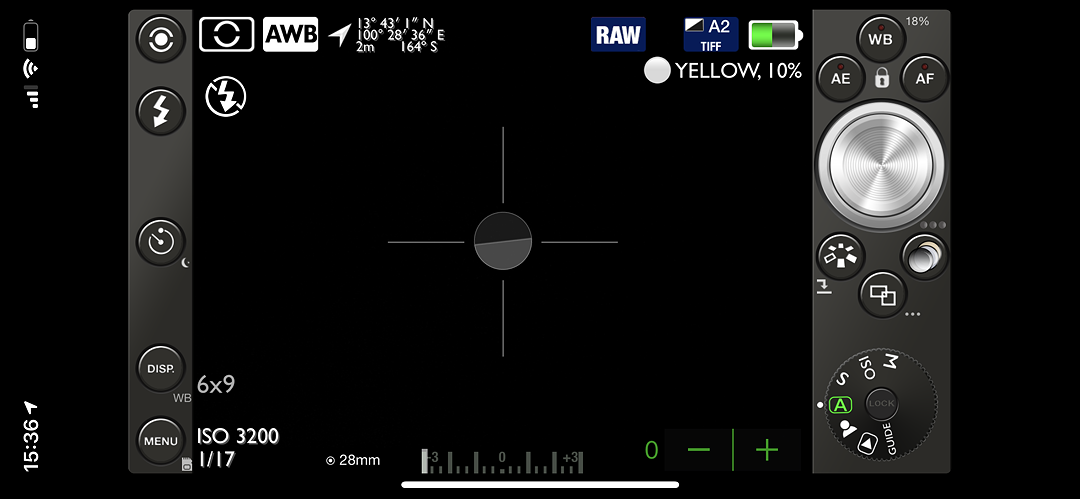 645 Pro on iPhone 11 Pro

I do note that being a new device, the battery lasts much longer than the 2-year old one on my iPhone X. Normally I would have to charge in the early evening, although earlier this week I needed to connect the iPhone X to a power source by lunchtime as I had been using it with an overhead projector in a classroom. With the screen on for more than two hours and the additional draw from the adapter, that really uses the power.

As if there had not been enough negative reporting on the Catalina upgrade, Ben Lovejoy (9to5 Mac) writes that a number of Macs have been bricked after installing the latest macOS. The cause for the relatively small number of Macs said to be involved is EFI firmware which in one of the reported cases was reprogrammed and the problem went away.
For those seeking more technical explanations of the changes that have come about through Catalina, I can strongly recommend the website, The Eclectic Light Company. A recent comment on relocated items may help some who are approaching (or have just taken) the step to installing Catalina. For those of us not willing to take this step just yet, the articles still make for an interesting read.

The Apple Watch 5 has been released in Thailand this past Friday as well as in a number of other countries. Joe Rossignol (MacRumors) writes that as well as Thailand where it starts at 14,400 baht, the device is now available in Korea and Brazil. Here the carriers (for the WiFI + carrier version) are shown as the usual suspects: AIS, DTAC and True.

One of the reasons the great Bell Telephone Company was broken up was the threat (or reality) of monopoly in the increasingly important telecommunications industry. The court-directed splitting up created a lot of smaller units. For a while this all worked well with small companies able to offer cheaper services (not always at great convenience) over the same lines the big boys used. This changed some of my views on state ownership: at least as far as telephone companies are concerned. Anyone who suffered the British Telecom (BT) behemoth which was just a government department in private clothing, will understand. It took years for real competition to appear in the UK, and I am not sure that the results are wholly beneficial to consumers.
The one serious casualty in the breakup for me was Bell Labs: a research establishment that had come up with so much of the technology we rely on now, including transistors, cellular networks, UNIX, solid state technology and many others. The teams that created transistors and solid state technology both won the Nobel Prize for Physics. John Bardeen was on both teams and is the only person ever two have won this twice. Bell Labs became Lucent and was taken over by Alcatel (France) but this entity was absorbed by Nokia which now owns a lot of patents.
As the fear of monopoly caused the breakup of Bell, it is ironic that AT&T which grew as it took over technology companies, such as Cingular (whose Stan Cigman supported the development of the original iPhone) is now using a monopoly position to increase prices, when it specifically promised that it would not when it merged with Time-Warner. Karl Bode (TechDirt) is critical not only of the cavalier approach by AT&T to increasing prices when it had said in court that it would not, but also of Judge Richard Leon who presided in the case. He seems to have ignored many of the warnings and just agreed to the merger:
At absolutely no point did Leon in his absurd ruling recognize the threat of AT&T owning both a monopoly over broadband and a massive media empire in charge of content needed by competitors. And when lawyers and economists warned him that kind of power would only lead to higher rates, he almost happily ignored them.

I am always skeptical when politicians start discussing security and changing laws to improve safety. Ted Cruz is on Apple's case right now over an app that the Chinese government does not like and the Senator for lost causes seems to think that Tim Cook is going to ride in on a white horse and overcome Chinese objections (and restrictions). Some senators are also sniffing around the phenomenally successful app, Tik-Tok and have "asked the Intelligence Community to assess whether TikTok and other China-owned content platforms pose a threat" (Christine Fisher, Engadget) because it sends information back to ByteDance, its parent company and this is owned by a company in China. There is also a follow up from Tik-Tok on The Verge (Makena Kelly) which denies that content is censored and (among other comments) adds, "Our data centers are located entirely outside of China, and none of our data is subject to Chinese law."
I think that the senators are creating a solution for a problem that may not exist, but if they are so concerned about Tik-Tok, why were the same questions never asked about the photo manipulation app, Prisma that originally sent all output to servers in Russia for the artistic effects to be applied. With those images there would also have been a considerable amount of metadata and (as we know from companies like Facebook and Cambridge Analytica) massive amounts of data can be used to predict trends.
The senators score again when it comes to child surveillance and with regard to the number of school shootings that have tragically claimed so many lives. What some senators want is to provide federal funds so that the schools can monitor their students' online activities, as if that will allow them to profile a potential killer (The Guardian). There is more to this than just Facebook posts and concerns about the easy accessibility to weapons, something that so many politicians in the USA are unwilling to deal with.

Insider trading is taken so seriously at some companies that they have experts whose task it is to track such offenders down. That includes Apple, of course, but it has just been reported by Juli Clover (MacRumors) and others that "Former Apple lawyer Gene Levoff, who was in charge of enforcing Apple's Insider Trading Policy, is facing criminal charges related to insider trading of Apple stock". Before he was fired from Apple in 2018 he was the senior director of corporate law. He is now facing several charges regarding this fox in the henhouse switch.

Over the weekend a number of sites have carried the (strong) rumor that Apple, which uses United Airlines a lot ($150m a year) - is working with the company to design and build a new terminal at San Francisco airport. It is all a little vague right now but a spokesman for United confirmed that Apple had been in the "baggage hold areas, customer service and the lobbies" (William Gallagher, AppleInsider)

Imaging has become important at airports in recent years as well as in medical technology. There is sometimes a certain amount of crossover between the types of technology used, but a recent upgrade to scanners for hand luggage at some US airports carries a health warning for those who use film. These new devices work with the same technology as the CAT scan and will destroy film that has not been processed, Dunja DjudJic reports in DIYPhotography. We are told that the "TSA recommends that you put undeveloped film (or cameras containing undeveloped film) in your carry-on luggage and take it to the checkpoint for a hand inspection," but adds not all airports allow this. A list of the airports that have installed these devices is included in the article.
Thermal imagery has a number of uses and recently a lost child was found using a drone that had a thermal camera installed. DL Cade (PetaPixel) reports that a thermal camera at an Edinburgh tourist attraction had such a camera installed as part of of its exhibits and when a woman passed through this she noticed a hot patch in her chest area. She took a picture and at home later had a further look then made an appointment with a doctor who discovered a breast tumour.
Like the Apple Watch, this was not a diagnostic device, but provided sufficient information that the subject was wise to have it checked out. As part of a series of daily checks, I monitor my weight and last year when I noted a steady decline over a number of days, along with other symptoms, this sent me to the doctors where a problem was attended to.
Ilford PanF Film (left); Kosmo Foto Mono; and CatLABS 80 (right)

I use a number of film cameras as well as digital output. Although I use 35mm film - some former students gave me a lovely old Nikon recently - I prefer using medium format film. The cameras need care when taking a photograph, the film is wider, so easier to scan, and there is much more information on the negatives. Most of my 120 output is 6 x 6, although I have an old Agfa camera that produces 6 x 9 images.
As well as trying a selection of cameras, I have also been experimenting with different films, like Ilford, CatLABS 80, Kosmo Foto Mono 100, Fomopan and others. I rather like the Kosmo Foto film (like Ilford, easy to scan) and I have just ordered another 10 rolls. I like almost anything that Ilford puts out, and rather like working with its PanF Plus (ISO 50).
The CatLABS and Kosmo Foto films were new arrivals in the last year or so. Ilford has had a solid production line for a number of years but this week announced a new range of Orthographic films - Ortho Plus - available in 35mm and 120: it was previously only available in sheet form. It has ISO of 80 (40 under tungsten light). The company has been busy, Michael Zhang (PetaPixel) reports, as it has also announced new multigrade emulsion paper, a starter photo processing kit, and a new 35mm reusable camera that comes with 2 rolls of Kentmere film. The Ortho Plus should be out in November and I will be looking out for it.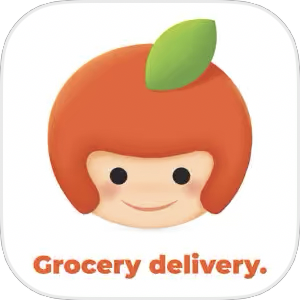 I have put off the idea of local online shopping several times although buying devices from Apple or films from suppliers in Hong Kong, USA and UK, as well as books is relatively easy nowadays. However an incident with an officious security guard this week at the condo where I live, had me take a second look at an app developed for local supermarket shopping online. HappyFresh had remembered the search items I had looked through before and I was able to add these and more to the cart quite easily. Registration and adding credit card were done easily (and securely).
The orders were confirmed and a delivery time given. The company phoned me to report on availability of a couple of items. We agreed easily on changes. Ironically, the delivery driver on his motorcycle had an easier time of entering the condo than I did riding on a local machine and carrying several bags: four wheels good, two wheels bad (unless you are Post Office, Currys or HappyFresh). I will most certainly be using this service again.

And Trump wants the Home button back. Several sources (and much of Twitter) are commenting on his view in a tweet directed at Tim Cook that the button was FAR better than the swipe. According to Stephen Warwick on iMore almost none of the tweets To Donald could be repeated.
Graham K. Rogers teaches at the Faculty of Engineering, Mahidol University in Thailand. He wrote in the Bangkok Post, Database supplement on IT subjects. For the last seven years of Database he wrote a column on Apple and Macs. After 3 years writing a column in the Life supplement, he is now no longer associated with the Bangkok Post. He can be followed on Twitter (@extensions_th)