Cassandra - Midweek Review: Willing the iPhone SE2 into Existence; iPhone Arrival in Thailand; Catalina Comments
By Graham K. Rogers
---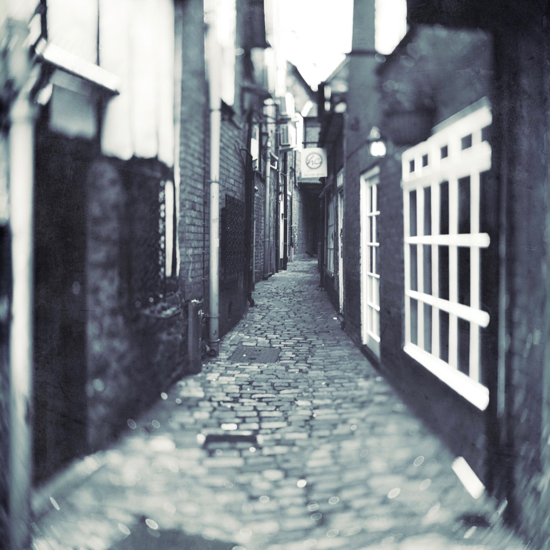 If pure will could create a device online pundits would be in 7th Heaven. I am promised my new iPhone will arrive this week: the Folio case is nice but not much use on its own. While iOS 13 seems to have settled down, Catalina is not pleasing some users and I am still holding off.

Apple is doomed again according to Cassie L. Damewood of the Dornob site because it has failed to release a product that has not been announced and is not simply vaporware, but only exists on the minds of hit-hunting commentators online. This is the iPhone SE: a product that so many would genuinely like to see that they write as if they intend to will it into existence. To help this on its way, they imply that Apple is once again doomed if this imaginary product does not suddenly appear on the shelves. I am not exactly sure how this device "sputters" if it has not even been announced.
There is no doubt that the original iPhone SE was a huge success and enabled many users to join in the Apple games. I bought one as a birthday present for a friend who was delighted and is still using it. It was a delightful combination of an older design and some newer internals with a relatively small screen. As we have seen from the iPhone X up to the latest iPhone 11 devices, Apple works better at the same upper end, despite the anguish from commentators - especially Wall Street, whose analysts regularly predict the share price is going to tank so everyone should sell, then a little later when the doomed product is actually selling, despite their dire warnings, just as magically predict the share prices will rise.
They are currently at all time high levels ($239.96), with the next quarter's earnings about to be announced (30 October). As a note, it is reported that order for the screens have increased by some 40% (Stephen Warwick, iMore) which indicates sales are good; and as Samsung provides a high proportion of those screens, there is benefit for them too.

iPhone with Lightning port and 3.5mm headphone jack

We are told that users want all manner of old stuff, on an improved iPhone SE like the 3.5mm headphone jack, something that many online commentators seem unwilling to let go, while even Samsung has crossed that bridge to far less comment than Apple received when they took the plunge. So the requirements for the mythical iPhone SE are an up to date device, with old technology and the same design at a price less than half of the current (high sales) iPhone 11 devices. Sounds good on paper.

Some people seem to read doom for Apple in the smallest of problems and magnify the potential fault into a hit-garnering headline that will alarm all but the most stalwart readers. Adrian Barkley on Cryptodaily is worried that, despite the boom sales of the latest iPhones, this one could be the doom trigger that we have all been waiting for. The reason he cites after praising the new features to the sky is "a serious flaw in the screen" that is being experienced by "a lot of users". He cites two from a thread apparently on the Apple forums, adding that his is problem-free. Somehow this does not smell like the doom trigger we were expecting.

I have had a couple of conflicting messages since I placed my order for the iPhone 11 Pro last Friday starting with what seems to be a double charge for the Folio case. According to messages from the credit card company and on the list of purchases I can view using their app, I was charged for the combined phone and case, and for the case as a separate item. This is probably an accounting oversight as the Apple advice clearly shows one of each, with the correct prices.
I sent a copy of that email to the credit card company after outlining the problem on the phone. At that time the charge was still "pending": a state between ordering (when the amount is reserved) and charging when the order is confirmed and ready for shipment. On Sunday, a message from the credit card company that they were sending my information for further processing suggests that the two charges had been deducted and they were in contact with Apple.
On Monday I was told that the items had shipped and I followed the tracking link to UPS, but the number entered was not accepted. I also tried with the Folio case link, but had the same rejection. I am tempted to put this part of the communication problem on UPS rather than Apple. When I later tried using the iPhone, information was displayed. What I had noticed earlier was that instead of being shipped from China as has always been the case in the past, items were shipping from Singapore so the logistics have been improved. To do this, thousands of iPhones must have been shipped there in the last few weeks.
Folio Case for iPhone 11 Pro

Despite being informed that delivery was to be Thursday, on Tuesday I had a phone call to tell me the order was being delivered that day. When it arrived it was the aubergine Folio case so I can admire that while waiting for the iPhone to appear.

Apple is not running as perfectly as I had become used to and the Catalina update has caused more tears and broken computers than any update I have seen before. Not that I have experienced this one yet: I am too worried to risk my data (even though I have it all backed up several times) to the randomness that some have experienced. A number of comments over the weekend suggest that the problems are not affecting everyone.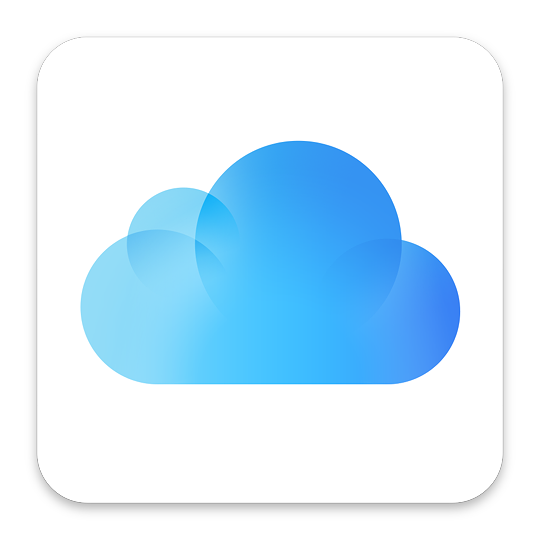 Several users are reporting that, even when they log in to iCloud the system is not accepting this and they resort to logging out then back in. What happens then is that the data is deleted but users can opt for it to be saved in a folder. Logging back in does not retrieve all the data, while some are finding duplicates of folders and files. This is far worse than the infamous Apple Maps fiasco and I predict that heads are going to roll.
Of the comments I saw online, Erik Eckel (TechRepublic) had some useful input concerning the problems he had experienced, starting with the installation and moving on from there. Many of the problems he reports are directly related to iCloud. He was not alone there, with local users also complaining about difficulties with logging in and the files mess afterwards. On Eclectic Light Company, hoakley looks at some of the reports floating around and is able to dismiss some (hoax in one case), but iCloud problems remain core to what many are experiencing. However another article from this prolific (and useful) site also pointed out a potential problem with kernel extensions (KEXTs).
Last week I wrote that Apple had put out a supplementary update (before 10.15.1). Now I see (Chance Miller, 9to5 Mac) that a follow up supplemental update has been put out, again before 10.15.1. This seemed to be unprecedented, but Miller notes that the information is the same as for that update last week:
Improves installation reliability of macOS Catalina on Macs with low disk space
Fixes an issue that prevented Setup Assistant from completing during some installations
Resolves an issue that prevents accepting iCloud Terms and Conditions when multiple iCloud accounts are logged in
Improves the reliability of saving Game Center data when playing Apple Arcade games offline
However, hoakley on the Eclectic Light Company suggests that there is a far simpler explanation and that Apple has updated its security certificate on the release, which makes it look like a new version. He also notes that those who have already downloaded last week's version will not be offered the later update.
In another useful comment, hoakley explains what is happening after the update to Catalina when a Relocated Items folder is created for files which cannot properly be allocated a new home. As usual with this writer, there is lots of useful information about what is actually going on.

One feature I am likely to miss when I finally update to Catalina is the Dashboard. It is one of those little tricks that is useful for those who know about it, like Command + Tab for the task bar (or Shift + Command + Tab to reverse direction). I access the Dashboard for a number of useful, single-task widgets that provide information at a glance. I even wrote one for the eXtensions news feed; but the most useful is the display of system information from iStat. I am told that all of this will be moved to the Notifications panel at the side, but I am not confident all will survive the change.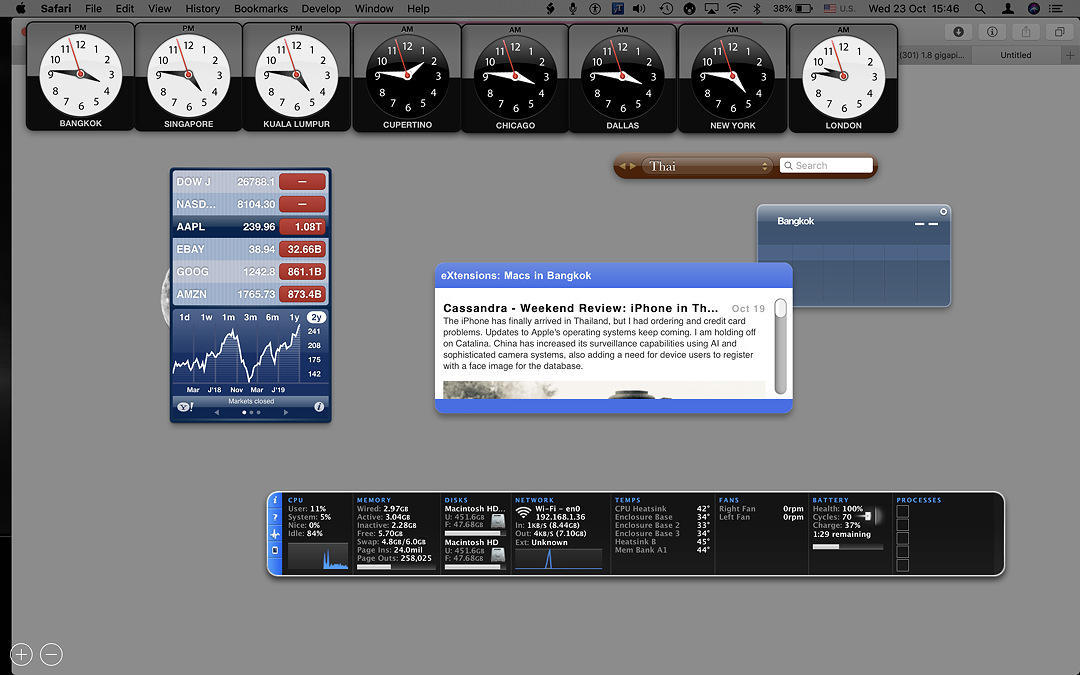 When I first began using computers in the mid-1980s, with twin-5.25" floppy disks, I was teaching an English 101 writing course with early versions of Wordstar, which was originally written for CP/M. The last release was version 7 in 1999. In between I tried Samna, and later Word (v5) which came with my first Mac. In the mid-1980s there was also a competitor for Wordstar that was tried by a number of academics in the department that I was in: Word Perfect.
Steve Paris on TechReport reviews WordPerfect X9 which has just been released by Correl and with it presentation and spreadsheet software. The review is relatively enthusiastic about the new version which some users or companies that do not need Microsoft compatibility might want to try. I manage quite well with no Microsoft installations at all on any of my devices, so there are sure to be others who do not need to follow that slavish devotion to Redmond. Unfortunately there are no Mac or iOS versions - Windows only.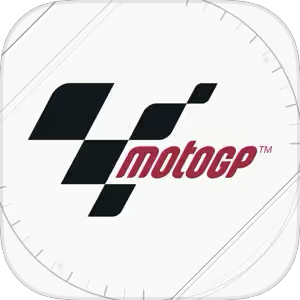 On Sunday I watched the MotoGP races at Montegi on the AppleTV app that Dorna has developed. It was almost perfect except for an internet break at noon, just at the end of the Moto2 race: thanks True. While I was setting up I noticed that the AppleTV app showed several programs for the Apple TV+ service which (here) arrived on 2 November - something to do with the time difference, I expect.
Only 10 programs were listed, so Apple will have to do much better to come closer to Netflix, but I am sure this is a long-haul project and more will be arriving. With that in mind, Oliver Haslam (iMore) reports that For All Mankind is mapped out already for 7 seasons. I hope that once the TV+ service starts, as well as the series and other programming, movies will be included. I had better luck than some as there were reports of the app crashing for some users.
Graham K. Rogers teaches at the Faculty of Engineering, Mahidol University in Thailand. He wrote in the Bangkok Post, Database supplement on IT subjects. For the last seven years of Database he wrote a column on Apple and Macs. After 3 years writing a column in the Life supplement, he is now no longer associated with the Bangkok Post. He can be followed on Twitter (@extensions_th)