eXtensions - The Wednesday File (71): Apple's Septem Horribilis - Exploding iPad, Australian Hacking, iPhone X Ire in Bangkok - and More Doom
By Graham K. Rogers
---
A number of little things affected Apple last week, with iPad problems, hacking by a teen in Australia and a nasty little incident in an iStudio store in Pinklao. Analysts also weighed in with a new variation of the argument that iPhones are selling so well this year, that the next one is bound to fail.

Having spent a bit of my money on external storage in recent months - SSD hard disks, flash drives and the XQD card - I was pleased to see a report that suggests Lexar is returning to the storage business: flash storage and SSD (Shoshana Wodinsky, The Verge). This can only be good for the consumer as competition of this calibre could force prices down. My 512GB USB-C SSD is about half full and I think a 1TB version would suit me better, but not at the current 15,000 baht.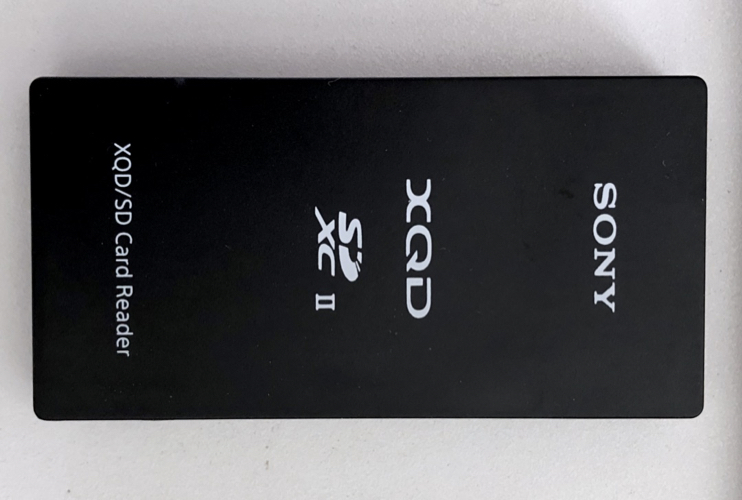 One of the more popular drawing apps for the iPad is Paper by Fifty-Three. Lauren Goode (Wired) reports that the company has been acquired by WeTransfer, a cloud-based file transfer company with headquarters in Amsterdam and Los Angeles.

I am not a fan of Google especially with the way user data is sold. It was recently revealed that even when Location tracking is turned OFF, Google still tracks users in an "Incognito" mode. Depending on what this incognito tracking is used for - internal purposes or data sold to advertisers - could put Google in conflict with the EU and the new GDPR laws (Savia Lobo, PacktHub).

Anyone who follows what I put here will know that I have little respect for Wall Street, particularly when it comes to Apple. Some of the suggestions, rumours, editorial from the analysts would be more likely to damage the company than make it work better. They are the equivalent of tipsters in horse-racing, who as everyone who has ever placed a bet knows, are never wrong. Oh wait. . . .
A couple of good examples occurred when Apple was assailed by these commentators around the end of 2012-13, aided and abetted by Carl Icahn who wanted more than a slice of the action. As we have seen with other companies he puts his soiled fingers into, his activism often results in changes to the board of directors, with subsequent losses. Ask those who worked at TWA. Ask Xerox.
There are some analysts I follow because they are so bad in their predictability. One of these is Michale Blair whose reputation among those who comment on his articles is such that when he writes, Sell, they buy Apple shares. I have lost count of the times Toni Sacconaghi has called for the replacement of Tim Cook who has taken Apple from a solid company to the first trillion dollar company in the world, but there is no innovation. . . .
There are a number of others, including Katy Huberty who has twice talked down the iPhone, coincidentally days before the Q2 then Q3 2018 results. A comment on this quickly resulted in me being blocked by Ben Lovejoy, I guess because I was the equivalent of a pesky hornet.
In the months leading up to the end of 2017 and up to the last results in July, the common view was that the iPhones were not selling, although looking around here, it was clear that more of the iPhone X devices were on the streets than other models; and Bangkok is not a particularly large market. So when those results were announced and it was (again) shown that Apple was selling lots and lots of iPhones, especially the iPhone X, the analysts jumped for joy and there was a festival of share-buying, which pushed the price over the magic $207 into trillion dollar euphoria, where it remains ($215.46 and $1.04T on Tuesday evening).
It was no surprise to see a Tweet on Tuesday with the remarkable summary that, because Apple had sold so many iPhones already this year, it was felt that when the new iPhones are announced in the next month (or so) that fewer people will buy them as they will be hanging on to their current devices: "Remarkable how the narrative went from 'iPhone X is a dud, they're gonna cancel it' to 'it was so successful almost everyone bought it".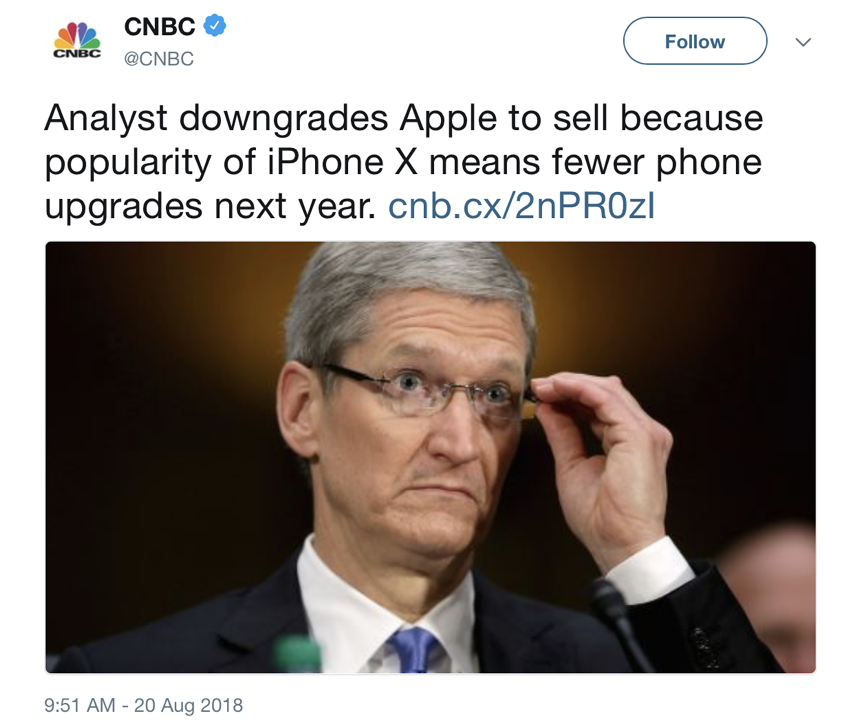 Some will go for the next iPhone, for sure. With new features that Apple always manages to spring on the buying public and the next version of iOS, I am reasonably confident that Apple will still manage to sell a few. The article that the Tweet was responding to is online and Thomas Franck, (CNBC) reports on a note from analyst Pierre Ferragu whose company has a lower target. Shorts anyone?
I think we can be confident enough that the iPhone is on its way and one report on this (carried by a number of sources) suggests that there will be two OLED models this year and that they will support the Apple Pencil (Ben Lovejoy, 9to5 Mac). If that is the case, I will unpair that from the iPad and use it with the next iPhone when it arrives here. Orders in some markets are allegedly opening on 14 September. I expect the middle of November here.
With two OLED iPhones, that supports an earlier rumour that there could be an iPhone X and an iPhone X Plus. It is also rumoured that memory will rise to 512 GB. I had better start saving, although 256 GB has been quite enough with the 2TB I now use on iCloud. Last time, however, there was no interim option. Would Apple just offer (say) 64GB and 512GB: no Goldilocks option?

A couple of incidents were reported over the weekend concerning Apple and its devices: one in Holland; and one here in Thailand (iStudio, Pinkloa). There were several reports on Monday about the temporary evacuation of the Apple Store in Amsterdam when an iPad battery overheated (Andy Boxall, Digital Trends). Staff put it in sand and it was all under control, with customers returning within an hour. Another Lithium-ion battery problem it appears. Roger Fingas (AppleInsider) reports that this is one of a number of overheating incidents that Apple Stores have seen in recent months. Part of this may be due to users replacing batteries as they are apparently cheaper. It is also important that these are properly done at an Apple authorised center, not (as many do here) at a guy in Mahboonkrong, Laksi or Fortune Town

A different type of overheating happened in the iStudio, Pinklao, when a customer tried to return an iPhone X he had bought the day before. Returns and service work differently here and the saleswoman declined to change the phone, but he was advised that he could make a claim. He was not happy about this and started shouting out loud about the service. In a video on Facebook there is a sort of evacuation as the customers begin to leave, but in the argument with salesgirl he punched her in the face. Other customers were not happy with this. I have always found the staff in there to be helpful and polite.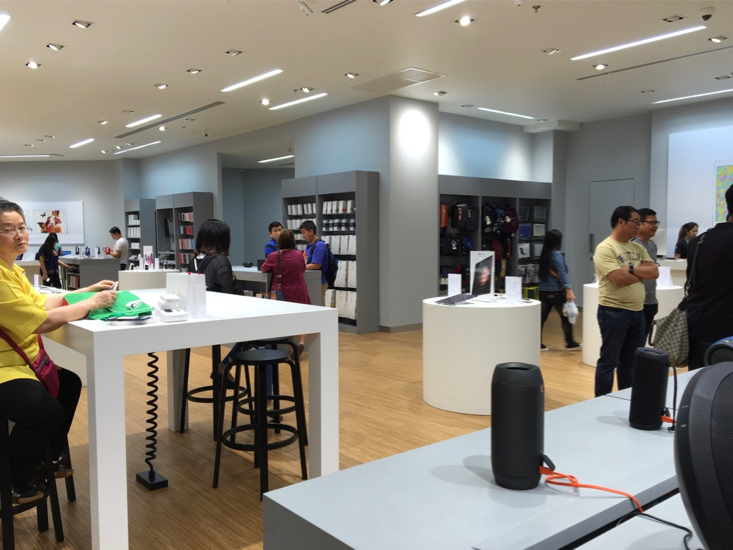 iStudio Pinklao - 2016

A couple of friends separately explained the video to me (my Thai is not good enough for this). They told me that he used polite words, but some of the male staff were not polite after he punched the lady. I think this might be a little understandable, but while the staff try to shepherd him and calm him down, the video does not show staff using any violence against him. The police were called.
The initial problem was that he could not make the iPhone X he bought the day before scan his face, so other functions would not work properly. He was stopped from going into a storeroom to change the phone himself, and that is when he went a little awry: not for the first time according to my information. As he is the son of a Justice (judge) he used this to demand action and has apparently done so in the past. It is reported that he does have mental problems, but the public comment was not at all sympathetic towards him.
I am sure that this will be circulated more and that local representatives (and Apple at Cupertino) will want to find out what the root of the problem was and why it escalated like this. Although the iStudio staff are well-trained (Com7, whose shop this, is have a massive training facility) there are occasional lapses, although the denial of service here (exchange) would be official policy. It is not clear if the staff tried to help him set it up before (or on this day), but it does not appear that cooperation is a strong point.
There is a link to the video on Facebook, but this may well disappear at some time in the future.
,

At the end of last week there were a number of reports about an Australian teen who had hacked into Apple's servers. It was actually Apple who reported the incursions and no user data was apparently affected. There are a few odd twists to this tale, however. The attack was not malicious, but done out of love for Apple and he dreamed of finding a job there (fat chance?). He exploited a number of insecurities - perhaps they should hire him - but saved all what he downloaded in a folder named hacky hack hack, which suggests a certain naivety. Ashley Carman (The Verge) reports that "He has pleaded guilty and is due next month for sentencing.

With the focus on a possible trade war with China, the USA set off another one with Turkey last week over the arrest of a US citizen. Although I would be in favour of the process of Law, Turkey does not have a great record here (Midnight Express, anyone?), particularly since Erdogan has been in charge. The USA doubled tariffs on Turkish steel and aluminum imports and Erdogan has suggested to Turkish citizens that people could switch from the iPhone to Samsung products (Ashley Carman, The Verge).
I am sure the NSA would love that or Erdogan's other suggestion, the locally made Venus smartphones which look just like the iPhone or something; and all with Android Marshmallow. Pie is version 9.0, but Marshmallow is running on 25% of Android phones. What did Erdogan say, "We have to serve better quality goods than we are importing from them".

Although it rarely happens here, it is reported that there is widespread discounting of some Apple hardware in the USA (Christine McKee, AppleInsider). Much of the article reads like a press handout from B & H, but the prices are shown and these are real enough.
This could be a sign of clearing stocks. Not that Apple will have many in the pipeline: Tim Cook saw to that with the control he exerts on the delivery chain. Retailers may be a different matter and some may have a few more than they need when it is expected that the time for new hardware should be just around the corner. We have hopes for new iMacs, the MacBook, perhaps a MacBook Pro update (doubtful); and we are ever hopeful for the MacPro and an overdue update to the Mac mini, which is discounted by B&H to $399. They start at 18,900 baht here, which is $569. When the 7% VAT is deducted that gives $532.45 - quite a significant discount.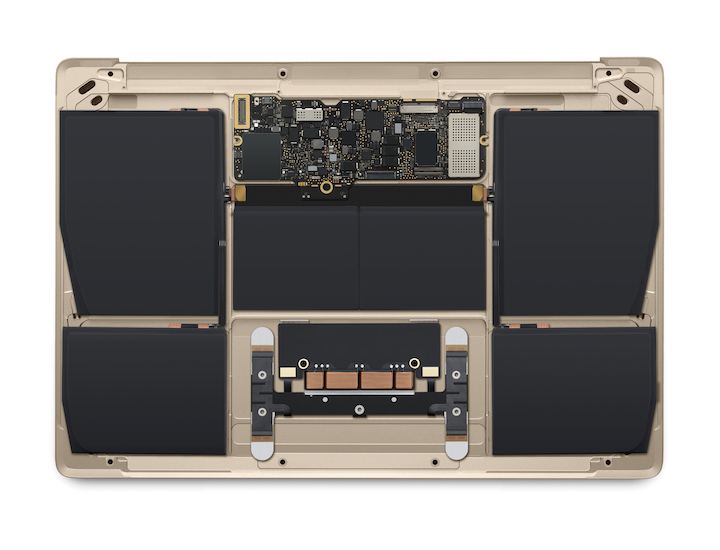 MacBook guts - image courtesy of Apple

A couple of rumors appeared at the start of this week. One concerned a new MacBook. Another (which I rather like) was that there was to be an update to the Mac mini (at last), but this was more of a push towards the high end, where currently the top end device with 2.8GHz processor, 1 TB Fusion disk and 8GB RAM comes to 37,900 baht (with VAT). In a report that also mentions a MacBook Air update, Patently Apple has a link to a Bloomberg report (Mark Gurman) although there is little technical information there: upgraded, aimed at Pro users, more expensive. Move along, nothing to see here.

One of the hopes of several people I know is that Apple will merge its platforms, although there are several possible versions of this. Would Apple use ARM chips in Macs, for example? This is one of my favourites and I wondered about this as far back as the A4 processor. As the A-series has developed its power makes its potential for a desktop (or notebook) increasingly more attractive.
There is also the idea of using an iPhone or iPad as a mini-computer: attached to a monitor, with a mouse and keyboard this is attractive for many. Although I like the idea, much of this is possible now. I often use a monitor (or overhead projector) with the VGA connector; I have Bluetooth keyboards that work with iOS devices; and I prefer a trackpad over a mouse any day. If an Apple Pencil is used, there is a natural pointing device, and there was a rumor that this feature could be coming to the next iPhones.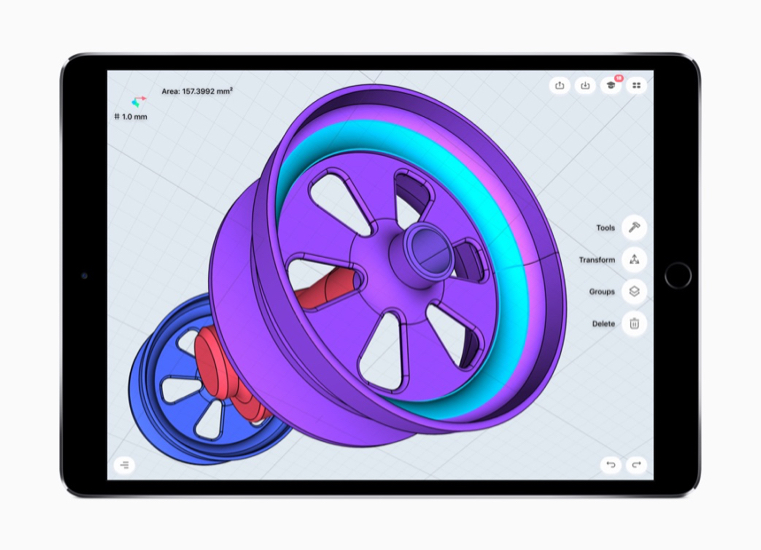 iPad Pro with A10X Processor - image courtesy of Apple

This weekend, a local user sent me a link to an item by Bradley Chambers (9to5 Mac) who takes the ideas a little further and mentions a docking device (I think Samsung already have something like this). This all moves to the one device for all idea that so many want, but I think that (currently) this is over-ambitious. The desktop/notebook and iPhone/iPad axis is here for a while. As much as I work on the iPhone when I can, when it comes to editing photos (particularly the 95MB output of my Nikon D850) the Mac is in another class.
It most certainly is possible to download the images directly to the iPhone, but it takes a bit of shuffling, and I have never tried with more than about 20-30 images. With the XQD card it is not at all easy and I have to make a deliberate decision to shoot with the SD card in use. Too much fuss, until Apple comes up with a Lightning to XQD adapter (I did submit a suggestion).
Even with the 16GB RAM on the MacBook Pro, the computer has to work hard: I can feel this with the heat and see how the battery power levels drop. So the idea of doing industrial level tasks on an iOS device seems a little ambitious right now, although there is plenty of productive work that is possible; and it is here that a hybrid system could have potential.

With the deprecation of 32-bit apps that will be occurring when Mojave is made public, there are bound to be some tears. I hear there was another beta release this week (as well as one for iOS 12). Users will be warned as the apps are opened. Some of us are going to find that apps they have been using for years will cease to work. Check in About this Mac by clicking on the black apple icon top left of the screen and then press the System Information button.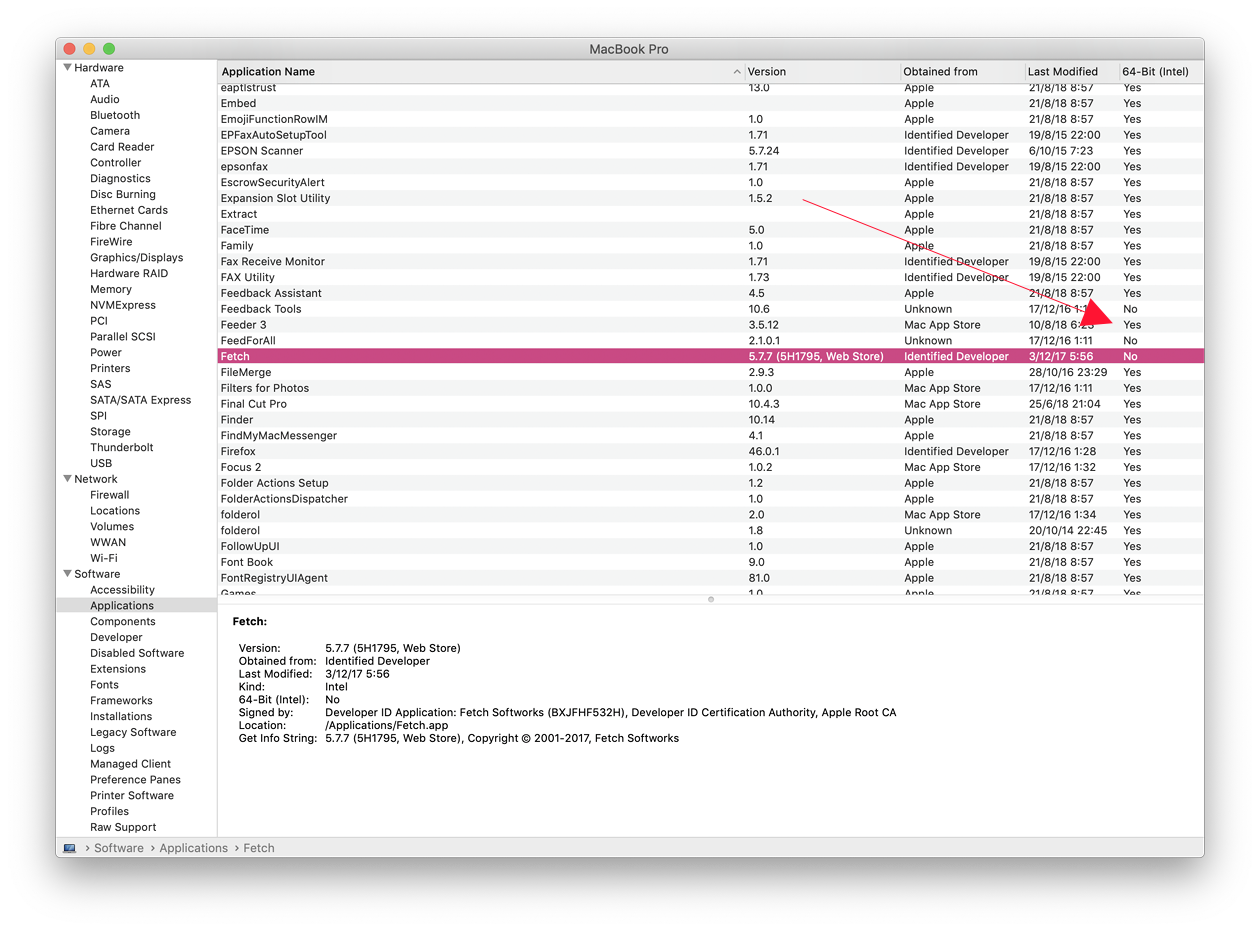 There is a lot of information there, but on the left side, a little down the column is Software. One of the sections there is marked Applications. The list has a number of columns and at far left is one market 64-bit (Intel), with each entry marked with a Yes or No.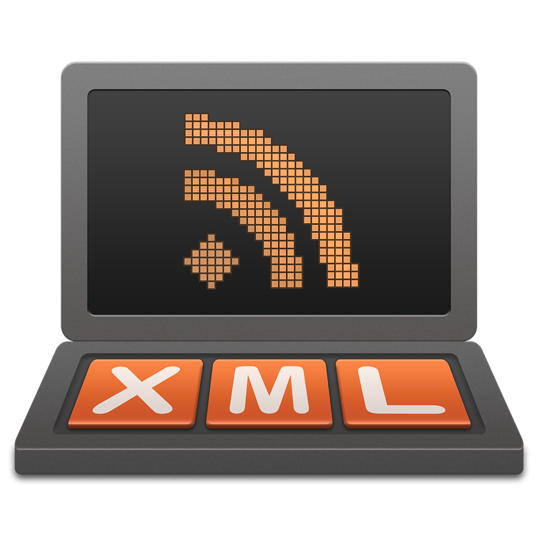 I have been replacing and deleting some apps as I go through in preparation for the change, but two of my long-time apps are going to die, with no replacements planned by the developers. Fetch, which I have been using since System 7 said they are thinking about it. Feed for All which I use to manage RSS feeds, has no plans and suggested Feeder, which is now Feeder 3. I downloaded this, which was quite expensive and made several attempts to make it work. I have this problem with all FTP apps, but eventually hit the right settings.
After several attempts using the settings I apply with like apps, including total restarts, I had a look at the Help files (RTFM) and worked through each section slowly. Earlier this week, after another 3 or 4 settings changes, I finally hit the sweet spot and the RSS feed loads. Don't delay, if there are to be changes, prepare now.

The battery on my iPhone tends to last most of the day, depending on how much I use Twitter, or how many videos I view. The failing battery is so serious for some that many carry chargers, and some malls in Bangkok provide charging machines. However, the seriousness of this means that it is now a theme in horror movies. Tasha Robinson (The Verge) has an interesting text on how this problem is now introduced creatively at critical points and outlines a number of movie scenarios where this has increased the fear levels.
Graham K. Rogers teaches at the Faculty of Engineering, Mahidol University in Thailand. He wrote in the Bangkok Post, Database supplement on IT subjects. For the last seven years of Database he wrote a column on Apple and Macs. After 3 years writing a column in the Life supplement, he is now no longer associated with the Bangkok Post. He can be followed on Twitter (@extensions_th)