eXtensions - The Wednesday File (69): Apple Notes, Accessory Sellers and Box-shifters
By Graham K. Rogers
---
Despite analysts horror stories, Apple delivered the goods last week and its valuation sailed past the $1T post first. There are no viruses for Apple, unless you are TSMC and use unpatched Windows machines. Despite some good technology available here, the glacial pace that accessories like disks, cards, card readers and certain cables appear, leaves consumers poorly served.

With Apple again reporting record figures there were a lot of red faces among those who had been reporting expected low numbers, but there you are: they are following the wrong breadcrumb trails, and have been for a long time now.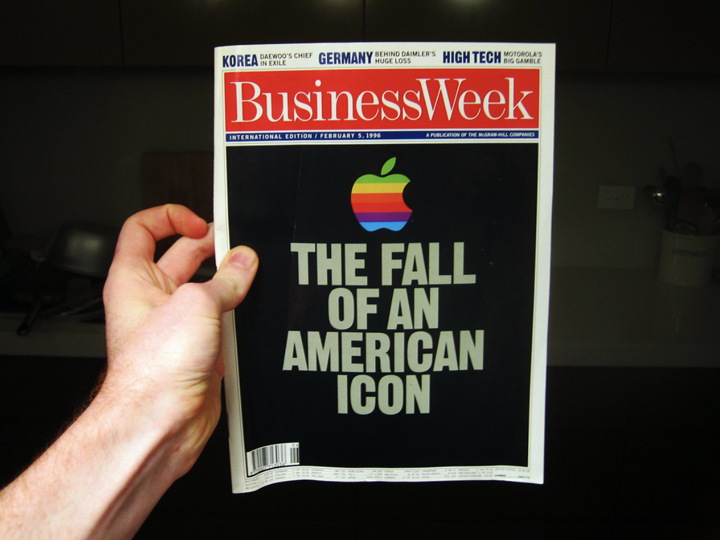 Business Week, to give it due, retweeted one of its covers from 1996, when (to be fair) Apple was in a lot of trouble after Sculley, Michael Spindler and Gil Amelio who was really there to see to the burial of Apple had done their worst. Despite the criticism he still suffers, Amelio was sharp enough to buy NeXT computer for its operating system (which we are still using) and as part of the deal, Steve Jobs came back.
The cover was a little premature, but no one really knew that in 1996, nor was the phenomenal growth that followed the iPhone expected (even after the iPhone was announced), with several industry executives, who may now regret their hasty words, all making derisory comments.
Some of the bottom feeders in certain sections of the press followed these so-called leaders and, without having handled the device, were making expert predictions which turned out to be wrong. I had handled one of the first iPhones the day after the keynote announcement in a back room of the Moscone Center and knew right away that this was going to be a game-changer, but no one listened back then.
This time, there was a surge in the share price to over $200 and Apple became the first company with a Trillion Dollar valuation. The tone of some reports suggested disappointment that Amazon was not the first past the post. Tim Cook sent a message to all employees (MacDailyNews). As I write this, the share price is just over $209 and the valuation is $1.01T. When I went to the 2007 iPhone announcement, my Apple handler was pleased that the shares he had bought when he joined the company had just passed $200. Of course, since then there has been a 7 for 1 split: $1400. Needless to say, not everyone was ecstatic and a dour note from Shira Ovide (Bloomberg) commented on the shrinking of profit margins, mainly due to increased Research & Development spending. And that's a bad thing?

A long time before the iPhone 7 was released, a rumour that the 3.5mm headphone jack was to be removed was followed by a rush of articles telling us all how this would be the end of Apple as no one would want to buy the iPhone anymore. I thought this was rather silly as all of the music on my devices is digital anyway, so converting it to analog was a bit of a waste when the Lightning connector would do nicely.
There were also a few Bluetooth headphones then, and of course when the day came, most users shrugged and listened to the music using the Lightning earpods in the box, while those who had some special analog earphones used the connector that Apple had thoughtfully provided in the box at no extra charge (about $10 - or 390 baht here - if you lost one as I did). What was also useful was the medical devices that connected via analog continued to work with the connector. What a surprise!
Now we have another shock/horror episode coming as it is rumoured that the digital to analog adapter will no longer be provided. I would guess that far fewer people need these now and they are clogging up the drains in Cupertino. Stephen Silver (AppleInsider) along with many others writes about this revelation that came in the figures from Cirrus Logic which makes lots of things for Apple and makes a tidy profit too.

A new beta of iOS 12 was released this week apparently, as well as a beta of macOS Mojave. As we come closer to the release of the updates themselves, so testing continues; and the date when iOS 12 comes out will be closely related to the arrival of the next iPhones.
Some sources think there may be delays - or not - with the reports of a virus attacking the computers at TSMC (Taiwan Semiconductor Manufacturing Co) which is a significant supplier of chips for Apple. Debby Wu and Mark Gurman (Bloomberg) report that fabrication tools were affected by a virus outbreak last Friday, but that the company says the affected computers have been restored. Full production was to start again on Monday. Other sources suggested that (even without the quick restart) sufficient supplies would have been built up to guard for such events (fire, earthquake, flooding) as organised companies should do.
The Bloomberg report suggests that the 12-inch wafer fabrication plants had been infected and that many customers had been affected, but that the impact will be limited. This will however affect the company's profits slightly. As a warning note, Ben Lovejoy (9to5 Mac) confirms that the virus was on unpatched Windows machines and that the cause was "an outbreak of the WannaCry virus." You would think that a company running such mission-critical operations might be a little more careful.

It is reported (Andrew O'Hara, AppleInsider) that ApplePay is expected to arrive in Germany later this year after Tim Cook said so at the Q3 Conference Call. I would think Cook is a reliable enough source. Not only Germany, he said, but 7/11 too as well as CVS. That is 7/11 in the USA, not the Chicken People stores that block the streets and sois in Bangkok. I would expect Apple Pay to arrive here around the time that the Home Pod makes an appearance (if at all): do not hold your breath.
There were several transcripts of the Conference Call and the first one I saw was from Jason Snell on 6 Colors, and there is a link to it here. A lot of hard work goes into transcribing something like this and it is much appreciated.
A related note on the HomePod and how good the competition is (we are told). It was reported this week (Devin Coldewey, TechCrunch), that despite the noise surrounding the Amazon Alexa, few people are actually using it for purchasing: "Hardly anyone, it seems". But I thought that was the point.

One of my constant complaints here concerns the way in which retail outlets are happy to sell devices, but apparently incapable of providing the accessories that might make them work efficiently. One thing that annoyed me was the slow take-up, by those retailer that sell Apple hardware, of HomeKit-capable devices. These have now begun to appear and a recent look at the shelves in a major outlet in central Bangkok found me a few more. HealthKit devices are only now beginning to drift in too.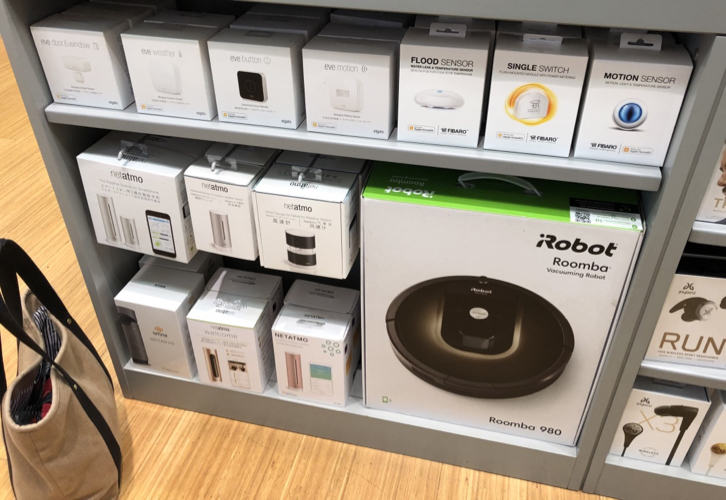 A few more HomeKit devices nowadays

When the Retina MacBook was introduced in 2015, it had a single USB-C port, which some predicted would bring on the doom of Apple. This was made even worse when in late 2016 the MacBook Pro (13" and 15") was released with four USB-C ports and nothing else except the 3.5mm headphone port: four times the doom level. I already had some Apple adapters, but much of the press went on about "dongles" rather than the computers themselves. I had several external hard disks that use the microB connector and this initially meant using a cable with a USB 2 connector at one end, and connecting via an Apple adapter. This was plainly ridiculous. The arrival of external hard disks with USB-C connectors was slow.
I hunted round and discovered that Belkin made a microB to USB-C cable which was perfect. Despite the wide availability of Belkin accessories in Bangkok, these cables were nowhere to be found and in early 2017 I ordered a couple from Amazon. Even though the MacBook had been available since July 2015 here, the MacBook Pro models arriving in November 2016 and external drives with microB ports being the most widely sold here, these cables are still not sold here. Last month I found an online entry at Lazada which had been showing Out of Stock. When I tried again on Monday, I found that they were now available: I ordered two right away to go with the pair I had ordered from Amazon back in early 2017.
I had kept one of these original cables at home and one at my office, which gave me a useable workflow, with the occasional swapping about: I still have several disks with that MicroB connector, although some of my newest ones are USB-C so that is a simple connection, and really fast.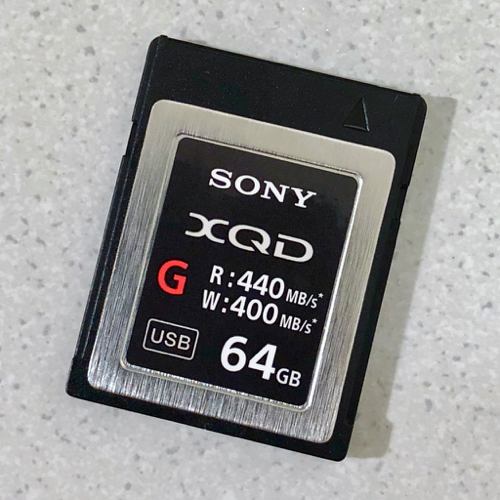 The Nikon D850 changed things, and heightened the problems with poor local support when it comes to accessories. I was slightly disappointed to see that the Nikon used the MicroB connectors. The latest Hasselblad digital cameras have been using USB-C for the last couple of years and I would have thought that would be a better step for Nikon to make. The MicroB was slightly better than the previous use of micro-USB of course.
Another change with the Nikon D850 was that the main card was the faster XQD card, with a second slot for SD. Despite selling the camera, the shop I bought it from was unable to help with the XQD card. I had a deer in headlights moment. The first such card I saw was 64GB and a touch overpriced I thought. I confirmed that by finding another a few days later (also 64GB) for about 1,000 baht ($30) less in another mall.
I had the card, so burst shots (and 4K video if I wanted - it does 8K time-lapse) would write to the card at a respectable 400MB/s, but transferring the files to the computer was not so straightforward. I have a reader for SD cards, but where are the card-readers for this new technology? I could not find these even in the Sony shop: it is their technology after all and they do sell their own cameras in Bangkok. But not the card readers.
I had two work-rounds: I could transfer files in-camera to the SD card, but this changed the date and time of the file; or I could use the microB to USB-C cable and link the camera to the Mac. This actually works well with the speeds involved and Apple Photos recognises the camera as a source, but the computer does not recognise the camera (or its card) as an external disk, which is how the SD card and reader work. That restricted my use when handling the files: once imported to Photos, I had to export from Photos to my external SSD drive for archiving. I keep only the best images on the Mac as the huge number of large files (95MB each) would soon overwhelm the disk.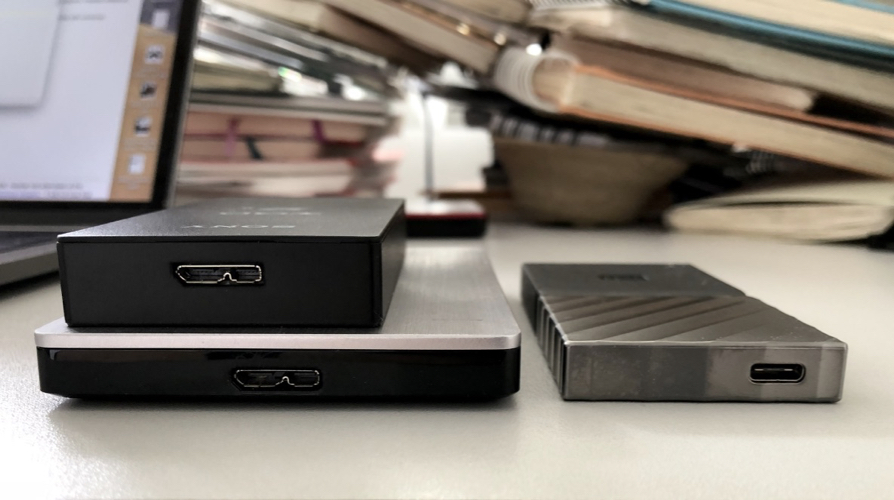 Sony XQD Card reader, Hard disk with micro-USB connector and (right) WD SSD with USB-C port

Related to this was my use of Capture One. As the trial period for this was coming to its end, I wanted to see how I could import directly into that application, and that needed a card. Capture One recognised the camera as a source for a tethered device, but I was unable to see how to import images already on the camera. A card-reader would also be useful anyway. I ordered one from B & H online and it arrived this week.
The reader is manufactured by Sony and this must be the first item I have bought from them since the Rootkit affair in 2005. Unlike the Moshi SD card reader I have, it feels quite flimsy. There are two card slots: SD and XQD at one end. At the other end is a single microB slot. In the box was a microB to USB 2 cable, which is about as useful to me as a SCSI connector. With the camera and the reader, it was time for more of these quite useful cables, which (as I say) are still unavailable here.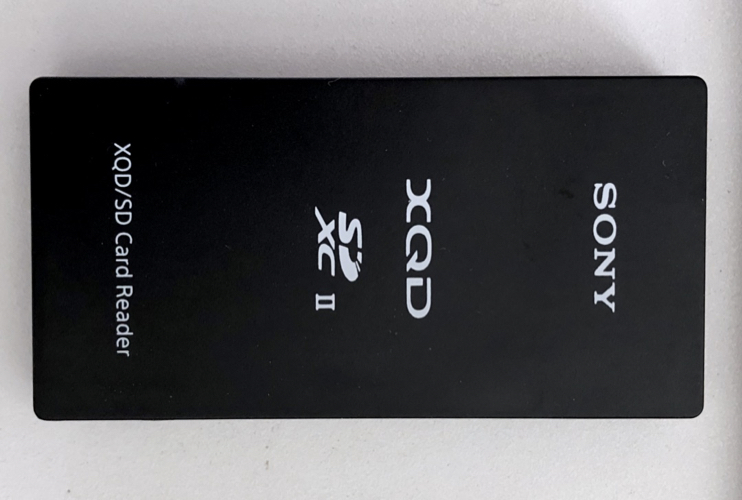 Sony XQD Card reader

But why, of why do I have to order such relatively important accessories online. I would far prefer supporting local outlets, but they must also support me. These cables, the XQD cards and the XQD card readers should be available for those who buy devices like Macs (not the only computers that use USB-C) or cameras that need such accessories. If consumers are going to buy the toys, it is not unreasonable to expect them to take photographs and connect to computers and other devices. If the shops are not going to make the infrastructure available, why bother pretending to be retailers when they are only box shifters?
Do you sell Macs with the USB-C connectors? - Yes
Do you sell hard disks with microB ports? - Yes
Do you sell cables that link the disks to the Macs? - No
I use Amazon and Apple online ordering because the service and delivery are more efficient. I have now tried B&H (the XQD card reader) and Lazada (cables) and find them as effective, although I had to set up accounts for these one-off transactions. Once this was done, everything sailed through. With Lazada all communications are in Thai and English. High street retailers are in competition worldwide and need to lose some of their complacency, although I don't think that has hit home here yet.

Last week I mentioned receiving an email with all manner of threats about me visiting a porn site and that unless I sent $1000 to a Bitcoin account videos would be sent to "all of your contacts including relatives, colleagues, and so on", then specified 6 contacts. As before, I checked and although the email sender (important@williehowell.com) is different, the source is the same site in the Ukraine. As there are no unusual videos of me, I will ignore this one too.
Graham K. Rogers teaches at the Faculty of Engineering, Mahidol University in Thailand. He wrote in the Bangkok Post, Database supplement on IT subjects. For the last seven years of Database he wrote a column on Apple and Macs. After 3 years writing a column in the Life supplement, he is now no longer associated with the Bangkok Post. He can be followed on Twitter (@extensions_th)