Sophisticated Free Music App for the iPad: AudioKit Synth One Synthesizer
By Graham K. Rogers
---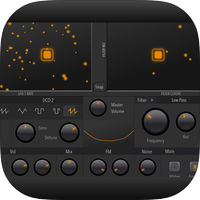 AudioKit have come out with a sophisticated sythesizer app for the iPad and as well as its usefulness as an instrument it is easy to use for amateurs like me. Best of all, there are no advertisements and it is free.

In the late 1960s music began to change with the introduction of the Moog Synthesizer. I had a copy of Switched on Bach by Wendy Carlos and there was expanded use of electronic music in the 1970s. Output came from artists like Emerson, Lake & Palmer, Tangerine Dream and others, including the little known Zygoat (Electrophon) that used ARP and RSE Synthesizers. Isao Tomita was also highly thought of with his works on classical music, for example his controversial Planet Suite (Holst). Kraftwerk, often using self-made instruments, recorded Autobahn and other works, which had an influence on several performers in the 1980s and beyond as well as hip hop and house genres.
App versions of the Moog synthesizer (Animoog) were developed (around 6 years ago) and I have these installed on the iPhone and the iPad. A search of the app store shows there are many more such apps available for purchase and download.

Earlier this week, I saw an article by Dani Deahl (The Verge) outlining a free synthesizer app, developed by Matthew Fecher: AudioKit Synth One Synthesizer. I downloaded this and, even with my non-musical background was able to produce basic output that did not assault the ears. As I experimented with the options, I found how easy it was to change output styles, particularly when I used the frequency displays.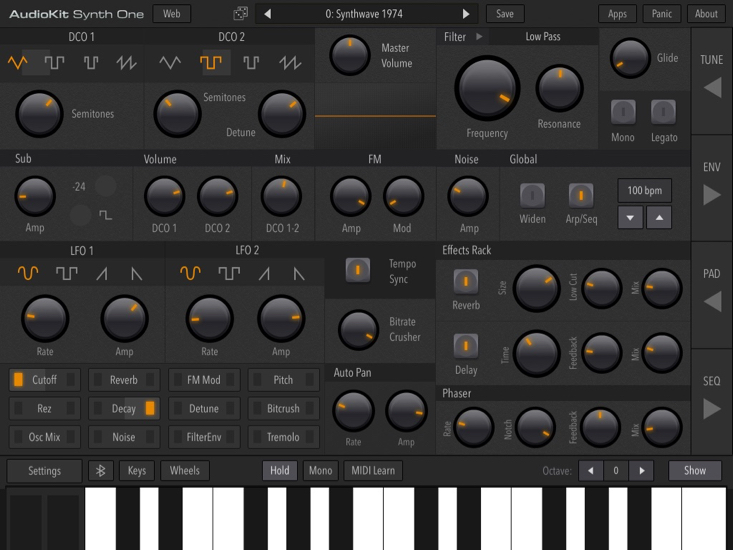 AudioKit Synth One Synthesizer

AudioKit Synth One is completely free and has no advertisements, which makes it really attractive for those who just want to play about with such creative apps. It already includes a good selection of presets and additional features are planned, including Ableton link, AUv3 plugin, and MPE Midi support. To help users, the developer website has several videos that outline the workings of this musical instrument.
Although Animoog and a number of other like apps have been developed for the iPhone, AudioKit Synth One Synthesizer is available for the iPad only and with its interfacing, I think this is right: the mix of controls would be lost on the smaller screen.
If you are a serious musician (especially on a budget) this is a great tool. If you are like me and just looking for new app experiences, this is a gift from the AudioKit developers. AudioKit Synth One Synthesizer is highly recommended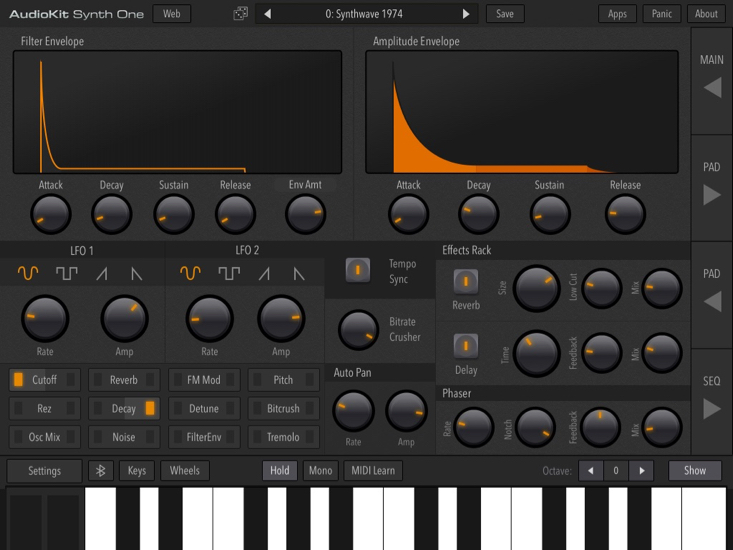 AudioKit Synth One Synthesizer
Graham K. Rogers teaches at the Faculty of Engineering, Mahidol University in Thailand. He wrote in the Bangkok Post, Database supplement on IT subjects. For the last seven years of Database he wrote a column on Apple and Macs. After 3 years writing a column in the Life supplement, he is now no longer associated with the Bangkok Post. He can be followed on Twitter (@extensions_th)