eXtensions - The Wednesday File (54): Wall Street Panics on its Own Terms; More on Nikon D850 and Output
By Graham K. Rogers
---
With Apple about to announce ots Q2 2018 figures, Wall Street is almost in panic mode in case something goes right. On the home front, I have been enjoying film photography, and trying out my new Nikon D850 DSLR: I learn something new every day.

Next week sees the Q2 2018 financial report from Apple, with this scheduled for Tuesday afternoon in California, after the markets close, in the early hours of Wednesday here. I plan to have the major points in next week's Wednesday File.
There was almost a sense of desperation in financial reports on Friday as the tenor of warning reports became more and more shrill as they appeared. The reason seemed to be one or two less than perfect reports from the supply chain, which we have learned to ignore over the last few years. However, Wall Street panics on its own terms and as the Apple Q2 2018 financial report nears so there appears to be more comfort in doom than in the positive, with Morgan Stanley reported to be "cautiously bullish." Bill Maurer points out something that I and others frequently comment on, mentioning "how the street was starting to come up with its usual negative stance". He adds something which sent ripples of fear through Wall Street last week, that Taiwan Semiconductor (TSM) was negative on its predictions and everyone nodded sagely in the direction of the iPhone.
Despite a report that appeared last week that showed Apple was ahead of the game with its profits from the iPhone, most particularly from the iPhone X, which many analysts have real problems accepting as a success: price too high, users don't want it, the next version will be even more expensive. Most comments are based on little more than hot air. As far as I have seen - and I follow this fairly closely - the writers are a bit short of facts. One analyst (mentioned by Don Reisinger) is reporting that "the iPhone X continues to perform poorly on store shelves and will reportedly be discontinued this year". Shelves: whose shelves? And I bet he doesn't have access to the order figures from online stores.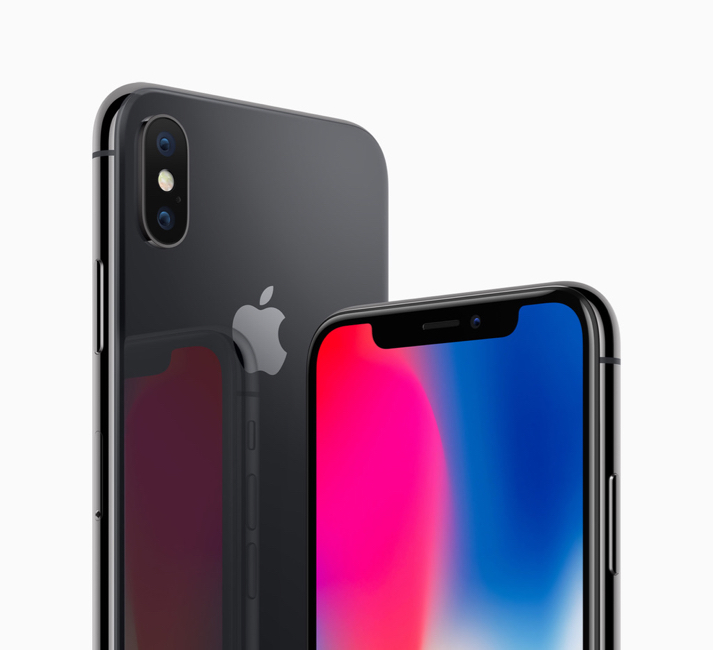 I have long felt that these commentators do not understand Apple, particularly when they fret about market share and growth, but also that many of the comments are aimed more at influencing the share price (downwards of course), so that short term profits can be made.

A clear example of this lack of understanding came from Shira Ovide on Bloomberg who opines that everyone knows Apple has problems (this is the gist) and that only Apple fails to recognise this. This drivel is compounded by "sales of new smartphones have ground to a halt globally" so let's just see what iPhone sales figures are reported next week: 40 million would not exactly be grinding to a halt; but I suspect that what she means is that old metric that Wall Street hangs on to: Growth.
It might be better to compare the warnings of the pundits against the figures that come from Apple, quarter after quarter.
Working with trends, Rohit Chhatwal predicts a decline in iPhone sales, and warns particularly about trends in operating margin. We noted last time that reports on the iPhone show still show high profitability, with the iPhone X hovering around 35% in what was only a partial quarter after its late release. Despite this, Morgan Stanley are reported to be "slightly bullish" with other sources sending mixed signals (Jason Aycock.), but trims its expectations for the iPhone: always lower for Q2. In a look forward to the Q2 2018 report, Philip Elmer-DeWitt writes, in "The handwringing on the wall", that the consensus swings one way, and then it swings back. He looks at some of the variants and sees no need for panic at all. [iPhone X image courtesy of Apple]
A note on that precise point appeared on Monday when Joe Rossignol (MacRumors) wrote that despite the news from TMC that everyone took as negative, TSMC (are they using different initials for the same company?) which makes the bionic chip for the iPhone X "may post better-than-projected revenues and profits in 2018". Does anyone remember the comment from Tim Cook about trying to make predictions on sales from supply chain rumours? Note also that this comes from DigiTimes and the cynic in me wonders if this may hasten a rise in Apple share prices after the fall late last week. Don't take my word for it, because on Tuesday evening I saw a note from D.M Martins Research with the headline, "This Dip Is Silly, I'm Buying It". The writer looks at the figures and presumes that the Q2 2018 figures will be unlikely to disappoint. What fools these mortals be.

Not long ago there were some updates to emojis with a few more included in the huge set. iPhone X users also have Animojis. I had a look at the Samsung response to this - they are shown in advertisements on Bangkok's Skytrain (BTS) - and they are laughable. Is that the best that Samsung really can do, or was that the normal knee-jerk reaction?
Last week there was a report from Cory Doctorow on Boing Boing that some 2,000 Egyptian Hieroglyphs may also appear in the future as Emojis. A revised draft for encoding in Unicode has been submitted, so now we wait. If these are approved, it was mentioned on Twitter that these could in theory be used as passwords. I don't expect the local banks will be up to speed on this sort of thing, but fingers crossed. That would make password guessing and cracking a thing of the past (ironic really).

I spent 125,000 baht last week on a new camera so I have been playing with that a fair amount, trying to find out what it will do. The short answer is, Far more than I had expected. While I was looking at time-lapse photography, which took me a while to figure out, I found that the camera not only takes 4K video, but also 8K. The more I look, the more I find, and the more I think that this was most certainly the right decision. My first three items on examining the D850 are online:
A lot of last week was taken up with film photography, however, as the 2 reels of film I had taken during the initial shoot with the Nikon were returned earlier than I expected. I scanned these last Tuesday evening, and started with the editing work. One of the reels was ISO 50, the lowest I have ever used, the other was a Rollei brand reel of ISO 400.
The quality of the ISO 50 was of course good, with its fine-grain surface, although the camera operator could have been better. The lower ISO films need more light and one or two of the shots were taken in shadows, so it may not be best for street photography; but who cares? From the roll I was really happy with 6 of the shots, but it took some work on the Mac to bring the best out of the negatives.
Taken using Ilford ISO 50 film

I was also pleased with the ISO 400 film, which is more suited to street work, although the rebranded Rollei film does tend to curl in the scanner. The Chinese-made film gave me some reasonable results.
Taken using Rollei ISO 400 film

Apart from a couple of shots out of the window, I did not use the Nikon D850 for almost a week, so last Sunday, because I was off to Bangkhun Non for a haircut, I made the effort to pack a bag with the camera and a couple of spare leses (24mm and 85mm).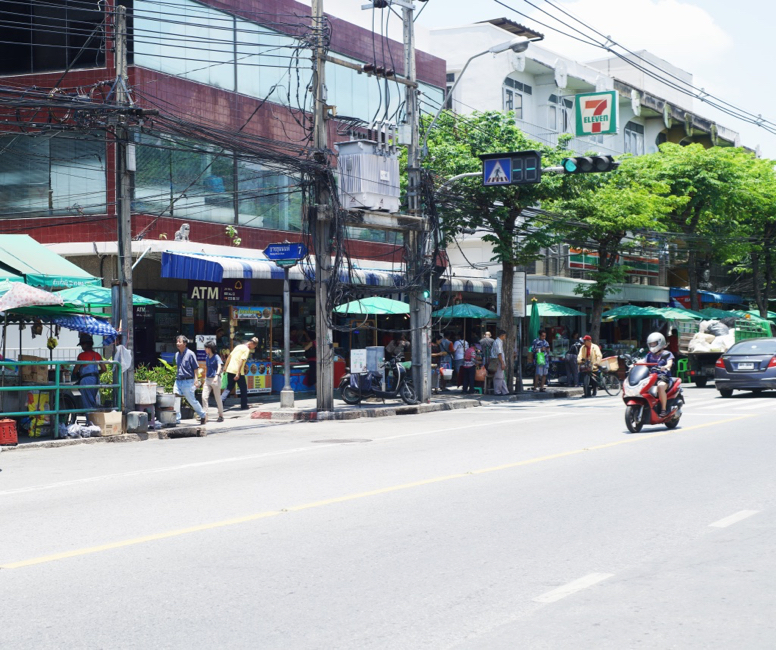 The camera already had the Nikkor 50mm lens attached and in the end that was all I used. I took a few shots in the street, walked to Charoen-Sanitwong Road and took a couple more of the under-construction, Bangkhun Non MRT station, then walked a bit more to a canal bridge for some photos of moving boats.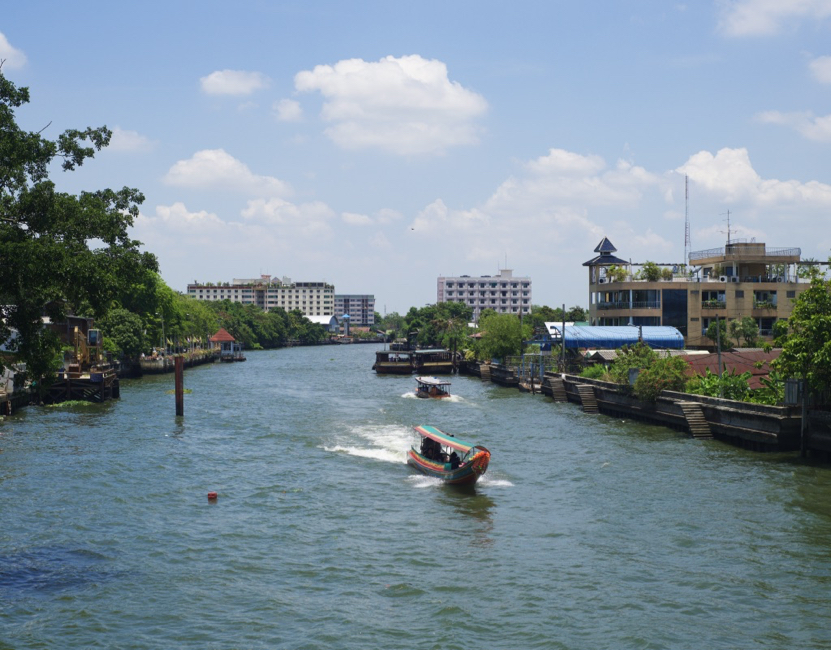 After lunch at Central Pinklao, I gave some thought the the CXQ card again. There are a couple of camera shops in this mall, although I regret the closing of Sunny Camera where I had bought several items over the years. The location now, in the lower end of Silom Road is just not convenient, and Siam Paragon has a number of camera shops that I can visit easily. Only one of those had a CXQ card last week, so I thought I would look while I was in Pinklao.
World Camera had the 64GB and 128GB versions. The price of the 64GB card was 5990 baht - a full 1,000 baht ($30) less than the card in Siam Paragon. I really wanted the 32GB Card, so I left. I walked about 50 paces and stopped. Who knows when (or, If) the 32GB card would arrive and at 1,000 baht lower there was a "Why not?" sign hanging over my head.

At home, I formatted the card in the camera: that was quick and took a couple of test photos. They appeared onscreen really quickly. With a write speed of 400MB/s (read 403MB/s) that should not really be a surprise. These speeds will be most useful if I ever use the 8K capabilities, although burst shots (photos are 95MB each) will also go well.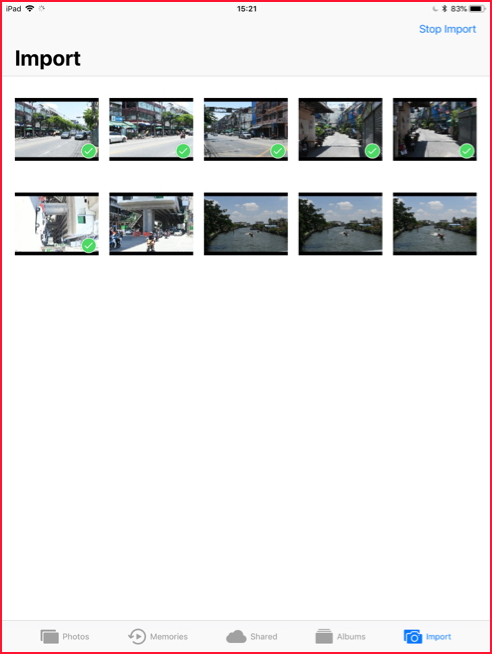 My only problem now is that I do not have a suitable card reader, so all my transfers to the Mac will have to be via the USB cable. However, there is a feature (I found this while looking around) to transfer files from the CXQ card to the SD card in-camera, so that might be a backup solution.
As I had taken the photographs before I bought the CXQ card, they were all on the SD card, but I decided to try something with the new iPad that arrived last week too. Using the Apple SD card adapter, I downloaded the 10 images I had kept to the iPad. The import would have been about 950MB (I estimate) and took about 2 minutes, which was acceptable.
Although I had them on the iPad, I was interested to see how soon they arrived on my other devices: synchronised through iCloud. The first couple of photos appeared on the iPhone within about 30 minutes. The rest took a couple of hours more. This works better if the devices are fully charged or connected to power. I could have edited on the iPad, but I wanted to use DarkRoom specifically on the iPhone, then upload output to Instagram. When I tried this, however, DarkRoom crashed after I had cropped the photos.
When it restarted the editing was done with no further problem. I have filed a bug report with the DarkRoom developers and we are working through this. I suspect that the sheer size of the files is causing some overload and that this could be easily fixed. I have edited several other D850 images with just a minor halt to restart the app.

Before I went out, I opened the Nikon Snapbridge app on the iPhone and saw that there was a Bluetooth connection: the time display on the top left of the screen changes to white on blue. As soon as this app started, the location showed location coordinates. When I took the photographs in Bangkhun Non, they all had the location embedded in the metadata, although this is not always exact and in some cases may be taken from cell phone towers rather than satellite signals. At least, if I remember to start the app, I will finally have location data in my DSLR photographs.
Graham K. Rogers teaches at the Faculty of Engineering, Mahidol University in Thailand. He wrote in the Bangkok Post, Database supplement on IT subjects. For the last seven years of Database he wrote a column on Apple and Macs. After 3 years writing a column in the Life supplement, he is now no longer associated with the Bangkok Post. He can be followed on Twitter (@extensions_th)