Tethering Nikon DSLR with the Recently Updated Sofortbild (v1.5)
By Graham K. Rogers
---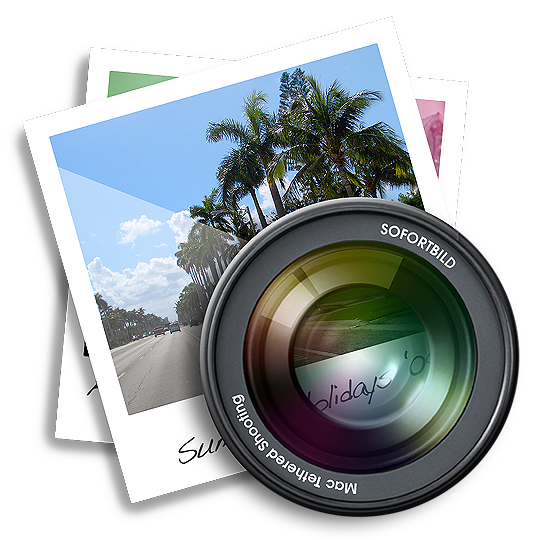 Sofortbild is a useful utility for those with Nikon DSLR cameras who wish to use the technique known as tethering: directly connecting a camera to the computer. The free app was recently updated with drivers for more recent Nikon cameras.

While most of my photography used to be SLR and DSLR, like many I am finding the improved cameras in smartphones to be of value in many day-to-day situations. That is not to say the DSLR is dead, but these days I am more likely to use it for specific tasks, such as when on vacation, or when visiting a show.
As I have a session teaching an outline to photography in a Communications class I run, the DSLR is useful so that I can demonstrate different types of lenses I use, from a 25mm lens, 50mm and 85mm for portraits, and a 70-300mm telephoto lens. If I take photographs in class and transfer the images from the SD card to the computer, the immediacy is lost.
Instead I use a photo technique known as tethering that links the camera directly to the computer (itself connected to a projector). As the photographs are taken, they appear within a few seconds on the large screen. I start with the 25mm lens and take a group of students in the room. As I change the lenses, the same group, then one individual, come closer - larger - and the use of different lens types is clear. I follow this up (if I can) by the use of an extension tube: "a spacer that goes between the lens and the camera" (Shutter Muse). This allows a subject to be magnified quite easily.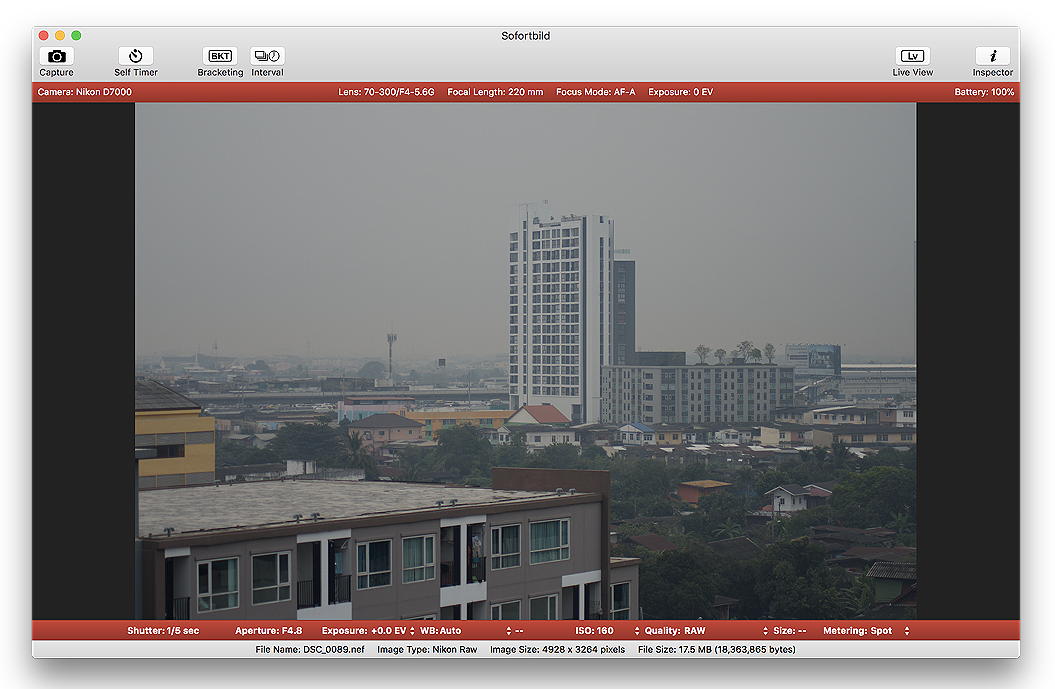 Image taken with telephoto lens in fading light conditions

The use of tethering has many applications for professional photographers, as the instant display in a studio allows the customer to view output and perhaps select a favourite image: important for couples who are about to be married, or for product photographs.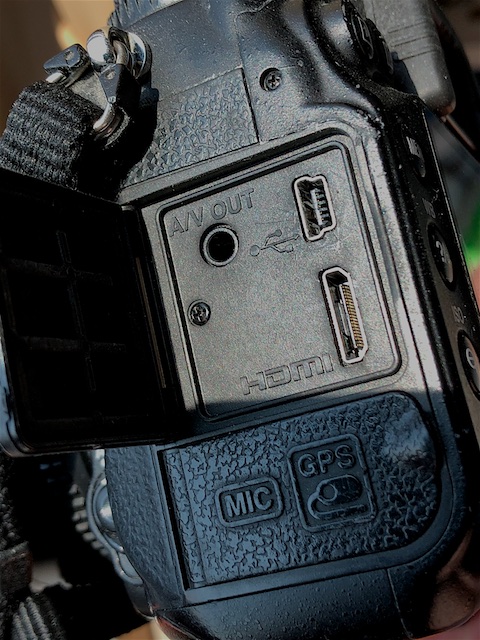 I used to tether the DSLR cameras I have using Aperture (File Menu), but this has not always worked for me. I also have the free Sofortbild software that is available through the Mac App Store. It works with Nikon cameras only. This recently had problems with updates to macOS and the camera drivers, but all has now been resolved.
A beta version was available on the website which worked perfectly for me, but the software now been updated. Version 1.5 has moved on as some of the drivers for older Nikon cameras are no longer available. This is explained on the App Store page.
With a camera connected via USB and the software running, almost as soon as a photograph is taken it is displayed on the Sofortbild panel. In the red information display (top and bottom of the screen) metadata is shown. This is most useful as the displays of most DSLR cameras are small and to keep peering through a viewfinder of older cameras is not efficient when trying to be professional.

Newer cameras have a display screen but this is still small, so the Sofortbild display of such data is welcome. With this information and the larger screen display of the image, it is easier to adjust and reposition a camera for improved (or just different) results. To increase the efficiency, an inspector allows displays of additional metadata (including Nikon and EXIF).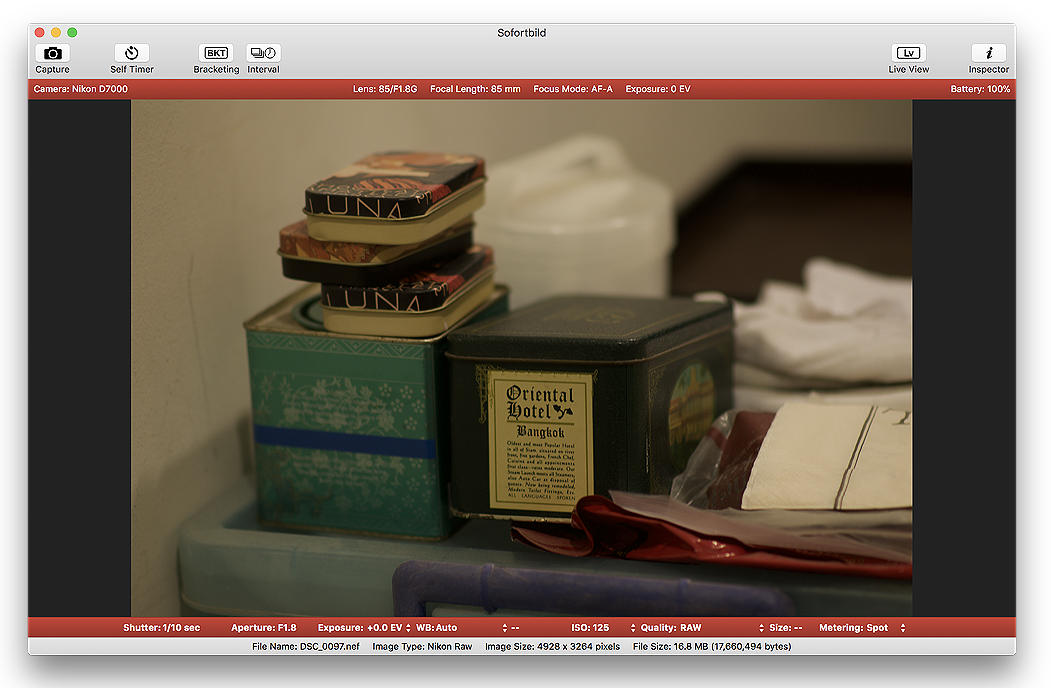 Image taken with 85mm lens inside - white balance adjustment needed

One of the most useful features is control of the camera directly from the app using the Capture button as well as other related controls (timer, interval and bracketing). What I like about Sofortbild (link to site) is the simplicity. This extends to preferences. A number of options on display colors and file saving (Aperture, Photos or Finder - it also works with Lightroom) are available all easily managed with the single preference pane: clear and concise.
Sofortbild Inspector (left) and Preferences panel
Graham K. Rogers teaches at the Faculty of Engineering, Mahidol University in Thailand. He wrote in the Bangkok Post, Database supplement on IT subjects. For the last seven years of Database he wrote a column on Apple and Macs. After 3 years writing a column in the Life supplement, he is now no longer associated with the Bangkok Post. He can be followed on Twitter (@extensions_th)