Walking the Old Mahachai Line: From Original Bangkok Terminus to Thaladphlu - A Photographic Essay
By Graham K. Rogers
---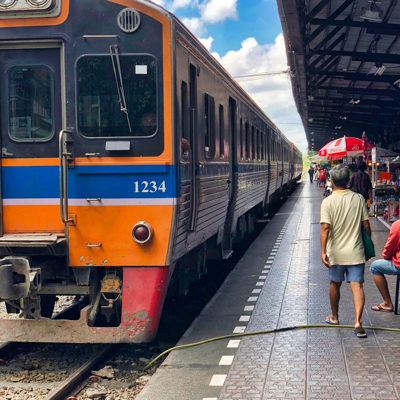 I had a walk along the old route of the Mahachai railway line from its original end point at Klongsan as far as Thaladphlu Station. First, however, I had a look at the site of the rumoured new Apple Store in Bangkok that is nearby.

The fairly busy line that runs near my home at Thaladphlu had its origins as The Tachin Railway: not as a passenger service but as a business venture to transport fresh fruit, vegetables and sea-food from Samut Sakhon (Mahachai) to Bangkok. With the poor roads at the time this line was opened (1904), the rail journey of around an hour made this a sensible decision.

My first stop was just short of Klongsan. In Charoen-Nakhon Road is a new mall under development. Icon Siam is rumored to be the location of the first real Apple Store in Thailand. Users in Thailand have been poorly served by third-party retail outlets. Although they are fairly widespread these days, not all offer the same standard of service. They are sometimes short on modern accessories (no 4K monitors, no external SSD disks) and many users I know, prefer to order online direct from Apple. Users here are quite keen to see Apple itself open a store.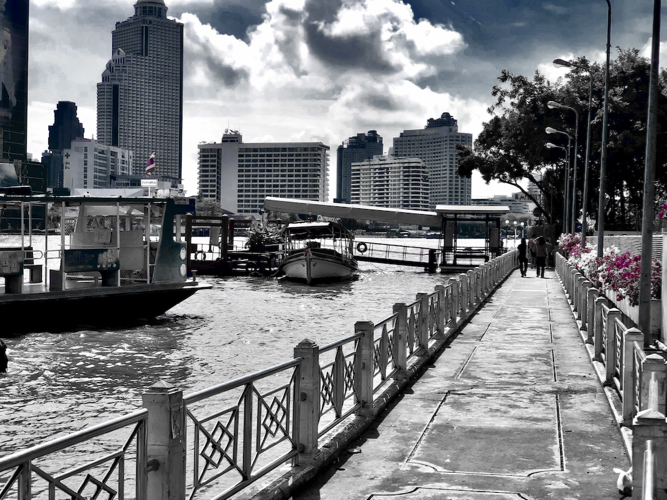 View from Klongsan Pier

That original line ran all the way to Klongsan, where there is today a market and a pier. This was closed in early 1961 (Mike Pass - PDF). Tracing back, from the market and along Charoen Rath Road is a straight line direct to where the current, single-track Wongwian Yai terminus is located.
That straight line also extends directly to Thaladphlu station. From Wongwian Yai to Thaladphlu, a road runs alongside the line. I planned a walk from Klongsan to Thaladphlu (where I live) taking photographs along the way. I took two devices: the iPhone X and a Hasselblad 520C, although the film for that will not be developed for a few days.

A short walk brought me to Klongsan Market. This was not too busy early morning. I walked to the pier where most of the traffic when I was there consisted of tourists using rented bicycles. For produce transportation, this would have made excellent sense of course as it is a short trip across the river to a fairly dense city (although Thonburi itself is heavily populated these days).

Tracing my steps through the market, I looked at the market shrine and was reminded by an old lady walking past to thank the gods to for the photographs: I made a wai.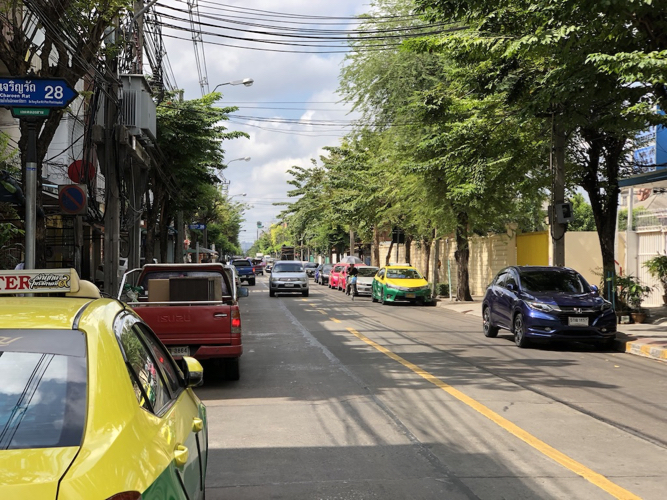 At the entrance to the market it was easy to see the straight line of Charoen Rath Road . I crossed Charoen-Nakhon Road and found the shady side to begin the walk. This is one of the rare roads in the city that still has trees on each side. Sometimes developers do not understand the value of preserving these. As I walked slowly, I looked around: often good images are found in the small things.
Towards the Wongwian Yai end of the road, it became busier and a food market lined both sides, making it impossible at times to keep to the footpath. At the end, I could see the railway on the opposite side of the road, and crossed a footbridge.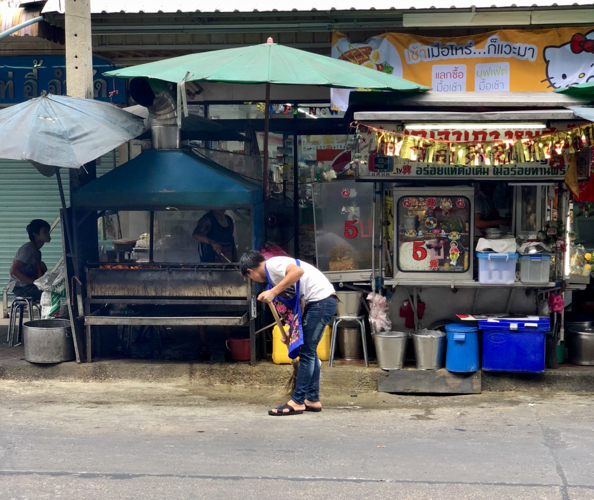 A train was in. It left as I arrived. I sat down with a cold coffee while I changed film cartridges on the Hasselblad, then struck up a conversation with a French man, Phillipe, who was using the same café. Another train arrived. Unlike others that return to Mahachai within about 15 minutes, this was scheduled to stay for an hour, to allow the staff to have lunch.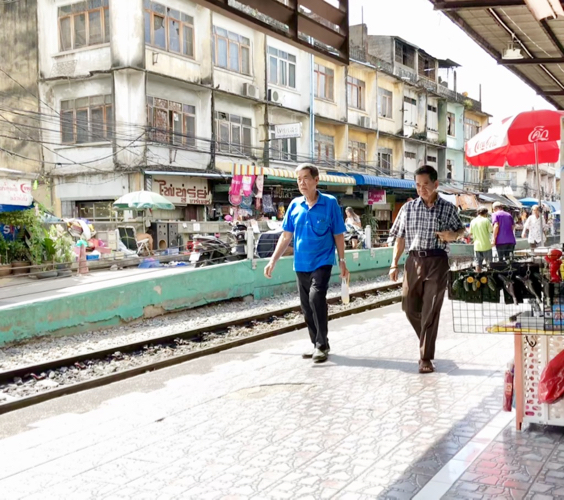 With the train at the platform, I climbed into the carriage and left the other side: Thanon Liap Thang Rotfai - Railway Road. Near the station there is a mixed bag of shops, second-hand stalls and houses.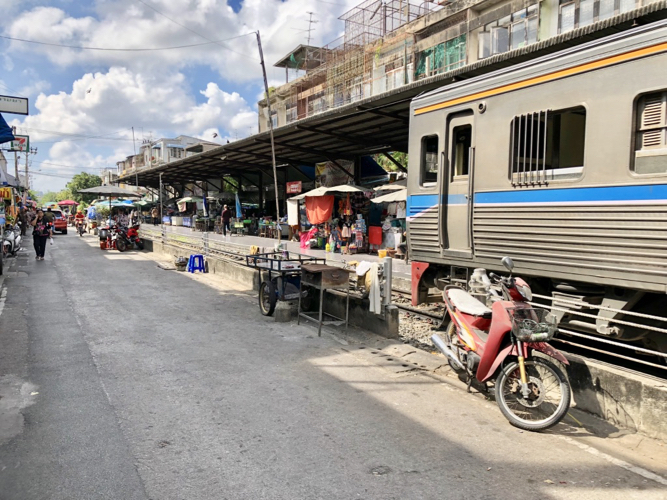 As I moved nearer to Pho Nimit, residential buildings increased with the occasional food stall: important to Thais - you can always find good noodles. Before I was half way to Thaladphlu, where I live, I saw a group of houses had been burned down. Not recent, but the destroyed group showed several homes had been destroyed.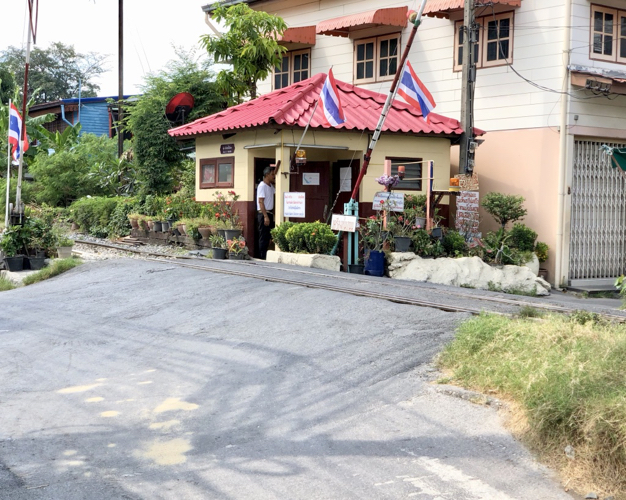 I have often taken pictures at and of Thaladphlu station, but there is always some activity there that is interesting.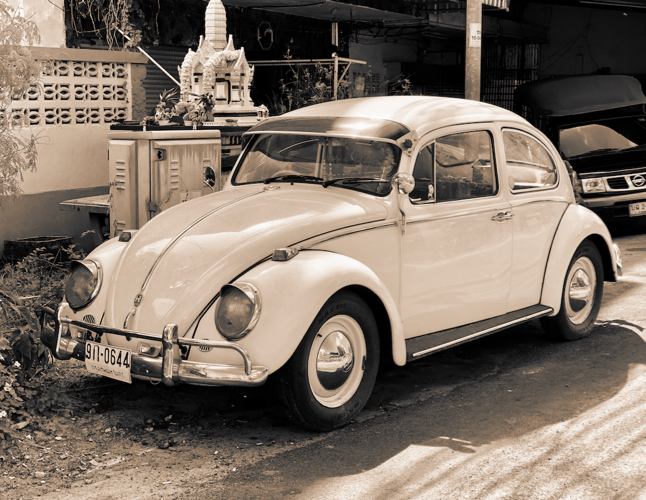 As I had already eaten lunch, instead of stopping at one of the many, excellent food stalls around Thaladphlu Station, I crossed the road and after a last look round the rail crossing, headed back to my home.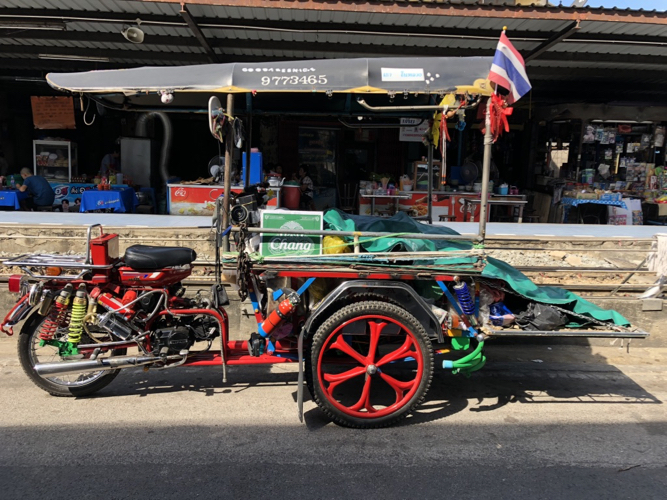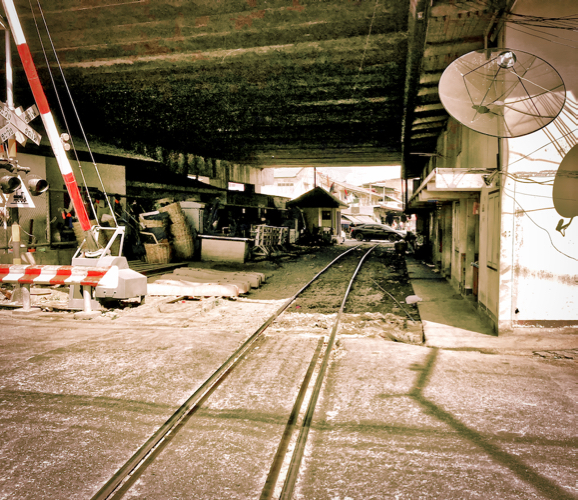 Technical Note
All images were taken using the camera on the iPhone X. Some were edited initially using the basic tools in Photos. Most were further processed in Apple Photos on the Mac. I made use of external editors (as extensions) in some cases, most notably Luminar 2018 and Tonality Pro (both from Macphun) and Polar Photo Editor. Some of the images were previously uploaded to Instagram.



Graham K. Rogers teaches at the Faculty of Engineering, Mahidol University in Thailand. He wrote in the Bangkok Post, Database supplement on IT subjects. For the last seven years of Database he wrote a column on Apple and Macs. After 3 years writing a column in the Life supplement, he is now no longer associated with the Bangkok Post. He can be followed on Twitter (@extensions_th)