eXtensions - The Wednesday File (81): End of a Long Road
By Graham K. Rogers
---
Last weekend the first Apple Store in Thailand was opened at the new IconSiam mall on the Thonburi side of the river. Needless to say, the place was packed, but I have a link to a good video. Apple of course is doomed (as it seems to be every month) with share prices falling, dragging down the Dow. Just wait. . . .
Recent News
Wall Street has been in full cry for the past few days when some downstream suppliers (Japan Display and Lumentum - the TrueDepth sensor provider) reported that they are not producing as many parts for Apple as they had anticipated. This has been extrapolated to suggest that iPhone sales will be down (we knew that already) and so Apple will fail. As a result the share price was adjusted downwards. This signals to me a move to take profits when the shares rise again, but Wall Street should be careful what it wishes for. As the Apple price went down, so other tech stocks were affected and the whole market followed with the Dow Jones Index losing over 1300 points (Friday and Monday). This was not entirely due to the Apple share price, but it did not help.

The price of Apple stock is still higher than it was six months ago at $194.17 as I write this, but lower than its high in early October of $232, when the valuation of Apple was above $1 trillion. If you look at the 2-year chart there is a steady rise from below $100 and of course the 10-year chart shows an even more impressive figure. When the iPhone was announced in 2007, the price hit $200, but since then there has been a 7 for 1 stock split, making the current price equivalent to $1400 at 2007 prices. Despite the constant sniping of Wall Street, Apple keeps rising and this week's drop should be erased shortly. As I write, it is reported that Mnuchin (Trump's Treasury Secretary) is expected to meet with Chinese Vice Premier Liu He when he visits the USA the Dow Jones Index began to creep up again. How about that?


As he did last year with the iPhone X, Ming-Chi Kuo has predicted low sales of the iPhone XR and this also put pressure on Apple shares (Mike Wuerthele, AppleInsider). It seems to me that not only has this analyst has been wrong more often than he has been right, but that these negative announcements are critically timed to push the shares down and thus allow profits to be made when the price rises again. The number of reports citing this analyst without checking his figures is disturbing: they were still appearing Tuesday night. Note, however, that Apple was the top-selling smartphone maker in China during Alibaba's "Singles Day" shopping event, outpacing Huawei and Xiaomi (Chance Miller, 9to5 Mac), so Cupertino ain't finished yet.





iPhone XR - Images courtesy of Apple


An interesting confirmation from Apple appeared in some online sources early this week, concerning the T2 processor that is in some Macs. Thinking mainly of the A-series processors in iPads and iPhones, I have long theorised that as Apple is in control of its own chip design process, it can include features that no other manufacturer could have, at least till they play catch up: remember the 64-bit iPhones?

One of the features of the T2 chip is that it checks newly installed hardware for compatibility. This may make sure that Apple-certified parts only are used, but it also guards against the repair shops that use cheap parts from unauthorised manufacturers and then charge customers the full price, only to have the repaired device fail a few weeks later. If the part is not authorised, the T2 chip will not allow it to start. Andrew O'Hara (AppleInsider) explains this and has some details of third-party repairs that did work.


With the last MotoGP race meeting of the season about to take place (16 - 18 November), the renewals for the winter off-season and for next year's racing are being sent out. This is normally quite good value, compared to the single-race Formula One meetings, although the latter are not available here because of the monopoly contract held by one Thai company. In my opinion, Dorna are far superior in the way they run the races and the coverage. They embraced internet delivery a few years ago, while F1 are only just arriving.

I do note that the renewal for my subscription has risen from around €99 to just under €120. The normal price is a little under €165 for a season. What this means now is a 4-race weekend as MotoE (electrical bikes) is added to the Moto3, Moto2 and MotoGP classes. One of the advantages for me is that for some of the races which run here in the small hours, I can sleep and view them in full the next day.



My work here is done
This is the last regular output in which I comment on tech, Apple and local connections, although I will continue with occasional output. I find that this weekly format restricts me and with the number of commentators writing about Apple-related ideas (good and bad) these days, I would prefer to focus my efforts on my own interests: Apple (of course), technology, and photography.

It is the latter that interests me more these days as I do this with a mix of cameras: film and digital. The results are also mixed. Editing, invariably on a Mac or an iPhone, enhances the output and is an important part of the process for me.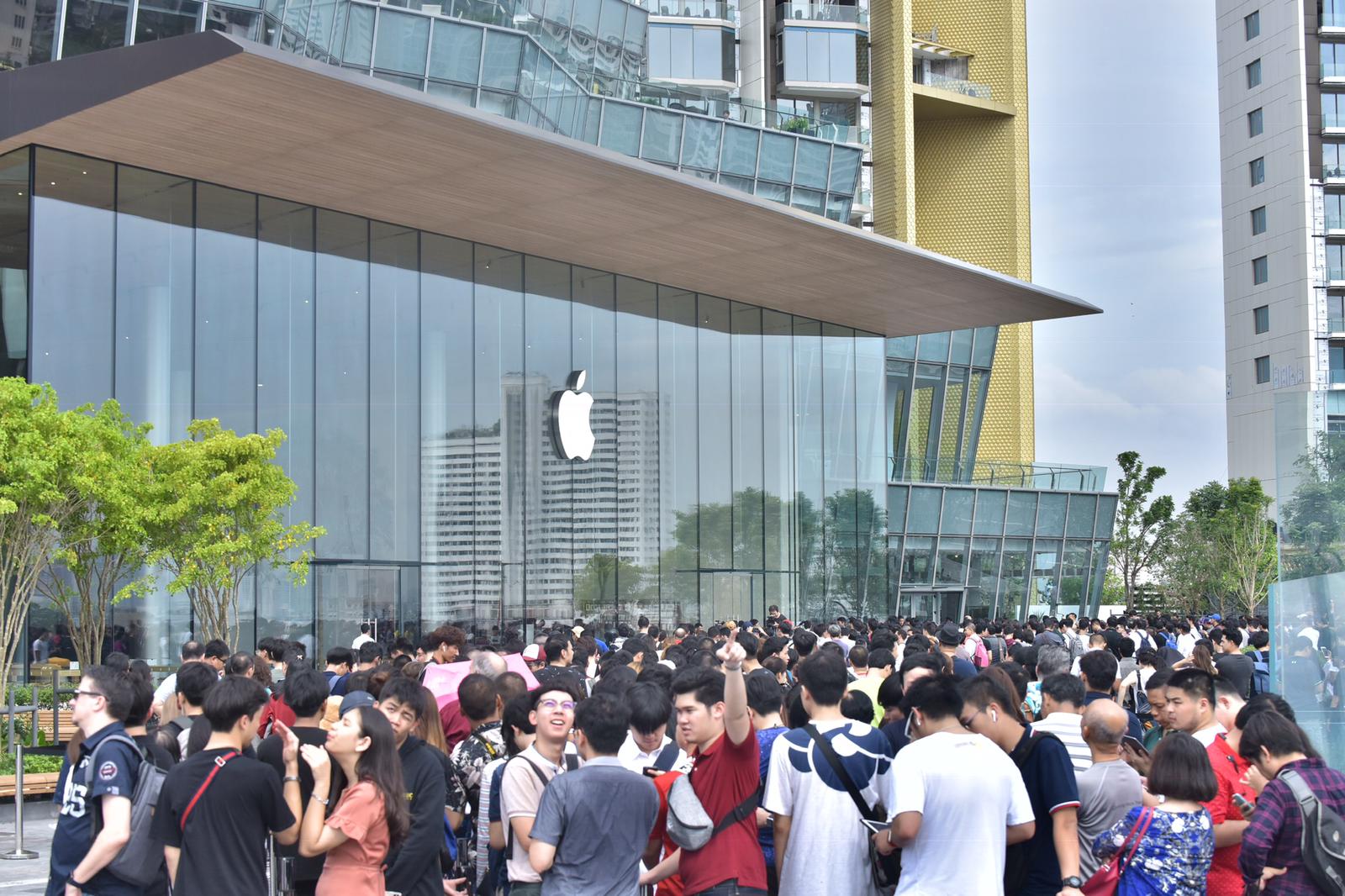 Apple at IconSiam - Image courtesy of IconSiam

Last weekend saw the opening of the first real Apple Store in Thailand which brings me full circle and it therefore seems like an appropriate moment to draw a line under what I do.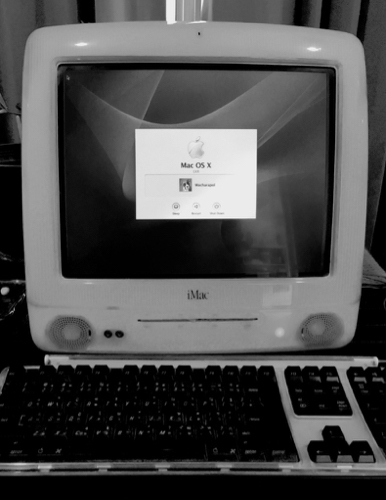 I first started writing about OS X in 2003 when few people were aware of Apple's new OS that had been bought in from NeXT Computer because Apple desperately needed a modern operating system. By coincidence, when Gil Amelio did the deal, he also brought Steve Jobs back to the company and it was not long before he took charge. After trimming the lines, the first new products were the iMacs and (soon) iBooks. At the time, these were radical designs with bright colours, sporting PowerPC processors. I bought an iMac, which was later replaced by an eMac with a G4 processor. This was (at least by the standards of that time) quite fast. The iMac (which I still have) came with two operating systems installed: System 9 and OS X.
It took me a while to try OS X and I did this on an office G4 PowerMac first. The new look took me by surprise and I quickly switched back to System 9 before I broke anything. A few days later, realising Apple was not going back to the older OS versions, I tried again and took to it like a duck to water. I began to write about OS X and was able to persuade the Bangkok Post to take the columns, although initially these were only once a fortnight. Eventually, I was offered hardware to review, although I had to collect the first device myself: a G5 PowerMac.
There were few retail outlets in Bangkok then. I remember one or two were distinctly unfriendly, but when the iStudio outlets began to appear, things began to change. As well as several in Bangkok now, the expansion in the provinces has also been encouraging.

In late 2006 I was asked if I would like to go to the 2007 MacWorld keynote at Moscone Center. There were rumours of something special and Apple made a major effort to bring people from the region. At that time, I was the only one from Thailand. The medium of Print was still important in those days. The trip was of course to see the announcement of the iPhone and, as Steve Jobs said in his presentation, Apple changed history.
While the retail operations expanded in Thailand, there was also some stagnation and I am often frustrated by the poor service and the lack of some important accessories. I do not think the new Apple store will solve that problem specifically, but training may do a lot to forge better relations with consumers. Early reports were not glowing, but this was on the opening weekend and staff looked as if they were somewhat overwhelmed in videos and photographs I saw online.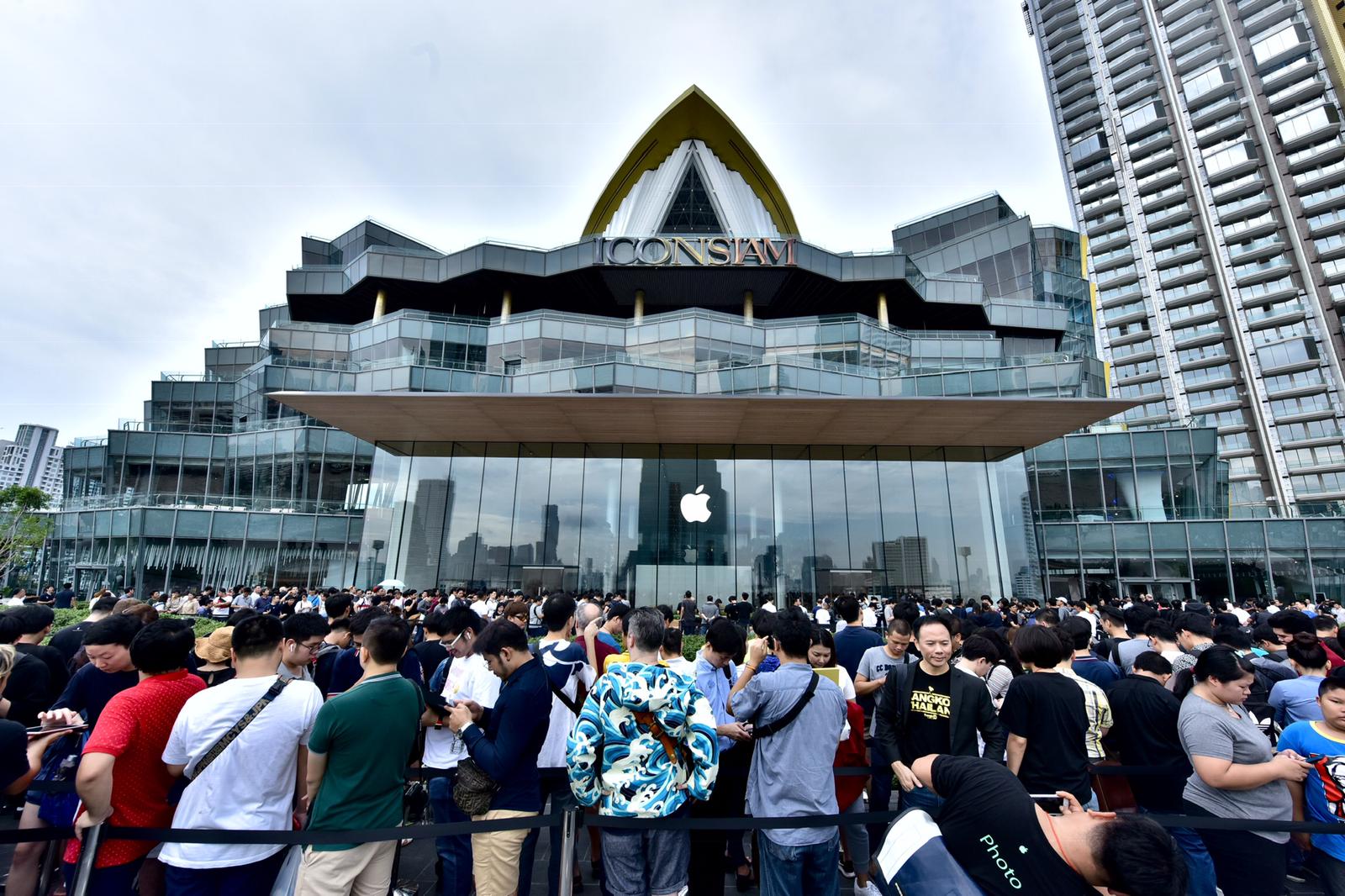 Apple at IconSiam - Image courtesy of IconSiam

I did not plan to attend the opening of IconSiam or the Apple Store because of the anticipated crowds. I will wait. My current plan is to go one morning later this week, with my film camera and take some black and white shots of the interior. I will post any good ones on the site.
I was not expecting an invitation from Apple as I no longer have a column in the Bangkok Post. With a shrinking circulation and poor online presence, they cut freelance contributions: the very thing that provides the newspaper's uniqueness. Actually, they cut me twice: first after some 20 plus years; and then calling me back about for a second run of 3 years. Late last week, I was able to watch a video of the store before it opened put together by Spin9. The video - in Thai - is here (now just under 25 minutes). Take the time to view it:

Wu, whom I met last time I went to San Francisco with Apple, and Sueching, whom I have known for a number of years, produced a tour of the new store and the video is nicely presented.
Apple Store, Union Square, San Francisco

What I took from this look round the shop was the sheer size of the place. I have been to Union Square (San Francisco) and Regent Street (London) Apple stores and these are dwarfed by what Apple has in Bangkok. Although the store was packed out for its opening weekend, once the dust settles, it is likely to be a pleasurable experience, visiting the store and even taking part in some of the events that are planned.
Apple Store, Regent Street, London

I also suggest a look at the report by Michael Steeber (9to5 Mac). He had caught my eye on Twitter by posting a link to the photographs I took a few months ago when the Apple Store was under construction. Steeber also mentions the possibility of a second Apple Store that is rumoured to be under construction at the Central World complex. As the Mall Group and Central Group are the main operators of mall complexes here, this would perhaps provide some commercial balance.
I hope that this new presence may cause the current retail system - still under the influence of the old distributor system that has existed here since before I came to Thailand - towards some introspection. Like many retail outlets, there has been much complacency in some outlets and I am not wholly convinced that consumer interests are fully considered.
Pricing of Apple products is controlled, so this is not an issue: prices should be the same in every shop and on the Apple online store. Service and accessory availability are often lacking. As regards those extras, for example disks or cables - it breaks my heart each time I order these from online sources: they should be available in the stores. I hope that there may be change, but I will not hold my breath.

As an example of synchronicity, on Wednesday morning I had a look at the App Store on my iPad and found a couple of new accessories: the USB-C to SD Card Adapter (I already have the Lightning adapter for SD cards); and a USB to 3.5mm jack. I might have found the latter useful as the inside of the jack on the MacBook Pro was defective: an easy fix at Amarin Plaza found this was dirt from my backpack.
New Apple adapters

As for the SD card adapter, there is a maybe there. My D850 uses the SD card, but mostly I store images on the XQD card and Apple doesn't have an adapter for that yet (I did ask). Although I have a card reader, it is easier just to connect camera to the USB-C port using a cable. But here's the crunch: the microB to USB-C cables I have are not available in the shops here, despite most hard disks (and other devices) still using that microB connector, and the wide availability of USB-C devices: online only. Those new USB-C adapters are available from the Apple Store online of course, but a note at the bottom of the screen also shows they can be picked up "today" at Iconsiam [sic].

When I went to MacWorld in 2007, everyone in the group I was with produced text output. On that last trip to San Francisco in June 2016, as well as Wu from DigiTimes, there were other Thai media personnel, all of whom produced video content. I am afraid I am a dinosaur and it is time to move aside.
Graham K. Rogers teaches at the Faculty of Engineering, Mahidol University in Thailand. He wrote in the Bangkok Post, Database supplement on IT subjects. For the last seven years of Database he wrote a column on Apple and Macs. After 3 years writing a column in the Life supplement, he is now no longer associated with the Bangkok Post. He can be followed on Twitter (@extensions_th)