We have heard a lot about Apple programming for its AppleTV, which lacks somewhat here: not even that Carpool Karaoke is available in this country. It was with some interest then that I saw this morning that next year Apple is to roll out a streaming television service, and that this will be available in 100 countries (Nick Statt, The Verge). I am not putting any money on Thailand being one of the hundred, especially the way monopoly controls are applied. Still, we do have Netflix. . . .



The Wednesday File
Last week orders opened in Thailand for the new iPhones. As the iPhone XR was included, this means (for once) that Thailand has these phones at the same time as the rest of the world. Some sources report, however, that these are already sold out (Juli Clover, MacRumors). It also means that with the iPhone 7 and iPhone 8 still available here, the online store is looking less diluted these days. If you did not order an iPhone XR in the first days, you may have to wait. Mikey Campbell (AppleInsider) reports that it took Apple 4 days to sell out. More will be on the way. The Thai store is currently showing 1-2 weeks for delivery.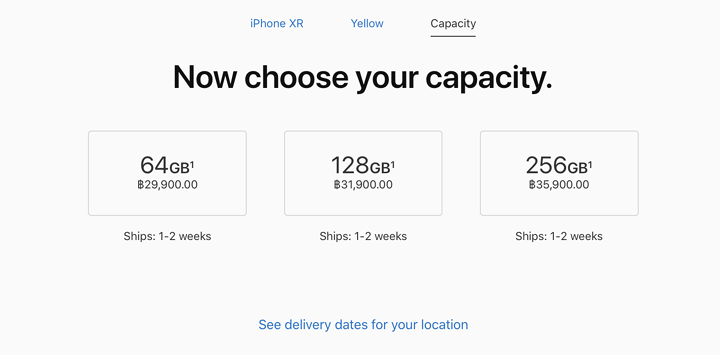 Although it is shown on the main Thai web pages, the Apple Watch 4 is not yet on sale here and there is not even a greyed out "Buy" button. The Apple Watch 3 is still selling and there are now three in my office: all owned by colleagues who enjoy sports activities. One arrived a few months ago, the second came when the price of the Watch was reduced here, while the last was mine which I sold to a secretary who is leaving and heading home to Lampang.
When I handed that Watch over this Monday, we had a brief session when I helped her set it up and explained, with the other lady who has a Watch, how the settings and apps may be fine-tuned for the user. I must admit, I am still learning things, and not just because I have the Apple Watch 4. I picked up a couple of extra ideas before I bought that for using the Apple Watch 3.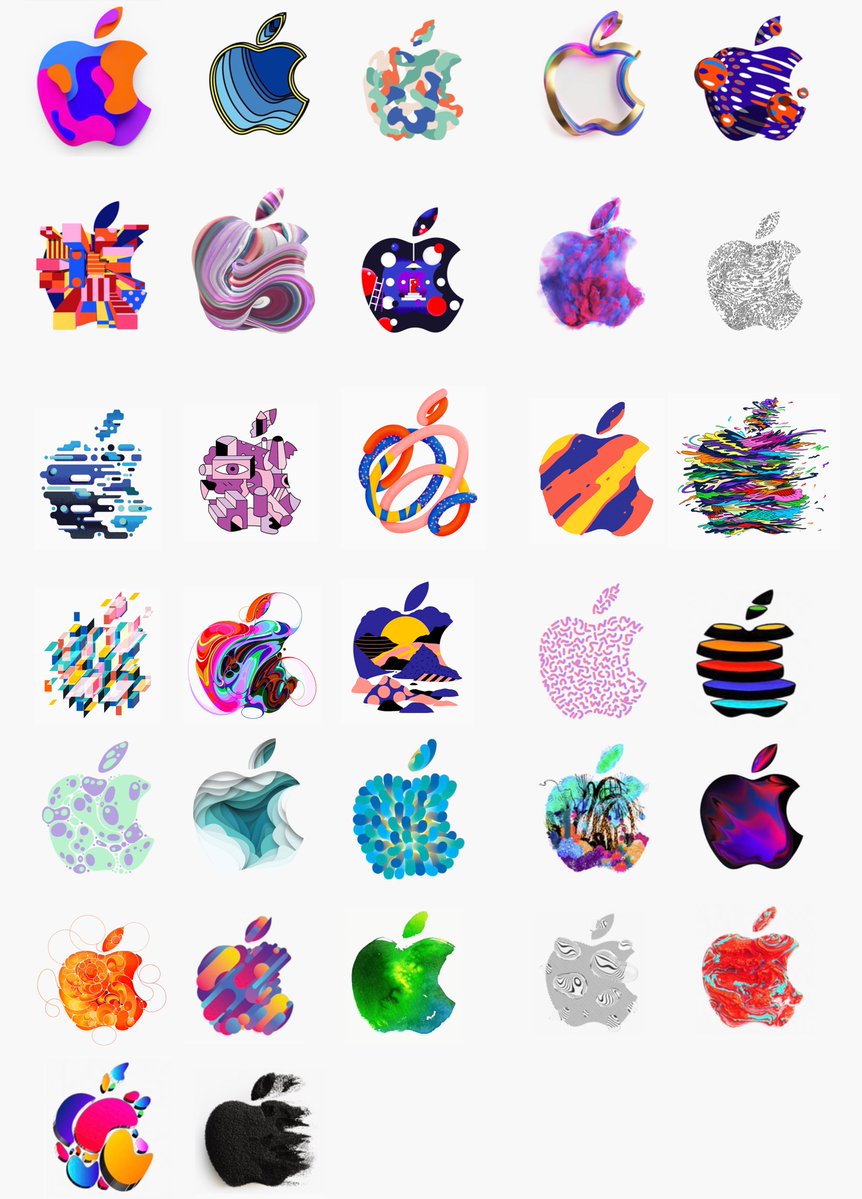 A few days ago Apple sent out a message inviting some people to the next event, on 30 October, to be held in New York, with a cryptic Apple logo. Actually, on Twitter some people looked around and the final tally was over 300 different logos: each designed in a different way. I have some of them here, from a Tweet by @alixrezax. I wonder if this is to highlight the release of Adobe Photoshop for iOS. If so, a perfect device to demonstrate this on would be a new iPad Pro and there has been some speculation about this, for example from Chance Miller (9to5 Mac) among others, particularly with the idea that Apple could switch to USB-C for this, instead of Lightning.
We must also consider the possibility that this time (maybe) will see the arrival of a new Mac mini, or new iMacs (more likely) and even something on the Mac Pro development. Notebooks are possibles for updates too. I can just add to my shopping list of things I want and can no longer afford to buy, especially having just come back from a UK trip.

Most of my time recently has been taken up with that UK trip and - apart from family commitments - a lot of photography. I used the Nikon D850 most, with a few pictures on the iPhone, and also carried my Hasselblad 500 C/M with a selection of films. I had to wait a few days for these to be developed, then spent part of last weekend scanning and editing the output.
I now put the TIFF images from the scans into Photos along with the D850 output, because Aperture no longer handles the RAW files from this Nikon (the D7000 was OK). Although Apple recommended that users switch to Adobe Lightroom when they announced that Aperture was no longer to be supported, that was a poor response. I think Aperture was the better product in several ways and it also integrated with iCloud. While I was writing my comments on the use of the Hasselblad in my UK travels, I saw an article by William Gallagher (AppleInsider) on the rise and fall - or rather inertia - of Aperture.
The Globe Inn - Rollei 400 film and Linslade Lock - PanF Plus

I have no intention of using any Adobe product as I do not like their approach; and I have always eschewed Photoshop as there are plenty of other products that have enough tools for most users needs: many use Photoshop because many use Photoshop (yeah, read it twice) and rarely use all of the tools that Adobe provides. For those who need such a suite of tools, Photoshop is the one they should go for, but many users just tinker with their shots and such an application is wasted on them. We shall see how this opinion changes when the version for iOS appears.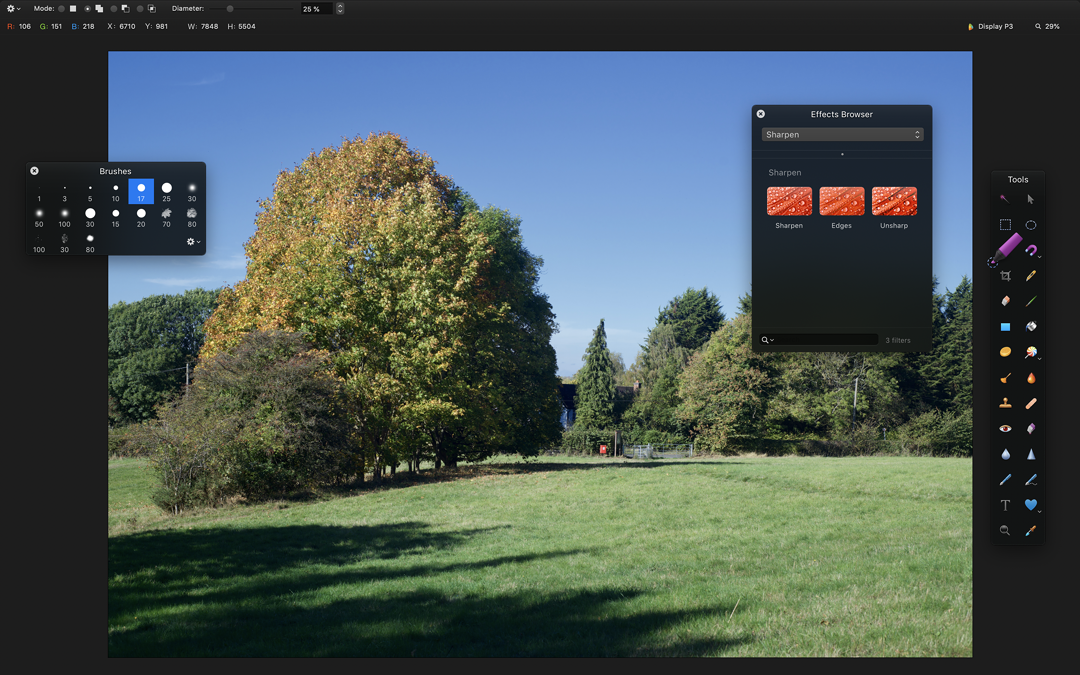 Editing Nikon D850 Photograph in Pixelmator

There are, however, a couple of graphics editors already available and at much lower prices: Affinity Photo, and Pixelmator. These also have versions for the Mac, although the Affinity product has come under some criticism for the way it fails to handle HEIC images as an extension in Photos. It is recommended that users export first, which defeats the point of an extension if a user wants to edit iPhone images. Dami Lee (The Verge) reports that these companies offering alternatives are not worried by the new Adobe approach.
One of my reasons for buying the Nikon D850 was the 45.7MP sensor it had developed for the camera (and now the Z7 mirrorless), which is manufactured by Sony. I had been impressed a couple of years ago by output from a Hasselblad H6D-50c that I took for a test run. The larger sensor (they also have a 100MP version) made a massive difference to quality, although I am also sure the lens helped.

While we are on cameras, I sent some money to a Kickstarter Project for a development of a Yashica camera with a new design: a manual look, but with digital cartridges. I have invested in Kickstarter ideas before and some work, some fail, but this one has had a number of problems. My credit card was debited as expected late last year, but for a few months I began to receive requests from PayPal Hongkong for the payment again. Not a chance and I decided to wait this one out after attempts to communicate with the team (and with Kickstarter) received no replies. Eventually, the request was withdrawn.
There were rumours that the design was being adjusted: nothing unusual there, to be frank; and eventually the cameras started to ship. Mine is on its way. However, there has been a considerable amount of criticism from those who have received their cameras as the quality leaves much to be desired. Petapixel ran an article earlier this week: Yashica's 'Unexpected' Y35 Camera is Worse Than Anyone Expected (Michael Zhang); and another with a video appeared on Monday. The video of a sometimes-angry Michael Zhang covers some of the shortcomings, but there is also speculation as to why certain changes were made and this is not based on fact. Nonetheless, I am not really looking forward to the arrival of my Yashica (according to tracking it has been in China for the last week).
Also last week it was revealed that the Kickstarter project for Meyer Optik Görlitz lenses had failed. The money is gone. There will be no such lenses (Michael Zhang, PetaPixel). And if you want to see how or why some companies go wrong, take the time to read Oliver Kmia (PetaPixel) on why Fuji thrived and Kodak dies.

I have sometimes expressed annoyance with sources such as Fortune and Bloomberg for the way they highlight negative stories about Apple and rarely anything positive: picking at threads. Recently a report appeared on Bloomberg, claiming that servers Apple and Amazon had bought contained a special phone-home chip that had been inserted when the mother board was being made in a Chinese factory. This appeared to be a refresh of a story that appeared a couple of years ago and was strongly denied by Apple. And Amazon, and GCHQ, and DHS, and several other agencies that would probably have have insider knowledge.

Apple released a letter to Congress and another PR letter with considerable information concerning the history of the allegation, but Bloomberg persisted, despite some sources showing weaknesses in the story. A few days ago, it was reported by Makena Kelly (The Verge) and several other sources, that Tim Cook has now called on Bloomberg to retract the story: a rather unusual step. This is still playing out and Bloomberg is holding firm.
One of those sources is TechDirt, who are often critical of Apple. They comment that they had held off (wisely) to see how this would play out, but having now examined many sources - commercial and government - suggest that Bloomberg is barking up the wrong tree: "at this point, Bloomberg has whittled away whatever benefit of the doubt there was left and set fire to the scraps. It's difficult to believe that Bloomberg's story was accurate, and the company and its reporters owe everyone an explanation", adding that there may be a kernel of truth in the story, but that the reporters may have "misunderstood" something.
Update: earlier today I saw a reference to an expert source who had analysed the problem. Patrick Kennedy, writing in STH (Serve the Home), looks at hardware, software, motivations, company reactions and a whole lot more in his 5-section article. Like some of the misquoted sources, he suggests that Bloomberg had an agenda and ignored many of the contradictions: cherry-picking. Read this if you are even remotely interested.

Just as I left Thailand in early October, so the MotoGP teams were arriving for the first races in Thailand at the Chang Circuit in Buriram. As I have been busy I did not have a chance to see these, but early this week, I connected to the MotoGP site on the iPhone and used AirPlay to view the races on my television. I become so involved in what I am watching that the fact it is a couple of weeks old makes no difference to me at all.
The delivery is good and the pictures sharp. The €90 that I pay is excellent value, in my opinion, and much better than the advertisement saturated delivery that the cable company gives. Along with Netflix and a couple of other channels, I am glad to have cut the chord there.
Graham K. Rogers teaches at the Faculty of Engineering, Mahidol University in Thailand. He wrote in the Bangkok Post, Database supplement on IT subjects. For the last seven years of Database he wrote a column on Apple and Macs. After 3 years writing a column in the Life supplement, he is now no longer associated with the Bangkok Post. He can be followed on Twitter (@extensions_th)