By Graham K. Rogers
---
The new iPhones are nearly here and that means updates to OS versions too. Products available in other countries are sometimes slow to arrive here and there are some annoying omissions. As the iPhone announcements near, so the shrillness of comments in Asia, supporting the home teams, increases. Not all stories turn out as we expect.
OS Updates
I wrote this weekend about the imminent announcement of the new iPhone at the new Steve Jobs Theater on 12 September. According to rumors there may be other hardware releases at the same event, with favourites being Apple Watch 4 and AppleTV. I do, however, have some related comments on the release later (see below).

Along with the updates to hardware, it was reported by several sources in the last week that extra beta releases of macOS and iOS 11 were put out. I am looking forward to some of the new features, particularly the expanded editing tools in Photos on the Mac, including Selective Color, which is one of the features that sold me on Aperture when it was first released. Aperture should still be usable with High Sierra, apparently.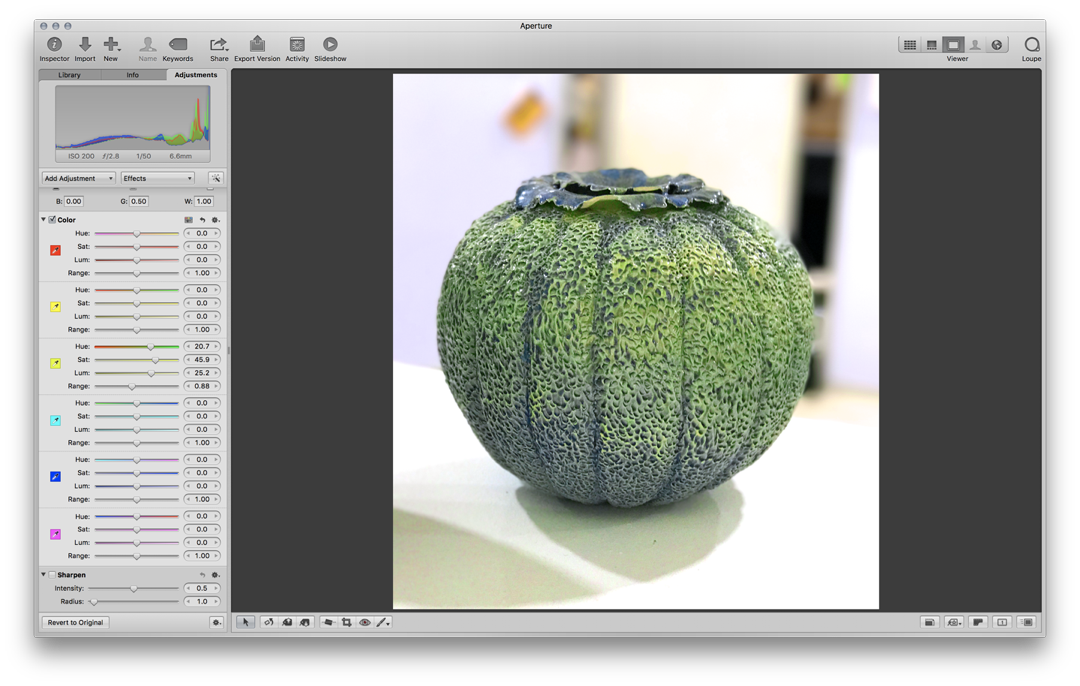 Color controls in Aperture

In iOS 11, one of the most exciting features will be Augmented Reality and the several demo apps - already seen online and at WWDC - show considerable potential. As with earlier developments (like the apps themselves) Apple has provided the tools but the app makers surprise even the gnomes of Cupertino.

There is expected to be an interim update to Windows 10 on 18 October according to information from Microsoft (Thom Holwerda, OSNews), but we also hear that Redmond is recommending that those Mac users who use Office for Mac 11 should not upgrade to High Sierra as they have not done any testing and there are likely to be conflicts (Gregg Keizer, MacWorld). He adds that later versions of Office should be updated to 15.35 or later. Support for Office 11 is expected to end soon.
Product Availability and Backups
I have not been particularly happy over the range of devices available here that are suitable for HomeKit or HealthKit use. That was one of the reasons that on my trip home recently, I made a specific point of going into the Regent Street Apple Store and buying a Philips Hue starter kit (Philips have still not replied to my email about availability here). I was outlining technology to a group of science students last week who are not the liveliest I have met. And then, using the iPhone, I gave Siri the instruction to turn on the lights at home and the display on the iPad Pro was changed. That made them sit up.





Only now are a few Elgato and Nokia (Withings) devices appearing on the shelves. Some Netatmo devices are also here, but I am unsure of the support for HomeKit, although a recent report from Roger Fingas (AppleInsider) indicates that some of the devices will be HomeKit capable soon with Firmware updates: "The Presence should gain support sometime this fall, while the Welcome's compatibility is due by the end of year. . . ." There are already a couple of HomeKit capable cameras on sale here, including one from Nokia, and these are priced at just under 8,000 baht.

Slightly related to the above and firmware updates, Natt Garun (The Verge) reports that up to half a million pacemakers need to be updated after it was found that they could be hacked to control pacing or deplete batteries. There was a warning in an early Homeland scene in which Brody used the VP's pacemaker to bring on a heart attack. Truth is stranger than fiction.


As well as the dearth of HomeKit and HealthKit devices, I was also frustrated about the lack of USB-C connectors, even though the MacBook had been in the stores for almost 2 years. With a slightly better range of devices and connectors only now appearing in Bangkok stores (including many more from Belkin), I am still at a loss to understand why the Belkin USB-C to micro-USB cable is not on sale. Many of the hard disks - particularly from Seagate and Western Digital - that are on the shelves use the micro-USB connector and so are likely to be in the hands of consumers.

I have 3 of these on my desk at home as I write, as well as 2 newer USB-C to USB-C drives (LaCie and CalDigit - both also on sale here) and a couple at work. I had to buy the Belkin cable from Amazon (I ordered two) several months ago and they have proved invaluable in reducing the reliance on adapters; or dongles (used on all platforms) as sarcastic comments have them.

Why do I have all these disks? Insurance. I had my first disaster when burglars came a-calling several years ago and one of the items lost was my delightful 12" PowerBook with all my photos on it. With no backup, I lost over 1700 images then. I have thousands now, and backups for backups. Who can predict when a disk will fail?

That particular point was brought home last week when a local user was faced with a blank screen when he was using his Time Machine disk. He was unable to recover the data and when he took the computer to a shop - which shall remain nameless - they put in the wrong username and wiped the current account (I still can't figure out how this was done), leaving the user with nothing.

I hope that, like my burglary, he will be able to retrieve some files, from cloud services, other disks and the like, but since I lost those photos, I always have at least two Time Machine disks: one at home and one at my office as offsite is safer. I currently have 3 Time Machine disks, plus three disks for the photograph backups, and another disk with a clone of the hard disk in the Mac. There is also iCloud backup for the Mac (Desktop and Documents). Paranoid? You bet.


Hasselblad is to introduce the X1D Field Kit this month. With the X1D-50c Medium Format 50MP Camera and three XCD lenses (30mm, 45mm, and 90mm), it comes in a Pelican carrying case, with two camera batteries, a shoulder and wrist strap, and USB cable. A cleaning cloth, dust blower, and lens pen are thrown in for good measure. Prices are what one might expect from Hasselblad: retailing at €14,900, US$17,495 or £13,250 (without taxes/VAT) it is available for order now and will begin shipping on 20 September. The X1D would be one of my top choices if I had the money. . . .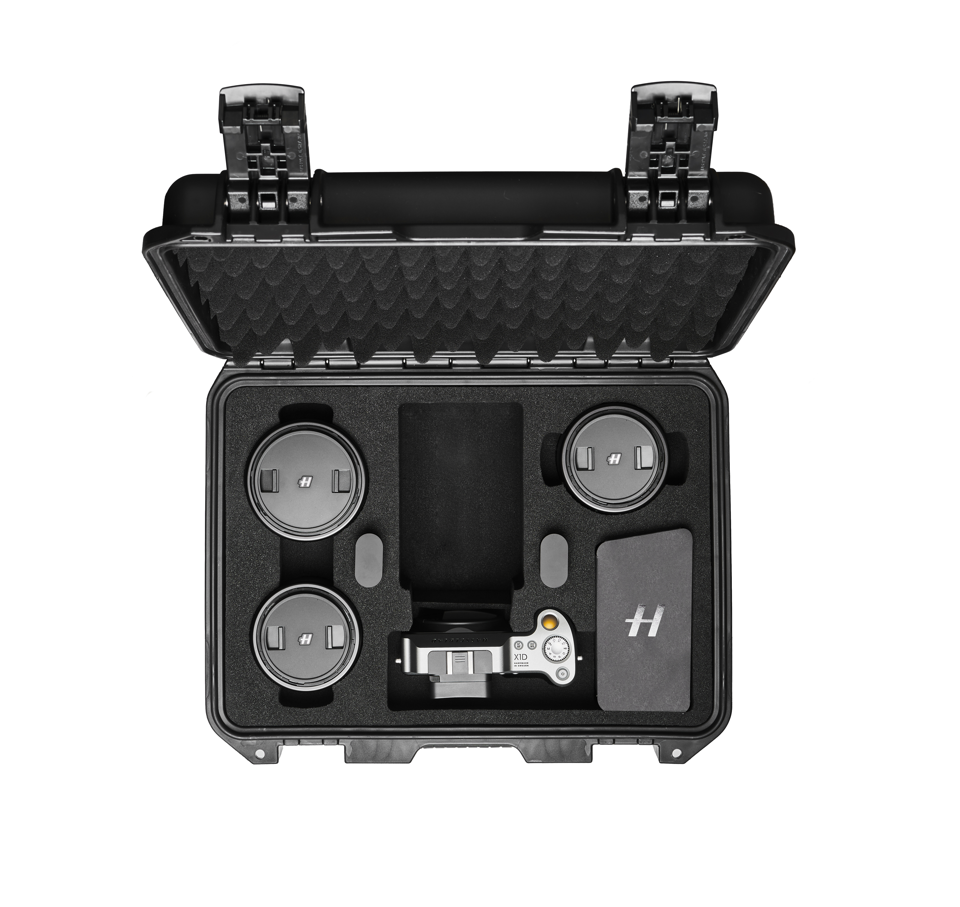 Hasselblad X1D Field Kit - Image Courtesy of Hasselblad
The other phones
As much as there is excitement in the tech press about the iPhone (and in my local shop, who ask me often what it will be like), others are determined to upstage Apple, such as Xiaomi who - trying to be like Samsung - are hosting an event for their next smartphone, the day before Apple's announcements are planned (Jon Russell, TechCrunch), unfortunately, despite useful comment on Xiaomi and its products, (as he often does) Russell clones what others repeat about Apple with "the past few tick-tock iterations to boost its brand and shore up falling sales in China." Look at specifications before falling into that trap. "Shore up the brand?" Take a look at the quarterly figures.

For months we have been reading of the expected delays in the iPhone release, so the 12 September event which is on the same schedule as previous years, puts those negative reports in some shade. Reports earlier from sources cited as "usually reliable" also had the supply chain slipping, which obviously meant that Apple was slipping too. The real story is a little different. For example, Patently Apple reports on two such suppliers who apparently have strong revenue growth.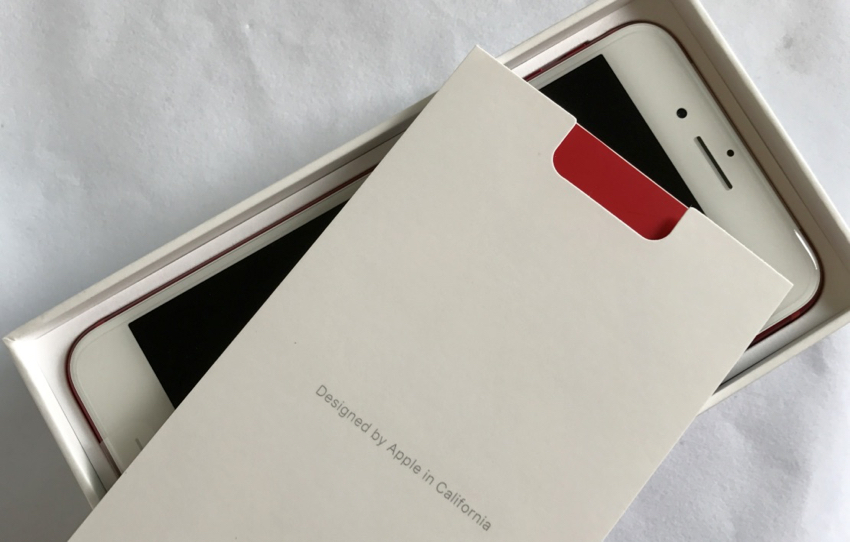 It has also been reported that Huawei is to release a couple of phones the week after Apple's event (Ian Cutress, AnandTech): the Huawei Mate 10 and Mate 10 Pro will be launched on October 16 at an event in Germany. Also shown will be the Kirin 970 SoC and a new minimal-bezel display.
The best take on the "anything but Apple" meme comes from Jack Purcher at Patently Apple who looks at how the Asian press is dealing with Apple's next products, whatever they are, or whatever they are called: "accept that the smartphone circus has rolled into town now that they know that the king of premium smartphones will debut on September 12. "
They are still suggesting that the iPhone X (the apparent 10-year iPhone) will be late; not that any date has been given for this product that may not actually exist. One of the reports cited here takes the same shipping information as above and turns it into a negative, but that is the South Korean press for you: a bastion of honesty. Where is the CEO of Samsung right now?

On the other hand, Daniel Eran Dilger (AppleInsider) reports that Deutsche Bank is dropping support for Blackberry and under its Bring Your Own Device policy will support iPhones. This was apparently after "Some clients had made fun of the bank for still using BlackBerrys".
This follows the news that the NYPD would switch to iPhones from its massive deployment of 36,000 Nokia Lumia phones with Windows 8.1 installed. Tristan Greene (TheNextWeb) was critical of how the decision to use the Nokia phones was made: brand loyalty and not Samsung or Apple, writing that these are the "two things the NYPD shouldn't be basing its decisions on".
A Twist in the Tale
It is not always good to rush to assumptions. I made a note at the weekend that commentators often compare Apple with Samsung, particularly with regard to technical features, although their respective track records makes this unwise. Take the fingerprints - or TouchID as Apple calls it - the Samsung version that came out first was not as strong as Apple's and certainly did not have the secure enclave. That is part of the chip design that Apple controls and only contains mathematical data. There was also that little inconvenience of phones afire last year: actually hardly mentioned by many writers, although one or two iPhones that overheated received great publicity.

This year, according to rumours, the new iPhone will have face-recognition and, what a surprise, the already-released Galaxy Note 8 has face recognition too. Only the rush to be first again, did not seem to be working out as on Twitter, Mel Tajon shows a video of the Samsung device unlocking with just a photo. He writes, that he was " able to unlock the Samsung Galaxy Note 8 with people's Facebook profile pics and Instagram selfies from my iPhone." The link to the Tweet reveals a number of related comments that are worth reading.

However, it may be in demo mode as one comment mentions that the Galaxy S8+ does not open if a picture is used. If the Samsung was in demo mode, this is not a proper test as it is designed to open with any image and Samsung is being unfairly ridiculed.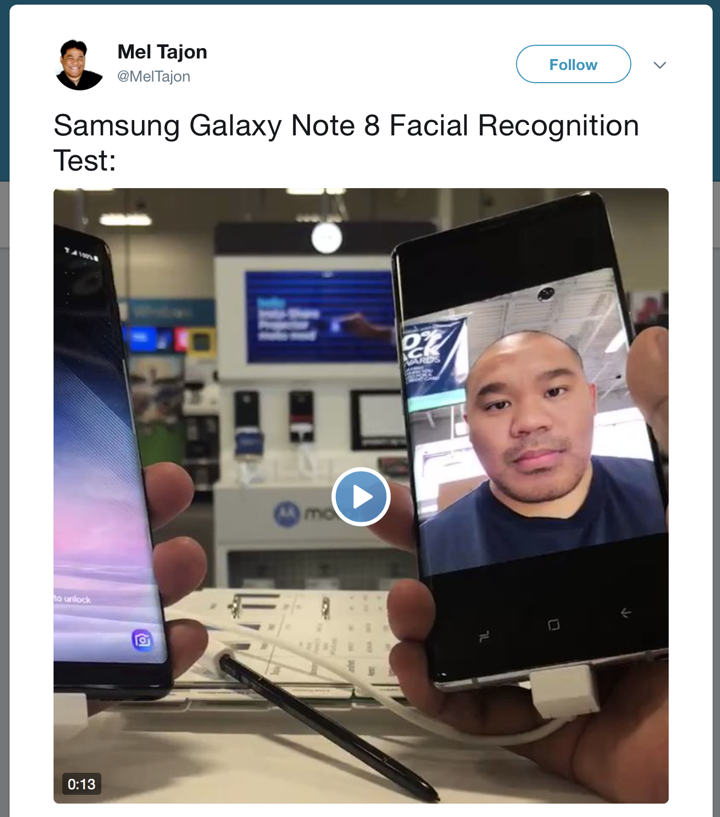 Endnotes
After several really successful events in the last 10 years, Apple has decided to cancel its annual music festival held in the Roundhouse, Camden Town, London. Tom Warren (The Verge) suggests that "Apple might be focusing on single events instead."


There are adjustments made to what is available in online stores all the time and recently Apple removed several apps from the stores in China, while making some apps unavailable to users in Iran (there is no store there of course). This week, Super Mario has disappeared, although this may be a dispute about in-app purchasing; while in another difference of opinions, a favorite YouTube replacement, ProTube, which put YouTube's own app to shame, has been removed.

The developer, Jonas Gessner, removed this after much pressure from Google. Rather than cripple versions already delivered to paying customers with an update which would remove features (as Google wants), he withdrew the app.



Graham K. Rogers teaches at the Faculty of Engineering, Mahidol University in Thailand. He wrote in the Bangkok Post, Database supplement on IT subjects. For the last seven years of Database he wrote a column on Apple and Macs. After 3 years writing a column in the Life supplement, he is now no longer associated with the Bangkok Post. He can be followed on Twitter (@extensions_th)