By Graham K. Rogers
---

Apple just released its Q3 2017 figures and put out a Press Release. Early comments are that Apple "beat the street". One would think that Wall Street would have taken the point by now. The main points of the results are:
The Company posted quarterly revenue of $45.4 billion and quarterly earnings per diluted share of $1.67. These results compare to revenue of $42.4 billion and earnings per diluted share of $1.42 in the year-ago quarter. International sales accounted for 61 percent of the quarter's revenue.

With revenue up 7 percent year-over-year, we're happy to report our third consecutive quarter of accelerating growth and an all-time quarterly record for Services revenue," said Tim Cook, Apple's CEO. "We hosted an incredibly successful Worldwide Developers Conference in June, and we're very excited about the advances in iOS, macOS, watchOS and tvOS coming this fall."

"We reported unit and revenue growth in all our product categories in the June quarter, driving 17 percent growth in earnings per share," said Luca Maestri, Apple's CFO. "We also returned $11.7 billion to investors during the quarter, bringing cumulative capital returns under our program to almost $223 billion."

I am on vacation in the U.K. right now in a rural area where there is no wifi and 3G is intermittent. Out and about I have a car which allows me to enjoy CarPlay, GPS and navigation. I have even managed to make Siri work for me. I am using part of the vacation to look at older railway technology and I have a great deal of respect for what was done; and what is still being done for preserving these older systems.
When I first lived in Leighton Buzzard in the 1970s, the narrow gauge railway had not long before been taken over by a group of enthusiasts, dedicated to saving the line. In those days with a couple of small diesel locomotives and open carriages, a trip could be unpredictable.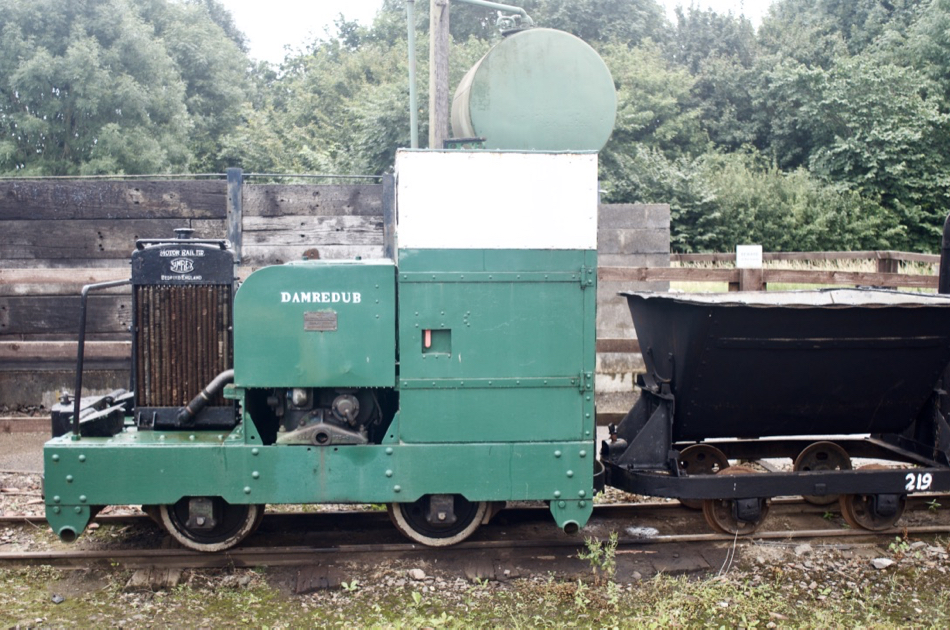 Like a great many railway ventures (Bluebell, Ffestiniog, GWR) which have taken over abandoned lines, this is now flourishing. A brief history has been produced by the Leighton-Buzzard Railway, written by Cliff Thomas which has some useful information, and there is a website, so I am not about nto reinvent the wheel. My ideas look at some of the development and its value to the community.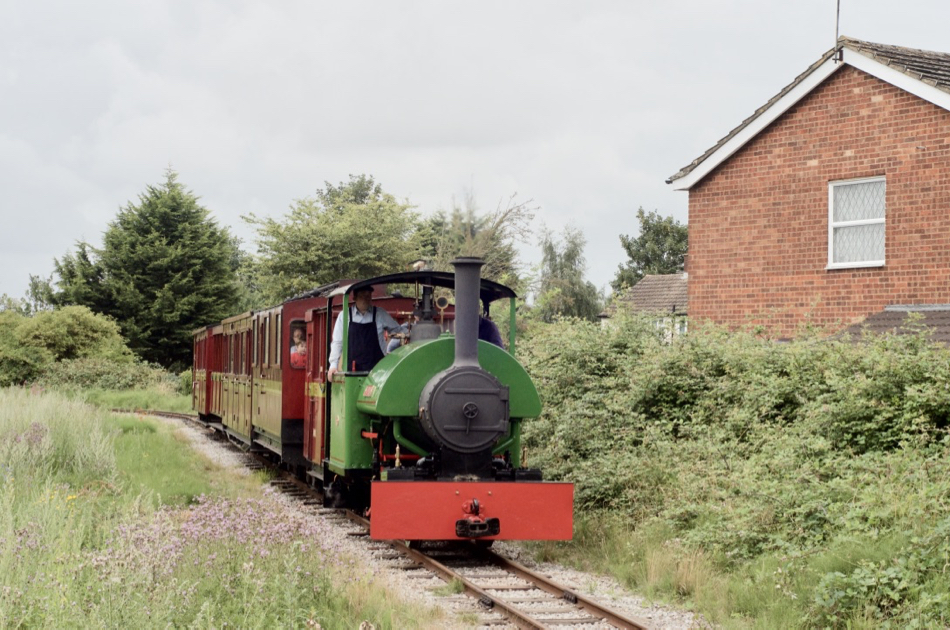 There are now several steam locomotives running on the line, which makes it more attractive to to enthusiasts as well as visitors. There is a nerdy factor there, but many appreciate the engineering and design that has gone into such machinery. Looking at a video of the Royal Scot last week, as well as train engines at Didcot, it is clear (for example) that there are several solutions for linking pistons to driving wheels. Who thinks this stuff up?
A railway integrates several types of engineering (just as we may see with computer use: electrical, software, materials, design). The lines at Leighton Buzzard were constructed from necessity. just after World War 1 when there was an expansion of building and previously-imported sand was no longer available. Leighton Buzzard is built on sand: some of the highest quality.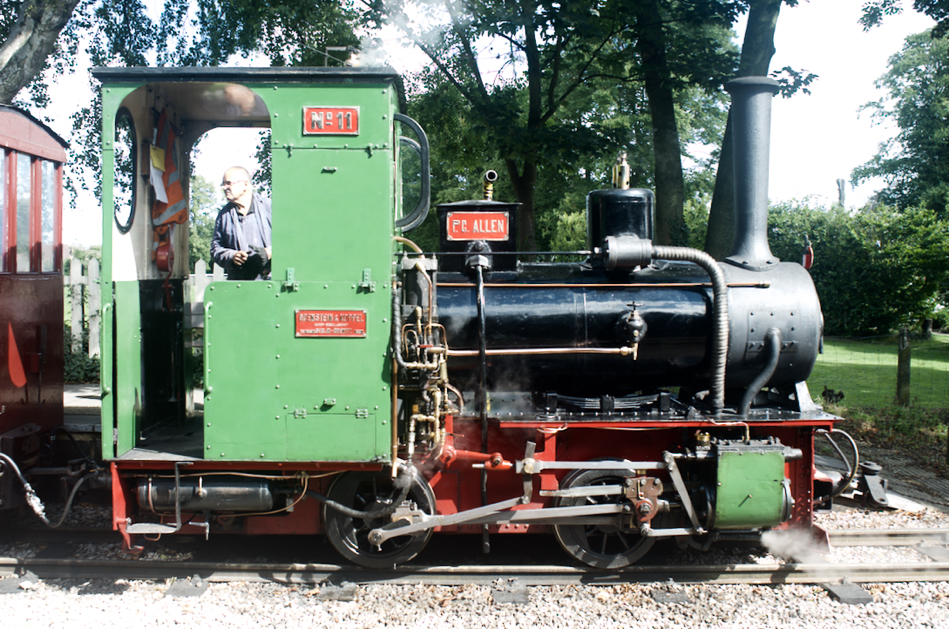 To make the sand available at a time when road transport was immature, a narrow gauge (2' 0" - 600mm) line was constructed linking various pits to the main railway lines. Although the Grand Union Canal runs nearby, the line was not linked to that.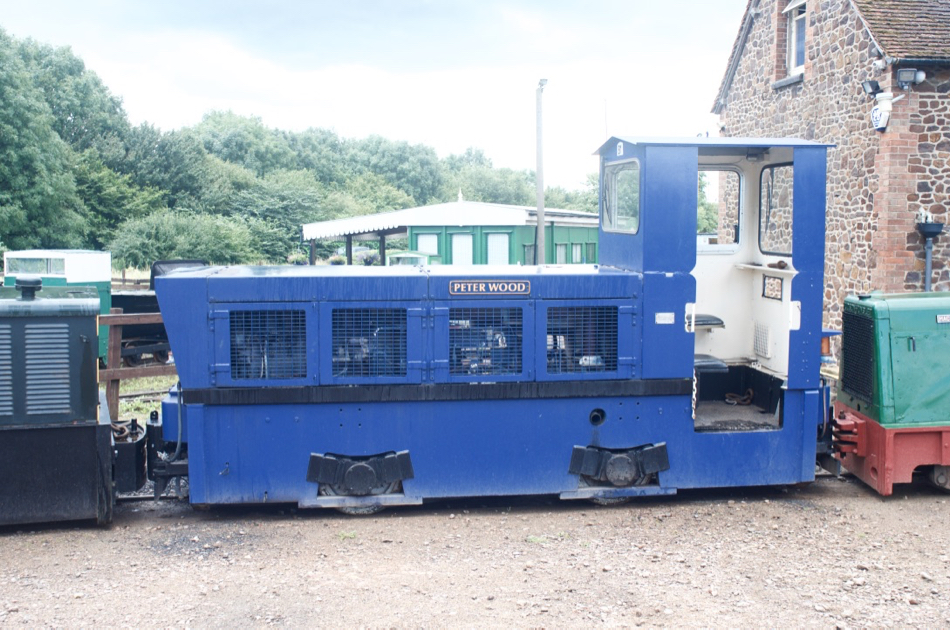 When I had a look at the workshop area last week, I was surprised by the (now) excellent condition of lines and the trackbed. The same was so for the Pages Park terminal end. I was told that volunteers had relaid almost the entire length and that every week a team checks the line to keep it in a good state of repair.

Similarly the locomotives that are used for drawing trains on the line have been meticulously rebuilt. There are some in the Pages Park shed currently being refurbished or repaired. Some of these engines have covered thousands and thousands of kilometers: some on more than one continent. A couple of the locomotives are owned by enthusiasts who loan them to the Leighton Buzzard Railway over the summer months. Using them probably keeps them in better condition than just allowing them to gather dust as museum exhibits.

Those I spoke to at Pages Park and the workshops are keen - but not in that bright-eyed trainspotter way - to keep the railway running as a working passenger line. On the days I visited the trains I saw were about 75% full, but the rain was falling heavily.

Engineering development was at a different pace in the 19th entury when compared with what we now experience. From water pumps for mines to slow locomotives took a few years at the beginning of the Industrial Revolution. Within a few years, Britain and Europe had extensive networks which contracted significantly from the 1960s (although The Titchfield Thunderbolt which deals with a branch line closure dates from 1949).
More recently, rail has seen a second life with the rising cost of fuels, road congestion, and from economic necessity. Also significant is the number of new university programs being established which focus specifically on railways and the related technologies. The French (TGV) and Japanese (Bullet Train) systems have for years shown the ability to compete with airlines over short and middle (400-500Kms) distances; and as electrical systems expand, so the use of digital technology for operations (signalling, ticketing, trains) have become essential.
Some countries in Asia (and elsewhere) use 1-metre gauge lines which restrict speed. Newer developments such as commuter systems in Kuala Lumpur and Bangkok use Standard Gauge, which is widely used in most parts of the World. That might have been different if Isambard Kingdom Brunel had prevailed with his Broad Gauge (7' 0"). That failed mainly through economics. At the time this was being built, most other British lines had been built using Standard Gauge and interconnectivity was difficult.

It was also more expensive to build the related infrastructure: stations, tunnels. A good system was overwhelmed by the popularity of the more common Standard gauge. Although Broad gauge was technically competent, it has now all but disappeared. Other systems thrive, both commercially and through the efforts of enthusiast groups, much like some operating systems.

In the past couple of weeks, as well as a number of visits to the Leighton Buzzard Railway (it is only round the corner), I have looked at the Didcot Railway Centre, where a short stretch of Broad gauge line can be seen, the Buckinghamshire Railway Centre and the Great Central Railway. All have working examples of steam locomotives, along with the tracks, signalling and rolling stock to run them. While all are run with a keen eye to the income that tourism brings in, the volunteers keep the lines running.

A couple more days will see me heading back to Bangkok and work. . . .
Graham K. Rogers teaches at the Faculty of Engineering, Mahidol University in Thailand. He wrote in the Bangkok Post, Database supplement on IT subjects. For the last seven years of Database he wrote a column on Apple and Macs. After 3 years writing a column in the Life supplement, he is now no longer associated with the Bangkok Post. He can be followed on Twitter (@extensions_th)