By Graham K. Rogers
---
A week after Apple's WWDC and we have an emerging picture of a confused Wall Street (if in doubt, send Apple down), mixed views from tech writers depending on hit numbers, and relative silence from developers who have been given the tools to get on with the job.

I must admit a bias to start with this time. Following Apple for the last few years it seems clear to me that Wall Street doesn't have a clue. Despite the apparent forward-looking reports and analysis, what they are really after is short-term profits from share speculation. With a general tech sell-off last week, many investors ran for the hills in full Chicken Little mode. Then, when a report suggested the next iPhone would not be capable of the speeds of other manufacturers' handsets (read Samsung) down went the share price: probably a blip if you look at the last 2 years. Look at the last 10 years and the trend is up, up and up.
A good pair of examples came back to back on Monday, with Bill Maurer (Seeking Alpha) writing on "Apple Expectations Heading Lower", while Paulo Santos, whom I do not remember as being particularly pro-Apple in the past, writes, "Apple Should Do Well". How do investors sort their way through this flak? There are still some financial experts worried about Apple, citing sales problems for Q3: that is always low and Apple has already given guidance on this. Pay attention.
That Apple sell off was based on one report (widely circulated of course) about communications chips that are expected in the next iPhone. With Qualcomm in dispute with Apple (and several other companies), the new iPhone will probably have an equivalent Intel chip, but one which will not be able to carry the new higher gigabit download speeds that are coming. Mind you, even if it did, have the capability, there are so few carriers who have the equipment, or who have installed it in enough locations, that most users will not be able to use these speeds even if (in theory) their phones can.
It was like a game of tennis on some financial sites with some commentators suggesting Apple share prices are going to fall, with revised lower targets, while others - remember some revised their targets just before WWDC - tell their readers there is nothing to worry about. Mark Hibben (Seeking Alpha) for example not only suggested that the Bloomberg-cited chip problem is going away, but that Apple may buy Toshiba's chip business in partnership with Foxconn.
Ah, Google Pixel. The iPhone killer. After 8 months, sales have just passed 1 million (Bill Maurer, Seeking Alpha). Note that Michael Blair on Seeking Alpha suggested that this was (another) iPhone killer back in October last year. Thee should be a health warning with his columns.

It is believed that Tim Cook is a mild-mannered person, given to management by the raised eyebrow rather than throwing chairs or shouting like other CEOs might resort to. I would not want to have been nearby this week when it was revealed that one of the engineers who had been working on Apple's own chip designs had been picked up by Google who have their own ambitions, but may not always have shown originality in the past. Oddly the source for this was Variety (Janko Roettgers), and I was directed there from MacDaily News.
As I am writing this on Tuesday evening, the sell-off appears to have ended and Joel Minkoff (Seeking Alpha) writes, "Technology companies are helping drive a bounce in equities across the world. . ." Why am I not surprised? What goes down always goes up. That of course may be assisted by news I saw Tuesday evening of a confirmation from Tim Cook that Apple is developing autonomous vehicle technology (Alex Webb and Emily Chang, Bloomberg). This is not actually a surprise for anyone who has been joining the dots in the last few months, but now that Bloomberg has it from the horse's mouth, it must be true.

Following WWDC, some commentators have been writing about their early examinations of the new consumer iMac models. They were generally pleased and there were some positive noises about the point that RAM is user-upgradable, although this does not seem to be as easy as earlier models when all you had to do was open a flap and put the new modules in.
Theories on the new iMac Pro are also positive in the main, but there is much positive comment appearing about the new 10.5" iPad Pro, suggesting that this hits the sweet spot and (et cetera, et cetera) the iPad is going to be the computer of the future. My congratulations to Hayley Tsukayama (Washington Post) who is now on the same page I was in April 2016 when I wrote several articles on the devices. She was not convinced then, but is now (at least if iOS 11 is running on it). Ben Lovejoy on 9to5 Mac has a review of reviews linking to a number of positive comments on this device, described as expensive but near perfect."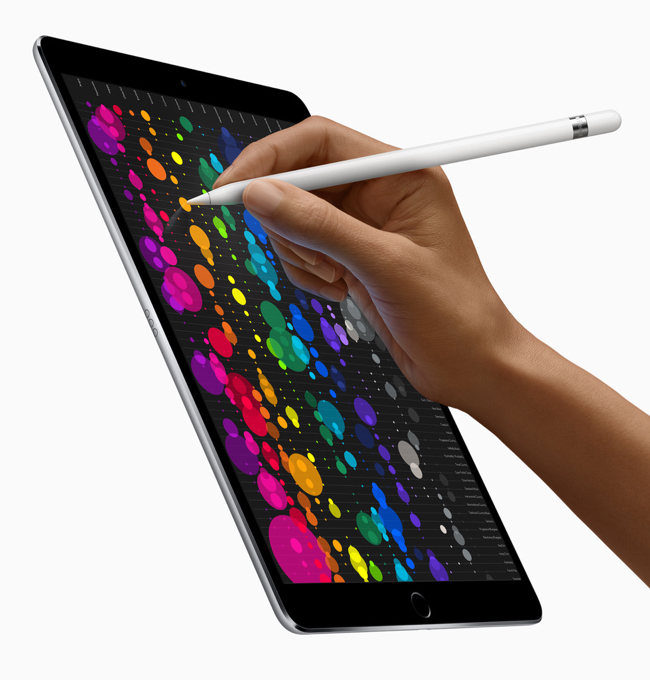 10.5 inch iPad Pro - Image courtesy of Apple

I am a touch cynical at this point, having used both the 9.7" iPad Pro and its larger 12.9" cousin for the last year or more. Of the two, I prefer the larger model, in part because of the screen size, which makes it so easy to work on, but also because the model I use has a SIM card as well as WiFi so I am able to work just about anywhere.
It was only about 15 years ago when I made a breakthrough by sending my weekly column to the Bangkok Post from my Palm device, using a Bluetooth card and my Ericsson mobile phone, while standing in a field in the wilds of Kanchanaburi. We take this connectivity for granted these days, but I also remember in 1985 my realisation of the potential when I saw a demonstration of computer to computer linking using a 300 baud audio coupling on a telephone. Plus ça change.

Apple have been sending out some information on the new 10.5" iPad and they are pushing this heavily. I did a check of the prices here, which start at 24,500 baht up to 39,700 for the 512GB version with SIM card and WiFi. The cellular capability adds 5,000 baht to each of the 10.5" models. They are all marked as currently unavailable here, although there are reports these are arriving in the stores in some areas.
I did order the new Apple Pencil Case and that arrived on Monday. It is a nice enough, typically high quality Apple product and I wrote about this on Monday evening, putting some photographs online with the article. That Apple Pencil is really useful for editing images on the iPad Pro and there are plenty of tools to take advantage of this.
I sometimes go for days taking only the iPad Pro to work as I can do almost everything I need from the iPad, instead of taking one of the Macs with me. That includes loading files to my website as well as writing and editing images. About the only thing I cannot do is manage the RSS feed as there is no suitable software, so if I do upload anything to my site while I am out, I have to wait until I am home. Mostly I tend to write in one of the apps that synchronises through iCloud, so it is all waiting for me when I arrive home.

When the first information about Serif's Affinity Photo for the Mac appeared a couple of years back, I took a good look at some of the screenshots and the specifications and signed up for the beta release. Even in beta form, where users like me are testing - looking for problems to help the developers - I was impressed. I had no qualms about paying for the full release when it was made available. This was Apple's best Mac App of 2015.
There is something about Adobe software that does not appeal to me. I worry about those who had downloaded pirate versions of this, yet only used brightness and contrast tools. Some obviously needed more power; and for professionals this is a must-have application. I am not professional but do want a good range of tools at a reasonable price. I also do not want to be paying out monthly fees for applications.
One of the great apps that has been available for Macs since before OS X was Graphic Converter. This continues to be updated and the most recent versions can also be accessed from within Apple's Photos app as an extension. I had also bought Pixelmator that does a good job of editing images. Affinity Photos gave me a good range of tools, and suited the ways I work. It also gave Photoshop a good rival, for a far lower price.
When I was in the UK last year I phoned Serif and asked if I could make a visit. They were happy to oblige and Ashley Judd gave me a good tour of the company premises (a really happy workplace) and showed me the software, including an early version running on an iPad Pro.

While watching the live transmission of WWDC, I was pleased to see Ashly Judd onstage demonstrating the release version of Affinity Photo for the iPad and while the Keynote presentation was still going, I downloaded this for the iPad Air 2, later also putting it on the 12.9" iPad Pro I use where it excels.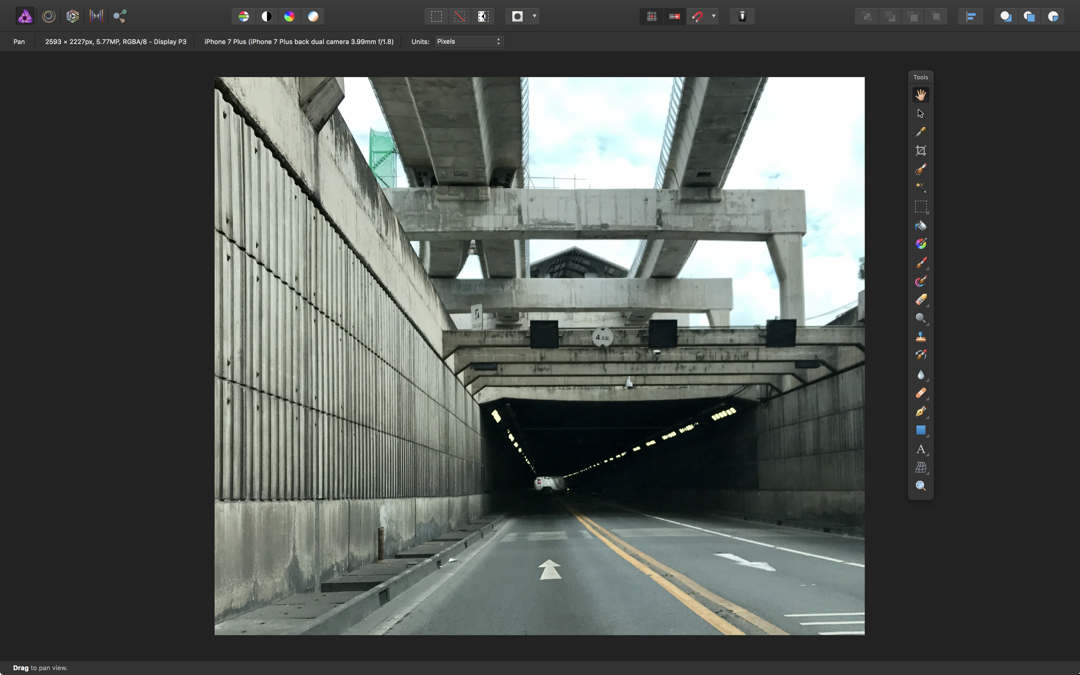 The screenshots here, first from the 13" MacBook Pro and below that from the iPad Pro show how Affinity Photo is displayed, The screen of the iPad has been used to the full with tools carefully placed off to the sides where they are not in the way of the image being edited.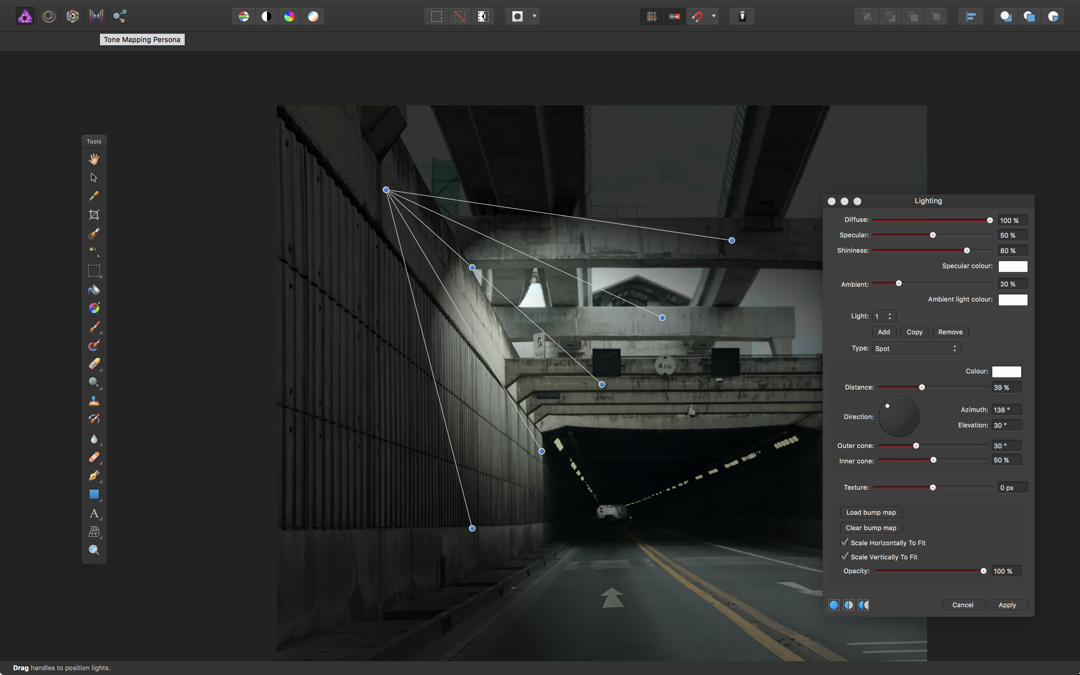 And it is the wide range of tools that is so important here, starting with the import screen. Unlike the Mac where menus are widely used, the tools are all onscreen. Selectors for toolsets are at the top left, each linking to a different set of several tools that are displayed down the left side of the screen. When a specific tool is in use, a control panel appears on the bottom of the screen.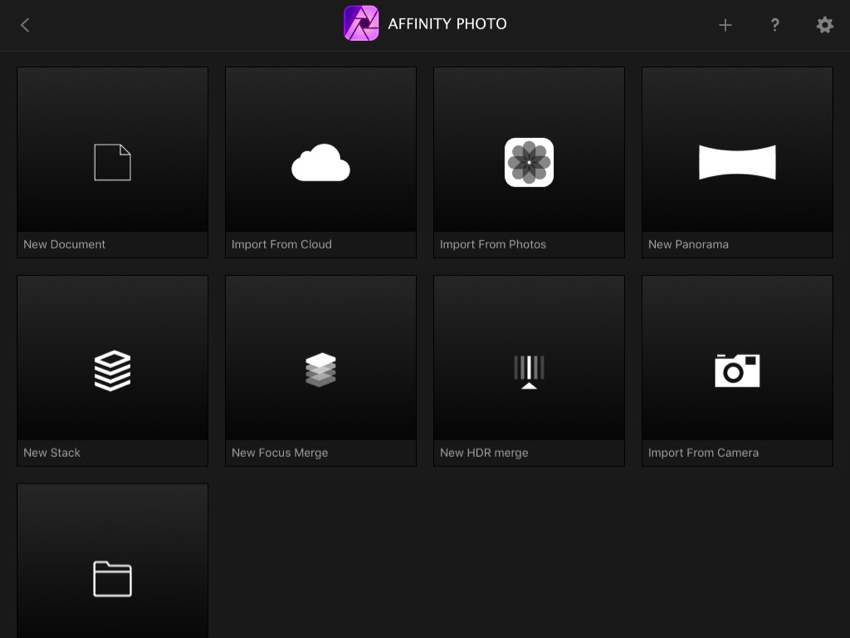 On the right are controls for inputs such as layers, colours, brushes and filters.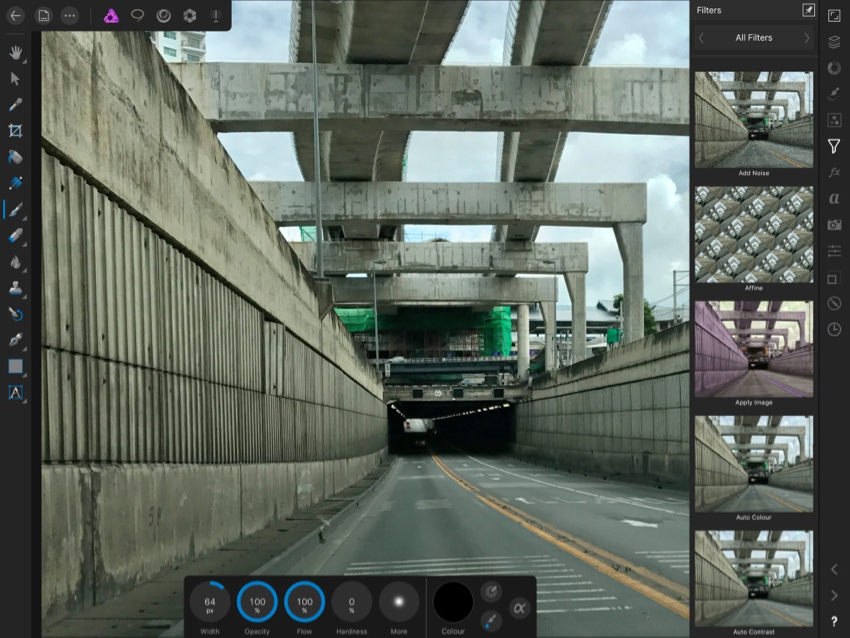 I must admit I am still learning this, but it is clear that (as I surmised ast year) this is really a game-changer for the iPad. On the iPad Air2 it works quite well, but I have to use my fingers, whereas on the iPad Pro, there is the Apple Pencil. I did try and put it on the iPhone too. The screen is too small of course, but I wondered if it might be available for high-level editing in an emergency. No.
Late News
Apple has released updates to iWork (Keynote, Numbers, Pages) for both iOS and macOS, with 500 shapes and other improvements. Pages also now has the ability to use a plugin from EndNote which is perfect for those who need citations and references in their work (Jeff Gamet, The MacObserver).

There are reports from several sources that new betas of iOS 10.3.3, macOS 10.12.6, watchOS 3.2.3 and tvOS 10.2.2 have just been seeded to developers, so the current versions are still being worked on (about 3-4 months before the next full versions). It is over a week since the new operating systems from Apple were put out to developers as betas, but no reports of updates to those have appeared yet. I expect they are working through all the bug reports.

The Verizon purchase of Yahoo! is complete and Marissa Mayer is out the door. I bet she is breathing a sigh of relief. Good luck to Verizon.



Graham K. Rogers teaches at the Faculty of Engineering, Mahidol University in Thailand. He wrote in the Bangkok Post, Database supplement on IT subjects. For the last seven years of Database he wrote a column on Apple and Macs. After 3 years writing a column in the Life supplement, he is now no longer associated with the Bangkok Post. He can be followed on Twitter (@extensions_th)