By Graham K. Rogers
---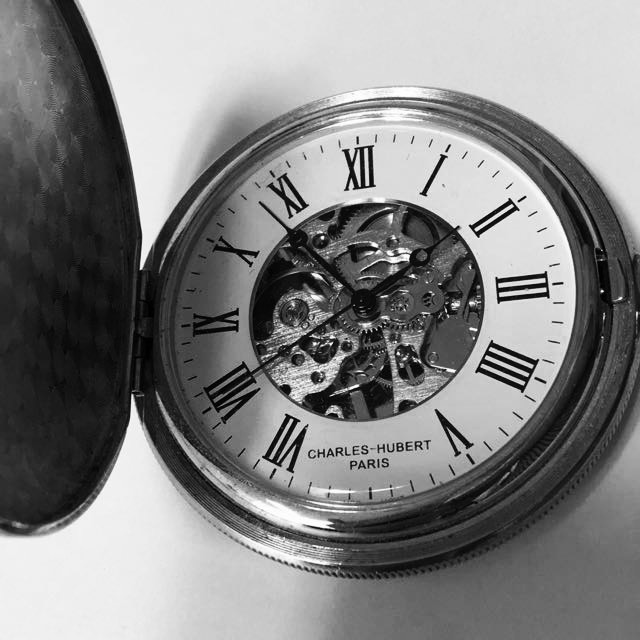 Even before my current MacBook Pro arrived in early December I had been running short of disk space. The 512GB SSD I used in my previous MacBook Pro had around 85GB left when I moved to the new machine (I did use a 15" version for a month in the interim). With some shuffling of data, I managed to push it up to almost 100GB, but not for long with the numbers of photographs I take. After experimenting with Final Cut Pro in April this year, disk space was reduced again. A shuffle of Aperture libraries helped a little, but I was keenly aware that space was limited.
This week an unrelated problem with music in iTunes on the Mac which was not available on the iPhone led me to experiment with settings. For some reason I was unable to play music I had purchased (legitimately) from a third-party source. When I arrived home I had a warning about disk space which was reported to be down to around 20GB. At work I tend to avoid the office WiFi and connect to the internet via the Personal Hotspot on the iPhone, so some iCloud services (like photo synchronisation) are not available.
At home, the WiFi connection allowed full access to iCloud and the adjustments I had turned on were now fully active and near-panic set in. With the warning, a panel appeared that displayed files so I could consider deleting some to make space. That same panel can be accessed using About This Mac in the Apple menu (top left of the screen).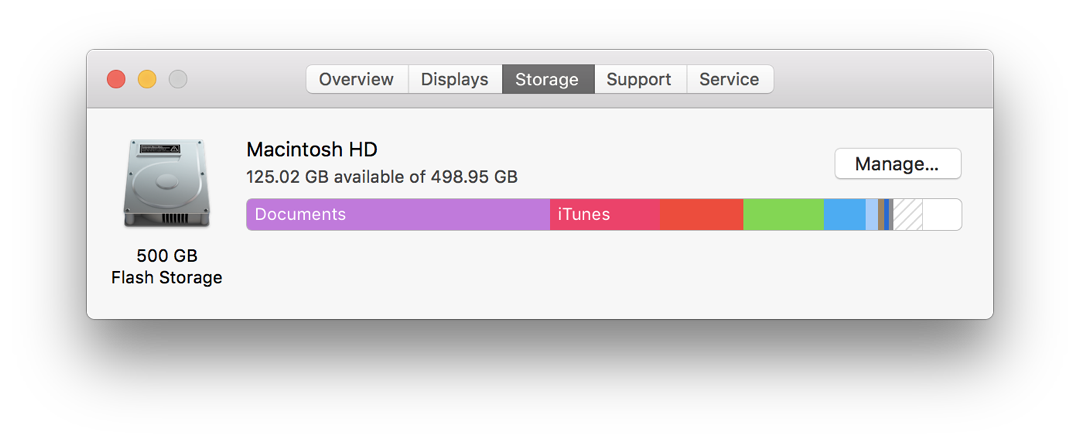 In the panel that displays the Storage allocations, clicking on the Manage button displays that same panel that had opened automatically for me. The main part of the display has 4 sections: Store in iCloud, Optimize Storage, Empty Trash Automatically, and Reduce Clutter. That last section has a button marked Review Files and this is identical to the quick access to Documents in the side panel.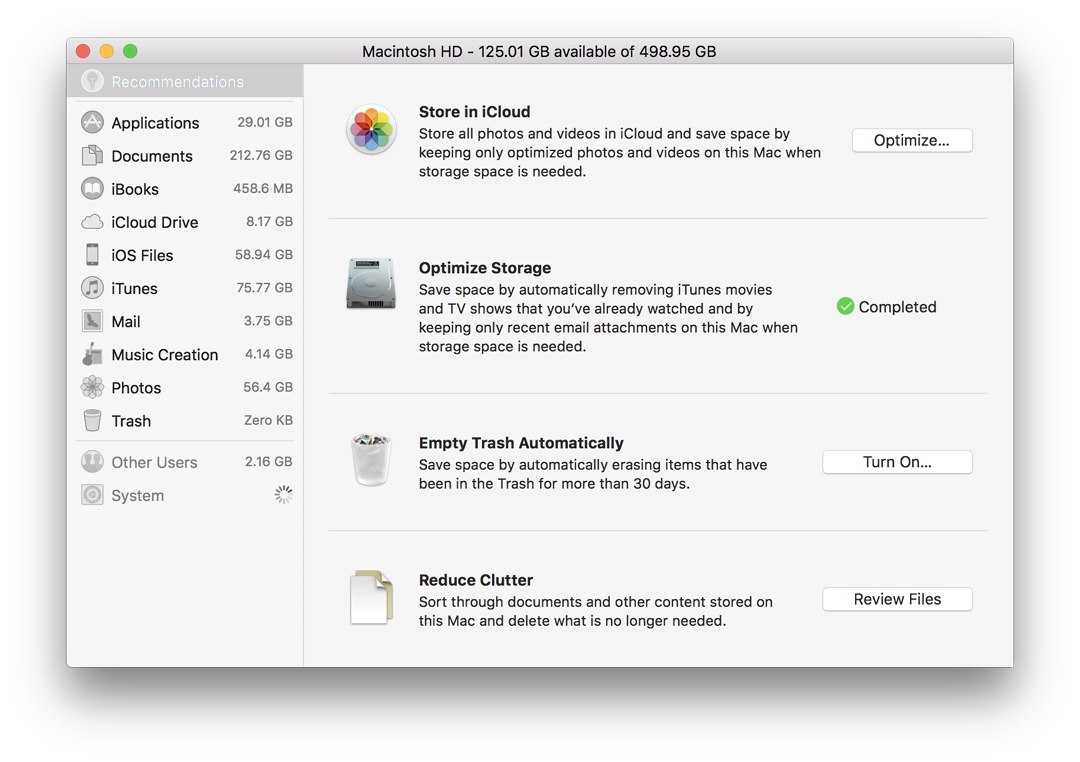 The files were shown with the largest at the top and needed careful examination as some of them - including certain Apple podcasts and videos - were the same. But different. Some had different names, file suffixes and file sizes. I looked through the file listings with three thoughts in mind: duplicates, older files I was unlikely to look at again, and files that could be easily downloaded again if needed. The duplicates did not always appear immediately in the list, appearing in some cases when I had deleted other files. Size was not a criterion in this late appearing; nor was size. Perhaps other metadata was part of the equation.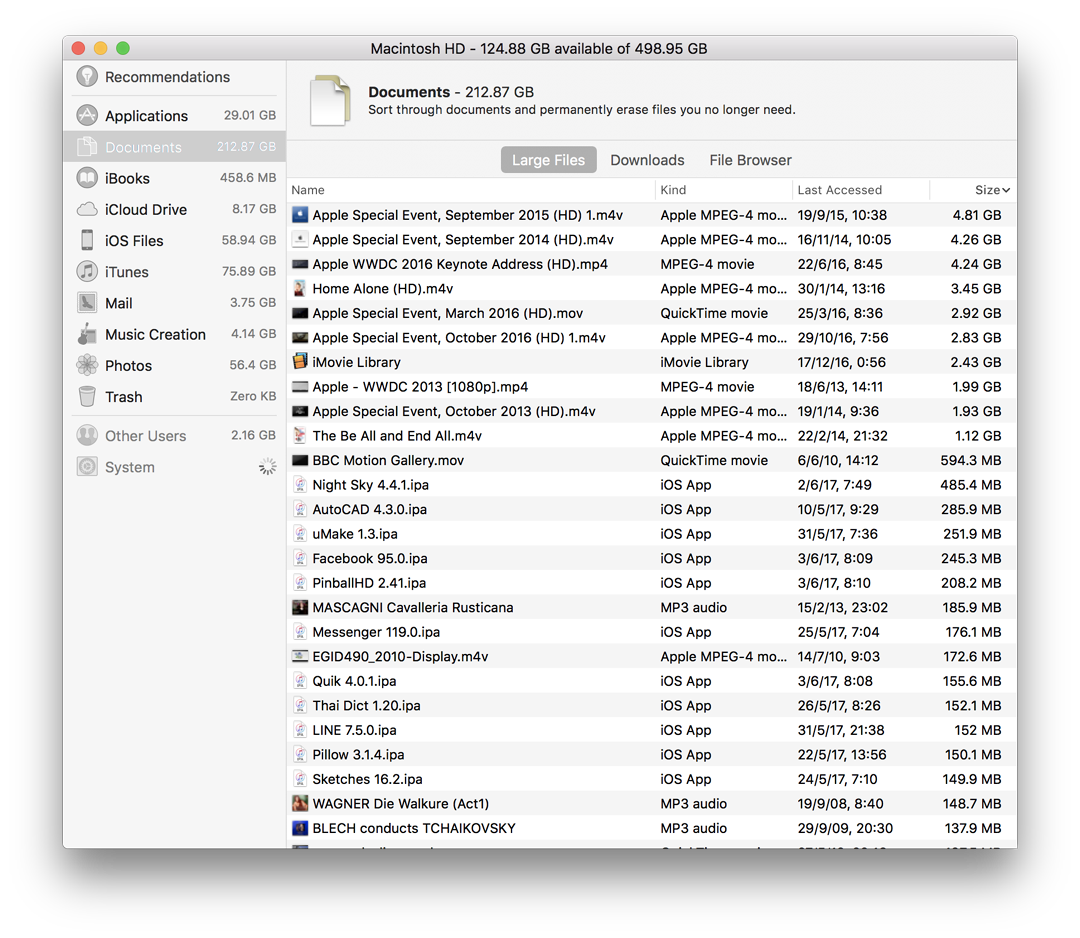 Many of the duplicates were older Apple Keynote presentations. I keep these for information and for teaching purposes; but when it was clear that I had duplicates of most, I checked in iTunes and deleted one of the Apple podcasts for Keynotes. Downloading is much easier here now, but this was not always the case. That may be why I store so much on disk. I went through and deleted several other (non-Apple) podcasts as well. In the end, I managed to retrieve more than 80GB of disk space and now have just under 125GB free, which is much healthier.
Graham K. Rogers teaches at the Faculty of Engineering, Mahidol University in Thailand. He wrote in the Bangkok Post, Database supplement on IT subjects. For the last seven years of Database he wrote a column on Apple and Macs. After 3 years writing a column in the Life supplement, he is now no longer associated with the Bangkok Post. He can be followed on Twitter (@extensions_th)