By Graham K. Rogers
---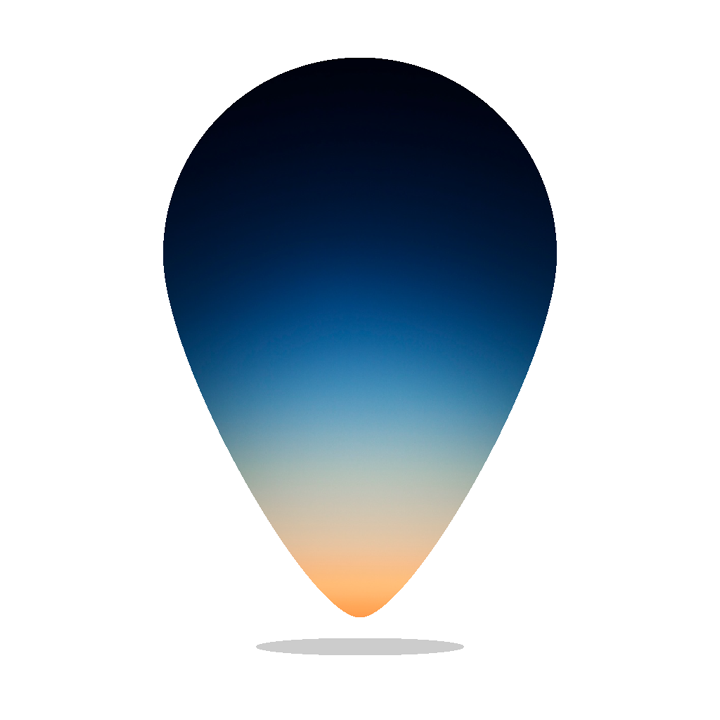 Last week I had a look at an app that those seriously interested in photography would find useful: Golden Hour. depending on location and date chosen, this shows the morning and evening times for Golden Hour and Blue Hour, when some photographers prefer the light to produce some beautiful images.
A query on pricing was answered directly by the developer, Hana Kusova, and I amended the text to explain the difference. As a result of the communication, she provided me with a promotion code for another app, Daylight - sunrise and sunset clock, which also helps photographers find out light conditions at locations they may visit at some future time.
I already use the more expensive LightTrac, which is far more sophisticated than Daylight, which shows the day and night hours at specified locations and times as its main display. The simplicity is deceptive as there are some apparently complex calculations going on underneath with all the options available.
Daylight: Here, There and in the Future

When first opened, the app showed my current location in text, with a 24-hour clock, divided in a fan shape showing day and night. Below are a number of useful time data for quick reference.
To the left at the top of the screen is a small icon to change location. To the right another icon for date and time. That reveals scroll wheels for specific entries, while below are several presets, for example March Equinox, and December Solstice. Depending on location selected, the changes in daylight/darkness displayed on the main screen can be quite significant. The app also displays the information in landscape mode.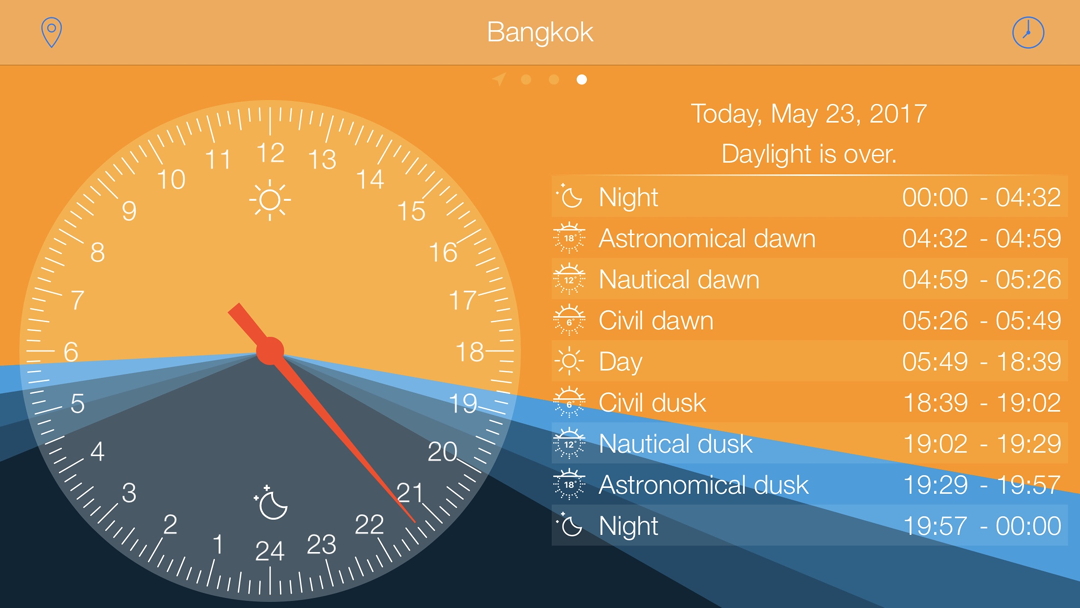 Location depends on input via Google, and some localised names like Thaladphlu or Thonburi were not recognised, so a larger nearby town or city is the best choice. I set this up quickly with locations in Thailand and the UK. This revealed another useful feature in that on the main screen I was then able to scroll left and right through the locations in my list, avoiding the need to switch back and forth to the places index each time. The one missing feature here was that while locations can be edited and removed, the order cannot be changed; and the main screen scrolling follows the list.
Like some of the best apps, Daylight has one basic task and does it well. The displays are clear; entering data is simple and the information is easy to understand. While the price of 69 baht may seem dear compared with the many free apps or those at a basic 35 baht, the value of an app to the user in terms of functionality, is not measurable in simple money terms.
Try and imagine, if you will, what light conditions will be like in 6 months time in Rome. . . .
Graham K. Rogers teaches at the Faculty of Engineering, Mahidol University in Thailand. He wrote in the Bangkok Post, Database supplement on IT subjects. For the last seven years of Database he wrote a column on Apple and Macs. After 3 years writing a column in the Life supplement, he is now no longer associated with the Bangkok Post. He can be followed on Twitter (@extensions_th)