By Graham K. Rogers
---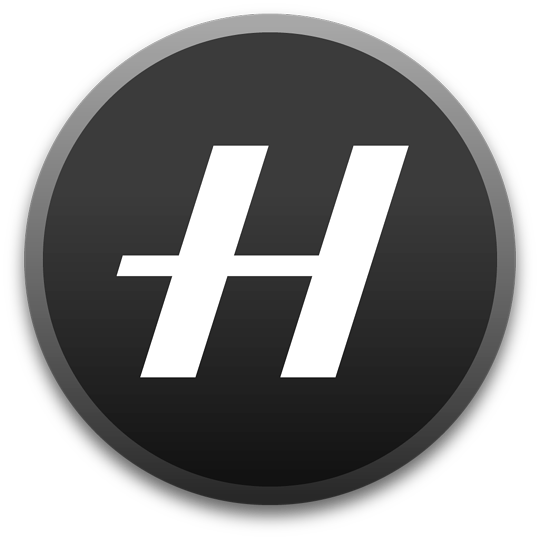 I had a look earlier today at the latest Hasselblad camera: the H6D. This is a digital device with a 50 MP CMOS (8772 x 6200) and touch-screen controls. I do not want to write too much here as the information is intended for my Bangkok Post column, but some of the technical information, contact details and initial impressions will not be treading on any toes.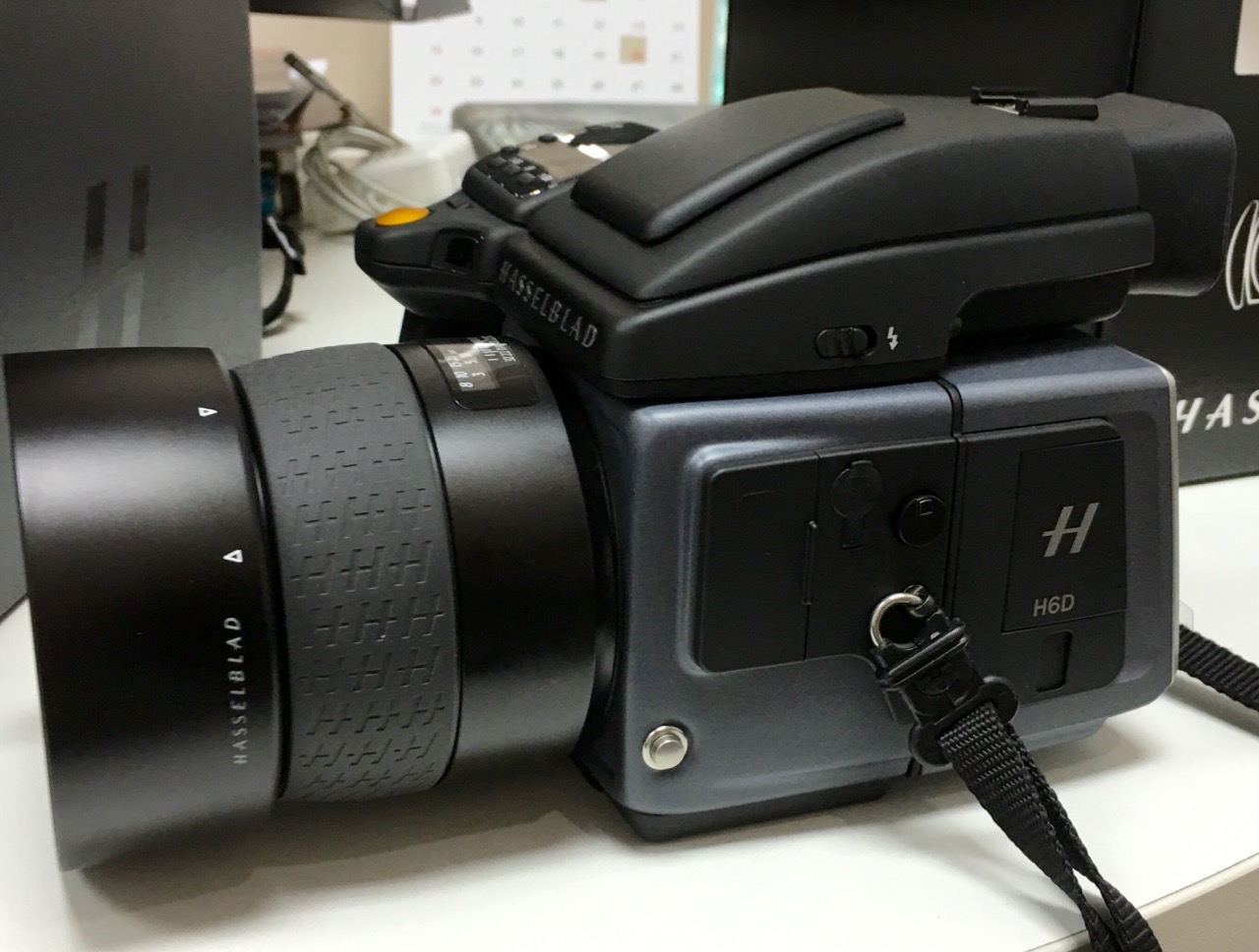 The company that distributes the Hasselblad in Thailand is
Shriro Marketing (Thailand) LTD
Telephone: (662) 792-5000 # 3111
Mobile : (6699) 456-4419
My contact there was Ist Sitachitta who had a good knowledge of Hassleblad and the cameras. His English was pretty good too, so the afternoon was useful. He tells me there is a Facebook page, but this is more a placeholder. Like Apple, Hasselblad wants to control the output of information. There is also a version of the camera with a 100 MP CMOS, but this is slightly delayed because of a recent earthquake in Japan. That affected a Sony factory.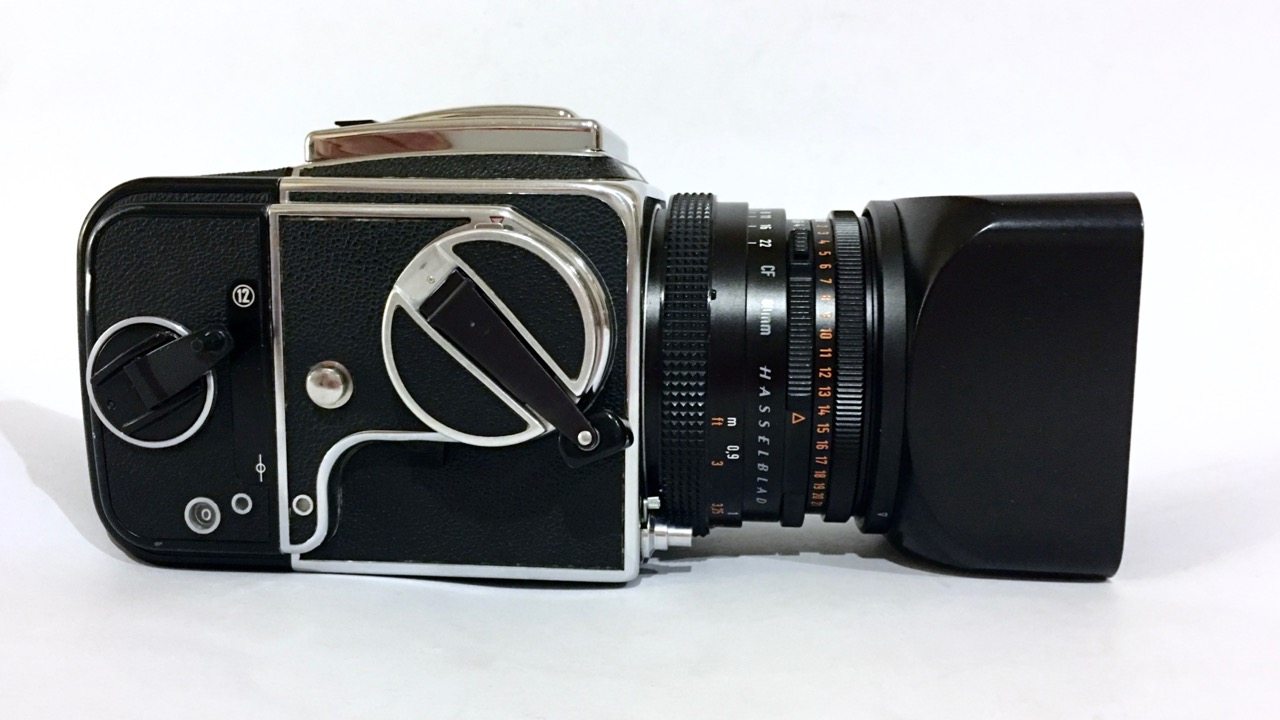 I have an older Hasselblad that uses film. Despite its age, the quality of the camera and lenses is high and so is output. I am having to relearn how to take photographs with this monster. Some of the decision-making can now be done automatically on the latest device, but with Hasselblad's famous modular approach, older lenses, the original viewfinder and even a film back can be swapped over, although some features are obviously lost.

The H6D has been updated in several ways, not only with the move to CMOS. The H5D had a digital display that, like many cameras, was operated via menus and buttons. The new menu system is operated via a touch screen: quick and responsive to user input. Both of the H6D cameras can also take 4K video but because of the slower speeds when writing to a card, an external hard disk needs to be connected.
Recording media are CFast card, SD Card or tethered: the camera is connected via a USB cable. Hasselblad is right up to date here as the camera end connector uses USB-C. A 16GB card holds 240 images and when I downloaded some, in the Hasselblad RAW format, these were around 105 MB each.

There was an older Hasselblad camera there when I went, although it had a digital back. It is a fraction longer than the H6D and both weigh about the same at just over 2 KG. Part of that weight comes from the hefty 3200 amp battery, but other attachments include the viewfinder and the digital back. Like many modern cameras there are hundreds of settings possible.

This was quite easy to navigate in my brief acquaintance and I was able to turn on WiFi (802.11a, b, g and n). Using that I was able to connect to the iPhone and control the camera using the free Hasselblad app that is available. There is also software for the Mac. A workflow and editing application named Phocus can be downloaded and it is just as well I did as there is no support right now for the new Hasselblad RAW format in either Aperture or Photos.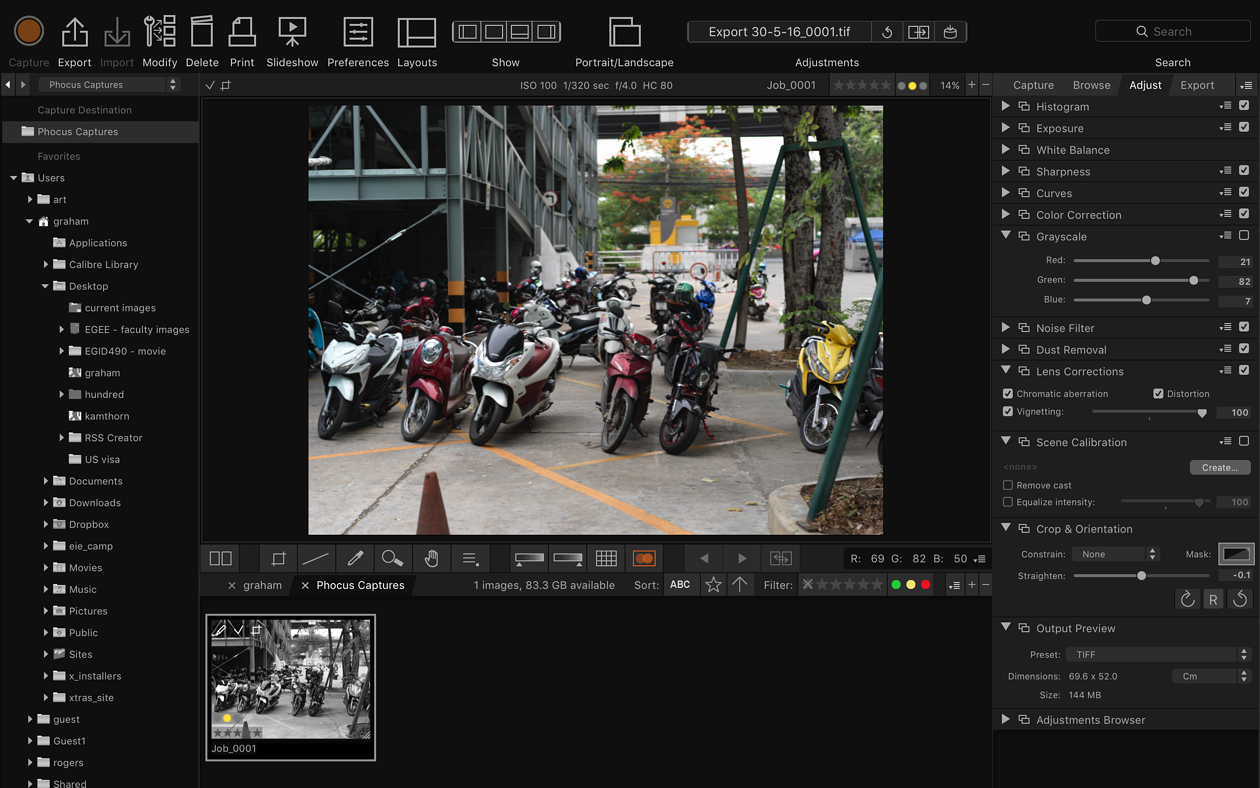 Hasselblad Phocus App - Editing an Image from the H6D

I took the camera out for a brief try. It sat nicely in my left hand like my own older camera (they were originally designed for lefties) and quickly took a selection of images in the semi-industrial area I was in. In use, the 80mm lens that the camera was equipped with focussed and refocussed quickly. I took a dozen shots (the same as a roll of medium format film).
Instead of the Mac, I had a couple of iPhones and the 9.7" iPad Pro. I thought that would process images quickest, so using the Apple SD Card to Lightning adapter downloaded the selection to the iPad in a couple of minutes. These later synchronized to the other iOS devices I use (but not the Macs).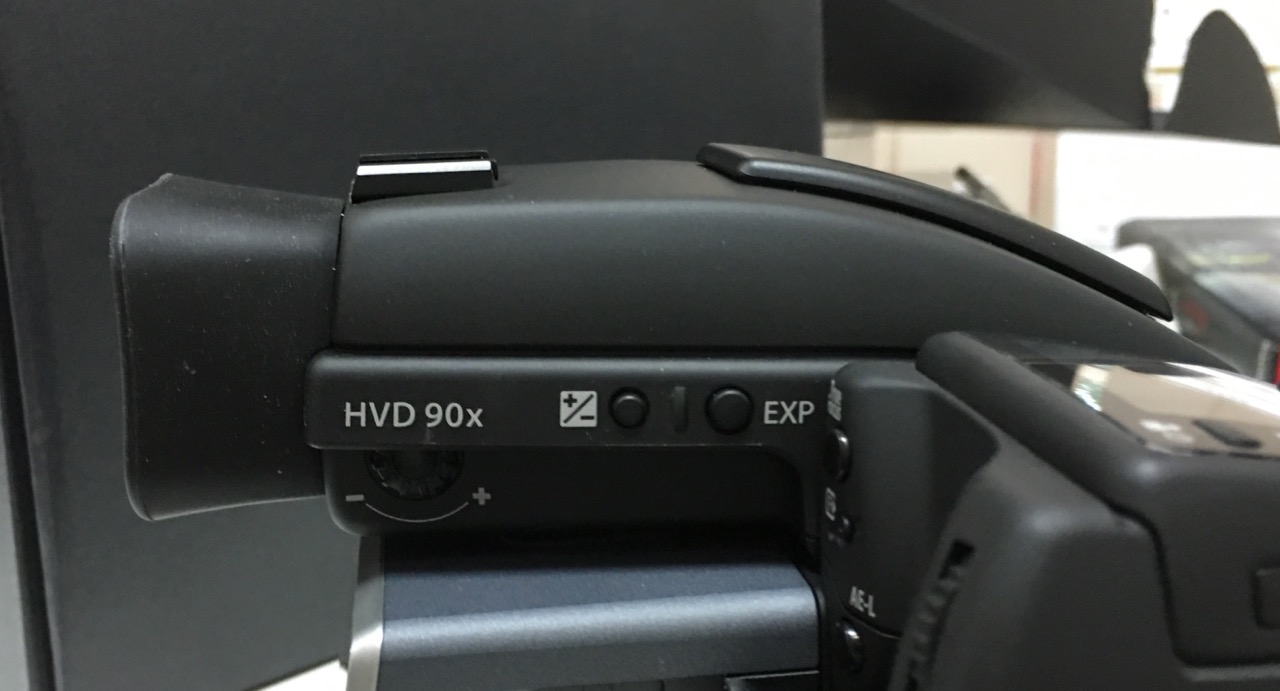 Hasselblad H6D-50C Viewfinder

I can't really write down the comment I made out loud to myself when I looked at the images I had imported. I was surprised. The clarity, the sharpness, the colors, the saturation were all striking in the shots I had taken in my brief acquaintance with the H6D. But then what should I expect from a million baht camera. The device delivers what is promised and that is what high end users are willing to pay for.
The same happened when the images began to appear on the other devices, such as the 12.9" iPad Pro - the sharpness, especially, and the accurate colors, without any over-saturation, even though the images appearing on the iOS devices were optimised images.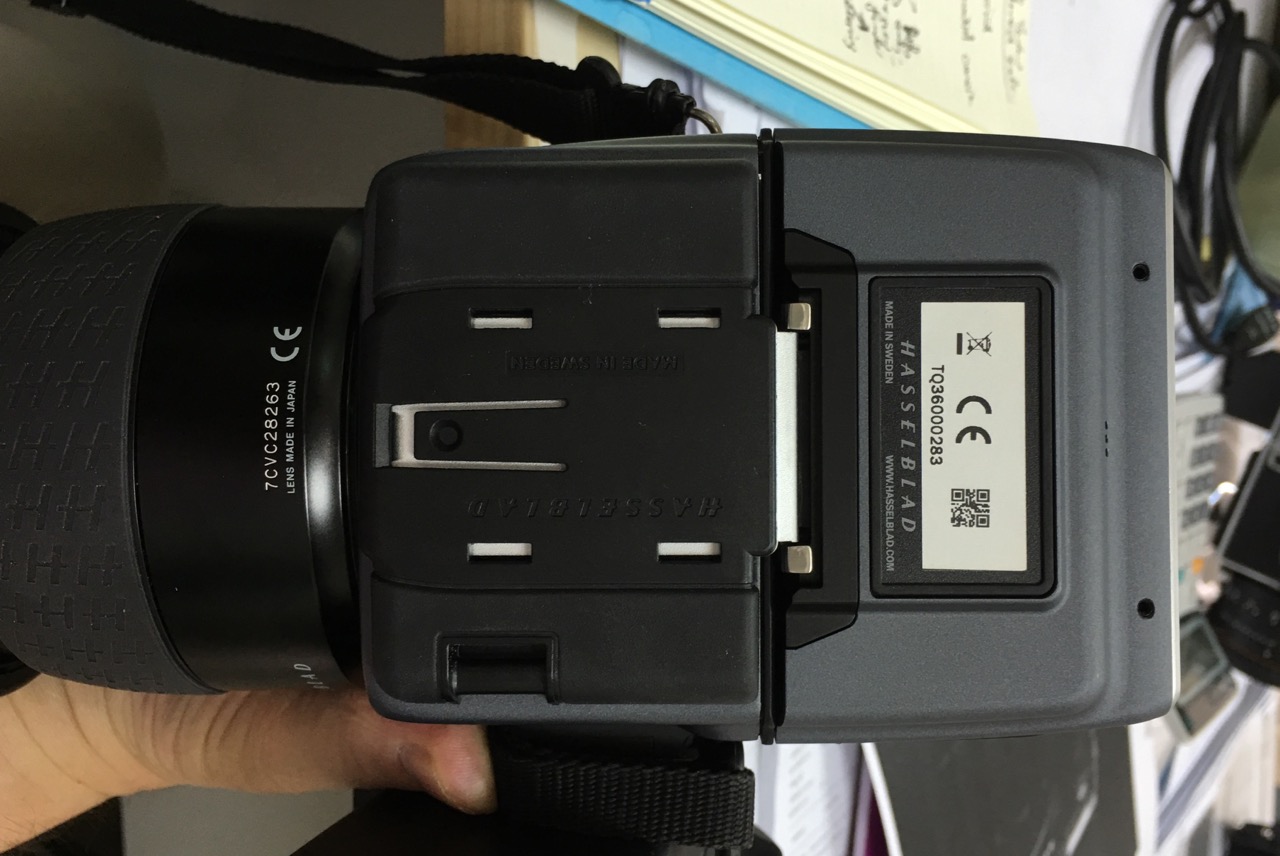 Hasselblad H6D-50C Viewed from Beneath

I intended to wait till I looked on the Mac to examine the fully downloaded images, but I soon found that these were not coming. With the newness of this camera, Apple has not yet updated its RAW compatibility software, so the photos did not appear in Aperture. They were shown in Photos, but any editing brought up an "Unavailable" warning.
As the images were all visible on the iOS devices, I sent a trial image (initially just 1) to the Mac via AirDrop. That image would not work in Photos or Aperture. I was able to import it into Phocus and make adjustments there. An export of a monocrome version to TIFF gave me an image of 144.3 MB at full resolution (8772 x 6200 - 50.5 MP). In practical terms, Photos is not viable for RAW images and I do not use it for the photos from my Nikon. As Aperture is coming to the end of its life, I would expect to shift to alternative software soon anyway.

My couple of hours with the H6D was over too quickly. If I were a serious photographer, this would be at the top of my list, although I would have to mortgage my mother to be able to afford one. Pricing in Thailand is:
H6D-50C - 1,170,000 baht MSRP
H6D-100C - 1,470,000 baht MSRP (corrected)
I am told that there may be discounts of around 15%, and there is currently a trade-in offer for those with older Hasselblad digital cameras of up to 585,000 baht.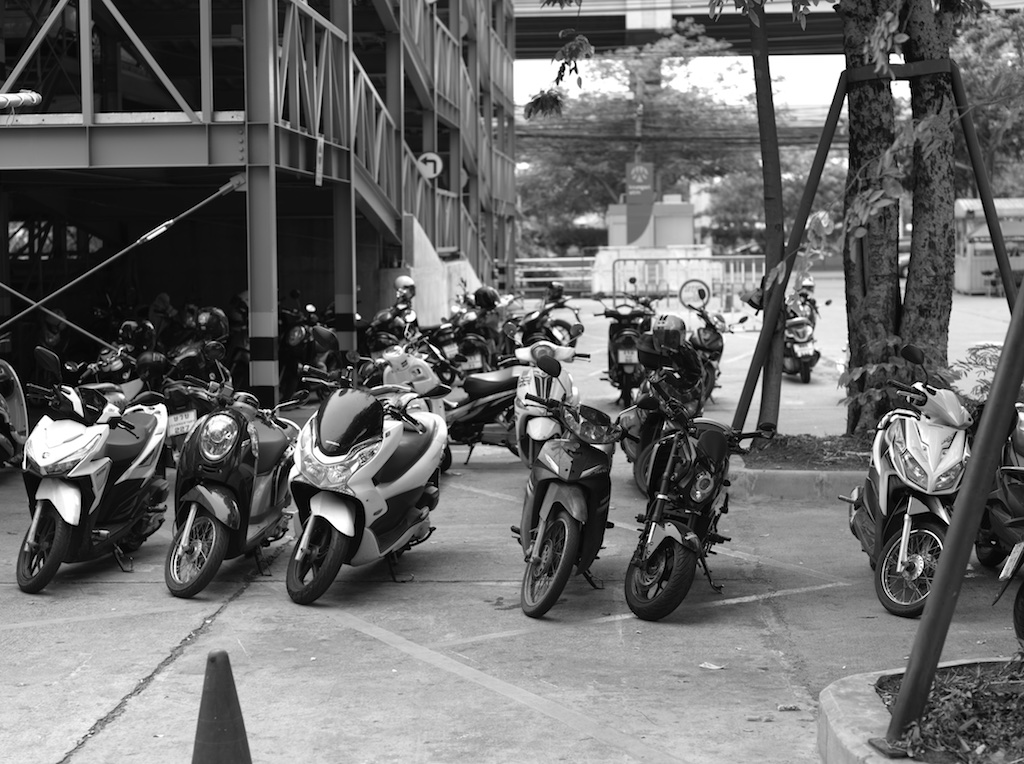 Graham K. Rogers teaches at the Faculty of Engineering, Mahidol University in Thailand. He wrote in the Bangkok Post, Database supplement on IT subjects. For the last seven years of Database he wrote a column on Apple and Macs. He is now continuing that in the Bangkok Post supplement, Life.