By Graham K. Rogers
---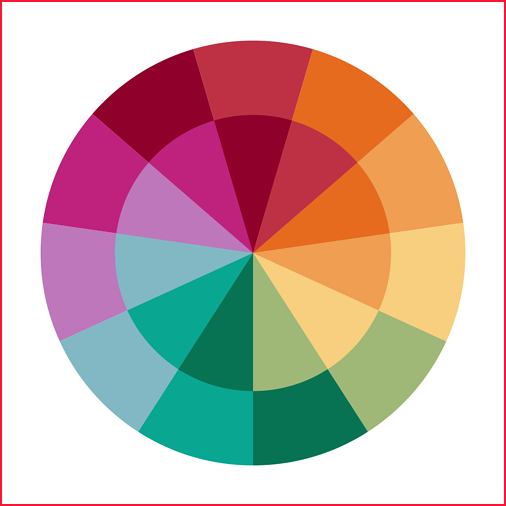 I have a choice of apps that I am likely to use several times a month. Once in a while, however, there is something new - or so unusual - that it will either sit alongside my favourites or even replace one. A Color Story has a lot going for it.

Although some of the apps I examine do not make it into my most-used list, they are valuable nonetheless and might suit another user, or someone new to the iOS environment. This week, a new app - A Color Story - came my way that fits both criteria: it may well make it into my favourites; but it is also an excellent app for those looking for a reasonable photo editor. An advantage is that it is free in its basic condition, but has several filter groups that can be bought separately (or as a complete set). A Color Story was released at the end of January and has been updated (v. 1.0.1) with some minor fixes.
The first major point, particularly useful for new users is that the interface is not complicated, although there are many ways to make adjustments. That is also good for those familiar with editing apps: some tools offer a degree of sophistication that is not misplaced.
As is common, users are offered a choice between input from the camera, or from the Photo Library. There is also a convenient "Recent" option. That only gives access to the last image in the library. I rarely use the camera, preferring to edit images in the library in the hope that minimises quality loss.

A Color Story, which only works in portrait mode, was developed for the iPhone. It will work on iPads, but is not optimized for the larger devices. Although the display is still clear on iPads, portrait mode only is less convenient on the bigger screens. This is particularly noticeable on the iPad Pro which I think is better in landscape mode, especially when using the Smart Keyboard. Nonetheless, it works fine on the larger devices and I was able easily to download the purchased filters (see below).
As an image is brought in, unusually the user is offered an initial range of crop and straightening tools. These may be redundant as they are available with other editing tools, but it is a quick way to set up an image for the edit process. When the Continue button at the bottom is pressed, so editing begins. This was my second surprise: despite being a free app, this has a good selection of tools with a couple of unusual extras.
When the editing interface is accessed, five icons are shown: Filters, Effects, Tools, Saved and Shop. The Save button reveals My Saved (nothing is initially available), Save Current Steps and Edit Saved. Being able to save the current steps is a valuable extra (also available in Polarr, among others). The Shop icon takes users to a selection of filter packs.
Editing - Filters
The half dozen or so filters available in the free version of the app give a good range of color effects as well as one nice black and white filter. Several others are shown but need to be unlocked. Unlike apps, such as Tadaa (which I like precisely because of the unusual filter strength and its other features), the filters here are instead nicely understated, offering more subtle changes to an image. This is enhanced by the slider available in all features (and most tools) to give users some flexibility with the strength of any effect or filter applied.

Most of the filter packs are available for $0.99 with one (Chroma) at $1.99. The whole collection is currently available for $7.99. When this is purchased, it is not simply a question of unlocking the features as with some apps: the new filters and effects are downloaded. This means that the app (as installed initially) is light and does not take up unnecessary space on a user's device.

A photo may be edited using more than one filter and it may be useful to save the combination. This can be done either by using an icon between Undo and Redo icons on the left, or when saving a finished image. A panel appears showing the filters used, with the level of effect (0-100%) and asking the user to enter a name for the combination.






Editing - Effects
There are 4 groups of Light Effects: a Sample group containing one of each from the other 3; Flare & Bokeh; Light Leaks; and Color Fog. Each of these has several choices: Flare & Bokeh and Color Fog for example each have 17; Light leaks 12. Such effects, like Filters, are always a user's choice.

Particularly useful with these effects is the ability to place them on the image - they can be moved with one finger - and that slider, that is available throughout the app, allows the user to grade the effect rather than have it taking feature status and detracting from the image.






Editing Tools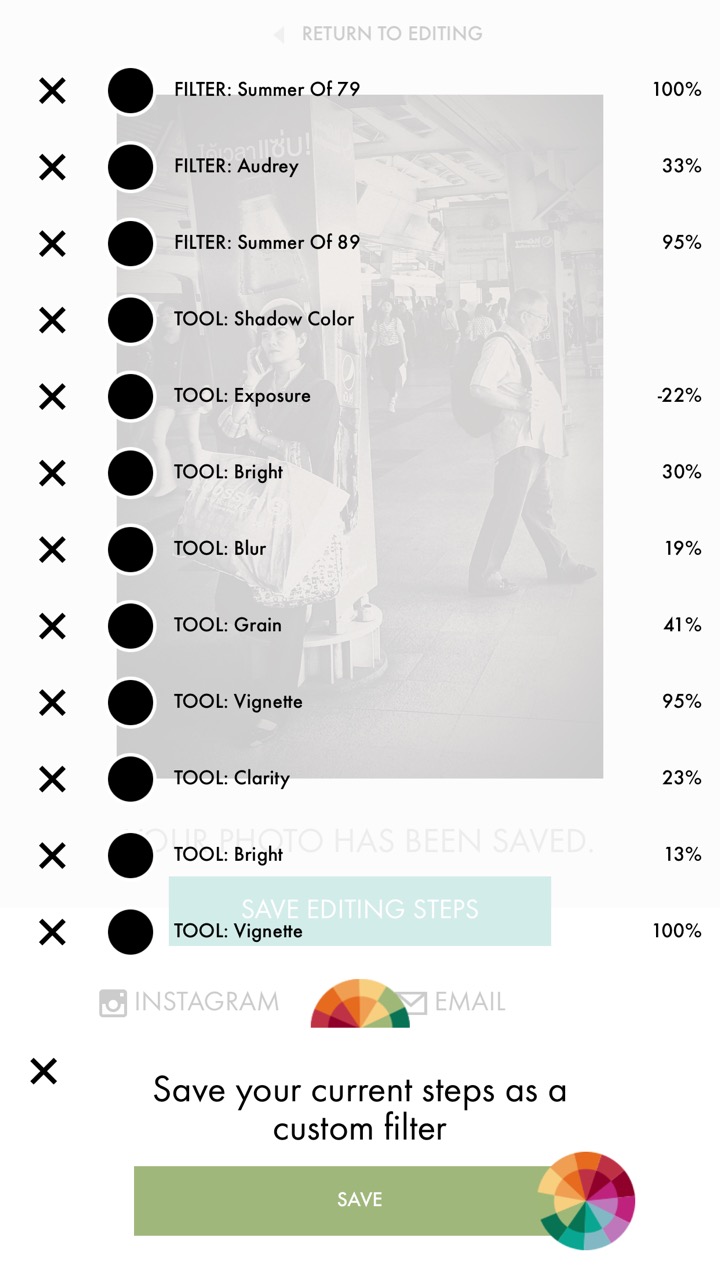 The free app has a wide array of tools available and there is no (apparent) addition when the in-app purchases are made. This makes it a valuable first-time app for those who want to apply some proper editing effects to their photograph. These include are in two sections: Adjust and Crop & Frame.

Among those in Adjust are tools (plural) for editing RGB levels and Curves. In Crop & Frame there are several cropping options, Tilt, Mirror, and a useful Perspective tool.

It is different from the Perspective option in Tadaa (an in-app extra purchase) and works on Horizontal or Vertical aspects, using the slider to make subtle adjustments.

Filter choices and tools adjustments, were saved as workflow, although I earlier thought that this was not so, when some adjustments did not appear. A later editing session shows that a full list of tools and filters applied were included in the workflow saved.



Finishing and Comments
I found it a little awkward when I had finished editing an image to find the save and export options. I had to return to the tools screen and press a Save and Finish button at the bottom, then there were several options, including Save the Editing Steps and export via Mail, Instagram, Facebook and Twitter; or via a text message.

An image saved in Photos was smaller than the original (with no way to adjust this) although when exporting via Mail on the iPhone I was offered options from Small (59.4 KB) up to Actual Size (a healthy 5.7 MB). All metadata was stripped from the exported image, including location data (GPS).

Although I was able to save filter choices as a workflow, I did not initially find that tools used were also included. When editing an image later, the full list of changes had been included, making this feature a highly valuable addition to the app.

Despite minor niggles, I found this an exceptional app, with its good range of tools and the selection of subtle filters. The developer website indicates that an Android version is being readied.


As a free app, A Color Story is highly recommended. The in-app filter purchases just make it better.



Graham K. Rogers teaches at the Faculty of Engineering, Mahidol University in Thailand. He wrote in the Bangkok Post, Database supplement on IT subjects. For the last seven years of Database he wrote a column on Apple and Macs. He is now continuing that in the Bangkok Post supplement, Life.