By Graham K. Rogers
---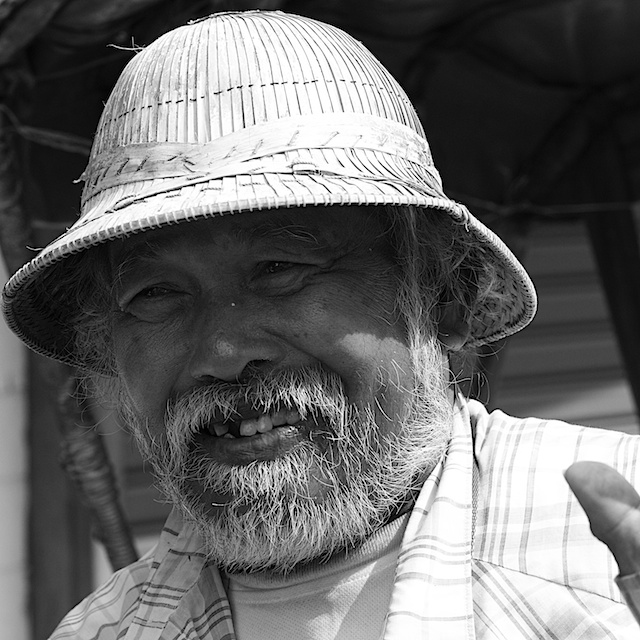 We start 2016 with the usual predictions about Apple: no innovation, low share prices (not as low as 2008) and estimates of falling iPhone sales as if that were it. We should have a better idea later this month with the Quarterly financial figures. In the meantime, there are predictions that Apple will buy Tesla, with some analysts speculating on which companies Apple should buy. Some never learn.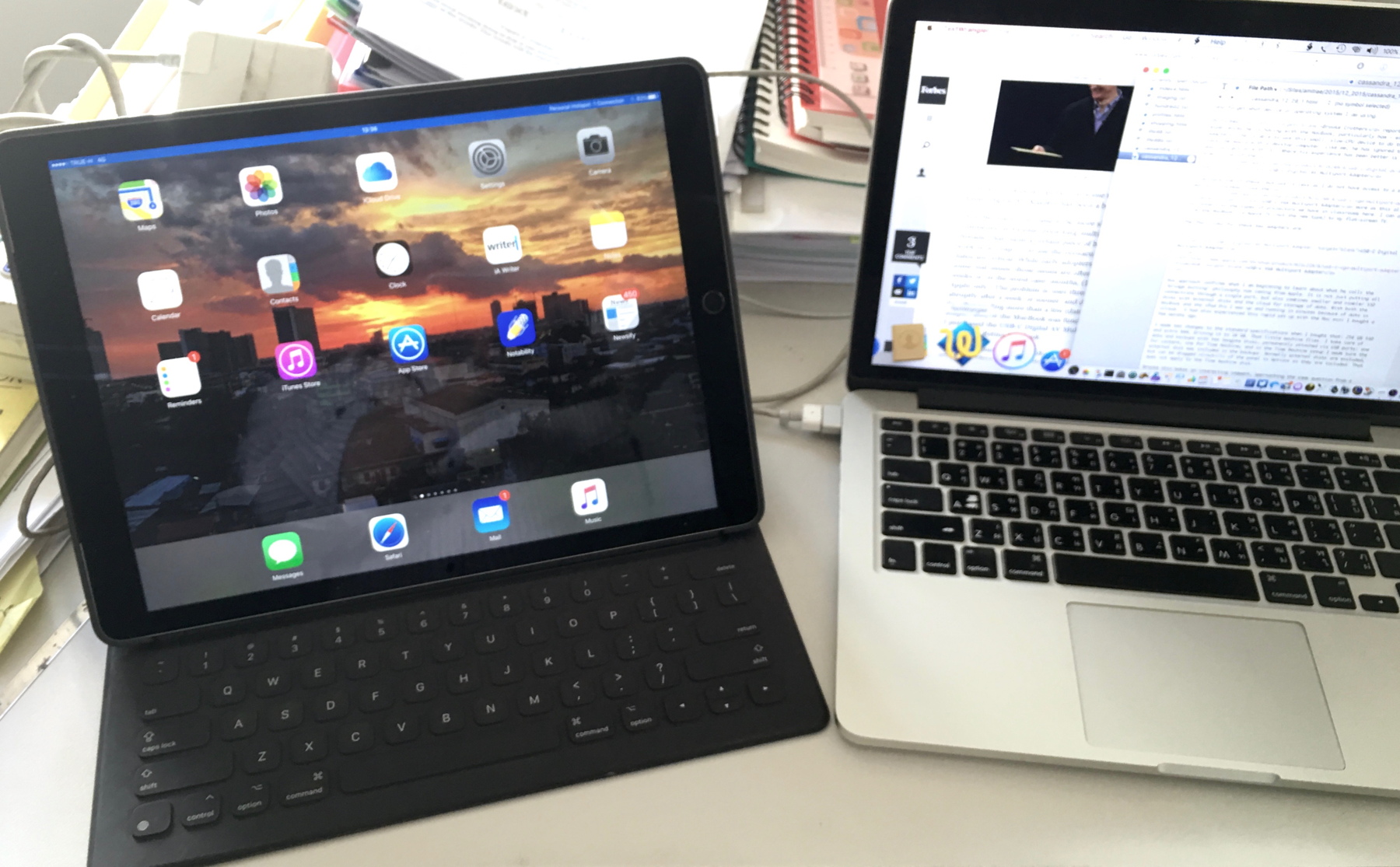 Office Setup - iPad Pro and MacBook Pro

I have been looking at some of Apple's newer devices, like the MacBook and the iPad Pro recently. With the speeds of these devices, small as they are, I am able to do almost all the tasks I want. With the Macs, I have iCloud, Dropbox and the ability to attach external storage. The iPad has cloud-competency, but it is not possible to connect hard disks via the Lightning port.
I was able to locate a Seagate Wireless Plus disk at IT City, The Mall, Bangkae (but now wish I hadn't). It was initially only available as a 1TB unit, but now has a 2TB version, which is what I bought. For the price of 6,920 baht, I could have bought two USB disks of the same capacity. This disk is available on Amazon and other outlets for $199 (7,154 baht). There is also $86.69 shipping, so the price I paid seems reasonable in that context. [That has now gone down to $179.99 + $81.29 Shipping & Import Fees Deposit.]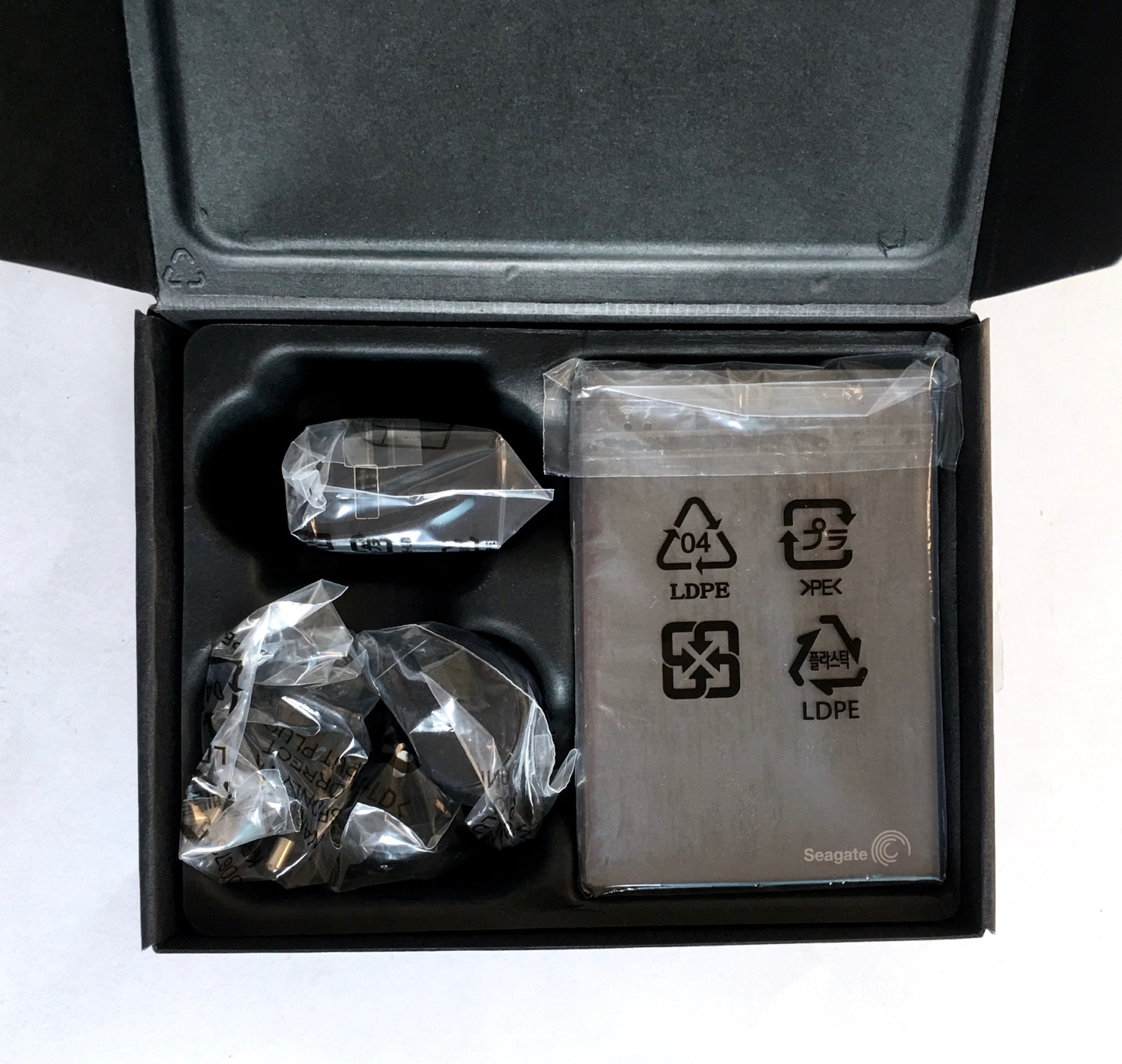 Seagate Wireless Plus - In the Box

It was not exactly what I expected. I had hoped it would double as some sort of backup disk for iOS devices, but I had to revise that idea fairly quickly. The WiFi is 802.11n which does not match the current Apple router I have (802.11ac) or the devices (only the older AppleTV is 802.11n): all the rest connect using the more advanced 802.11ac standard.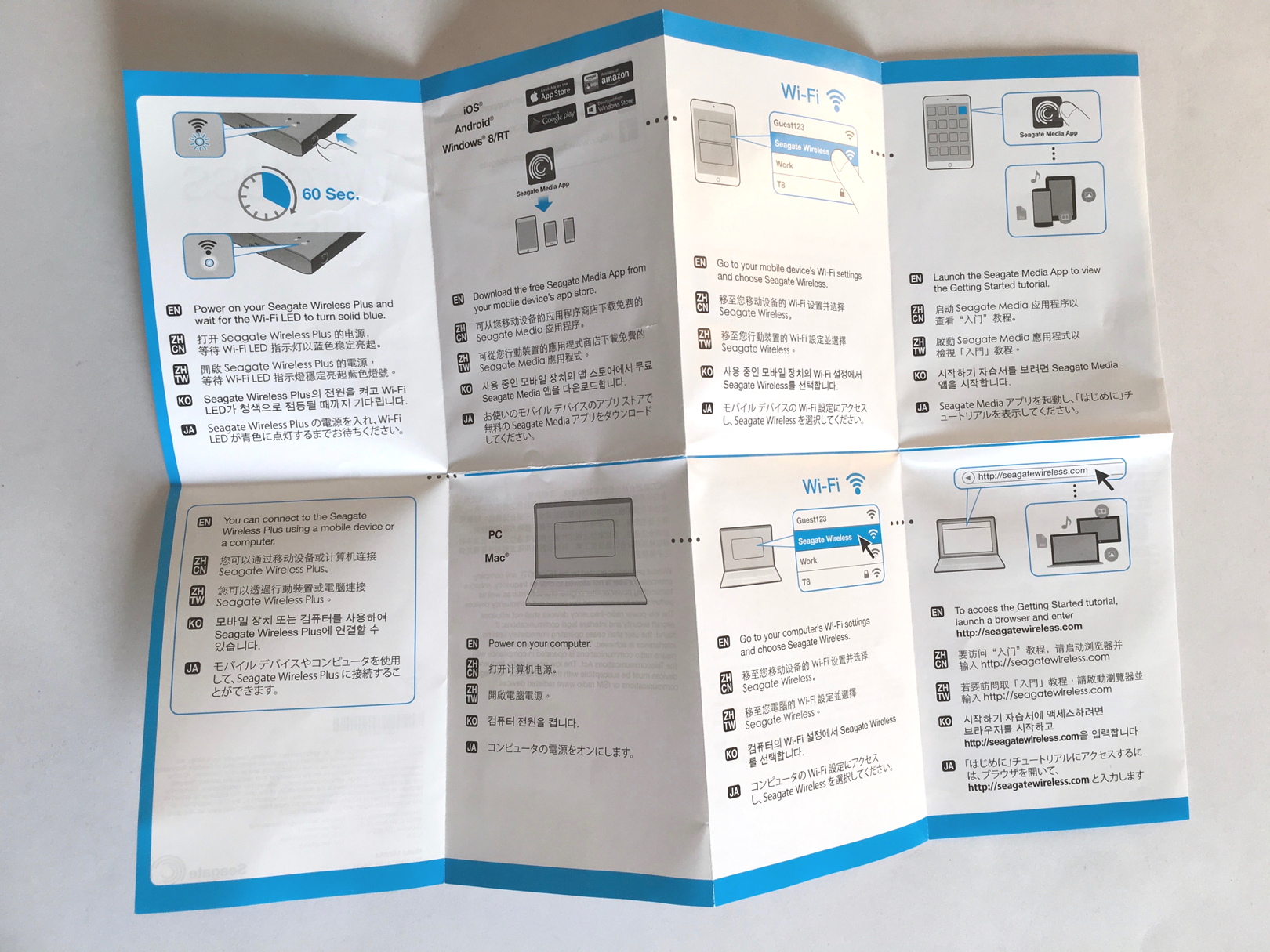 Multi-language Information Sheet

The poor multi-language information that came with the disk was not really enough, but did include the information that this could not be used as a Time Machine backup disk. That was not on the outside of the box, which almost had me asking for my money back. I made the mistake of downloading the iOS app (Seagate Media) and trying to start work from that first. After this false start, I reset the disk and started again.
A number of reviews I found online, particularly the 2013 one by Rafael Coelho, were far more accessible than Seagate's own online information. For example, the interface can be connected to a regular 2.5" hard disk drive or SSD in order to access the drive through the USB 3.0. The USB uses one of those horrible micro-B USB connectors.
The Wireless Plus disk first needs to be connected to a computer and software run on the disk. I particularly do not like the point that I cannot format it for OS X. I needed to run a Mac installer and software (Paragon NTFS driver) that allows OS X files to be stored on the Windows-capable disk. It was not there, but I did download later. I feel as if I am losing some control.
Seagate Wireless Plus (left) and Seagate USB Disks

Out of the box, it looks like other Seagate disks with the same nice feel. I have several USB drives from Seagate and WD, preferring the former, but the instructions and online help for this disk (designed by engineers for engineers) are sometimes as clear as mud.
When first started, there was a charge. I used an iPhone connector for the USB cable. The charge light changed to orange: fully-charged it is green. The blue wifi light was also on and devices in the room could see the unsecured network. Anyone in the area could have connected to my disk downloaded (or deleted) the contents.
This is incredibly risky. It was not until later that I found information that told me a password could be added. When connected via the cable, WiFi is disabled, however. Finding out things late like this seems to be a feature of the device: for example the sparse instructions in the box (with nothing on the box to indicate this) about Time Machine. Nor can it be formatted for OS X. I eventually found that point in the User Manual I downloaded.

The major point I have had to revise is that this is not a backup disk but storage media that should be accessible from iOS (and other) devices, such as the iPad Pro. This could also assist those with iPhones and iPads that have lower capacities. When I had a 16 GB iPhone 6 last year, it was fully usable as a communications device, but with limited storage. With this relatively small drive (127mm x 89mm x 20mm), such a problem could be improved. 2TB? I should be able to put everything on there.
I am still making discoveries as I work with the disk, but it is not a good experience and I will not be recommending this.
See also:
Graham K. Rogers teaches at the Faculty of Engineering, Mahidol University in Thailand. He wrote in the Bangkok Post, Database supplement on IT subjects. For the last seven years of Database he wrote a column on Apple and Macs. He is now continuing that in the Bangkok Post supplement, Life.