By Graham K. Rogers
---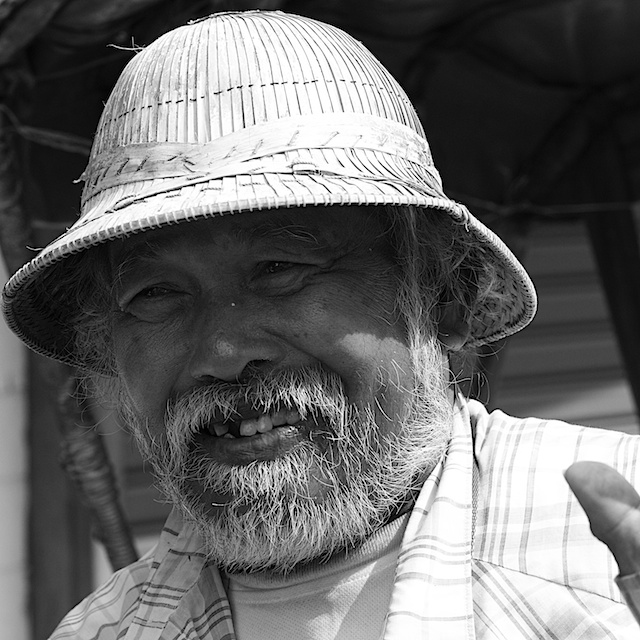 Late News
A few hours ago, Apple released updates to OS X (10.11.3) and iOS (9.2.1). These are available for download immediately. I strongly suggest a backup of data before updating and for Macs, if you can, a run of any maintenance software you use. You may think it is running fine, but an update may push any weaknesses.


Although I prefer working in Aperture, I have softened my views on Photos on the Mac. It is much improved from its first release, but there is still room for enhancement. I use it mainly for iPhone photographs synchronised to the Mac via iCloud.

Photos on iOS is also quite useful for some editing. Controls are similar to the Mac version, but not identical. I am pulling my hair out over the lack of Sharpen and White Balance tools in Photos Adjustments on iOS. There are of course third party apps available that will provide the same features, but these controls are needed within Photos.

I have looked at hundreds of photography and editing apps in the last few years and have several favourites. Some of those I use most are for adding unusual effects. Many apps have filters and the choice is subjective: what I love, you may hate. I prefer to do some basic editing in Photos (exposure, contrast, saturation) then adjust some images in third-party apps.

I anticipate writing about several of these in the near future, but want to start with a group of apps that allow output that looks like Art. With clever use of what these apps offer, photographs can be transformed.



Waterlogue
Top of my list is Waterlogue. The app is designed to produce output that has the appearance of watercolor paints. It has been well-received by many since it first appeared in late 2013 and I have been delighted by some of the results. The app is $2.99 and works on all iOS devices up to the iPad Pro. The developers, Tinrocket, also have two other art-inspired apps: Popsicolor and Percolator (both $2.99).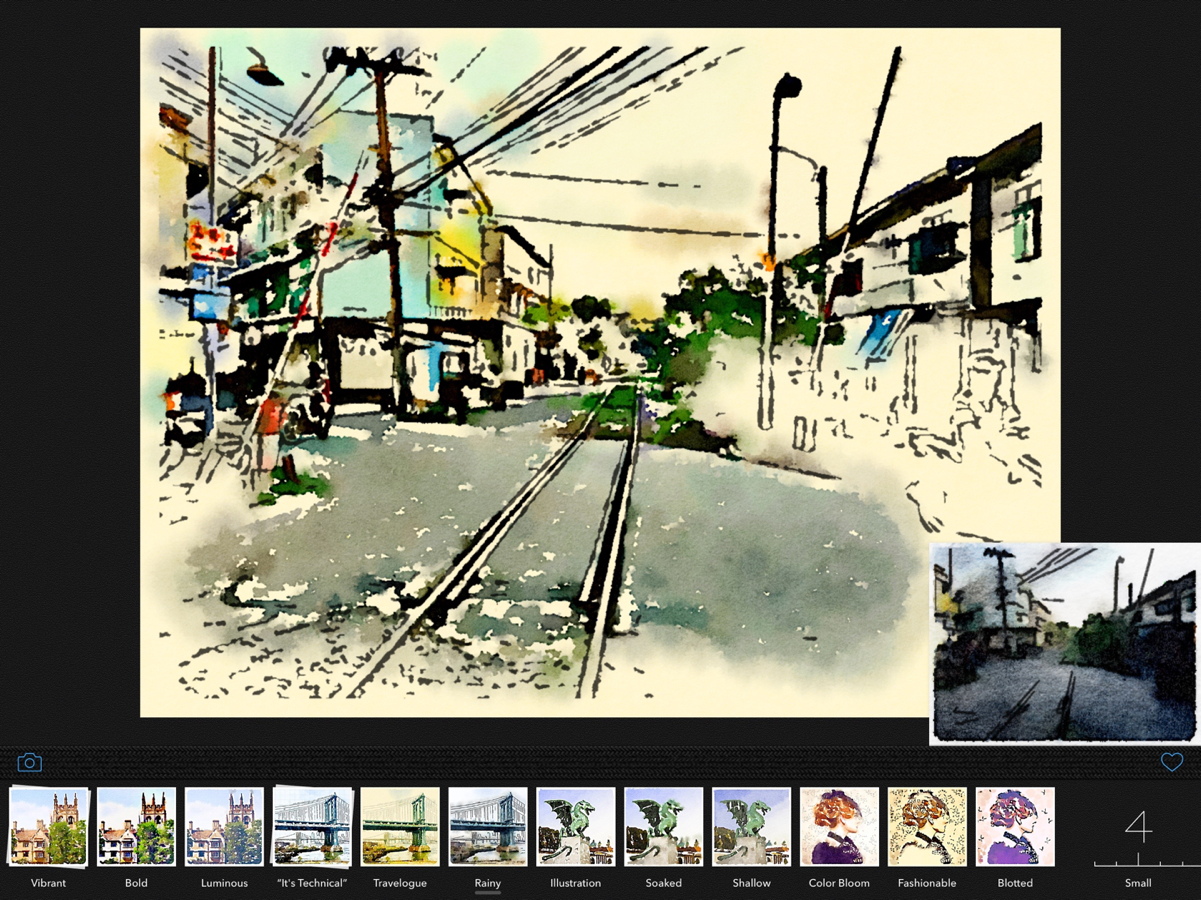 Editing in Waterlogue on iPad Pro

Twelve filters are available in Waterlogue, each giving a different water-colour effect. Images can be chosen from the Photo Library or imported directly via the camera, although I have never made use of that feature. When imported, the currently-selected effect is applied. When another is selected, or any change made to image settings in the simple toolbar, a new thumbnail image appears slightly overlapping the original.
If the user decides on the new version, tapping the thumbnail image applies the effect: a skeleton of the image appears first and the colours are filled in. Below, a progress bar is marked "Painting." Output from Waterlogue is saved to the Photo Library simply by checking the heart icon under the image then choosing one of the options.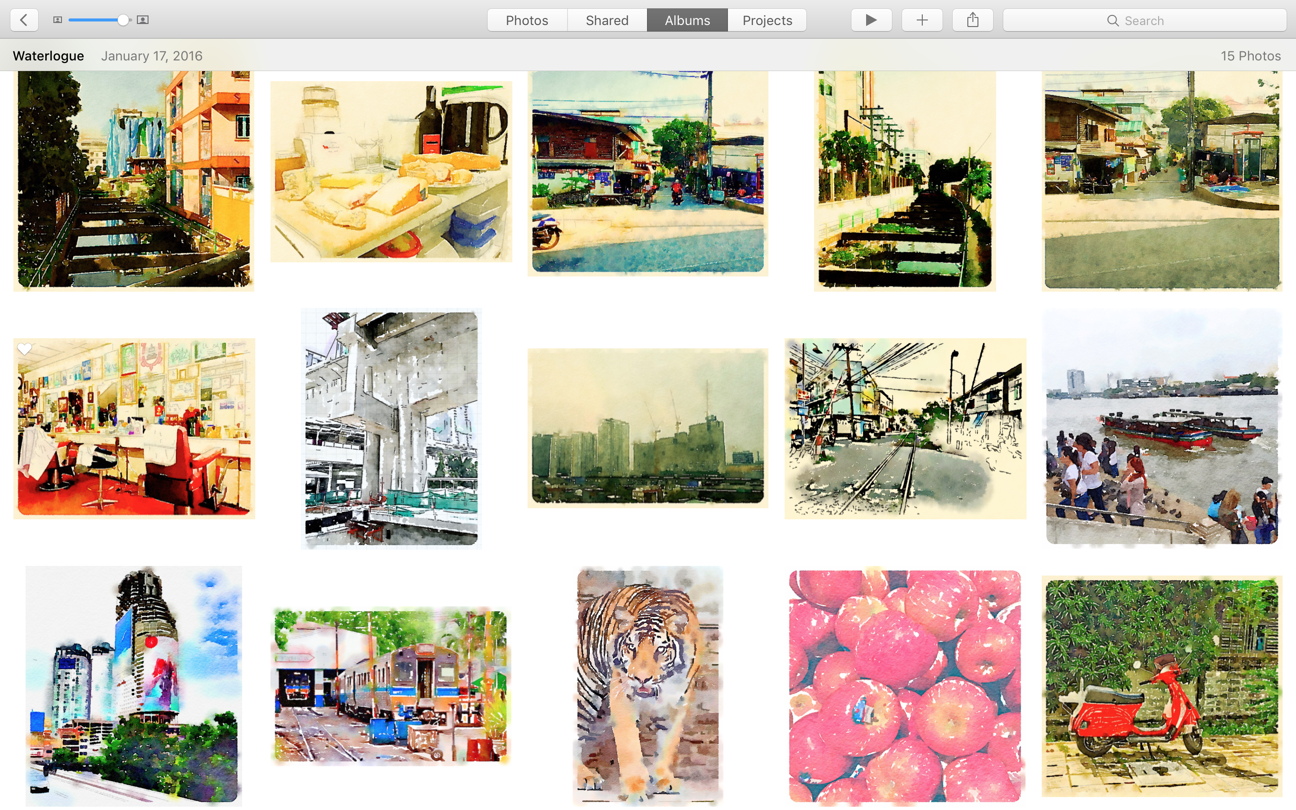 Waterlogue Library in Photos
Mobile Monet
One of my favourite artists is Monet and the $1.99 app, Mobile Monet, creates some interesting output: not only in the style of Monet. Controls are more complex than those in Waterlogue, but more adjustments are available to users. There is also more control of the camera. This app and Waterlogue work particularly well with landscape photographs, street scenes, or some domestic location, like the kitchen. I find great care needs to be taken with portraits.





Mobile Monet: Filter Selection and Adjustments


When an image is brought into Mobile Monet, it is displayed in a skeleton form. The user may either paint the image or use the Fill control (this is easier). Like Waterlogue, there are several filters, providing a variety of output types. The black and white options include Basic to a nice Charcoal filter.

Once an effect is applied it may be adjust by the use of slider: Line control (width, intensity, shading and color); Painting (size, colors and grain); and Light (Vibrance, Brightness and Contrast).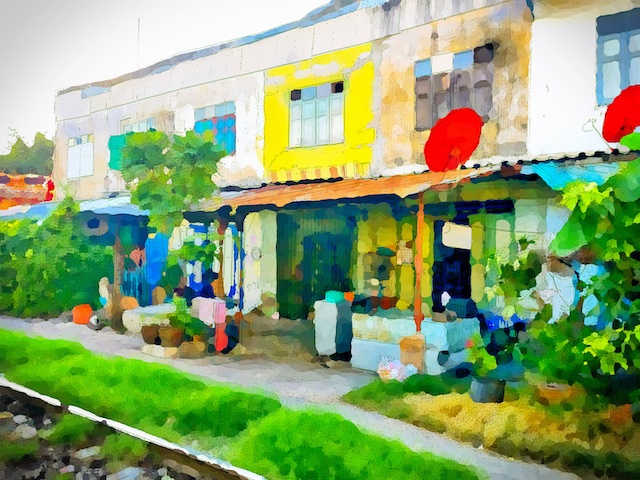 Mobile Monet Output
Etchings
Taking a slightly different approach is the app, Etchings. As its name suggests, the output is in the form of line-style drawings. Input is via camera or from the photo library. A selected photo is cropped to a square, then has a basic pattern applied. The last filter used is used for the next image imported.





Etchings: Filters, Line Adjustment and Brightness


The user is able easily to select any of the other filters available: in monochrome, colour or single colour finishes. There are a couple of filters with special effects, designed to look like a dollar bill or a stamp. The app costs $2.99 and there are in-app purchases of 6 more filters for a fee of $0.99 in a pack with the name Florence.

As well as the filters in the fx section, there are filter-like adjusters to change the intensity of lines - from Thin, up to Extra Bold - plus similar ways to adjust brightness and contrast.

A major advantage with Etchings is that it is one of the apps that may be added to the More section in Photos, so that all the filters and adjustments can be made from within the Photos app.





Examples of Etchings Output


Some photographs are not suitable for apps like Etchings, Waterlogue or Mobile Monet. It is good to experiment with apps like these. When the right selection of image and filter is made, output is quite effective and has a variety of uses.



See Also:
Graham K. Rogers teaches at the Faculty of Engineering, Mahidol University in Thailand. He wrote in the Bangkok Post, Database supplement on IT subjects. For the last seven years of Database he wrote a column on Apple and Macs. He is now continuing that in the Bangkok Post supplement, Life.